The year 1921 was the second warmest in the US, with more than two thirds of days above 60F.
There was a large solar storm on May 15 of that year.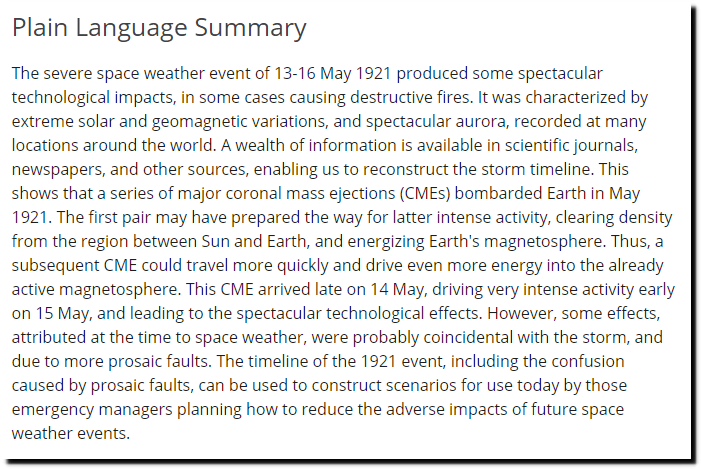 The Great Storm of May 1921: An Exemplar of a Dangerous Space Weather Event – Hapgood – 2019 – Space Weather – Wiley Online Library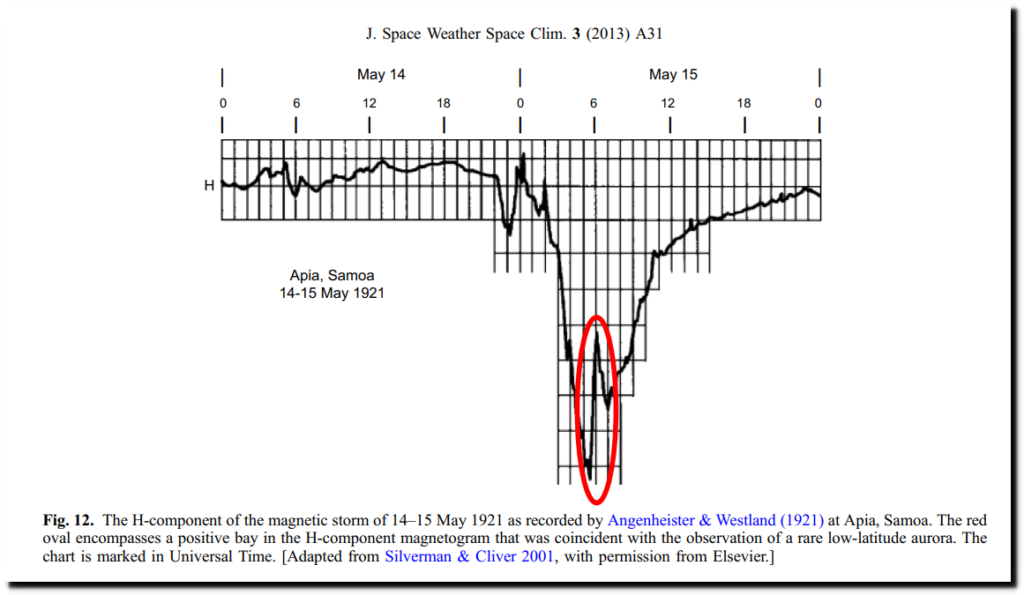 (PDF) The 1859 space weather event revisited: Limits of extreme activity

15 May 1921, 7 – Austin American-Statesman at Newspapers.com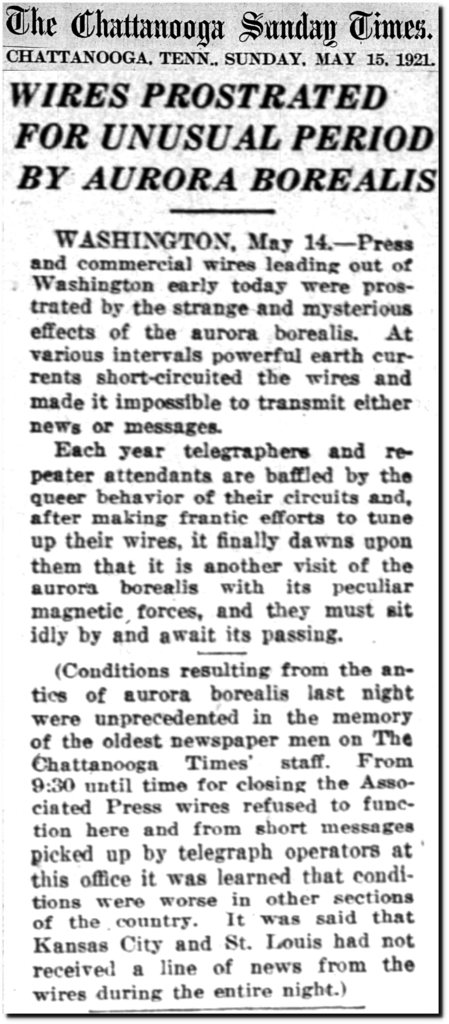 15 May 1921, 1 – Chattanooga Daily Times at Newspapers.com

15 May 1921, 55 – The San Francisco Examiner at Newspapers.com
One hundred years ago there was a worldwide drought and famine, and the San Francisco Examiner  devoted three pages to an explanation of how the drought was linked to behavior of the planets and the sun.
"THE SAN FRANCISCO EXAMINER SUNDAY. NOVEMBER 20, 1921

RUSSIA'S SUFFERING. But it is in Russia, along the fertile wheat fields of the Volga, which used to feed not only Russia and neighboring countries, but the whole of Europe, that we see the worst famine. The vast valley of the Volga, from Samara to Penn, is reduced to a state of desolation—with from twenty to forty million lives .endangered by famine, and millions, of men, women and children migrating, in various directions, in the hope of finding food. The water from springs and wells is utterly exhausted, and the country dried up and cracked open to a great depth, owing to the absence of rain for six months, from March to September. No such drought and famine has ever before afflicted Russia; and the governments of Europe and America are exerting themselves to succor millions of destitute and starving Russians."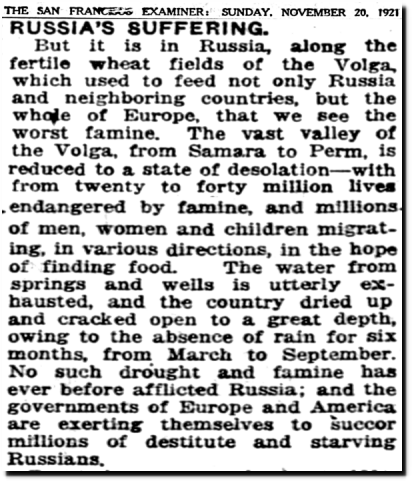 20 Nov 1921, 51 – The San Francisco Examiner at Newspapers.com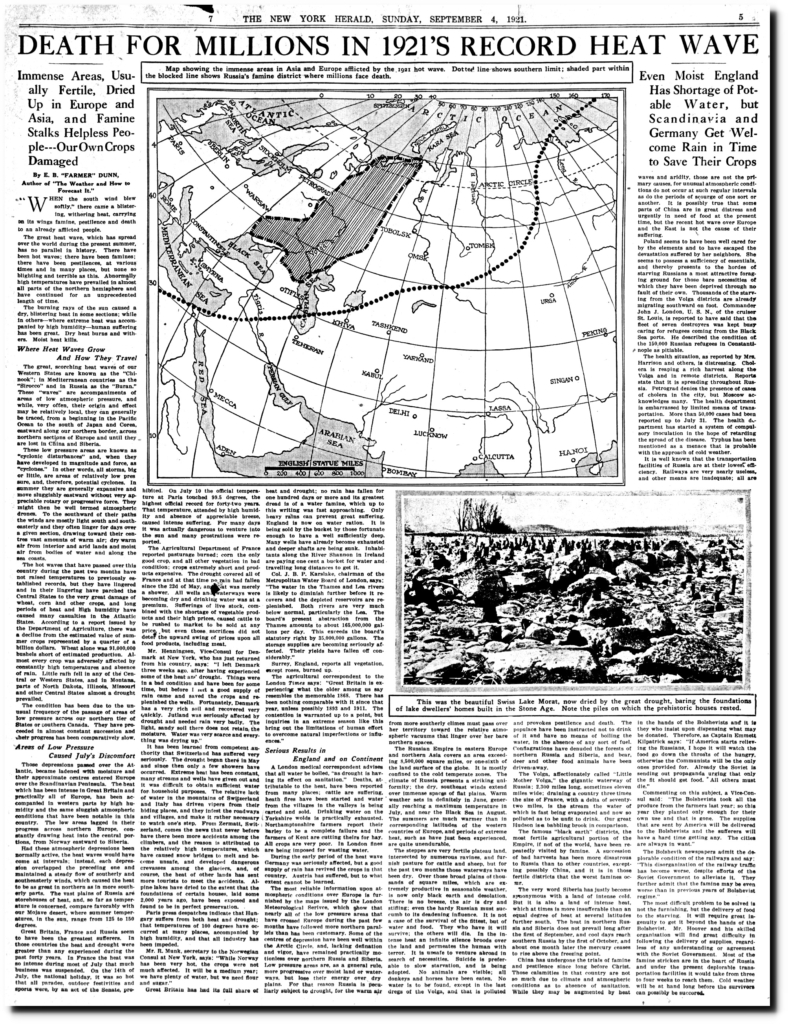 Switzerland's Lake Morat dried up.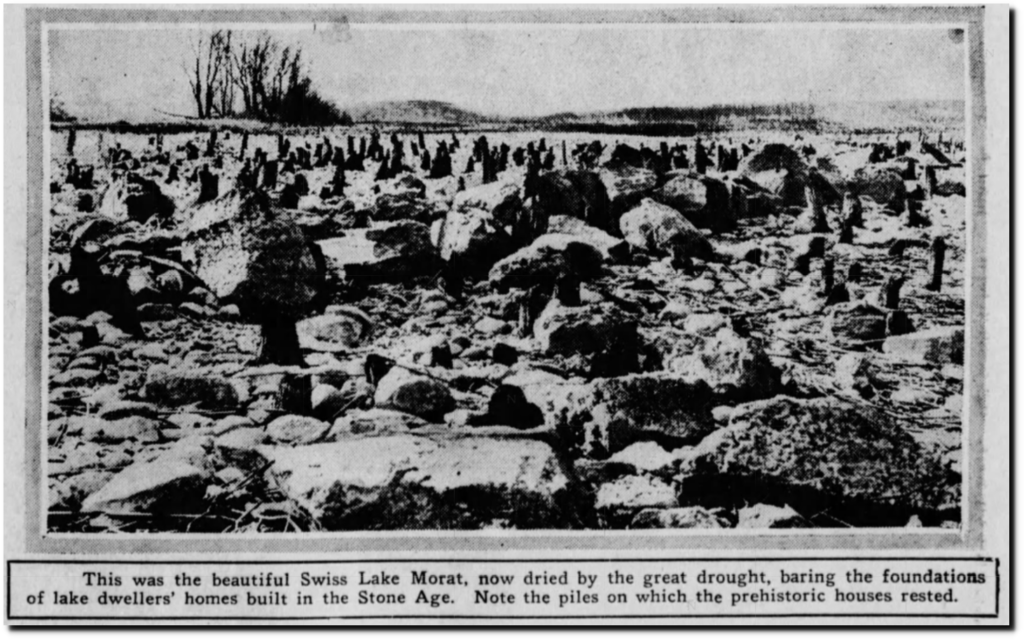 04 Sep 1921, 61 – New York Herald at Newspapers.com
This is what Lake Morat looks like now.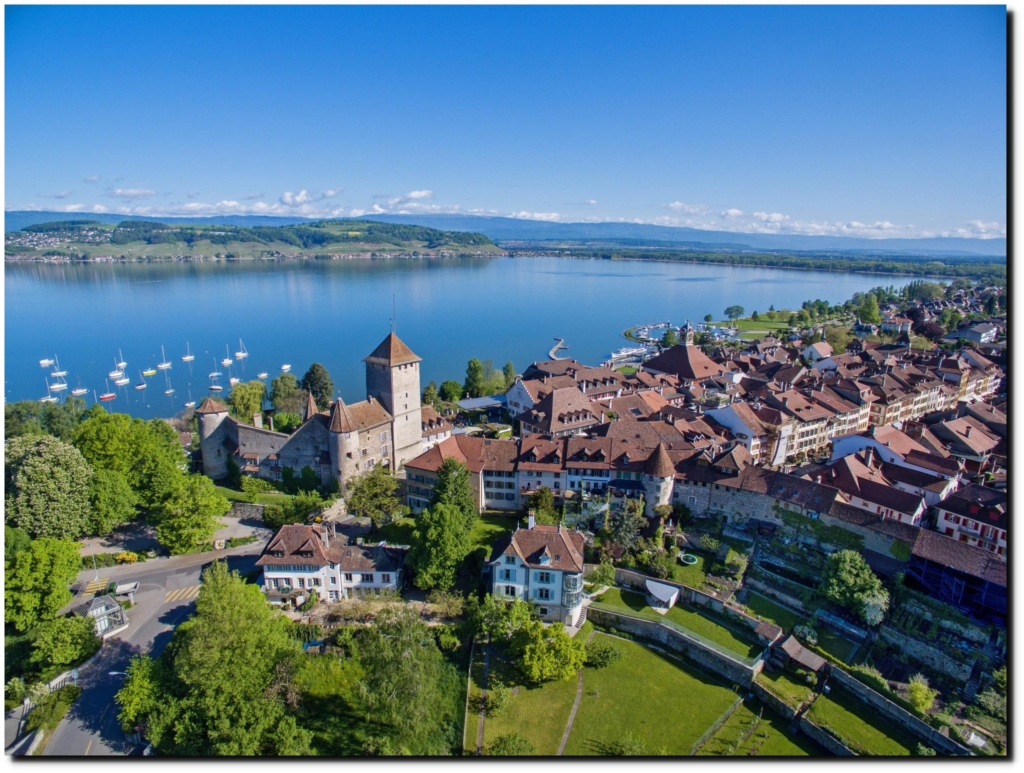 "They struggle on and on in agony until their sufferings become unbearable and they fall by the way, victims of the greatest catastrophe the world has ever seen."

" 30,000,000 in Russia Famine Zone having eaten cats, rats and dogs' are now fleeing from their homes in a desperate search for some place where there is some Food."

" Bark is being stripped off the Trees for Food."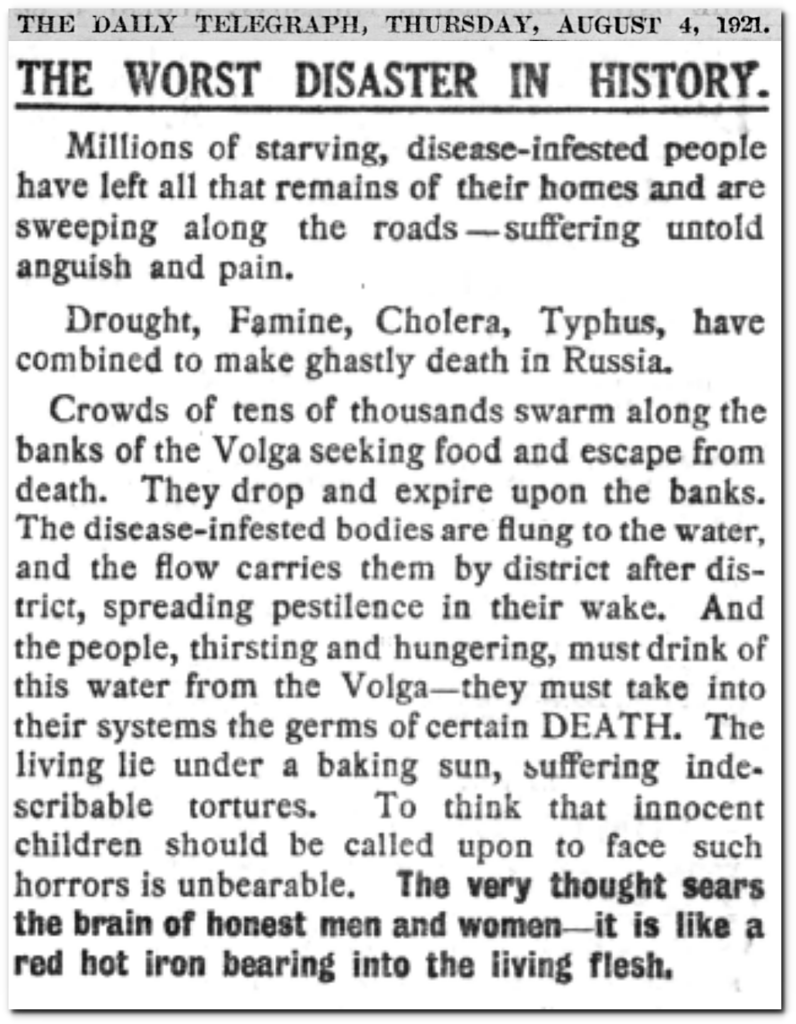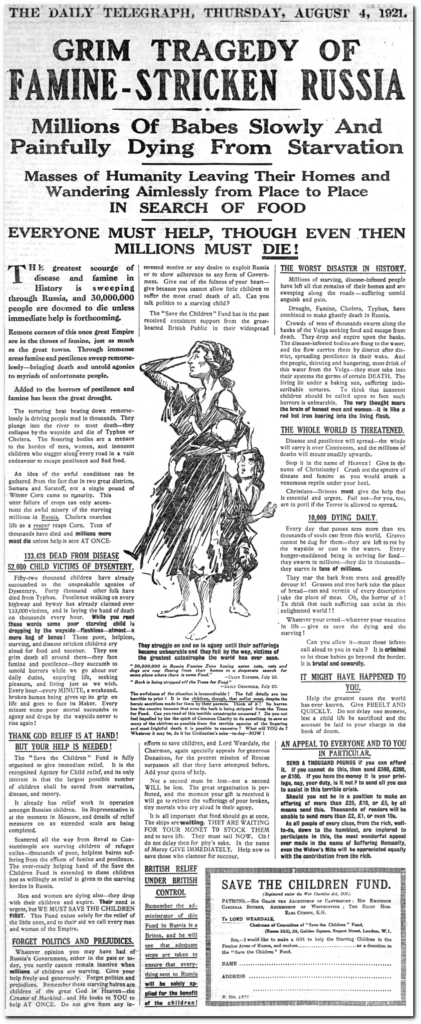 04 Aug 1921, 7 – The Daily Telegraph at Newspapers.com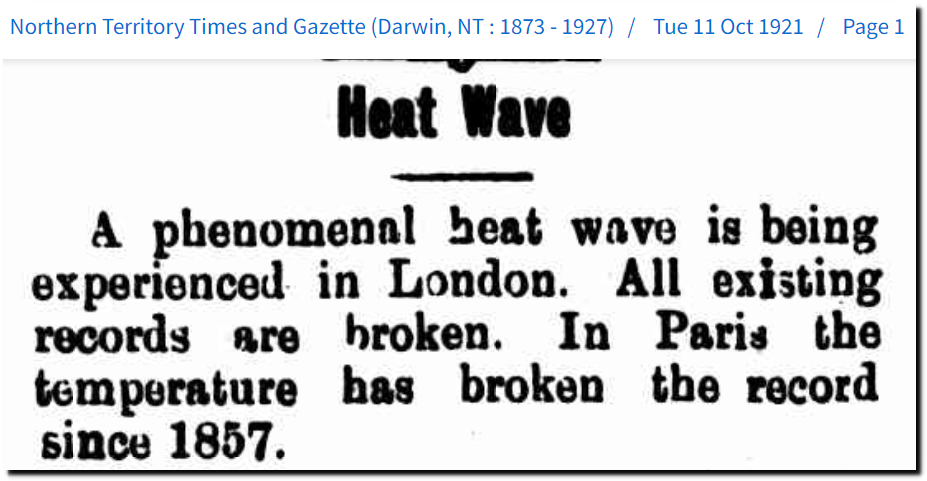 11 Oct 1921 – Heat Wave – Trove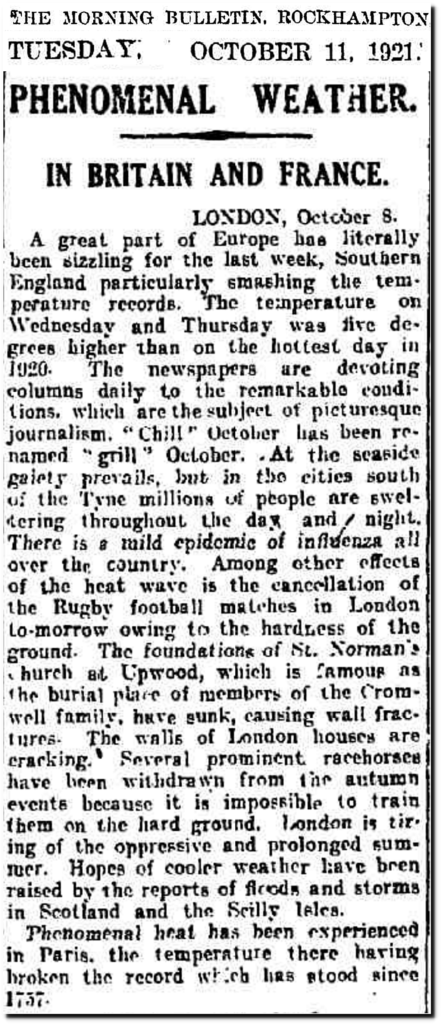 11 Oct 1921 – PHENOMENAL WEATHER. – Trove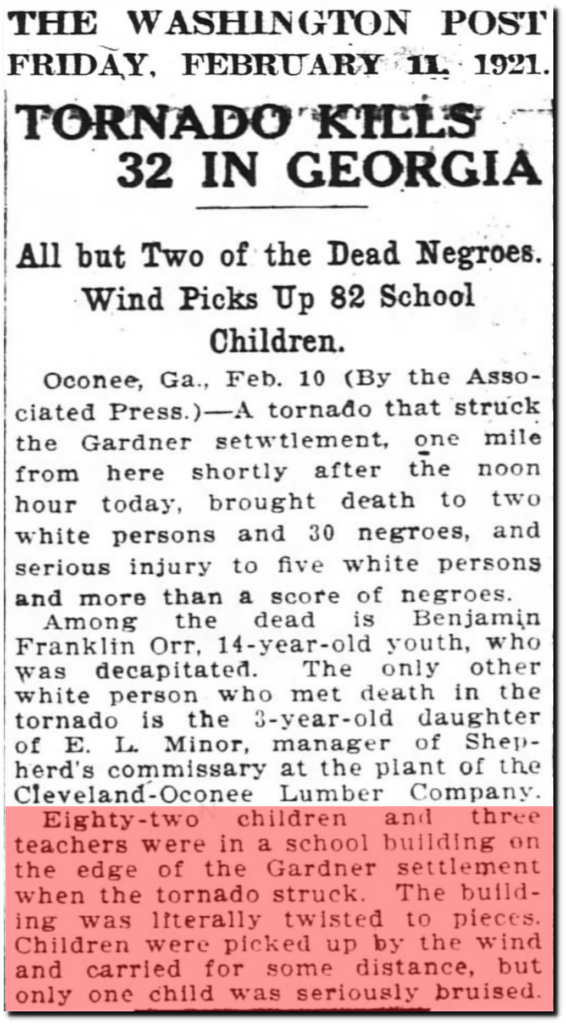 11 Feb 1921, Page 2 – The Washington Post at Newspapers.com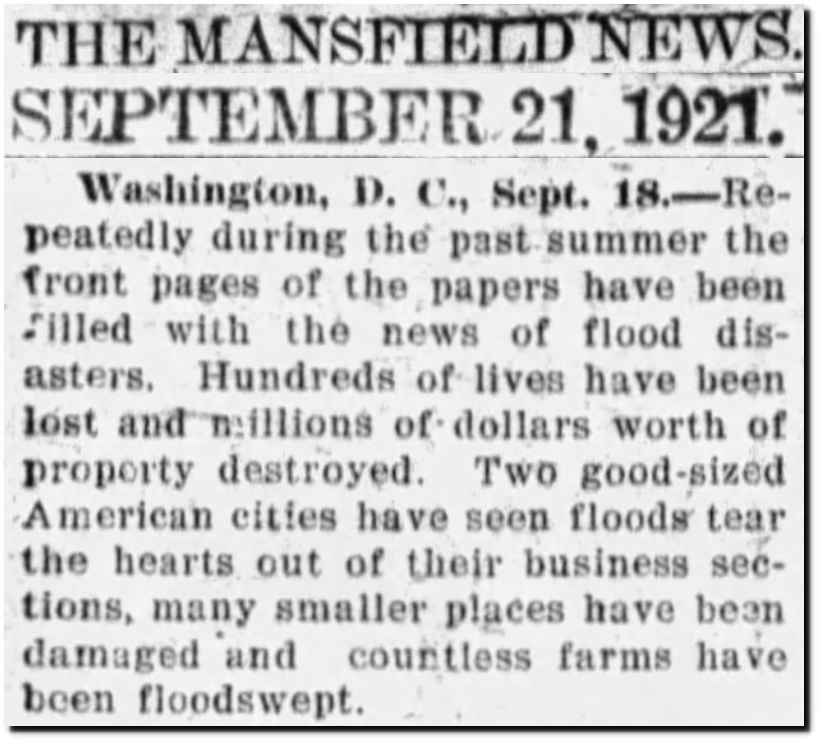 21 Sep 1921, 3 – News-Journal at Newspapers.com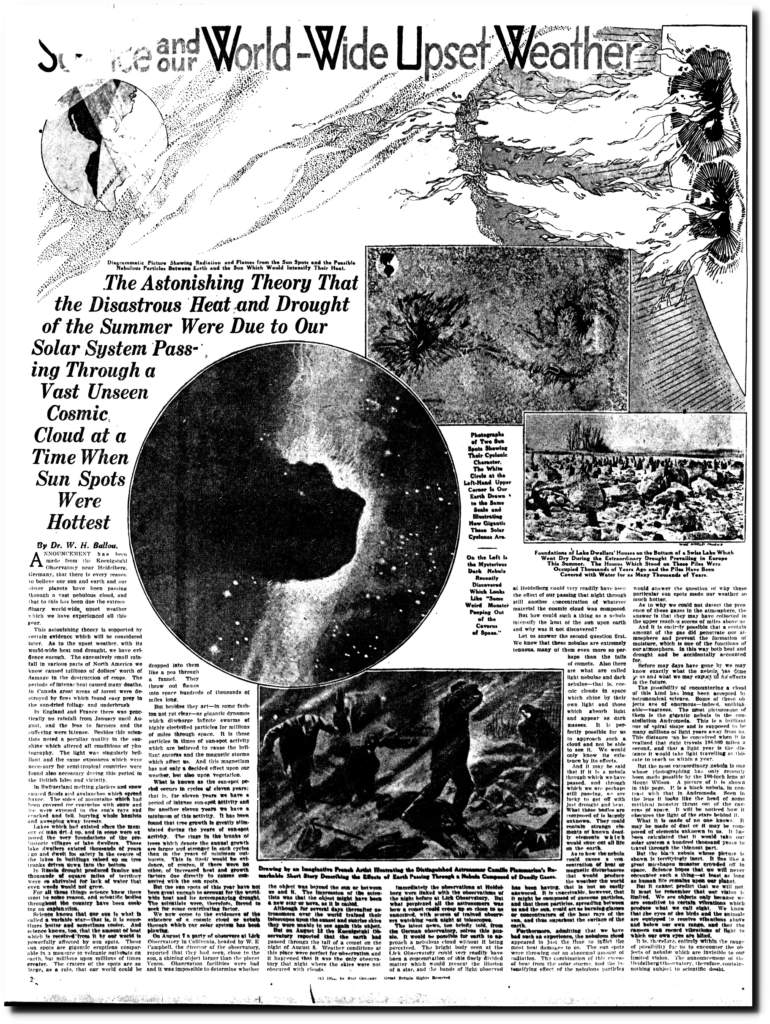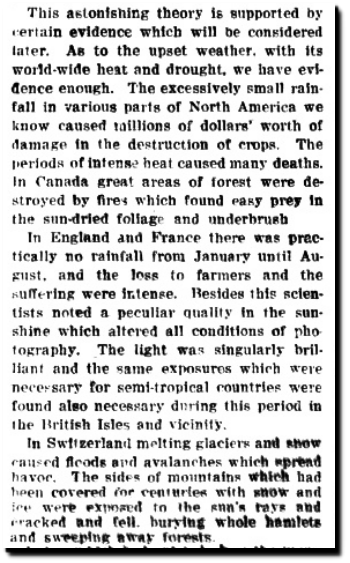 16 Oct 1921, 104 – The San Francisco Examiner at Newspapers.com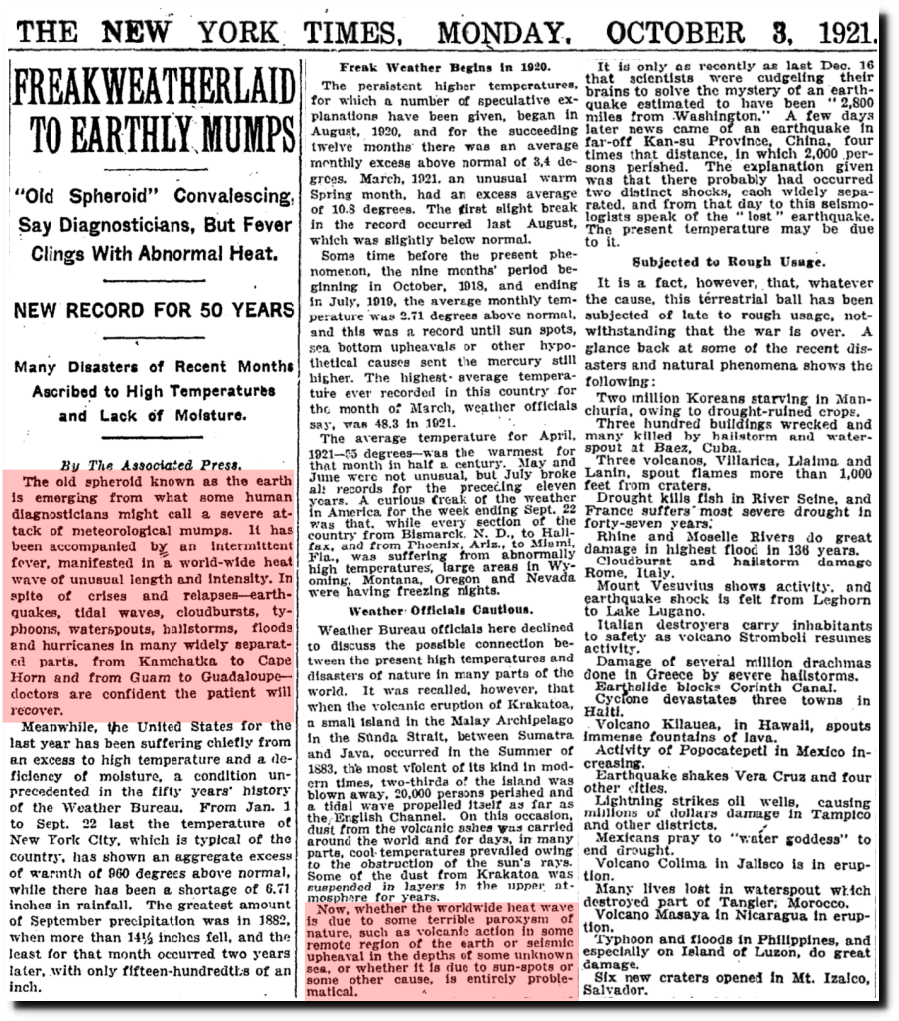 TimesMachine: October 3, 1921 – NYTimes.com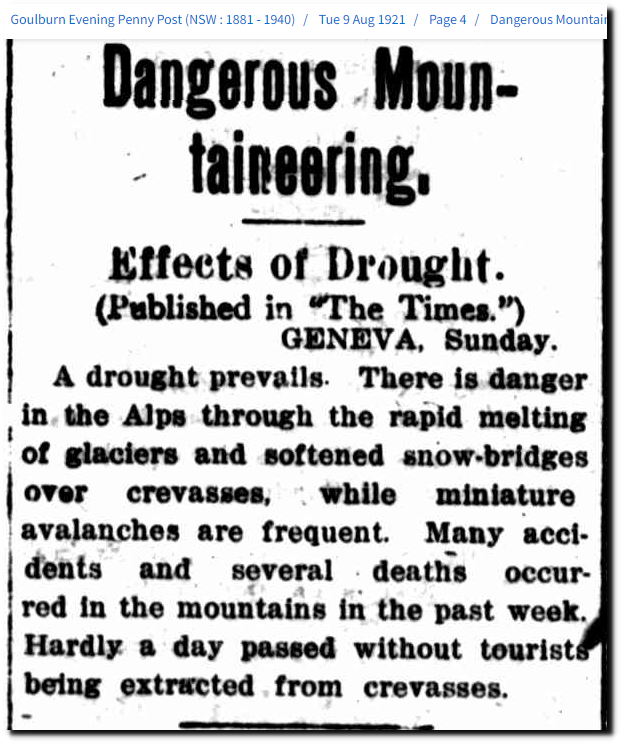 09 Aug 1921 – Dangerous Mountaineering. – Trove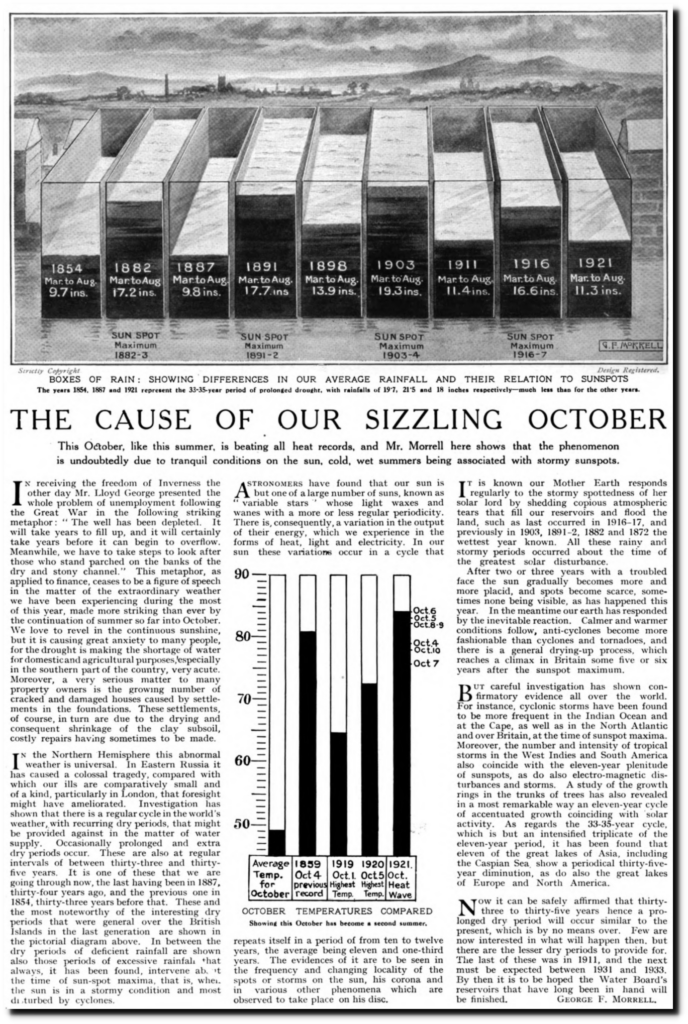 #448 – The Graphic : an illustrated weekly newspaper. … v.104 (Jul.-Dec.1921). – Full View | HathiTrust Digital Library
01 Jan 1922, Page 1 – The Courier-Journal at Newspapers.com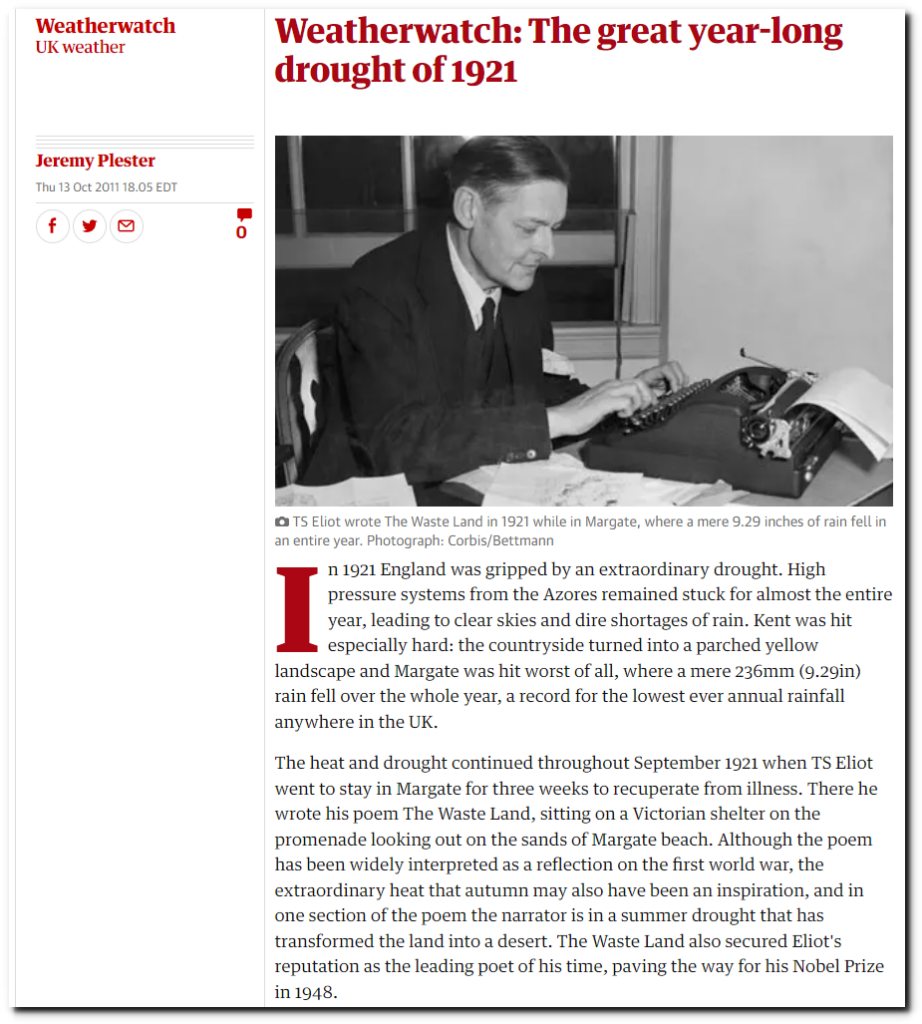 Weatherwatch: The great year-long drought of 1921 | UK weather | The Guardian
06 Jun 1921, 1 – The Arkansas City Daily News at Newspapers.com
"The persistent higher temperatures, for which a number of speculative explanations have been given, began in August, 1920, and for the succeeding twelve months there was an average monthly excess above normal of 3,4 degrees"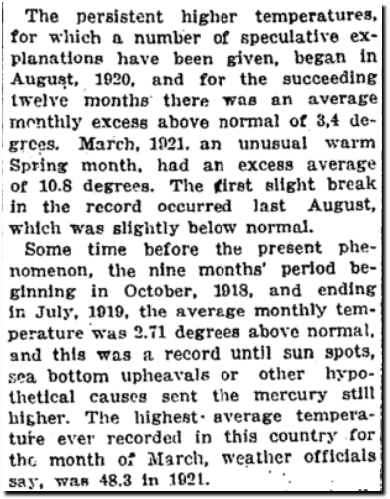 TimesMachine: October 3, 1921 – NYTimes.com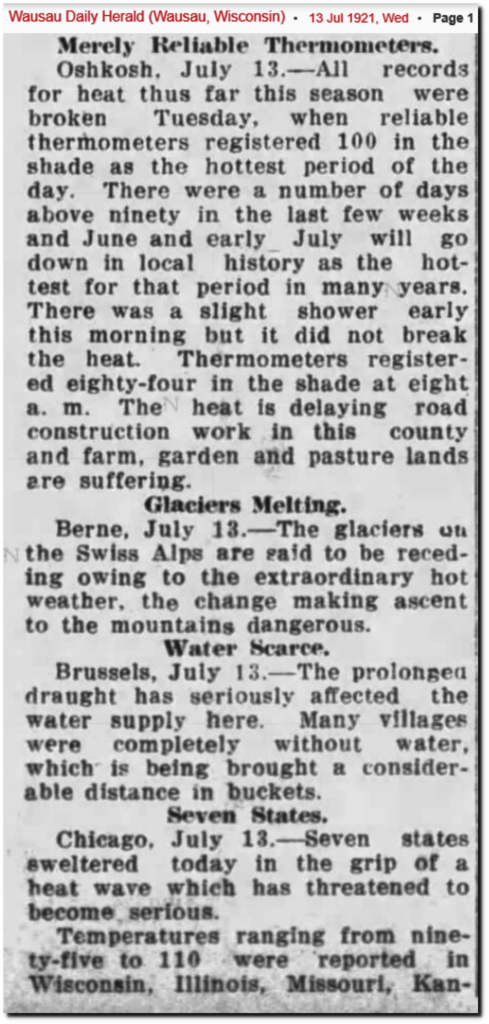 13 Jul 1921, 1 – Wausau Daily Herald at Newspapers.com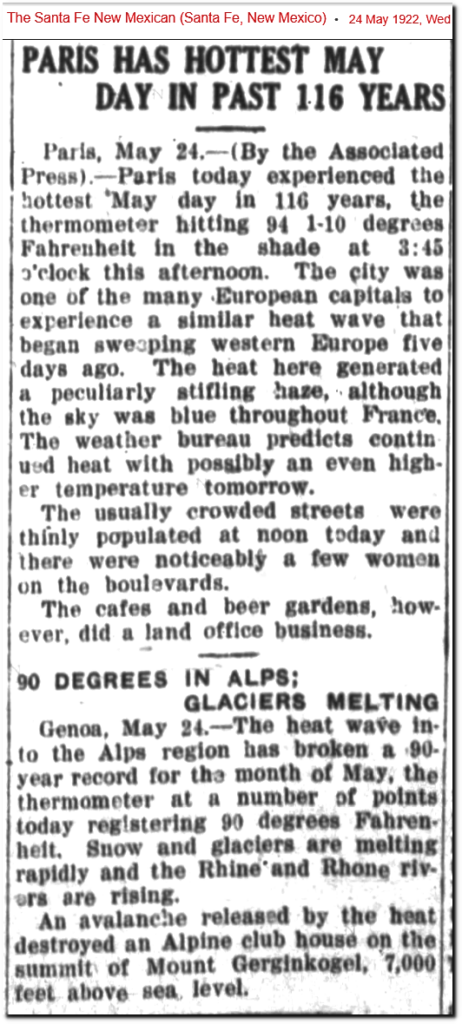 24 May 1922, 3 – The Santa Fe New Mexican at Newspapers.com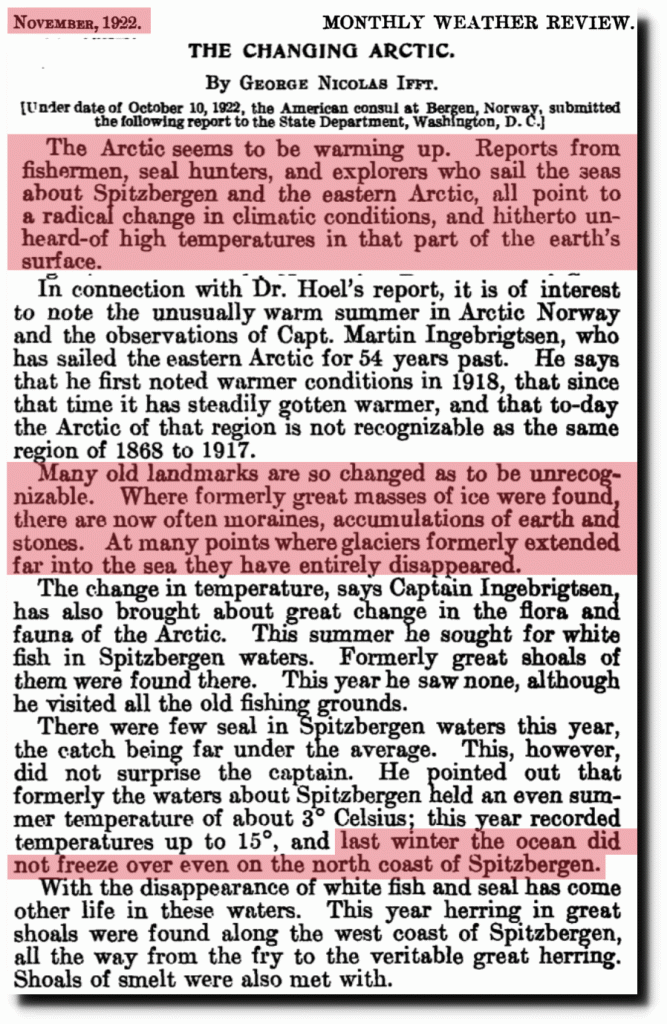 ftp://ftp.library.noaa.gov/docs.lib/htdocs/rescue/mwr/050/mwr-050-11-0589a.pdf
in 1922, the ice between Alaska and the North Pole was thin, rotten first year ice.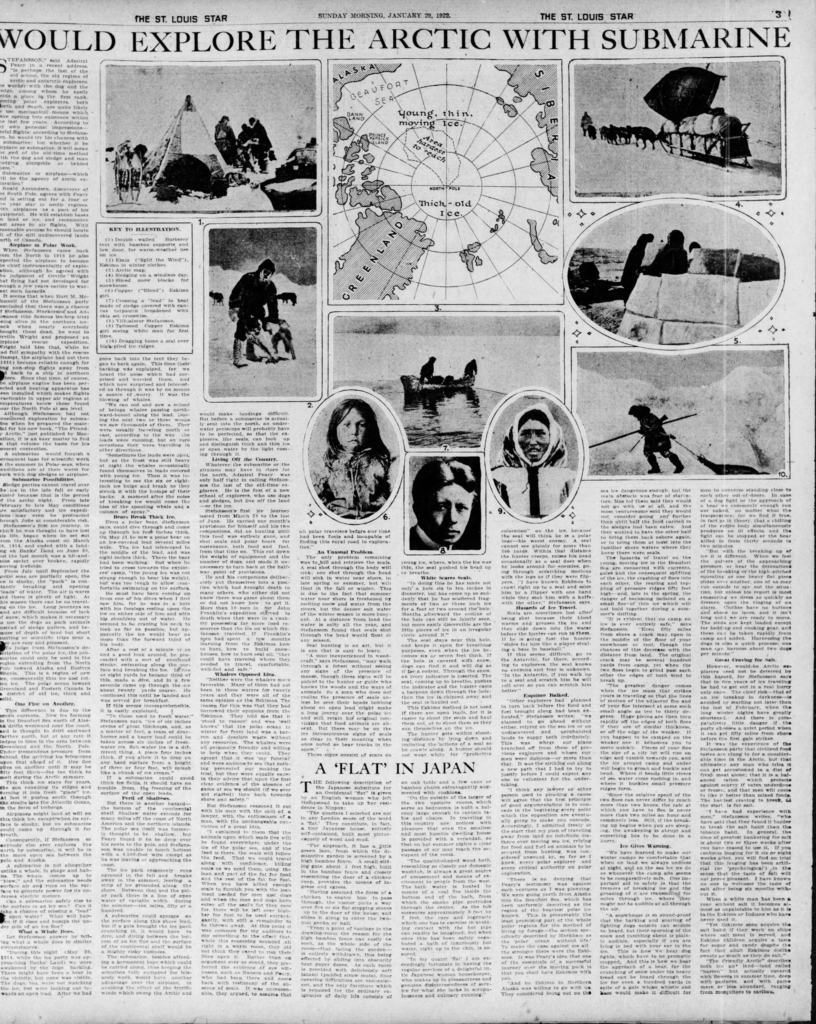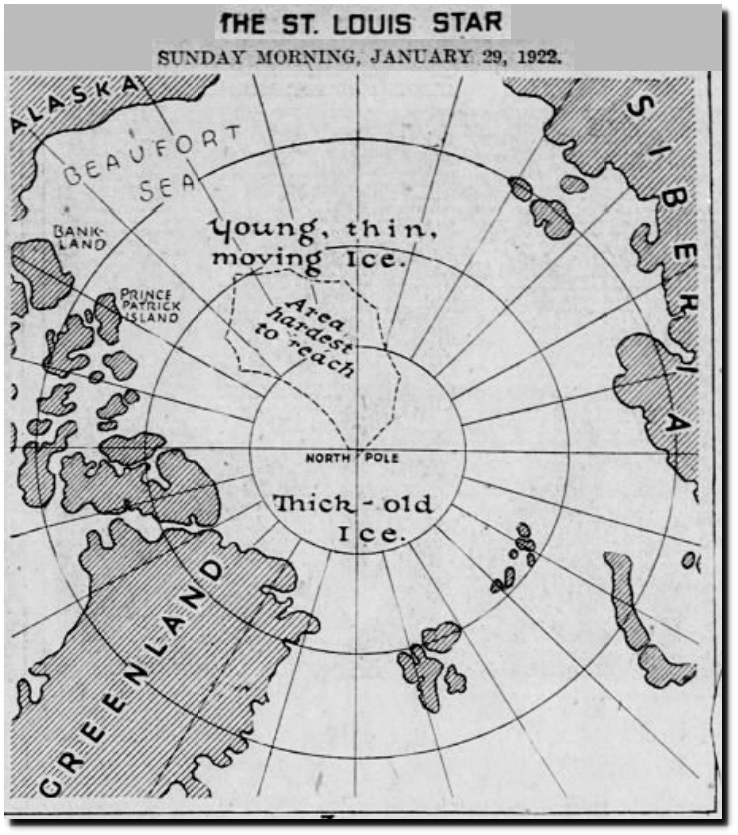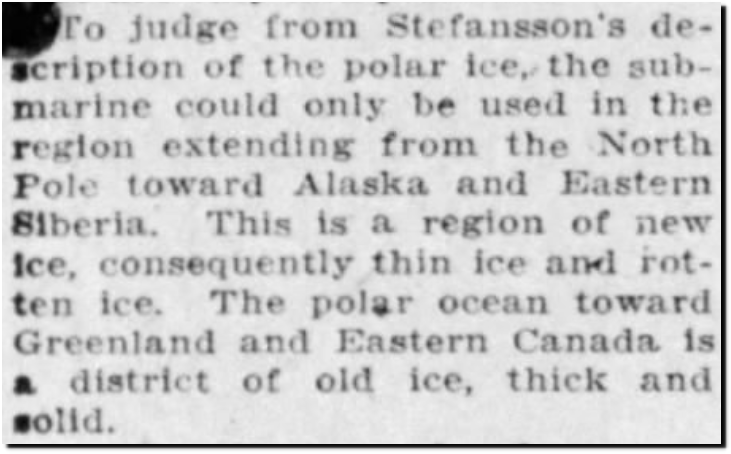 29 Jan 1922, Page 35 – The St. Louis Star and Times at Newspapers.com
The Arctic was rapidly melting, and there was no ice around Svalbard.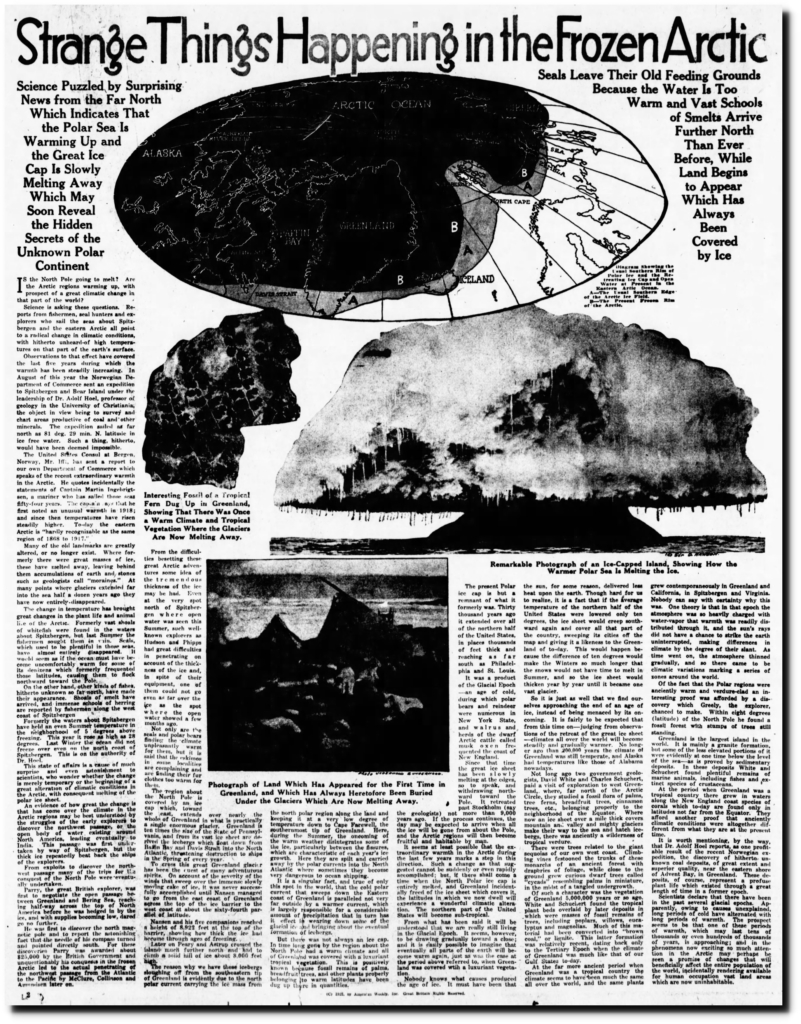 03 Dec 1922, Page 63 – The Washington Times at Newspapers.com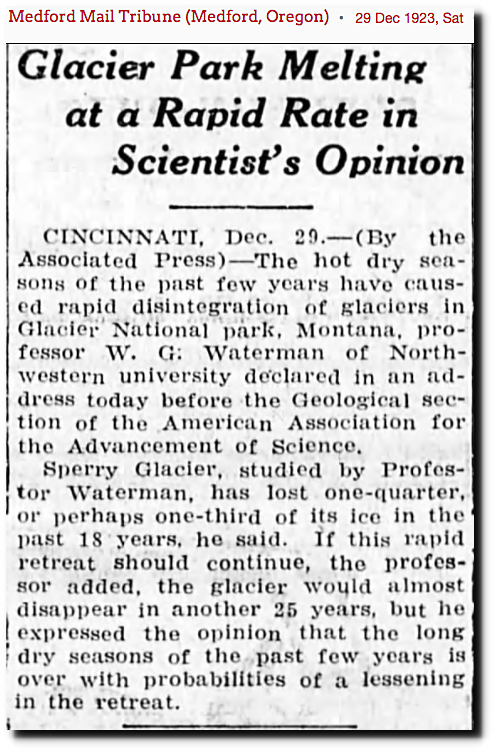 29 Dec 1923, Page 5 – at Newspapers.com
12 Apr 1924, 7 – Spokane Chronicle at Newspapers.com
12 Nov 1924, Page 19 – The San Bernardino County Sun at Newspapers.com
Arctic winter temperatures warmed 16 degrees from 1910 to 1939.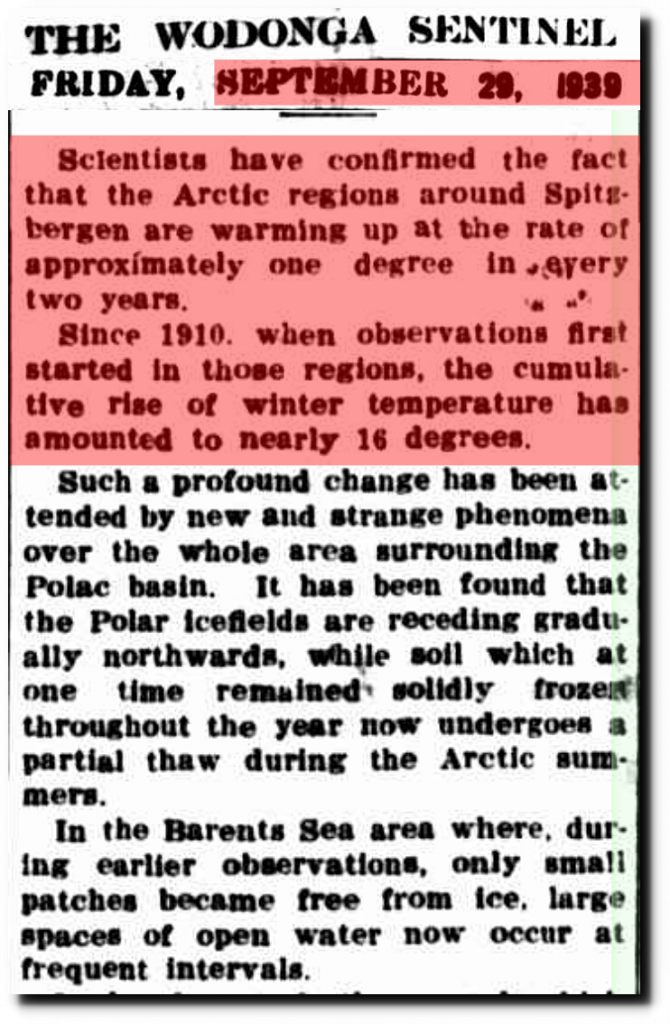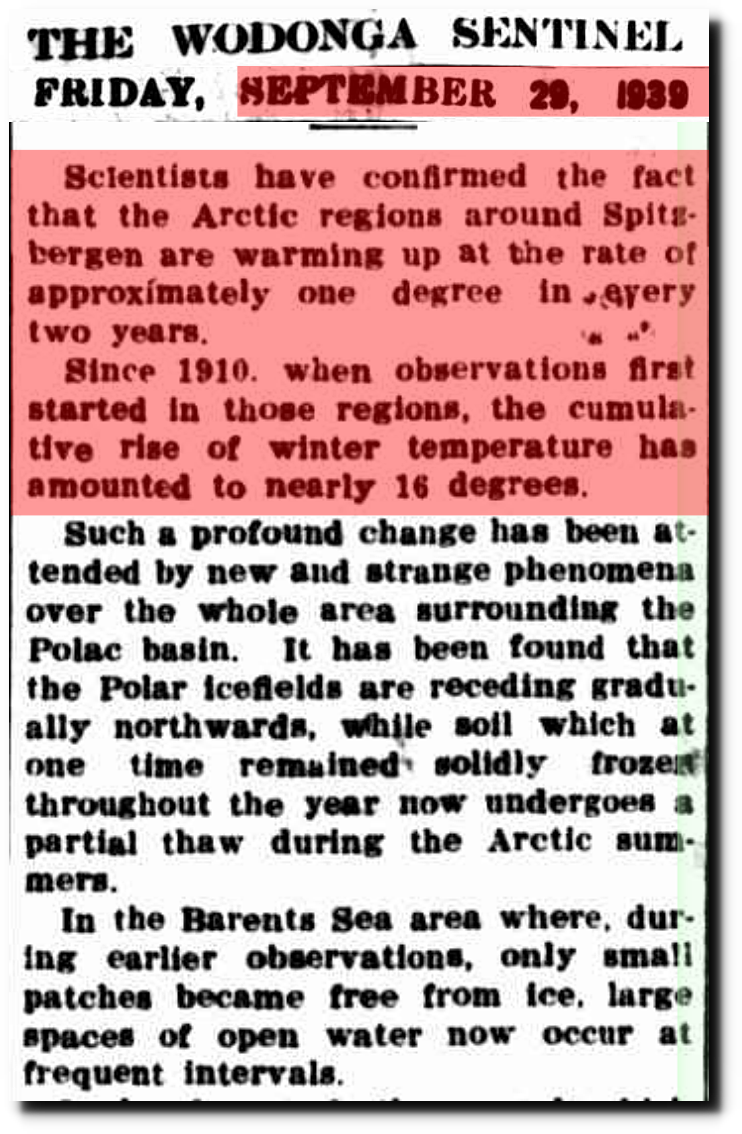 29 Sep 1939 – What is The World Coming To? – Trove
The glaciers of Greenland and Norway were facing catastrophic collapse.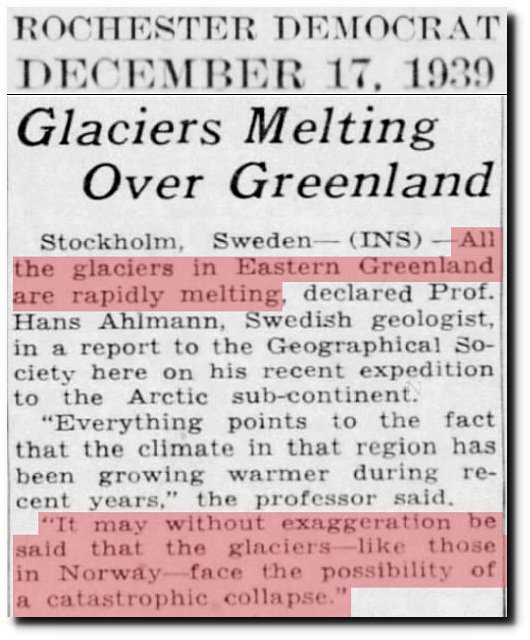 17 Dec 1939, Page 15 – Harrisburg Sunday Courier
Glaciers in Norway retreated dramatically before 1946.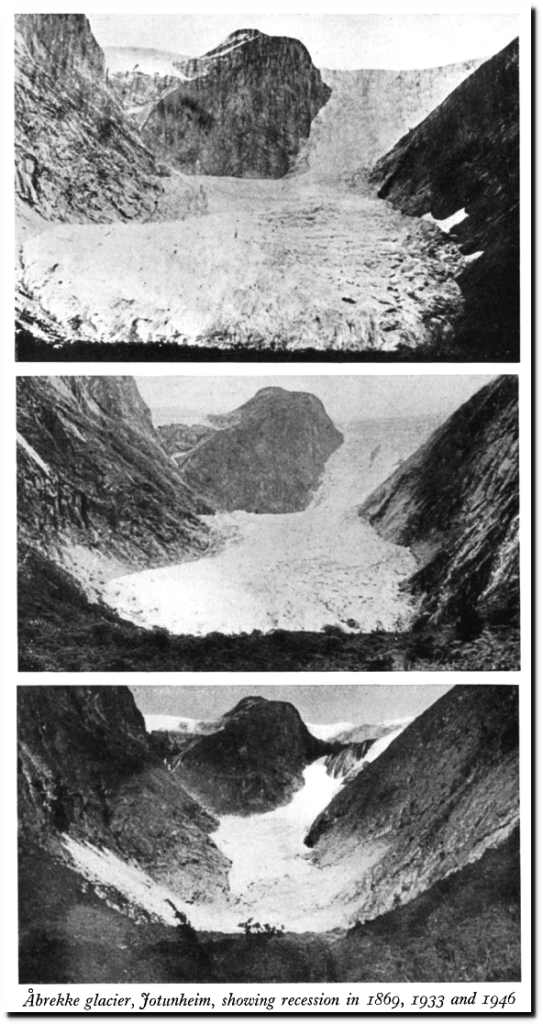 The Present Climatic Fluctuation on JSTOR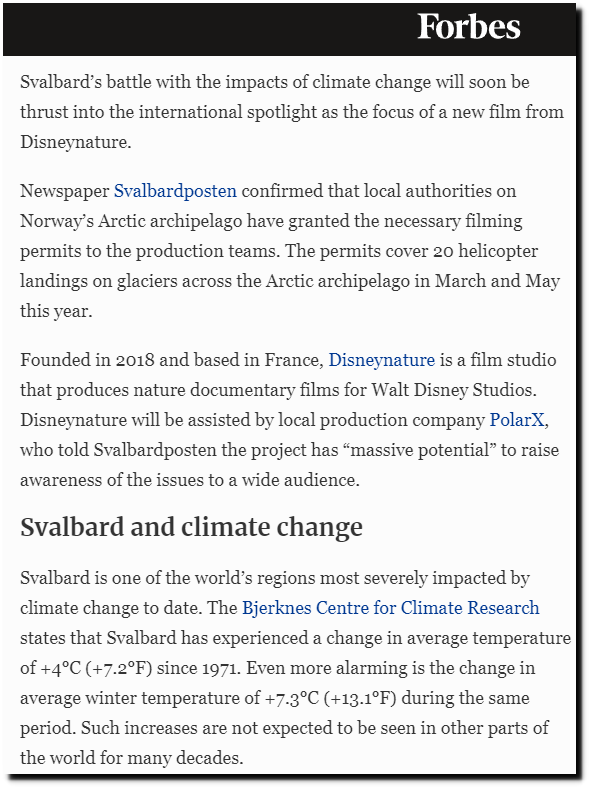 Disney To Make Climate Change Film On Svalbard This Spring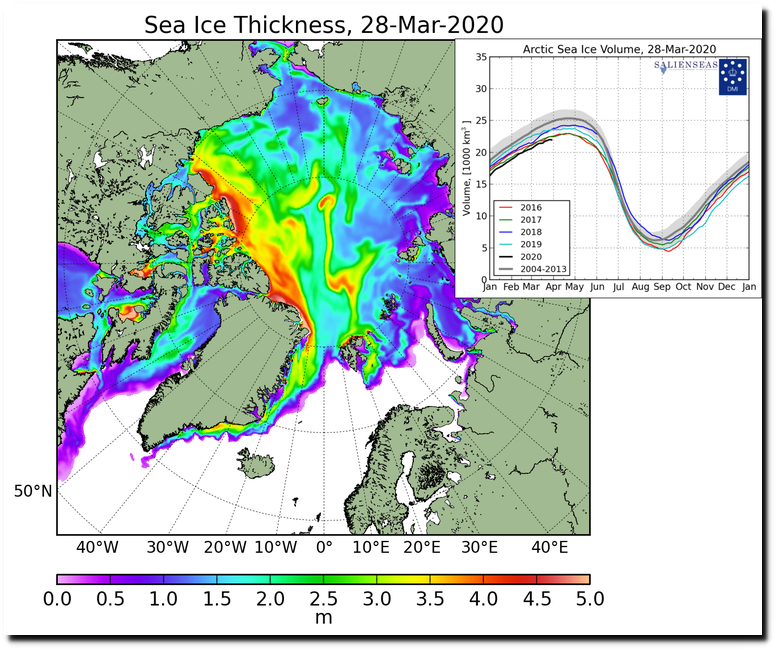 CICE_combine_thick_SM_EN_20200328.png (758×631)
NASA shows 1921 as being one of the coldest years on record and that the summer of 1921 was well below normal temperature.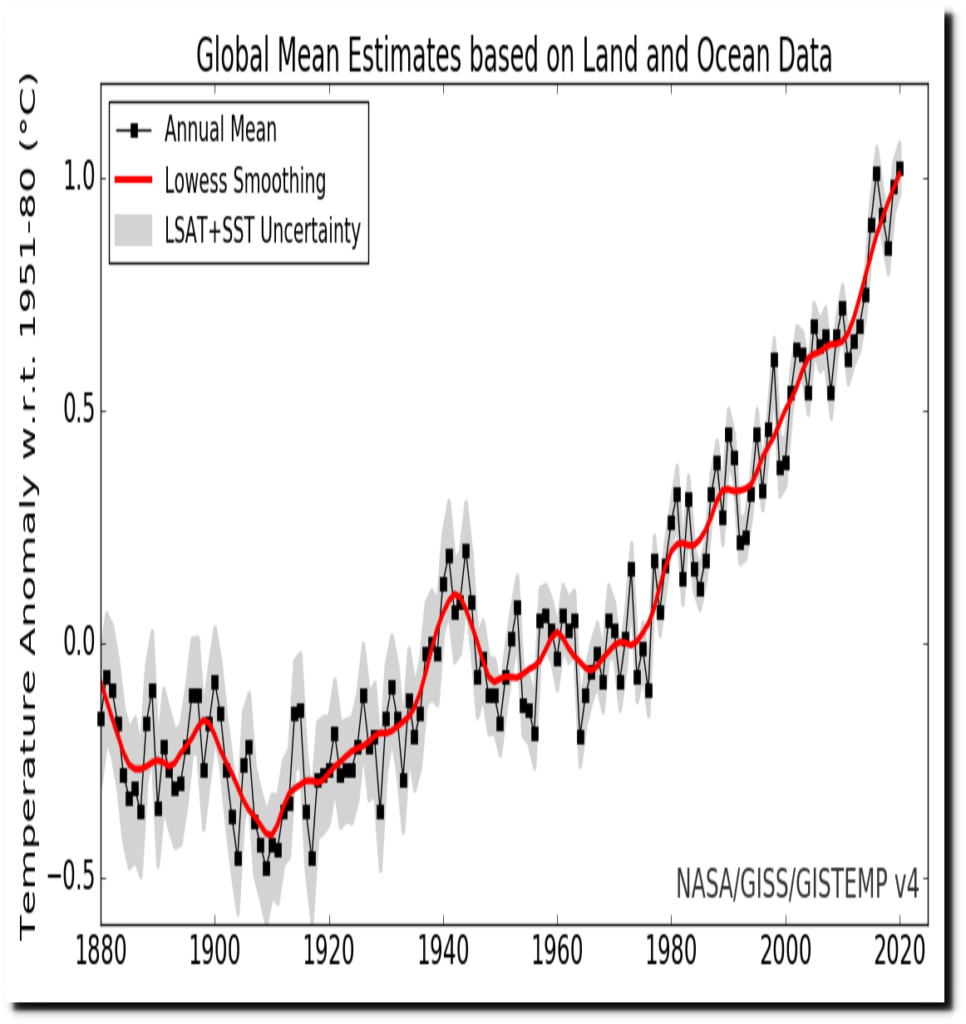 graph.png (1130×600)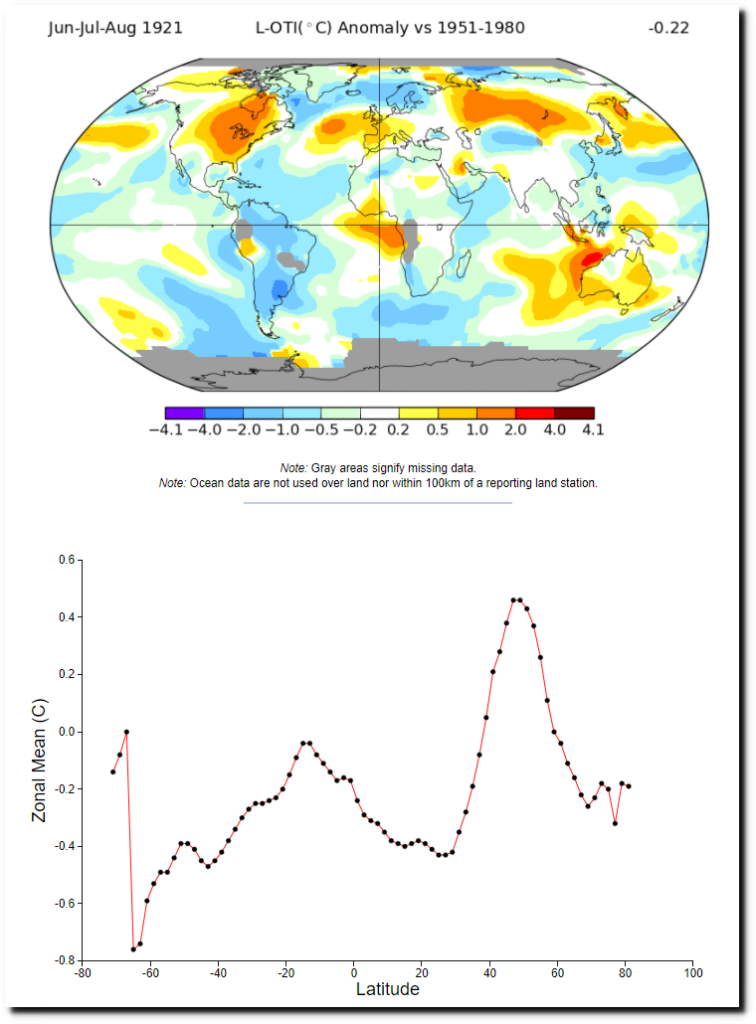 Data.GISS: GISS Surface Temperature Analysis (v4): Global Maps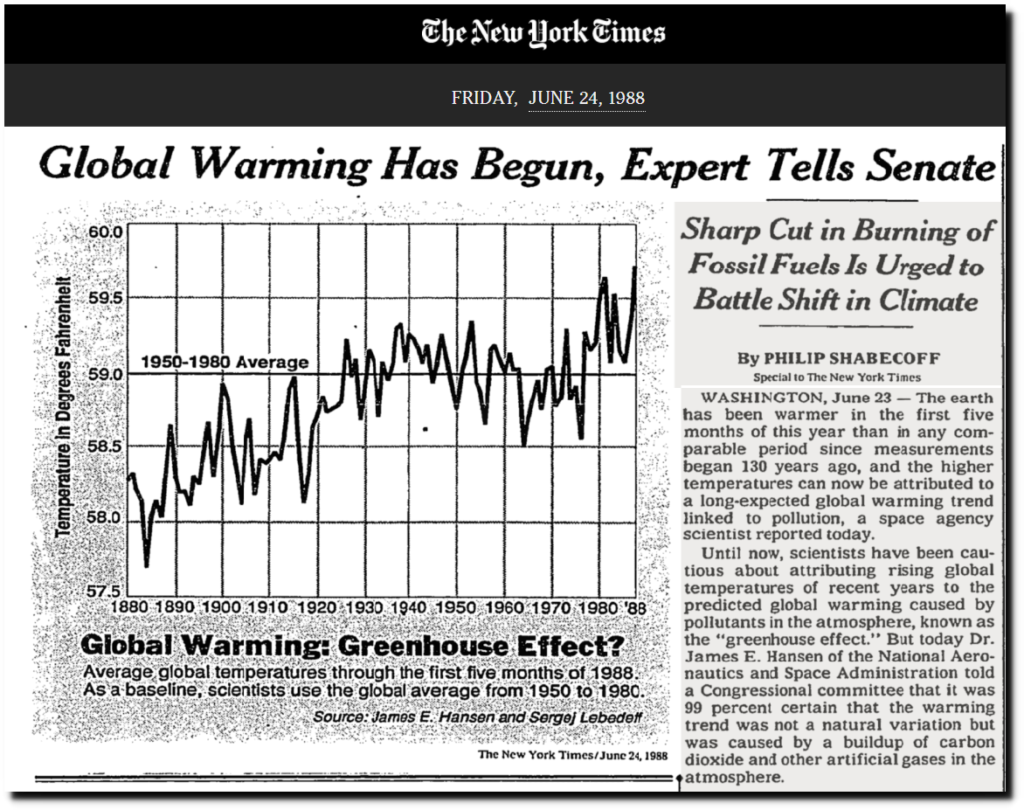 Global Warming Has Begun, Expert Tells Senate – The New York Times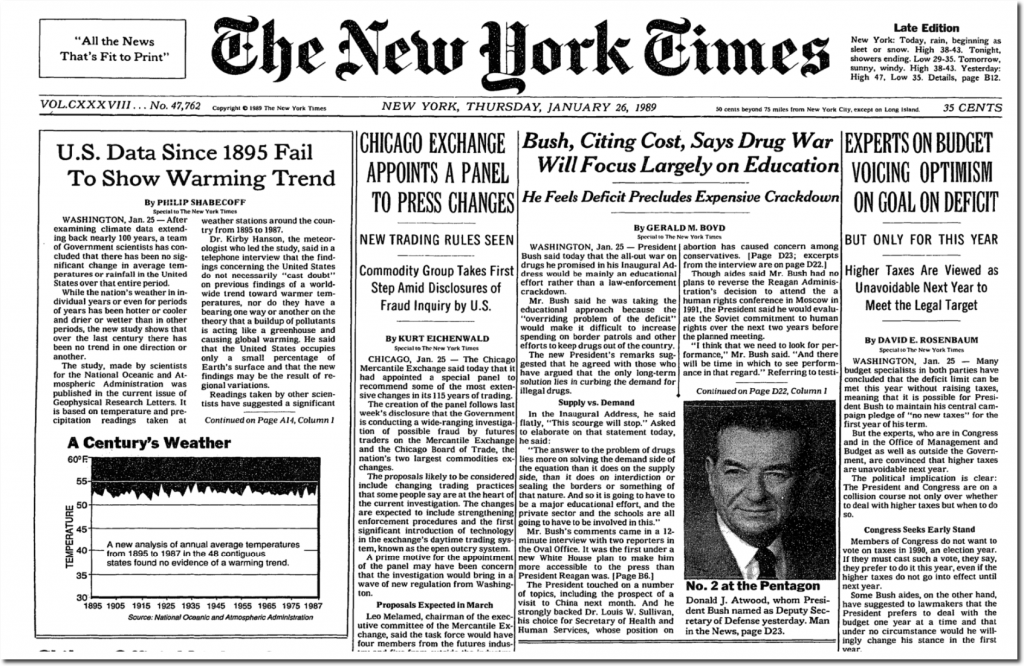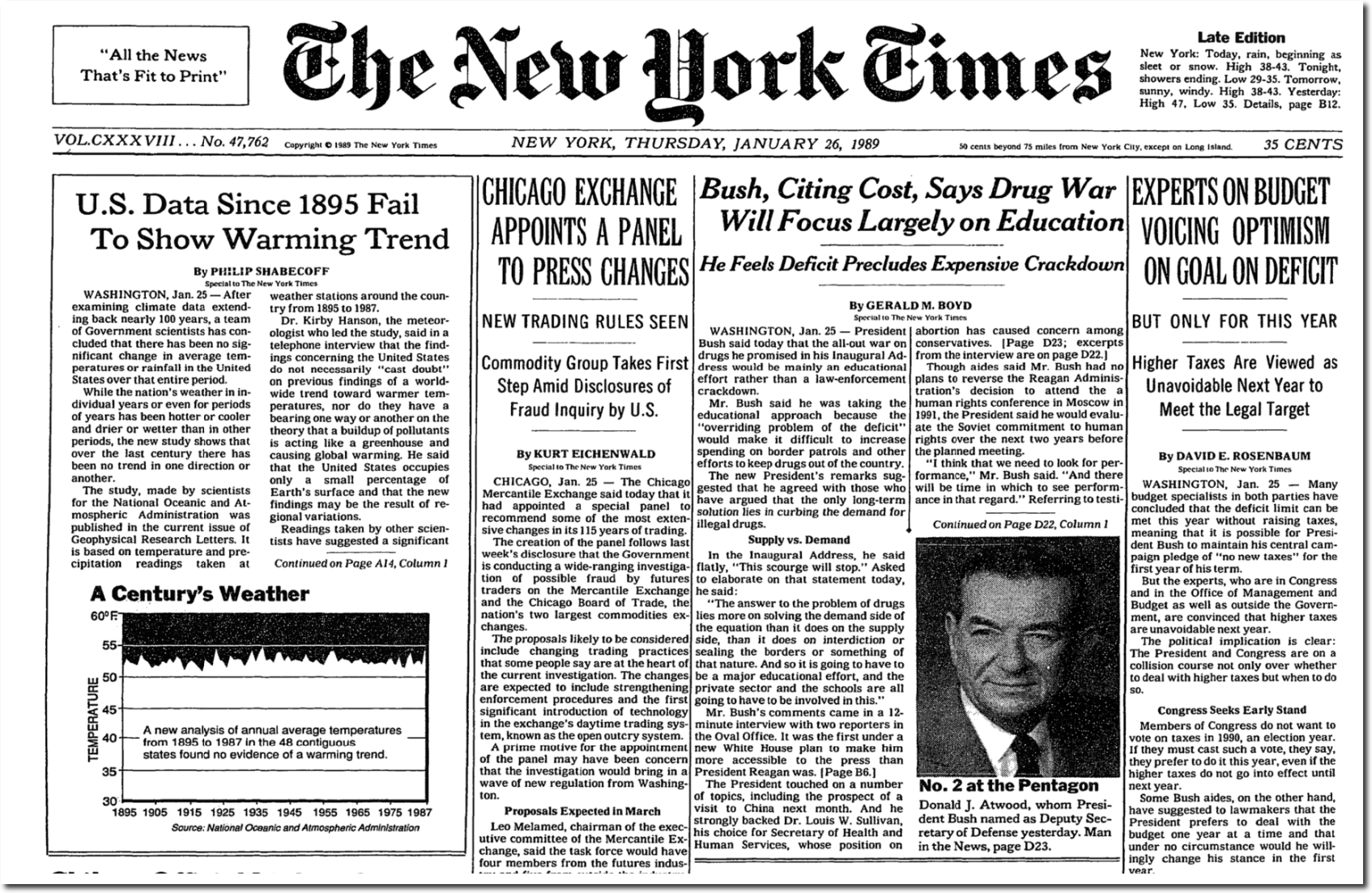 U.S. Data Since 1895 Fail To Show Warming Trend – NYTimes.com
In 1989, the head of NOAA's National Climatic Data Center said that earth cooled from 1921 to 1979. Now they show lots of warming during that period.
Analysis of warming since 1881 shows most of the increase in global temperature happened before 1919 — before the more re-cent sharp rise in the amount of carbon dioxide in the atmosphere. said Thomas Karl, of the National Oceanic and Atmospheric Administration's National Climatic Data Center in Asheville, N.C. While global climate warmed overall since 1881, it actually cooled from 1921 to 1979, Karl said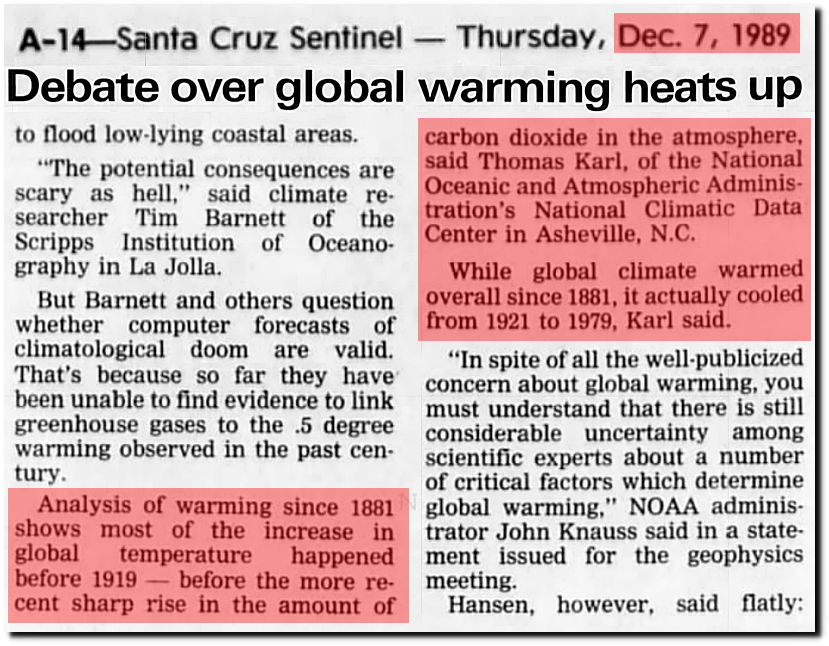 07 Dec 1989, Page 14 – Santa Cruz Sentinel at Newspapers.com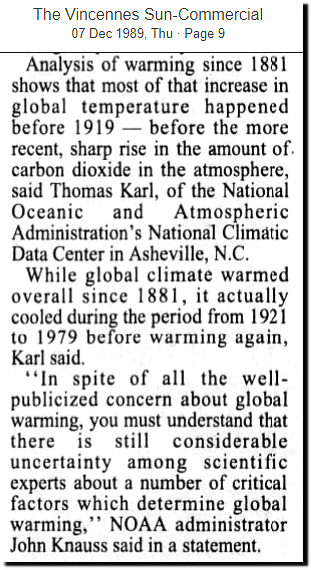 07 Dec 1989, 9 – The Vincennes Sun-Commercial at Newspapers.com
NOAA has since altered their data, and now shows cooling from 1880 to 1919 and warming from 1921 to 1979.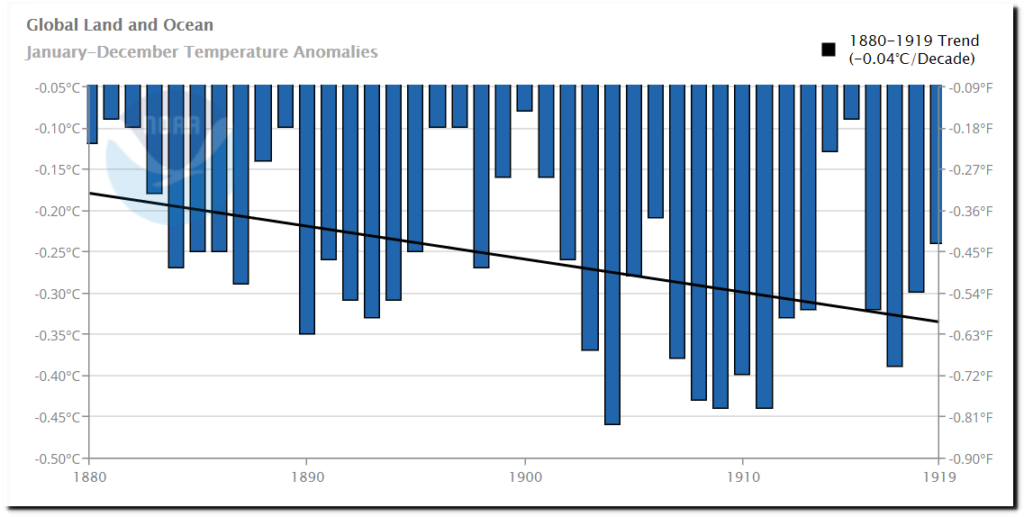 Climate at a Glance | National Centers for Environmental Information (NCEI)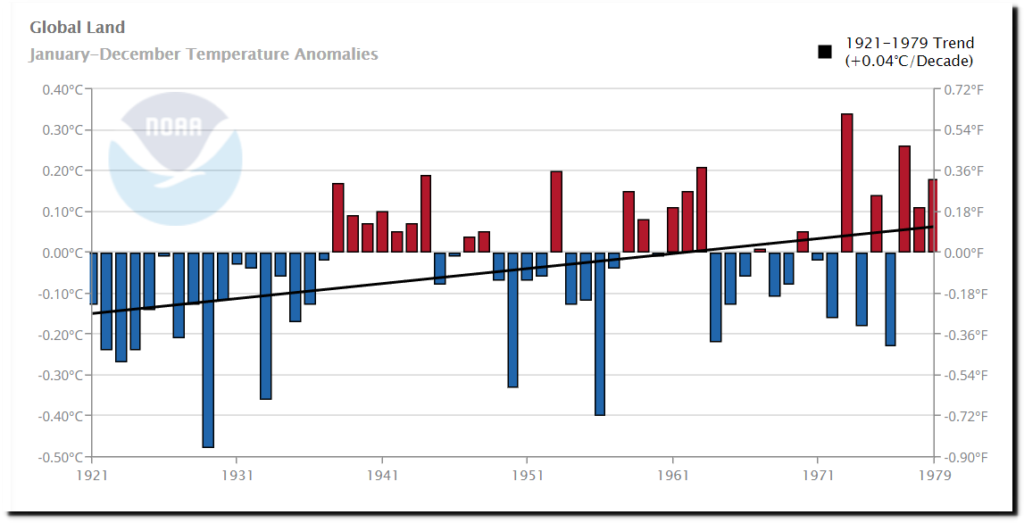 Climate at a Glance | National Centers for Environmental Information (NCEI)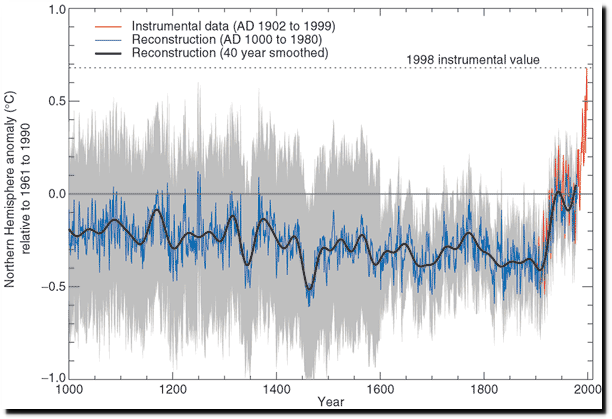 Climate Change 2001: The Scientific Basis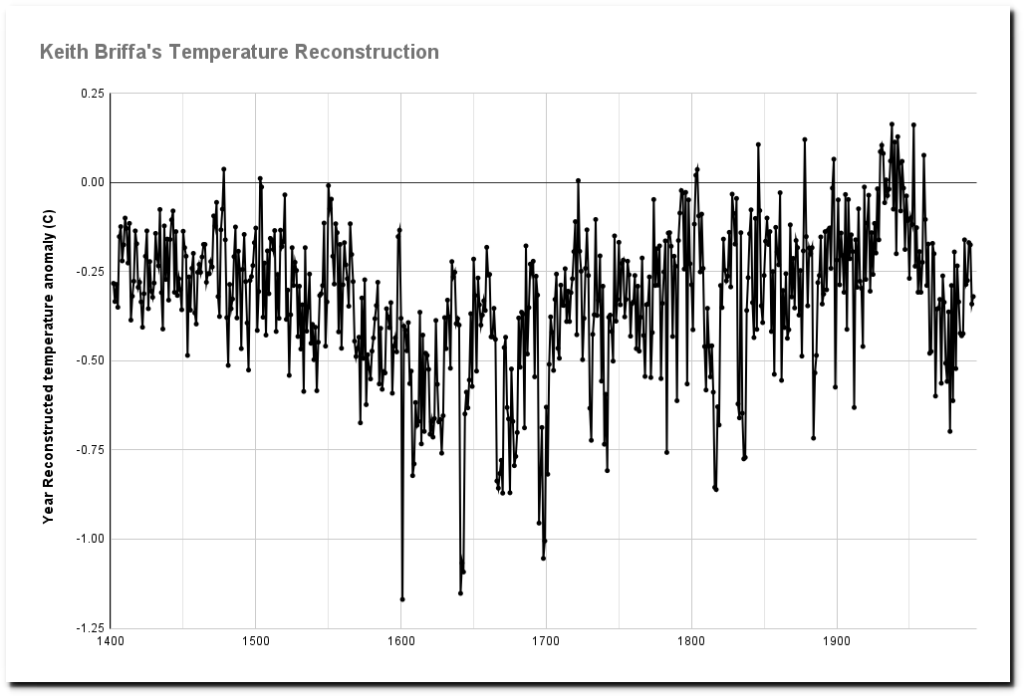 Briffa et al. series for IPCC figure
"On 22 September 1999, Met Office scientist Chris Folland, an IPCC lead author, alerted key researchers that a diagram of temperature change over the past thousand years "is a clear favourite for the policy makers' summary". But there were two competing graphs – Mann's hockey stick and another, by Phil Jones, Keith Briffa and others, which sought to ascertain temperatures over the past millennium using, among other things, tree rings, ice cores and coral. Mann's graph was clearly the more compelling image of man-made climate change. Jones and Briffa's "dilutes the message rather significantly," said Folland. "We want the truth. Mike [Mann] thinks it lies nearer his result." But Briffa did not. Three hours later, he sent a long and passionate email. "It should not be taken as read that Mike's series is THE CORRECT ONE," he warned. "I know there is pressure to present a nice tidy story as regards 'apparent unprecedented warming in a thousand years or more in the proxy data', but in reality the situation is not quite so simple… For the record, I believe that the recent warmth was probably matched about 1,000 years ago."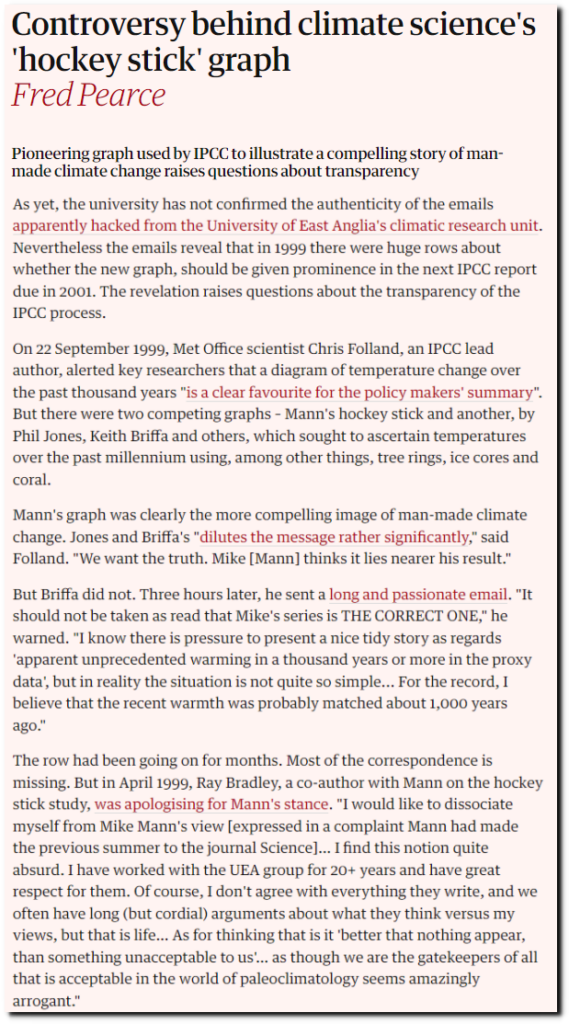 Controversy behind climate science's 'hockey stick' graph | Hacked climate science emails | The Guardian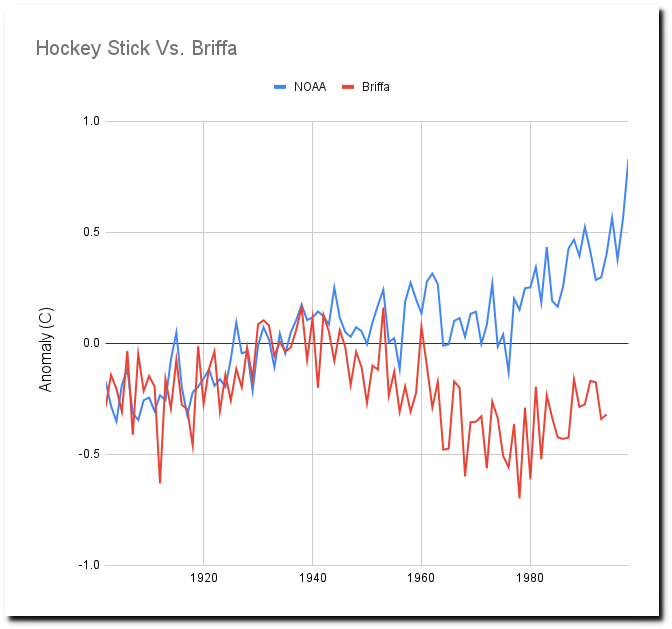 http://www.ngdc.noaa.gov/paleo/ei/ei_data/globann-raw.dat
1975 National Academy Of Sciences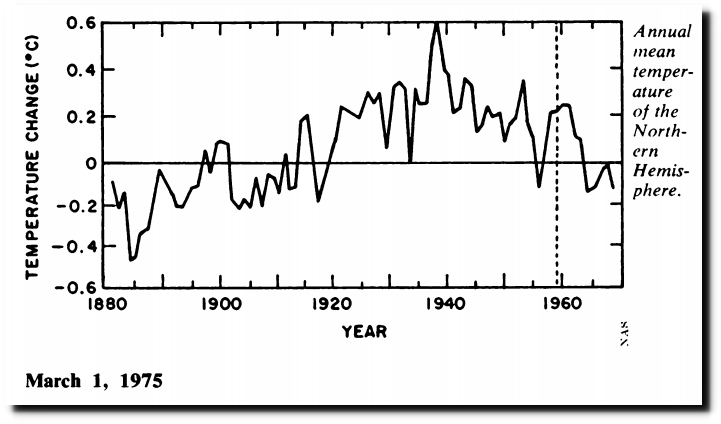 1974 NCAR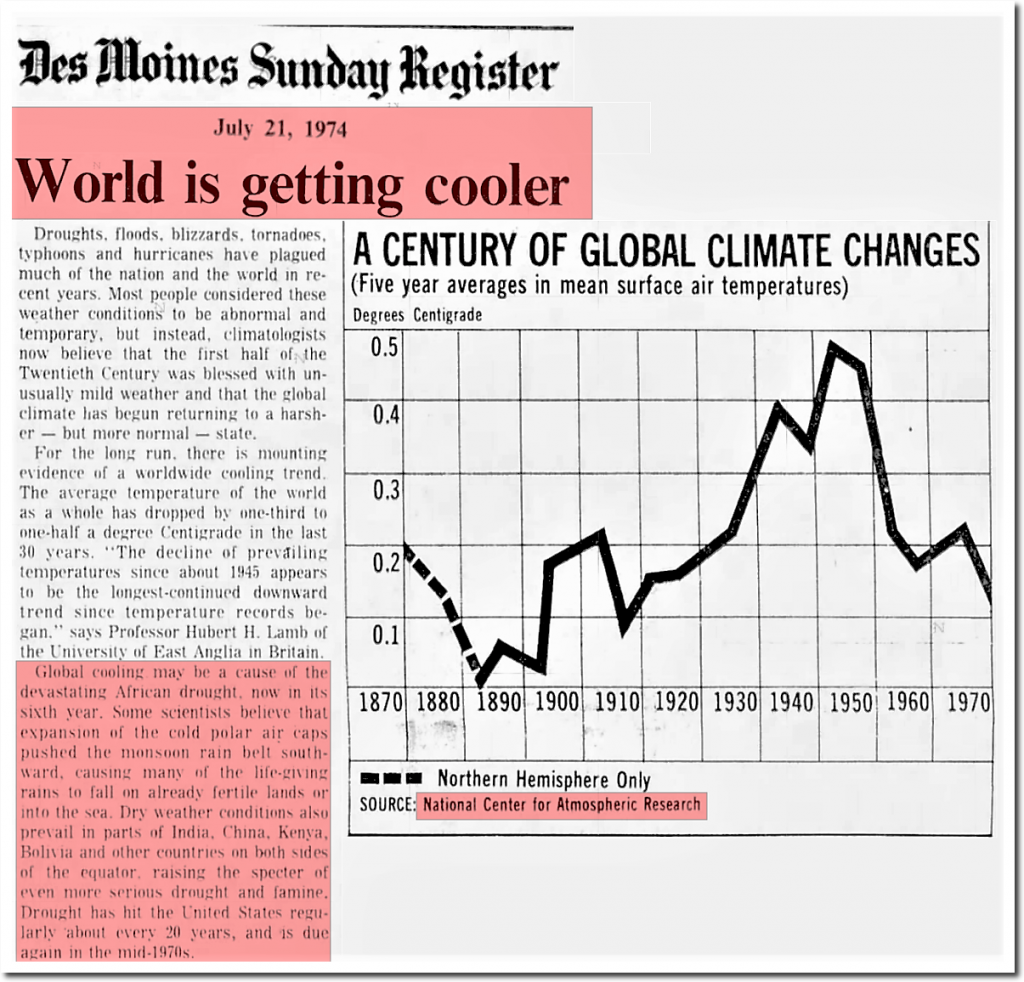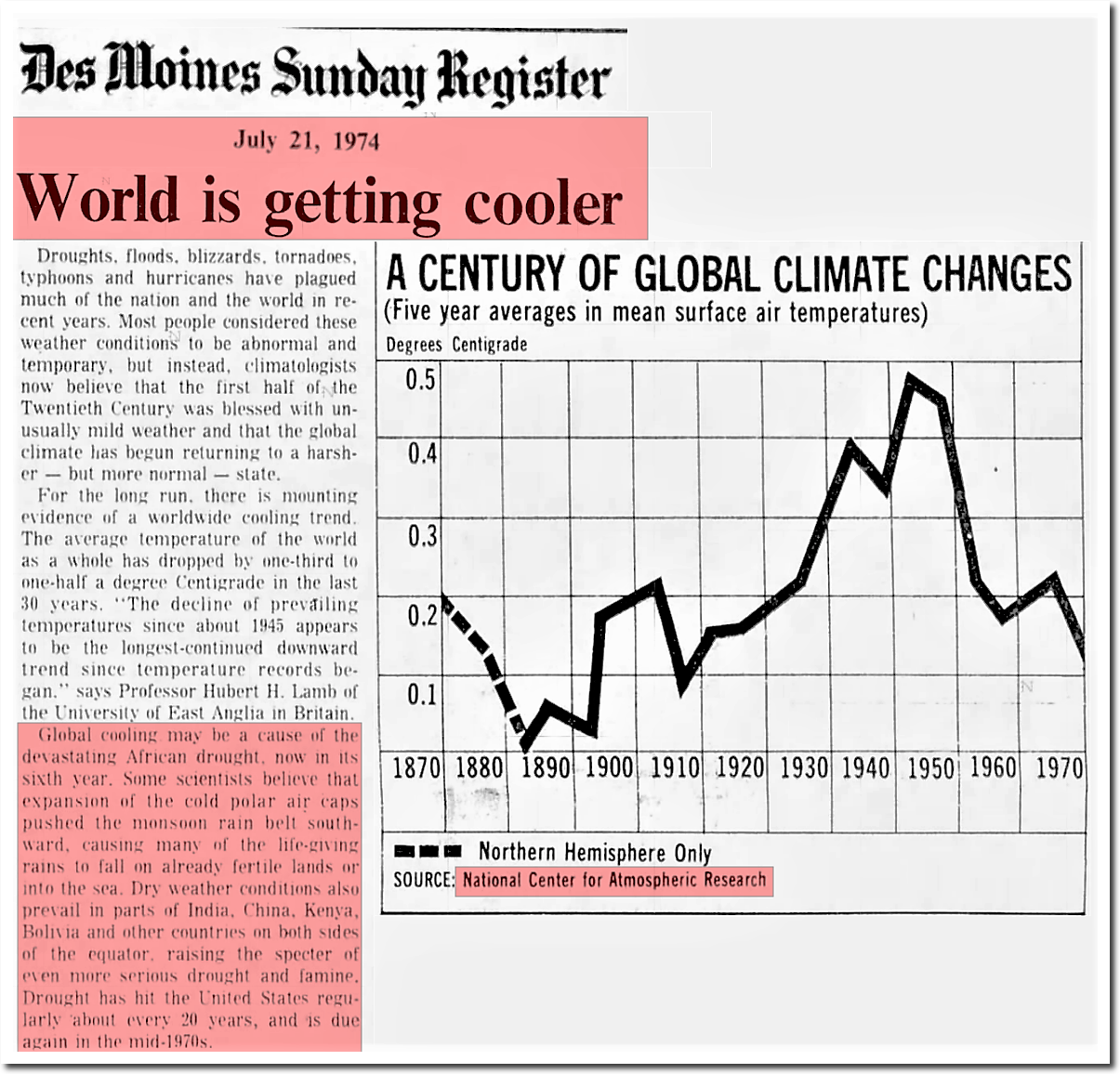 21 Jul 1974, 13 – The Des Moines Register at Newspapers.com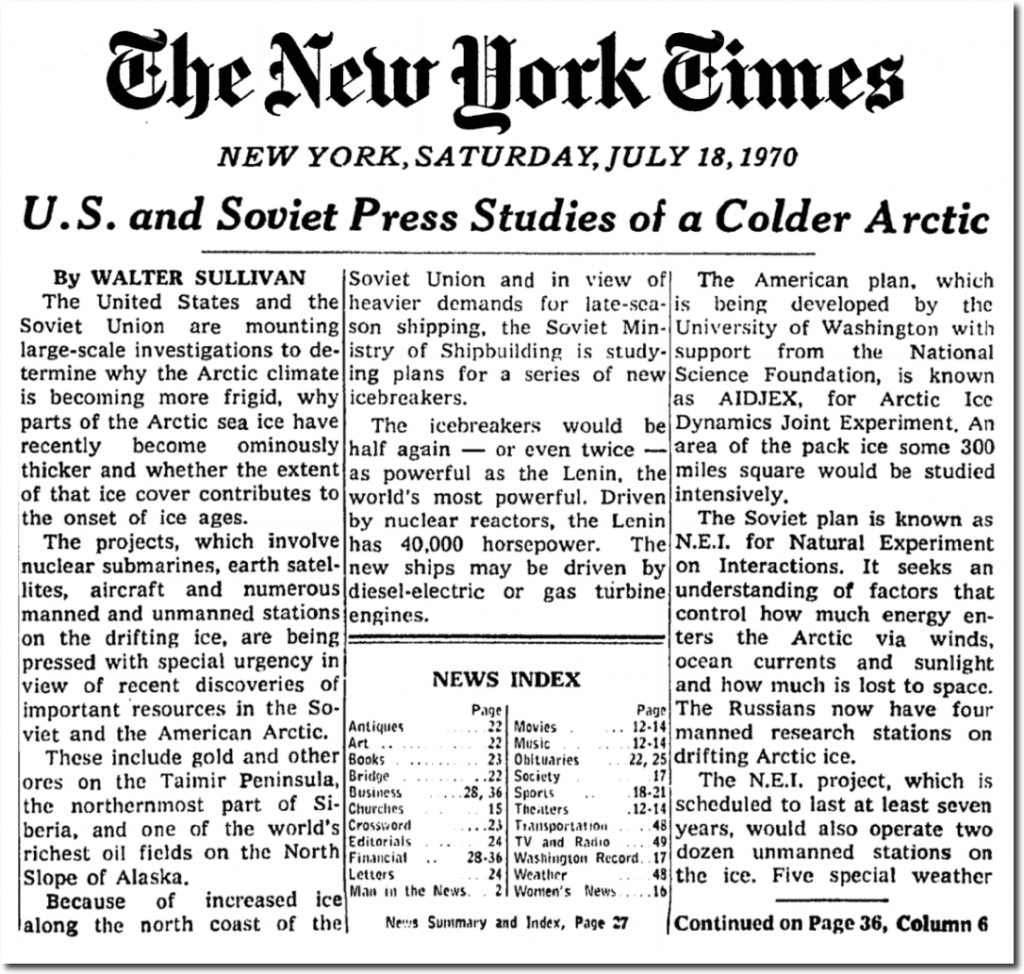 U.S. and Soviet Press Studies of a Colder Arctic – The New York Times

"An international team of specialists has concluded from eight indexes of climate that there is no end in sight to the cooling trend of the last 30 years, at least in the Northern Hemisphere.

Data from the Southern Hemisphere, particularly south of latitude 30 south, are so meager that reliable conclusions are not possible, the report says. "
International Team of Specialists Finds No End in Sight to 30‐Year Cooling Trend in Northern Hemisphere – The New York Times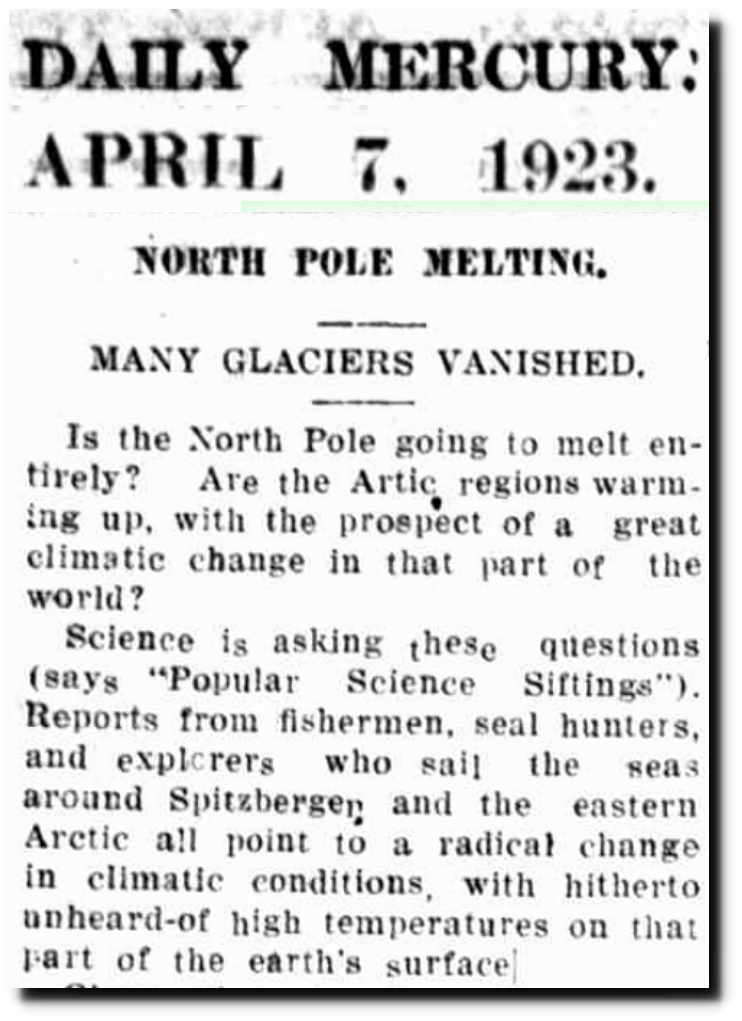 07 Apr 1923 – NORTH POLE MELTING. – Trove
Glaciers in Glacier National Park were forecast to disappear before 1950.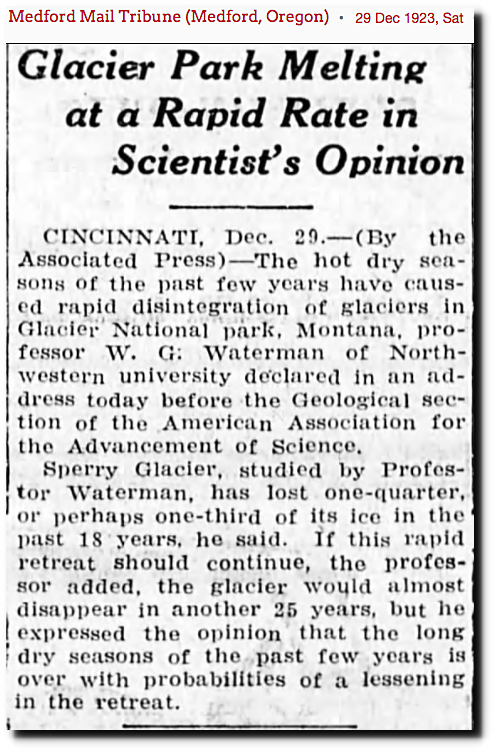 29 Dec 1923, Page 5 – at Newspapers.com
Stockhpld, Sweden, Dec. 16—All'the glaciers in Eastern Greenland are rapidly melting, declared Prof.  Hans Ahlmann, Swedish geologist, in a report to the Geographical Society here on his recent expedition to the Arctic sub-continent.

"Everything points to the fact that the climate in that region has been growing Warmer during recent years, " the professor said.

"It may without exaggeration be said that the glaciers, like those in 'Norway, face the possibility of a catastrophic collapse."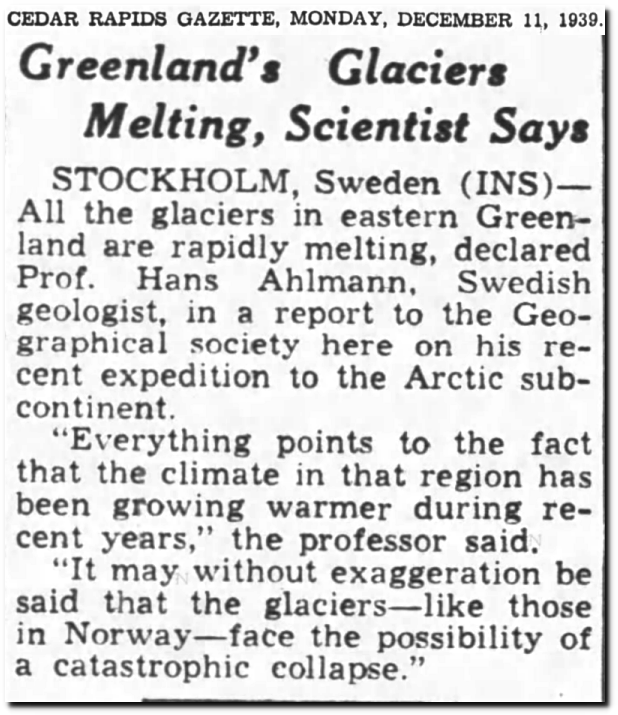 11 Dec 1939, 13 – The Gazette at Newspapers.com
"Scientists have confirmed the fact that the Arctic regions around Spitzbergen are warming up at the rate of approximately one degree in every two years. Since 1910, when observations first started in those regions, the cumulative rise of winter temperature has amounted to nearly 16 degrees. Such a profound change has been at-tended by new and strange phenomena over the whole area surrounding the Polar basin. It has been found that the Polar icefields are receding gradually northwards, while soil which at one time remained solidly frozen throughout the year now undergoes a partial thaw during the Arctic summers. In the Barents Sea area where, during earlier observations, only small patches became free from ice, large spaces of open water now occur at frequent intervals."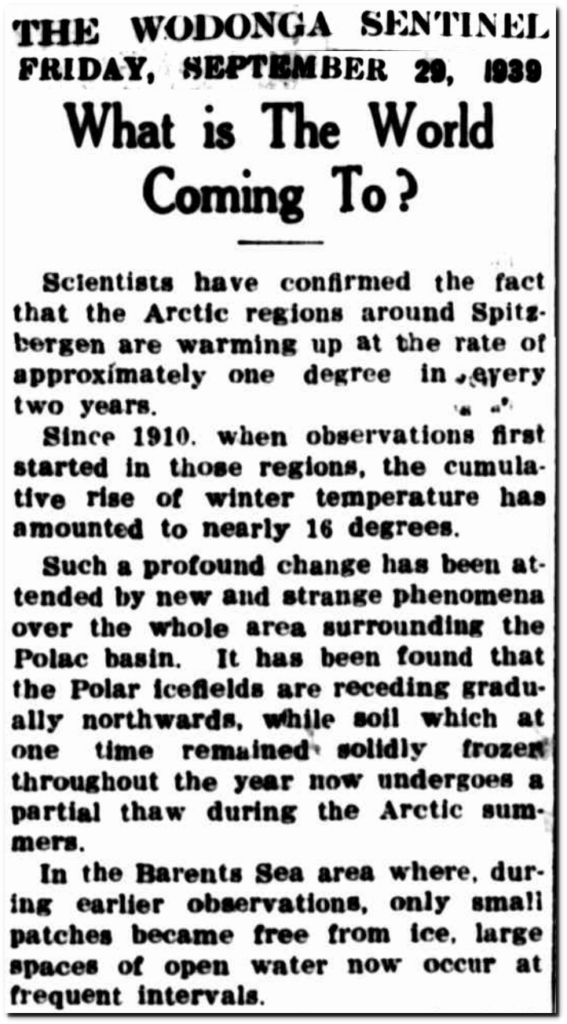 29 Sep 1939 – What is The World Coming To? – Trove