Last week, Senator Malcolm Roberts of Queensland asked Gavin Schmidt of NASA to explain the large adjustments being made to temperatures around Iceland, which removed the 1940's warmth.
Gavin responded in the Canberra Times on November 21 with a number of massive lies, like this one where claimed he didn't know Malcolm Roberts was a senator.

NASA chief slaps down climate sceptic senator Malcolm Roberts: 'You hold a number of misconceptions'
Gavin has been tweeting Senator Roberts for months, and is perfectly aware that he is senator. It is a senator's job to ask questions, and Schmidt's job to answer them.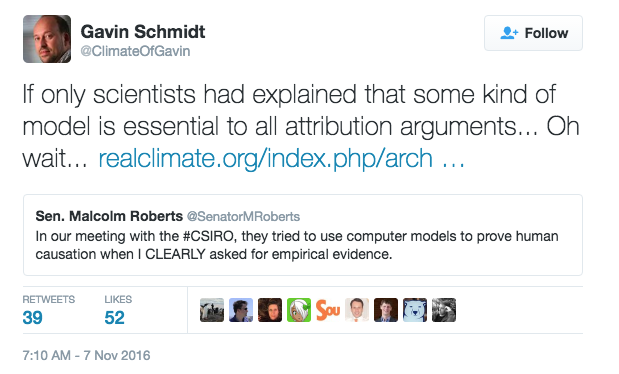 Gavin's dishonest attack on Senator Roberts for asking a question, should be grounds enough for his dismissal.
Next up was this claim in the article that the adjustments were 0.7C and made because of a station shift in 1921.
In an email, Truasti Jonsoon, senior meteorologist with a specialty in historical climatology at the Icelandic Meteorological Office, told Senator Roberts that the temperature "adjustments" are "quite sound".

The original data was not from NASA but the Smithsonian publication "World weather records", he said.

"During this early period there was a large daytime bias in the temperature data from Iceland as presented in this publication," which accounted for much of the "discrepancy" at Teigarhorn and less so at Vestmannaeyjar, Mr Jonsoon said.

For the latter station, it was relocated in October 1921 to a higher elevation. "Comparative measurements at both sites have shown that the later location is about 0.7 degrees Celsius colder than the former – this relocation has to be 'adjusted' for," he said. 
This also is a massive lie, as the adjustments are twice as large as the article claimed, and show no indication of having anything to do with a 1921 station shift.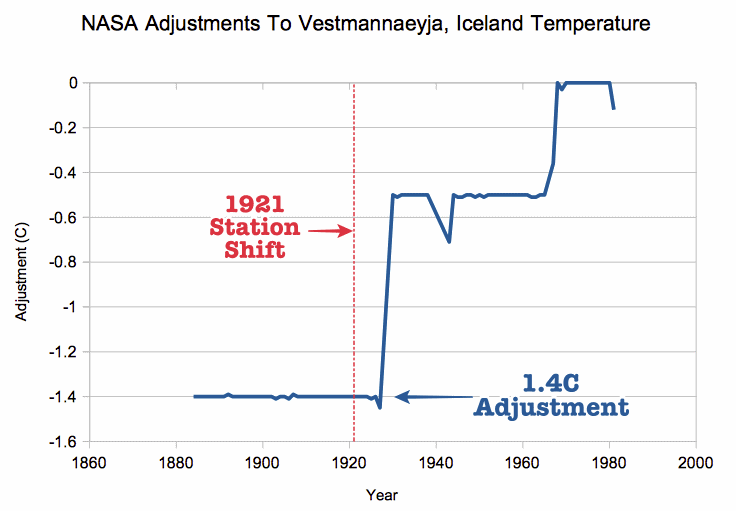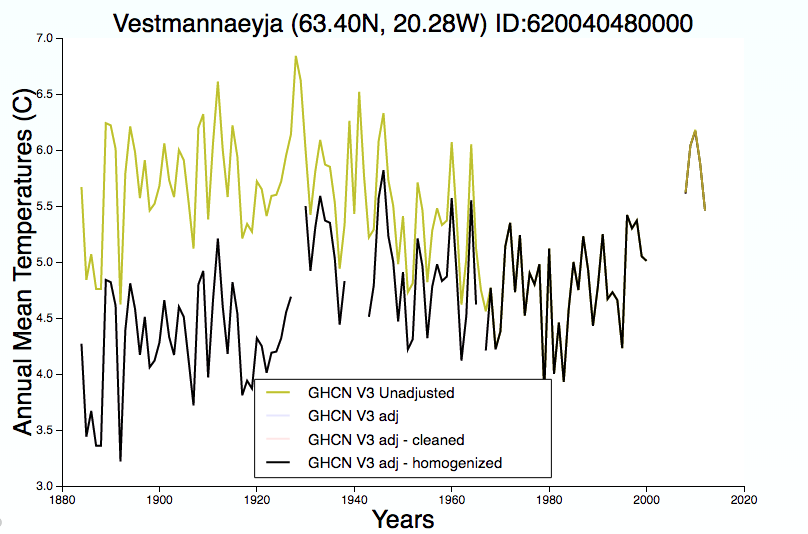 Data.GISS: GISS Surface Temperature Analysis
With government climate scientists and their cronies in the press, it is all lies, all the time. This was the lead story in the Canberra Times, which didn't have the integrity or intelligence to contact Senator Roberts before publishing their wildly fraudulent hit piece.