On May 7, 1934 temperatures were over 100 degrees in Nebraska and Iowa. Algona, Iowa was 101 degrees, 27 degrees warmer than today's forecast.
Prior to fifty years ago, 90 degree days were common on May 7 – with the five hottest years being 1934, 1916, 1952, 1962 and 1954. Since 1962, there hasn't been a May 7 with more than 10% of the US over 90 degrees. The last two years (NASA's hottest years ever) had less than 2% of stations over 90F.  2005 and 2013 were the two coolest May 7th's on record.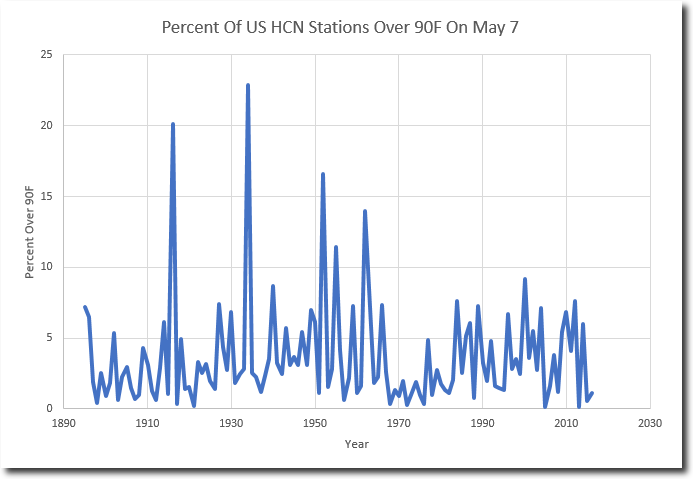 For the entire month of May – 1934, 1911 and 1962 stand out as the three hottest years. The least hot May was in 2015, with 2016 close behind (NASA's two hottest years ever.)
During May, 1934 more than two thirds of the US was in drought.
Historical Palmer Drought Indices | Temperature, Precipitation, and Drought | National Centers for Environmental Information (NCEI)
This year about 10% of the US is in drought, near or at a record low.
Climate experts says that global warming causes Spring heatwaves, but as with everything else in climate science – they are claiming the exact opposite of what the data shows.