On July 9, 1936 forty-three states were over 90F, thirty-six states were over 100F and South Dakota, North Dakota and Indiana were all over 110F.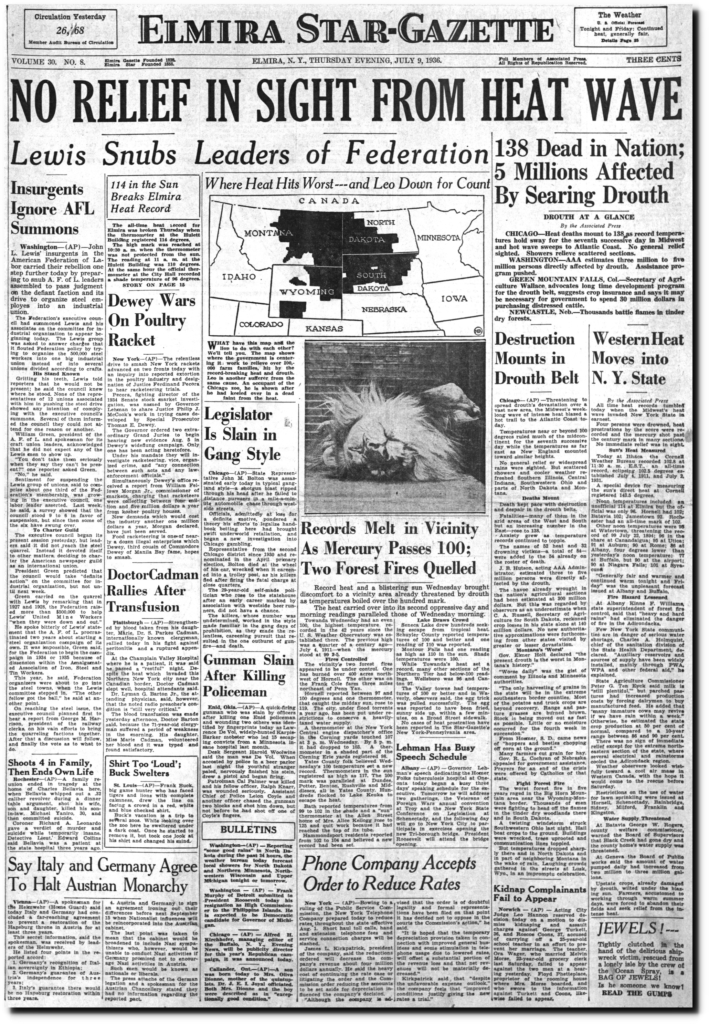 09 Jul 1936, 1 – Star-Gazette at Newspapers.com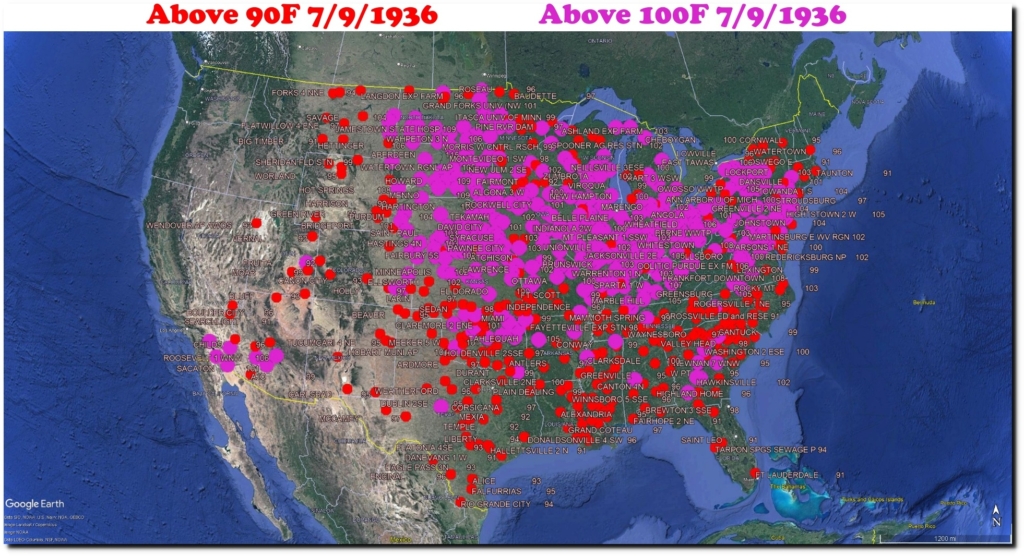 SD 115 ND 114 IN 110
IL 108 KY 108 AZ 107 CO 107 MN 107 VA 107 IA 106 KS 106 MI 106 NE 106 NJ 106 NY 106 OH 106 PA 106 WY 106 CA 105 MO 105 OK 105 WI 105 MT 104 TN 103 GA 102 MD 102 WV 102 AR 101 SC 101 TX 101 AL 100 CT 100 DE 100 MS 100 NC 100 UT 100
LA 99 FL 98 NM 98 NH 97 NV 96 VT 95 MA 93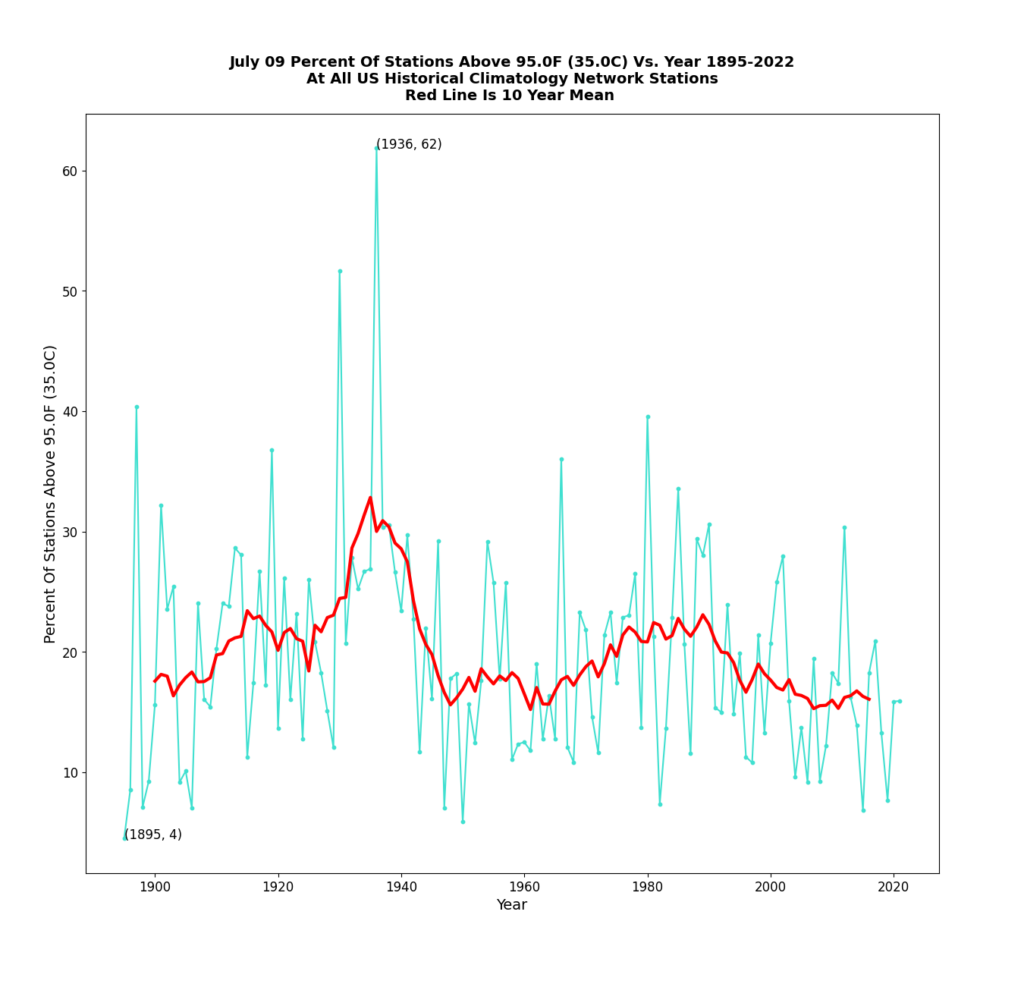 North Platte Daily Telegraph (North Platte, Nebraska) – 09 Jul 1936, Thu – Page1

"WEATHER RECORDS IN 12 MONTHS EXTREME

Has Been Coldest, Hottest, Dryest, Wettest In U S. Over Large Area.

Washington, July 9, (AP) — A dizzying succession of phenomenal weather — most of it bad, has made the last 12 months one of the most remarkable periods on the weather bureau's books. In one part of the country or another, weather men have recorded the coldest winter, the hottest summer, the worst floods, the most devastating dust storms| and the most severe tornadoes and hurricanes in history. The central and eastern portions of the country recorded the extremes in low temperatures during the winter of 1935-36,

"At Devils Lake, N. D. Bureau officials said, "there was established a winter temperature record that probably had no parallel in the weather history of this country for a first-order weather bureau station. The temperature went below freezing on November 27 and did not rise to the freezing point until March 1, a period of 96 days."

The average temperature for January and February at Devils Lake was 13 degrees below zero.

FROM COLD TO HOT. It is in this same region where record heat is now being recorded within the last week, A report of 112 degrees was received from Devils Lake. Kennebec, S. D., reported a maximum of 119 degrees.

Temperatures in the Dakotas have ranged around and over 100 degrees for more than a week,"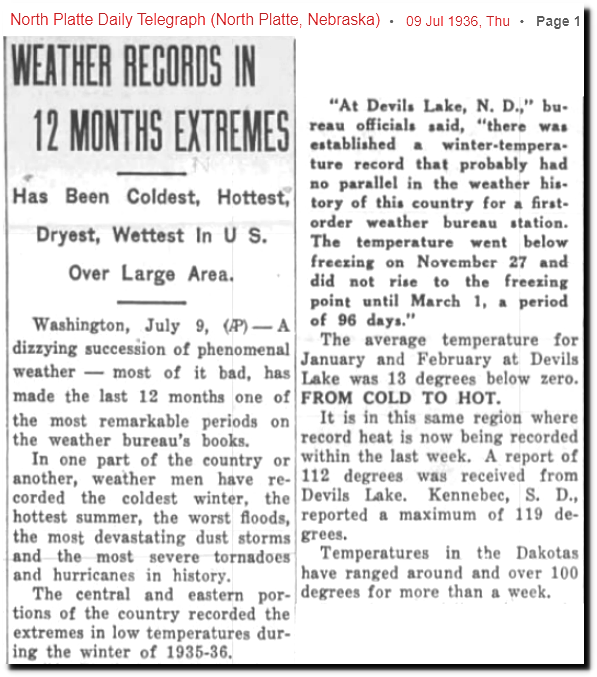 09 Jul 1936, 1 – North Platte Daily Telegraph at Newspapers.com
Temperatures at Fort Yates, North Dakota ranged from -50F on February 16, 1936 to 119F on July 6, 1936, a warm up of 169 degrees.