Of 21 Winter Olympic Cities, Many May Soon Be Too Warm to Host the Games – The New York Times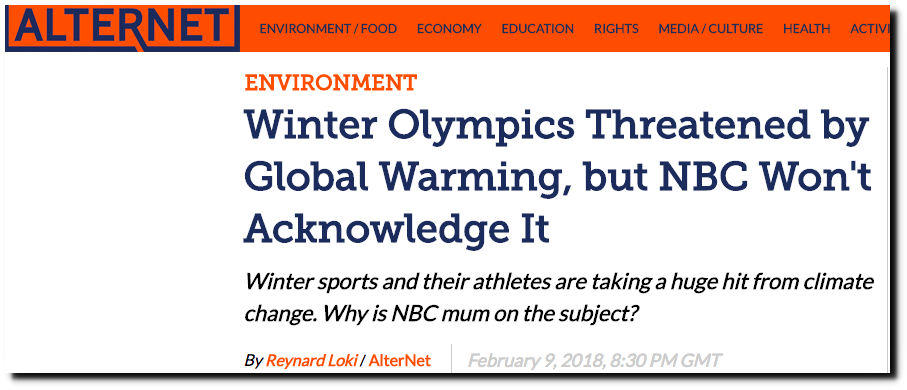 Winter Olympics Threatened by Global Warming, but NBC Won't Acknowledge It | Alternet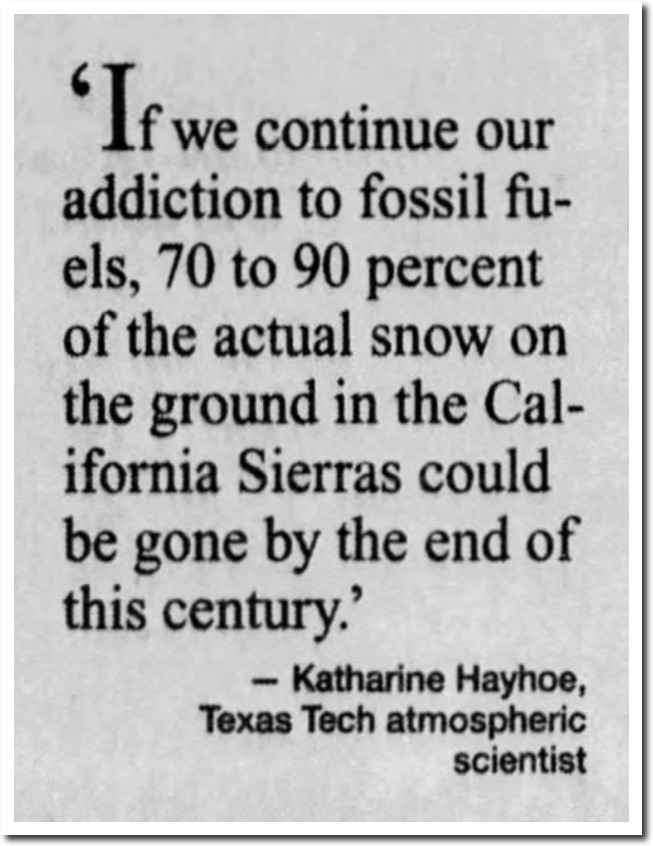 20 Feb 2006, 36 – Rapid City Journal at Newspapers.com
Seven of the first nine Winter Olympics games suffered from a lack of snow.
Winter Olympics History—Founding, Facts & Sites – HISTORY
"OLYMPIC SNOW SPORTS DUBIOUS

CHAMONIX, France, Jan. 25.— "With the skating rink and snow slides almost wrecked by thaws, 'opening of the Olympic games here tomorrow seems dubious. The skating rink is soft and sloppy and slides for the bobsled and ski contests have melted down almost to mud. Athletes of the nineteen nations entered in the winter sports have had practically no preparatory work and are willing to accept a postponement for better weather.

Officials of the French Olympic committee have had carloads of snow hauled down from the mountains to cover up the bare spots in the slide and while it has been made fairly good for practice, it hardly can be used for real competition."
25 Jan 1924, 15 – Stockton Evening and Sunday Record at Newspapers.com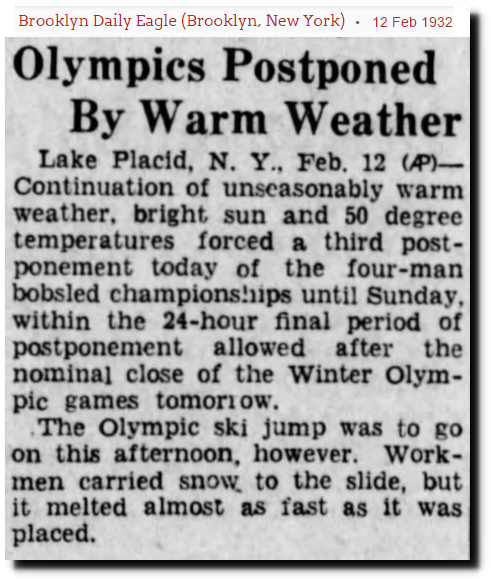 12 Feb 1932, Page 2 – The Brooklyn Daily Eagle at Newspapers.com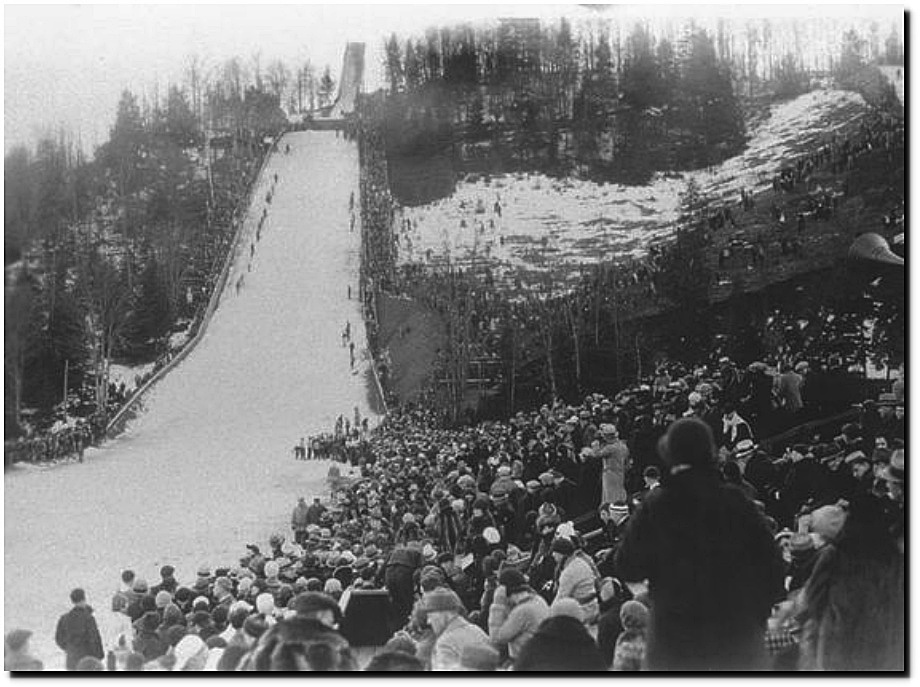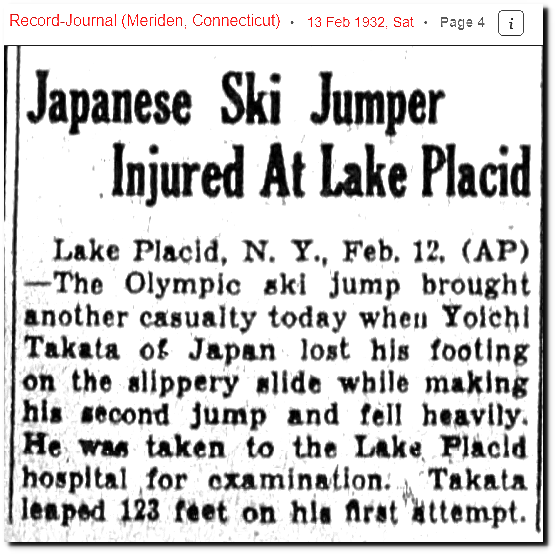 13 Feb 1932, 4 – Record-Journal at Newspapers.com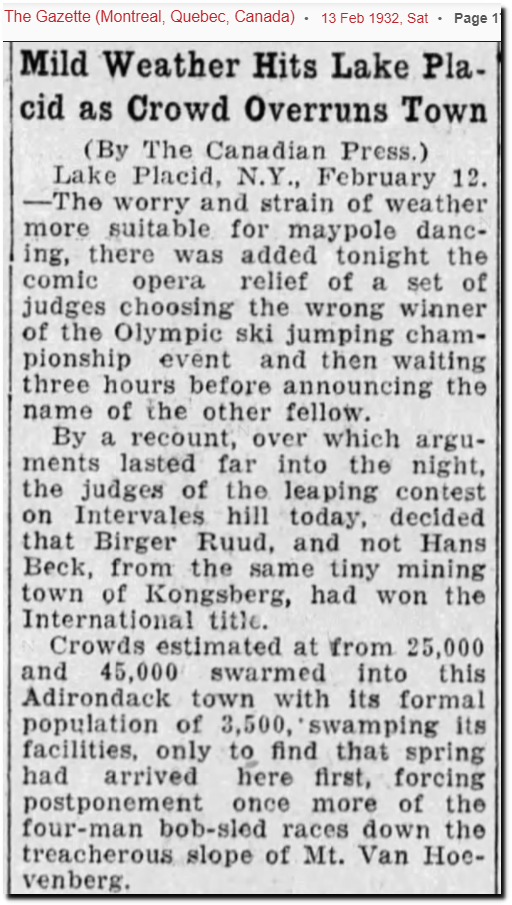 13 Feb 1932, 17 – The Gazette at Newspapers.com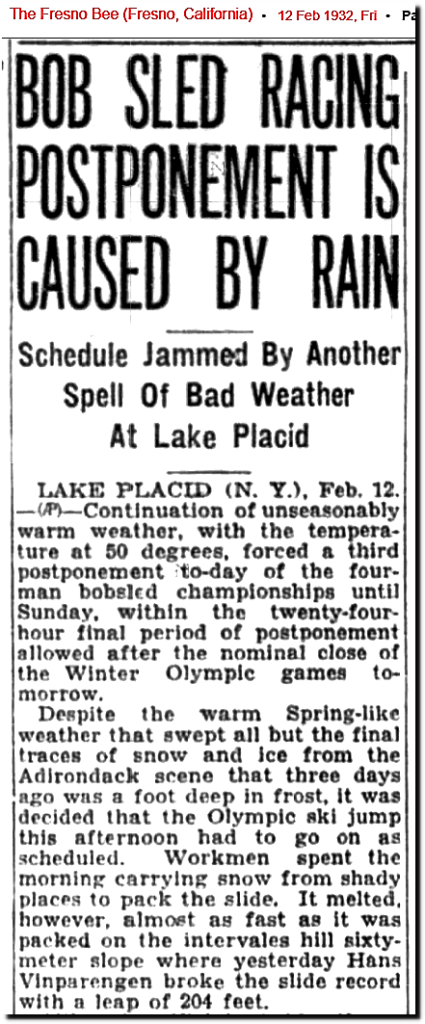 12 Feb 1932, 20 – The Fresno Bee at Newspapers.com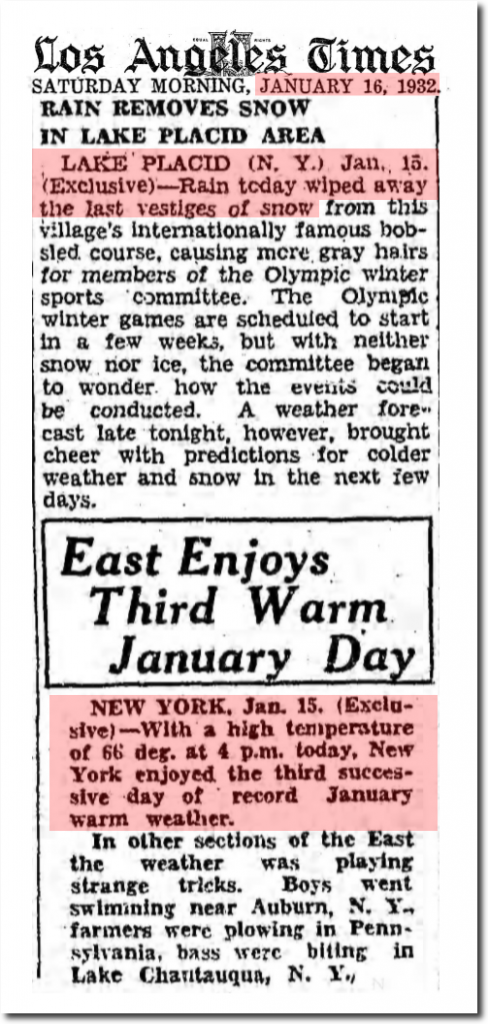 16 Jan 1932, Page 1 – The Los Angeles Times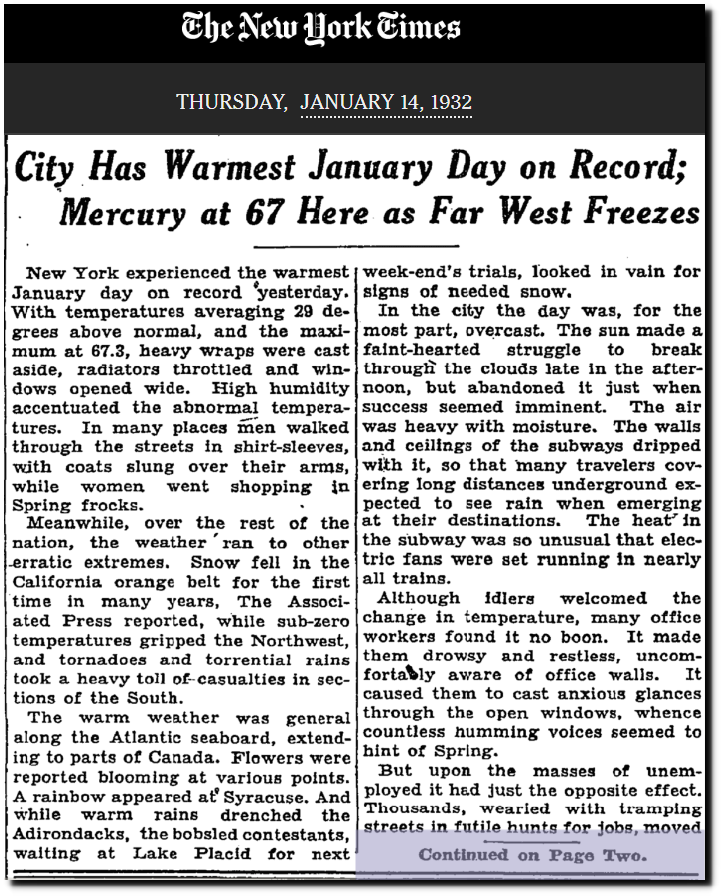 TimesMachine: January 14, 1932 – NYTimes.com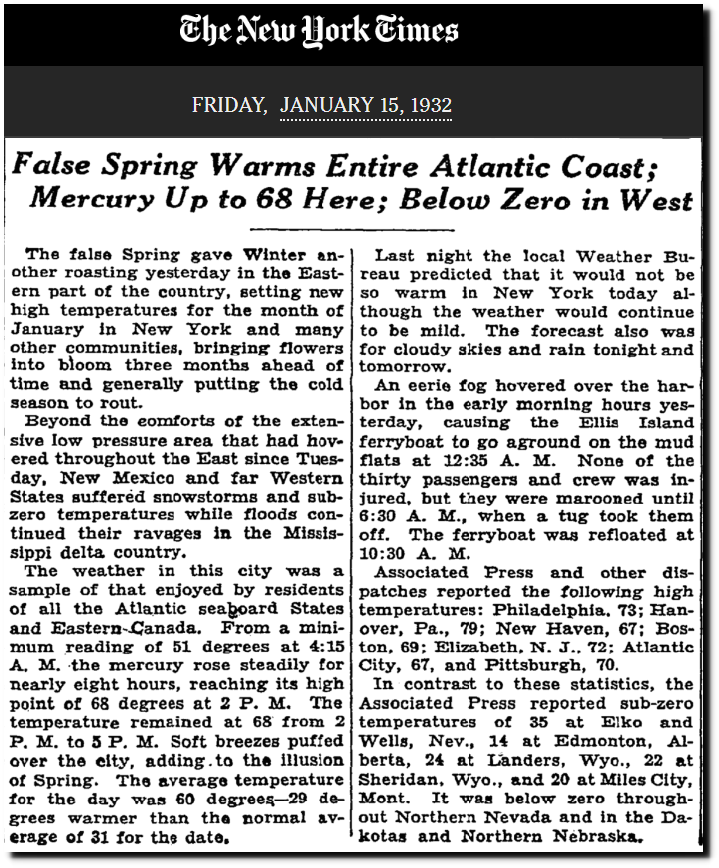 TimesMachine: January 15, 1932 – NYTimes.com
"Germany, Feb. 3 1936——The warm weather "jinx" which has over- shadowed the Winter Olympics since their commencement in 1924, today showed no signs of letting up before the scheduled opening here Thursday.

The fourth consecutive day of rain today washed away what little snows were left"
03 Feb 1936, 22 – The Buffalo News at Newspapers.com
"Sixth Winter Olympics Open in Snow-Starved Oslo Today

More than 300 soldiers working day and night have brought the giant slalom course into good shape by shoveling in snow from every nearby gully"
14 Feb 1952, 73 – The Los Angeles Times at Newspapers.com
"A light snow began falling to- day on Cortina's craggy, snow- Starved slopes, raising hopes for 'successful competition. It was the first snow in 15 days.

Officials already had planned to go ahead with skiing events on mountain Slopes surrounding the village but skiers reported the snow thin and dangerously fast.

"RACE OF DEATH'

– French ski manager Maurice 'Martel warned that the downhill event next week will be "a race. 'of death if it doesn't snow soon." U. S. coach Bob Sheehan issued crash helmets to his skiers. And women's Olympic ski champ Andrea Mead Lawrence of Parshall, 'Colo., who usually likes to ski on ice, admitted, "This ice is too rough even for me."

Italian Olympic officials switched the women's giant slalom event to a fresh site and hoped for snow. Just in case, more than 100 Italian ski troopers were up at dawn today shoveling snow onto the downhill run.
25 Jan 1956, Page 29 – Press and Sun-Bulletin at Newspapers.com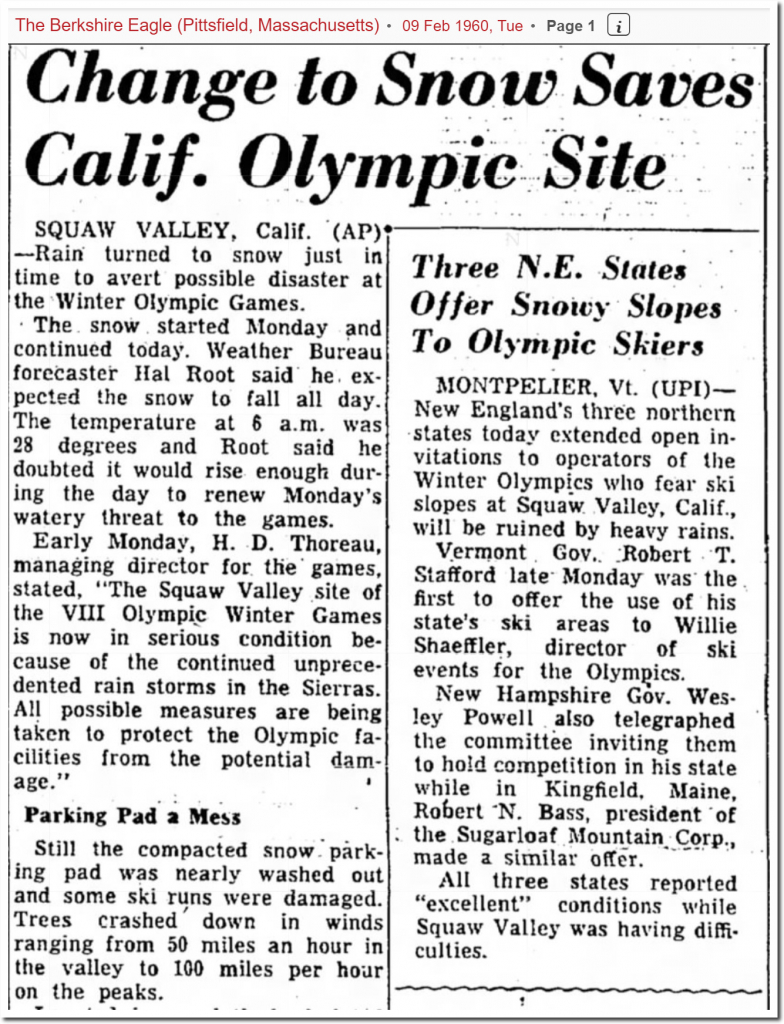 09 Feb 1960, Page 1 – The Berkshire Eagle at Newspapers.com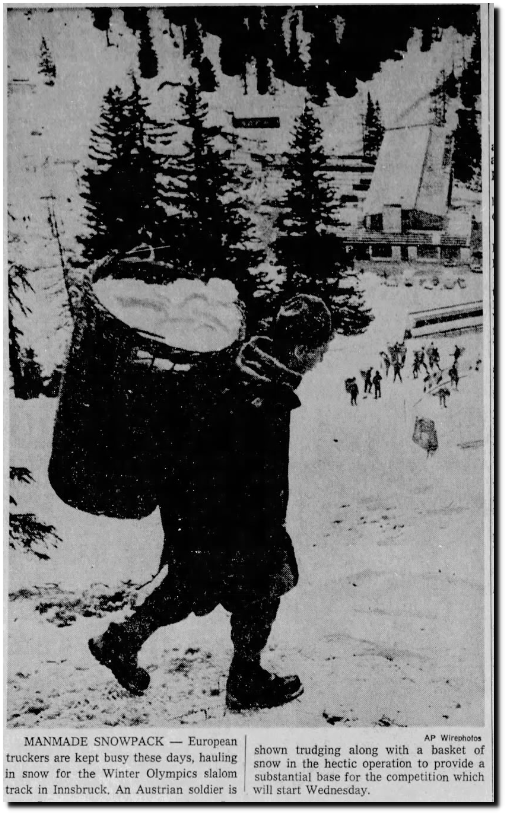 26 Jan 1964, 48 – The Fresno Bee at Newspapers.com