"Climate change" is responsible for wildfires that "move with more speed…and last well beyond traditional months of the fire season."
According to Vice-President Biden, we are having a record fire season.

Burn acreage to date is 1,472,510 acres. Ninety years ago burn acreage was 51,607,000 acres – so we are currently at less than 3% of the burn acreage of 1931.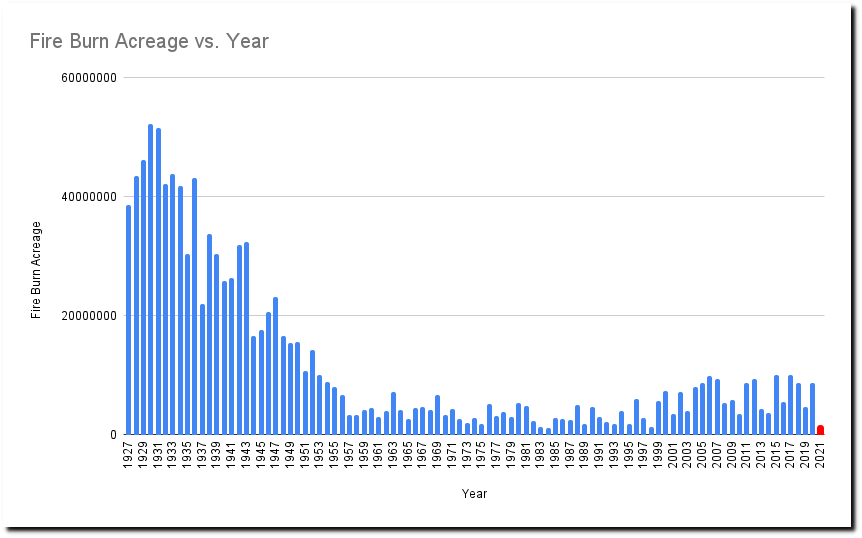 National Interagency Fire Center
Burn acreage to date is less than one third of ten years ago.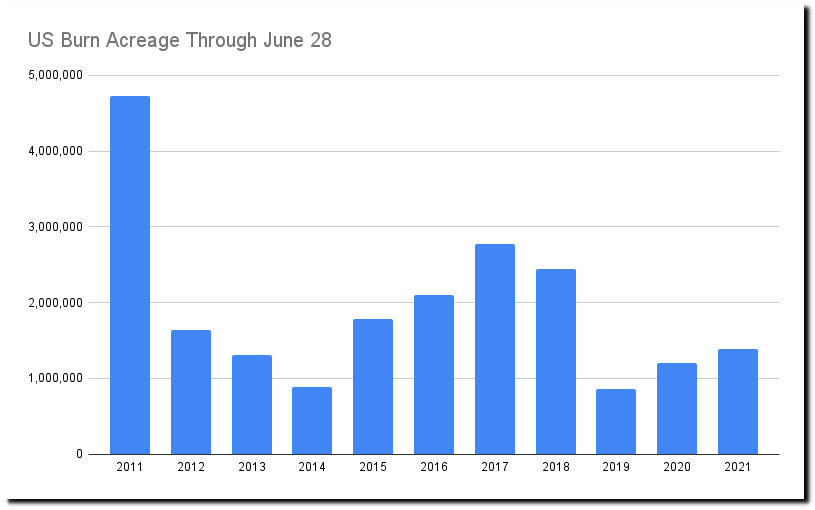 National Fire News | National Interagency Fire Center
Biden says fire season is longer now than it was before climate change, and fires burn faster and hotter now than they used to. During February 1898, three million acres burned in South Carolina in less than 48 hours.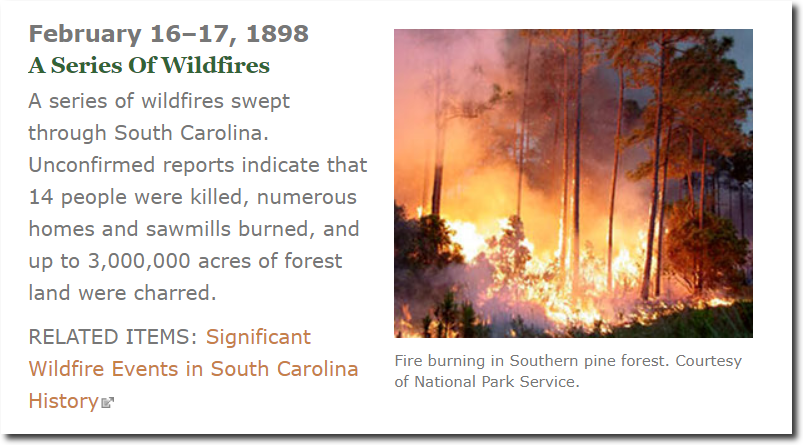 Wildland Fire: History Timeline | U.S. National Park Service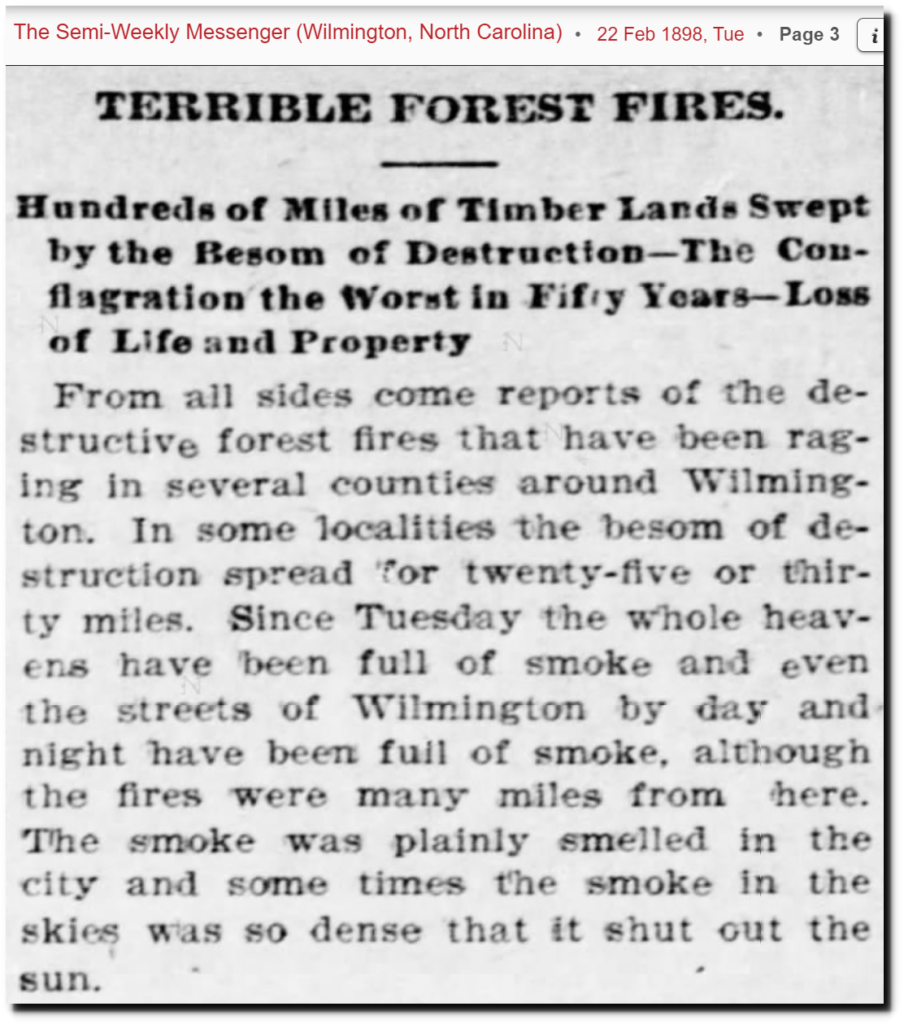 22 Feb 1898, Page 3 – The Semi-Weekly Messenger at Newspapers.com
The massive fires of 1898 burned well into October, making the fire season at least eight months long.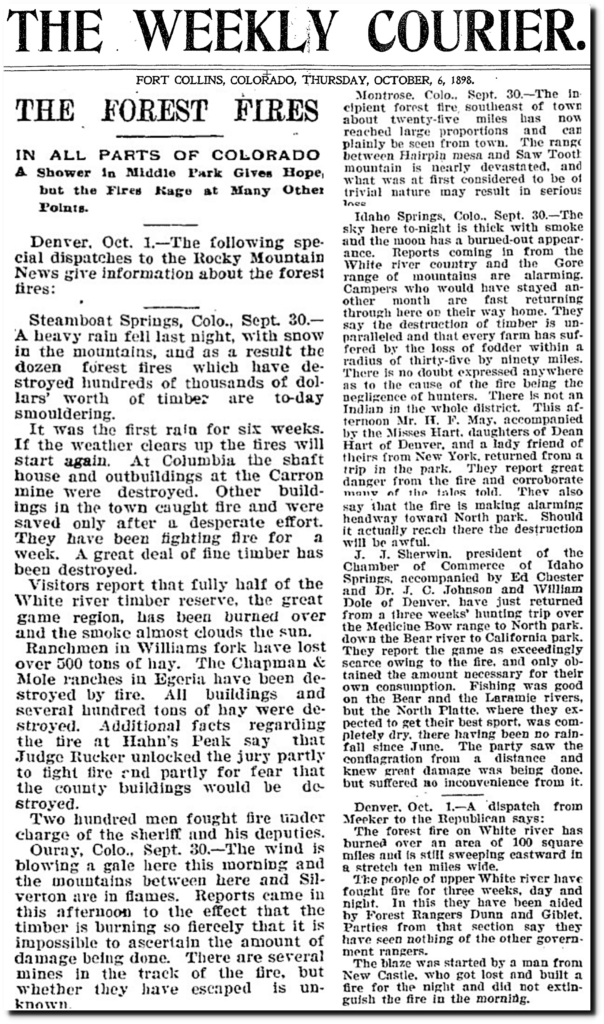 Fort Collins Courier October 6, 1898 — Colorado Historic Newspapers Collection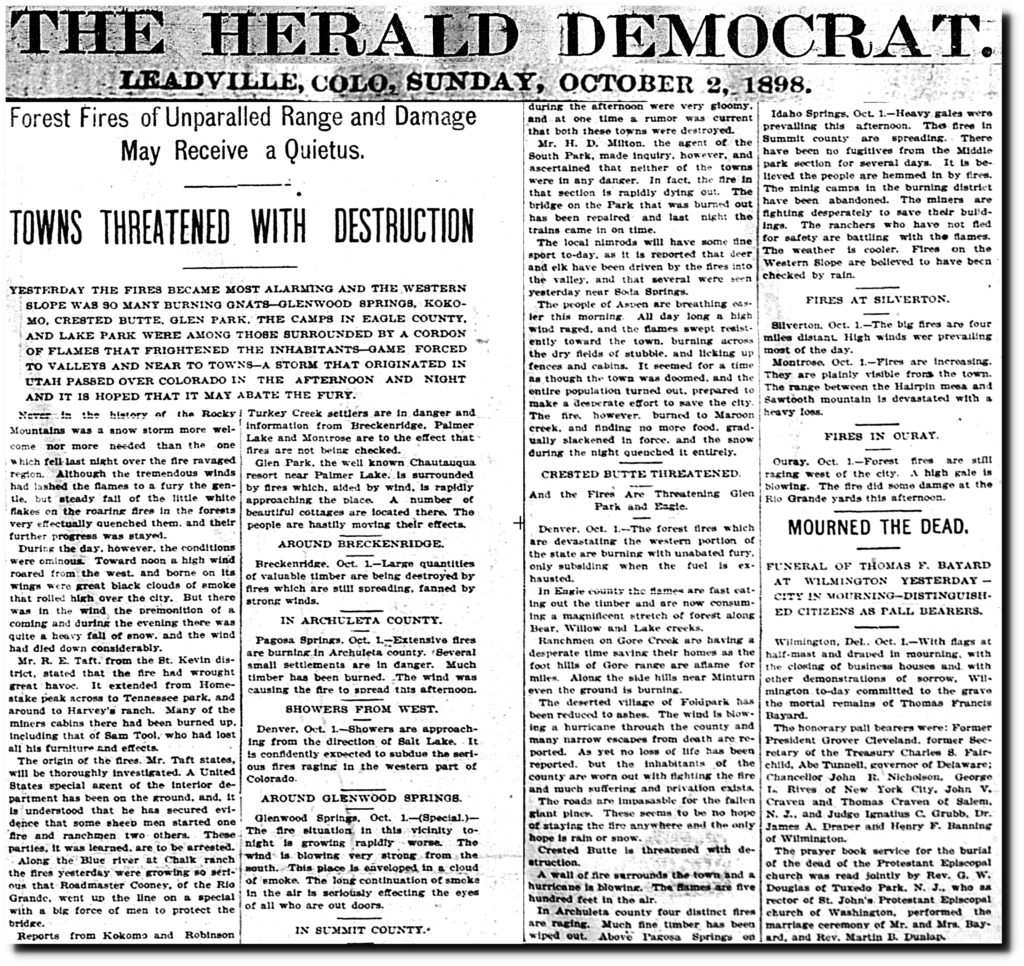 Herald Democrat October 2, 1898 — Colorado Historic Newspapers Collection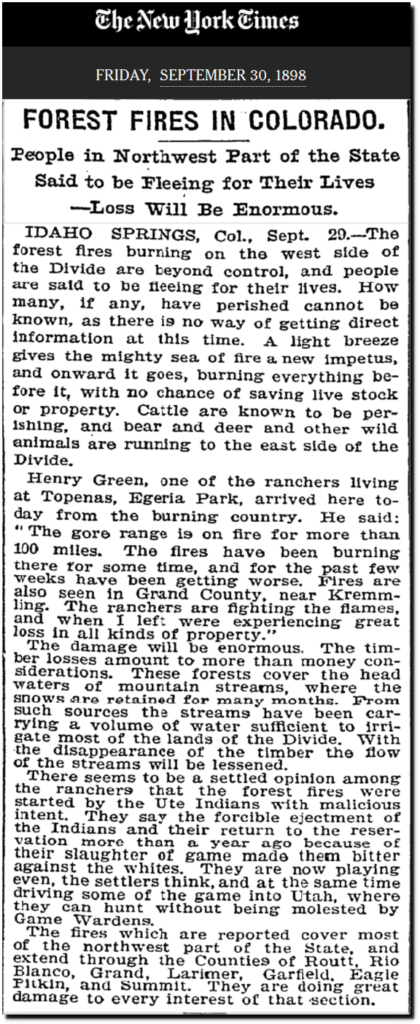 TimesMachine: September 30, 1898 – NYTimes.com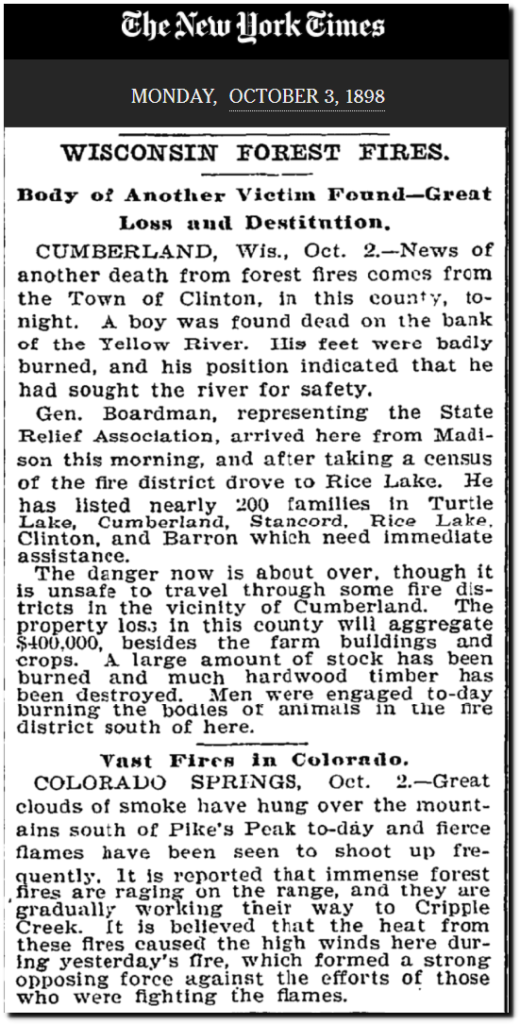 TimesMachine: October 3, 1898 – NYTimes.com
Oregon recorded their record temperature of 119F twice during the summer of 1898. This week's "record" heatwave topped out at 118F.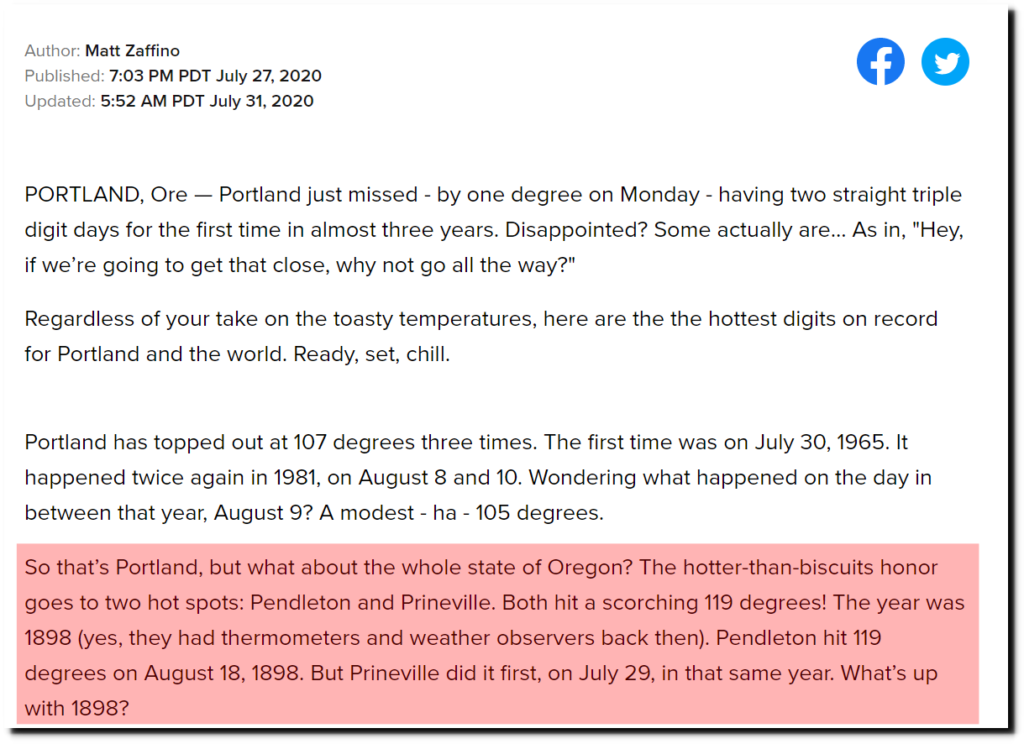 What is the hottest temperature ever recorded? | kgw.com
1910 also brought some of the largest forest fires on record.
On October 7 a forest fire raged out of control across Lake of the Woods County, Minnesota, leveling everything in its path.
Baudette fire of 1910 – Wikipedia
23 Oct 1910, 6 – Monterey Daily Cypress and Monterey American at Newspapers.com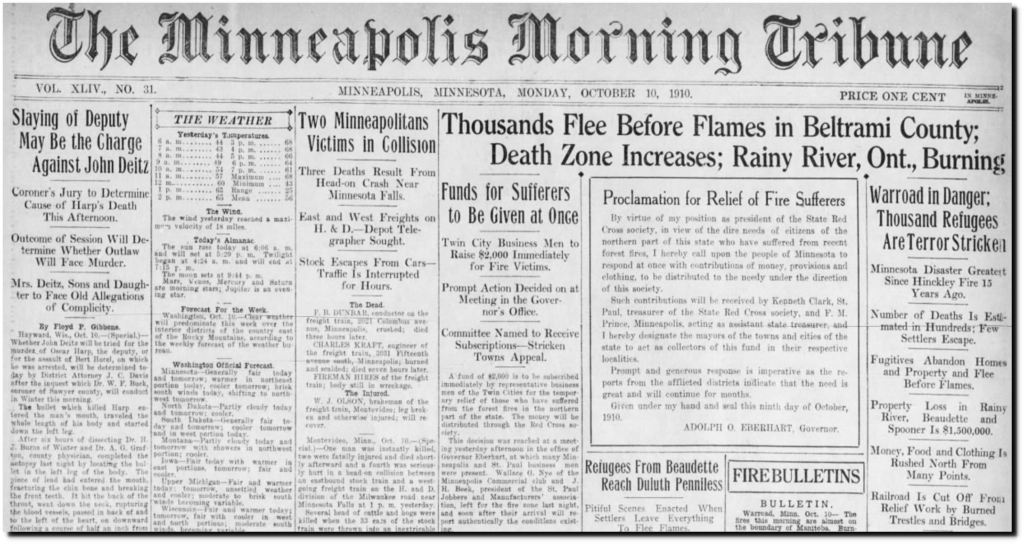 10 Oct 1910, Page 1 – Star Tribune at Newspapers.com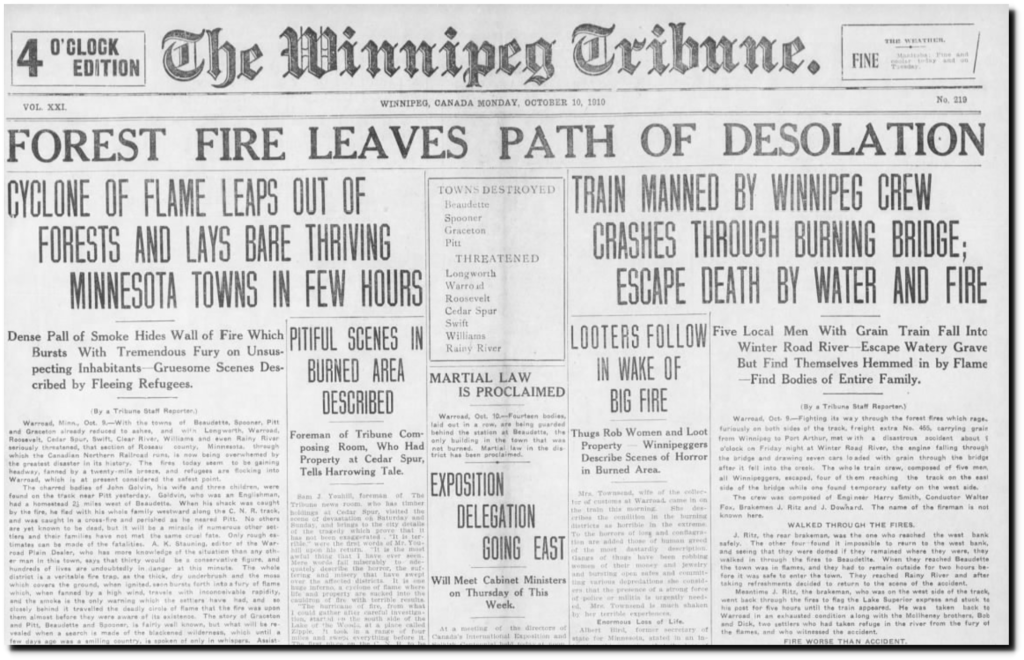 10 Oct 1910, Page 1 – The Winnipeg Tribune at Newspapers.com
A few weeks earlier was the largest forest fire in US history, along the Idaho/Montana border.
The 1910 Fires – Forest History Society
On October 7, 1871 much of Minnesota and Wisconsin were burning.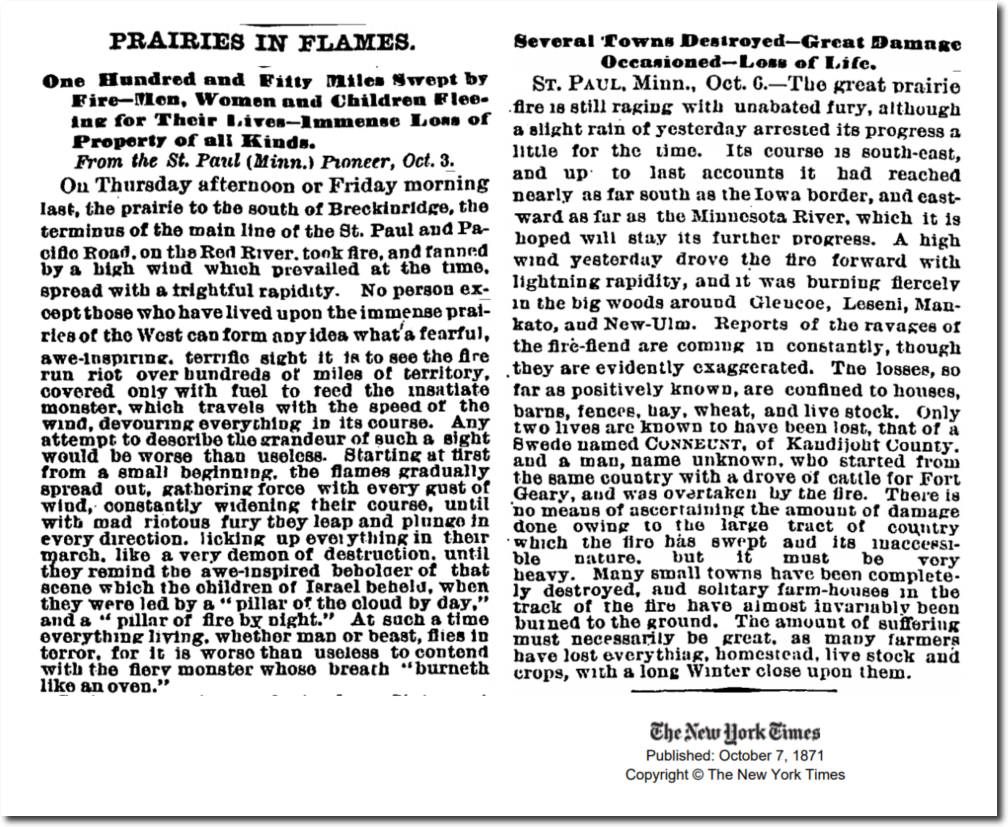 PRAIRIES IN FLAMES. – One Hundred and Fifty Miles Swept by Fire–Men, Women and Children Fleeing for Their Lives–Immense Loss of Property of all Kinds. Several Towns Destroyed–Great Damage Occasioned–Loss of Life. – View Article – NYTimes.com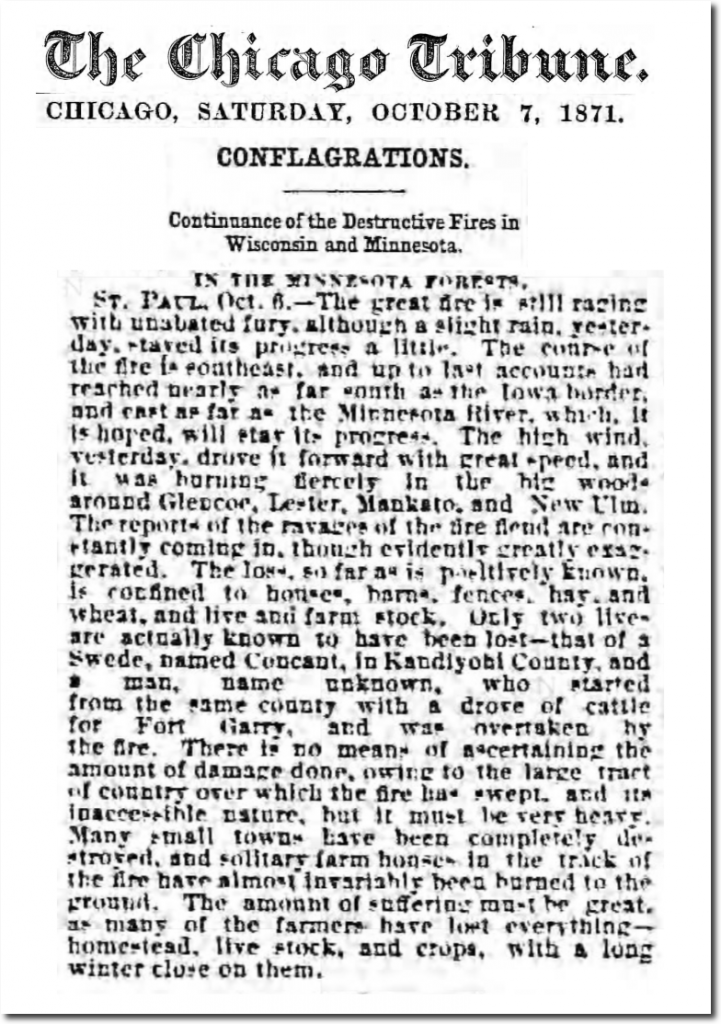 07 Oct 1871, 1 – Chicago Tribune at Newspapers.com
The following day was the worst fires in US history, with Chicago burning to the ground, and many other towns around the Great Lakes in flames.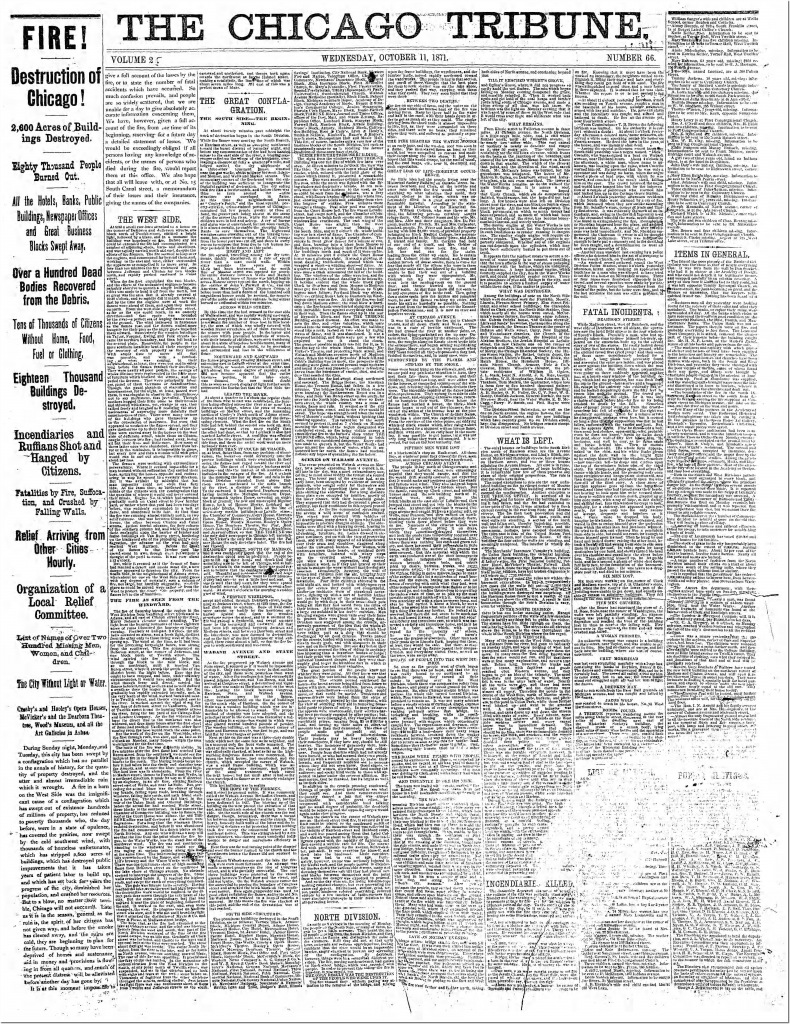 11 Oct 1871, 1 – Chicago Tribune at Newspapers.com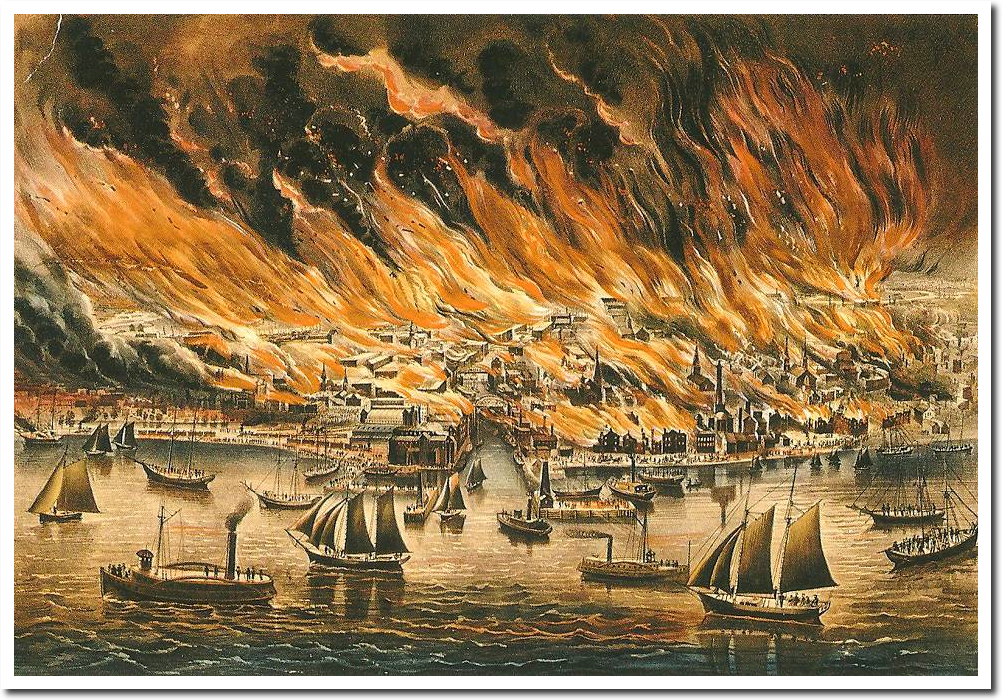 There were massive fires in Wisconsin, Michigan and the Rocky Mountains.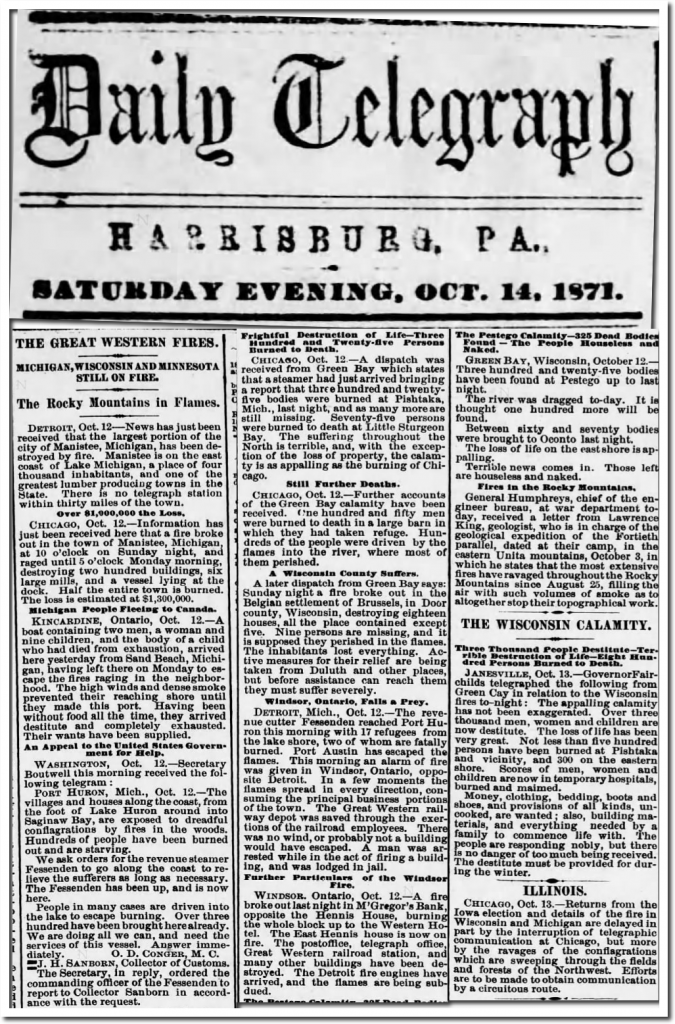 14 Oct 1871, Page 2 – Harrisburg Telegraph at Newspapers.com
The worst of these fires occurred at Peshtigo, Wisconsin, where more than one thousand people burned to death.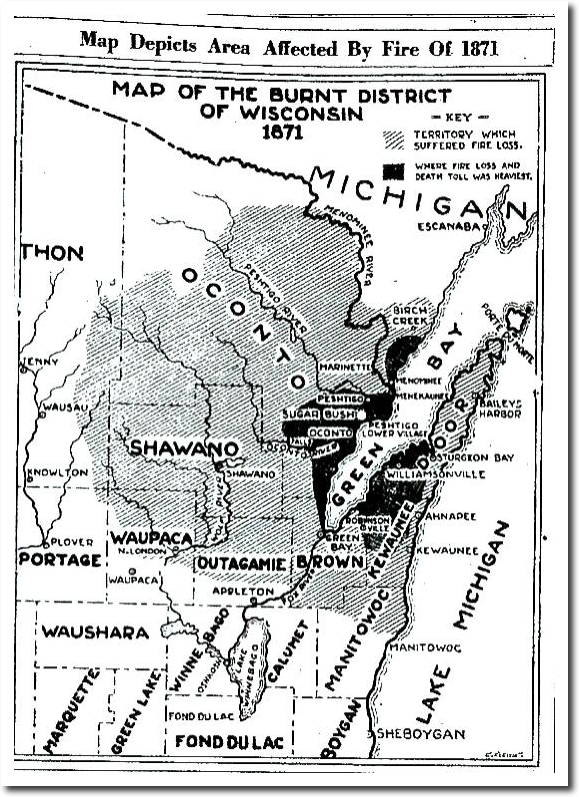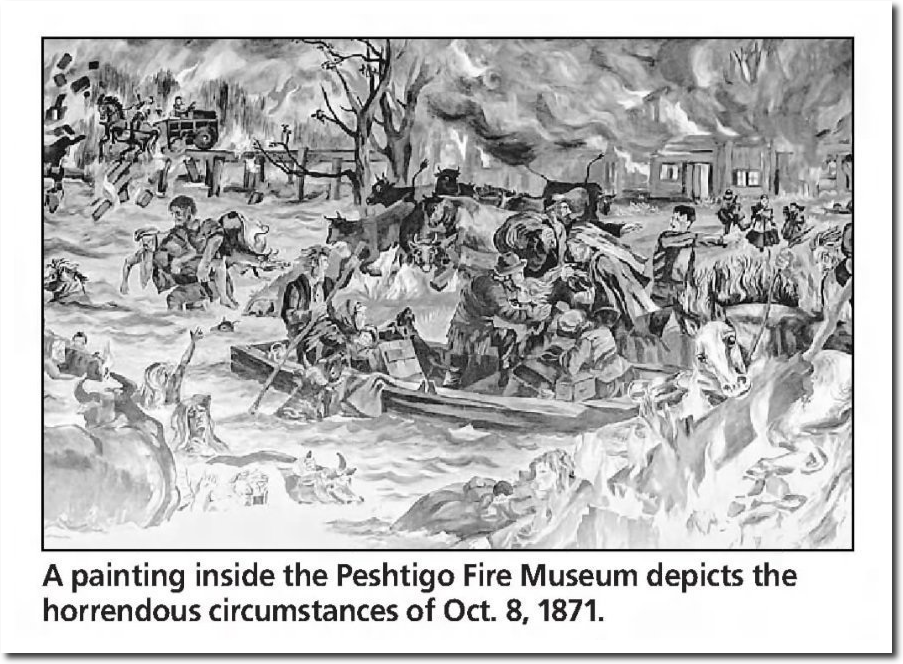 On February 6, 1851 most of Victoria burned in a few hours.
PROBABLY one of the most terrible days of which there is any record in Australian annals was Thursday, the 6th of February, 1851, commonly known as Black Thursday. But a small proportion of our present colonists have any recollection of that day, as our total population then only amounted to about 70,000 souls, against the 350,000 of to-day. But such of their number as have access to files of the newspaper published at the time, would do well to turn them over, and, as a warning for the future, glance at the narrative of the disasters of that dreadful day.

We find it recorded that as early as seven or eight o'clock in the morning, the thermometer stood at 117° in the shade. At mid-day it sank to 109°, but in the afternoon it rose again, and at four o'clock was 113°. Monday last was about the hottest day of the present season ; yet the thermometer did not stand above 95° in the shade. Our readers who felt inconvenienced by the increase of heat between that and the usual 70° or 75° will have some difficulty in imagining the sensations produced by a still further rise of 20°. The intense heat of Black Thursday was not it's only peculiarity. From early morning it was accompanied by a hot wind, almost of the strength of a hurricane, and throughout the day the surface of the country was exposed to the full power of it's withering influence. Bush-fires raged across hundreds of miles of country, sweeping along with almost the rapidity of lightning, and destroying, nearly instantaneously, men, women, and children, crops and homesteads, fences and gardens, and vast quantities of cattle, sheep, horses, pigs, and fowls. From the whole land arose a cry of utter desolation.

17 Jan 1857 – BLACK THURSDAY. – Trove
Canada's largest fire occurred in 1825, and burned 2.5 million acres in about nine hours.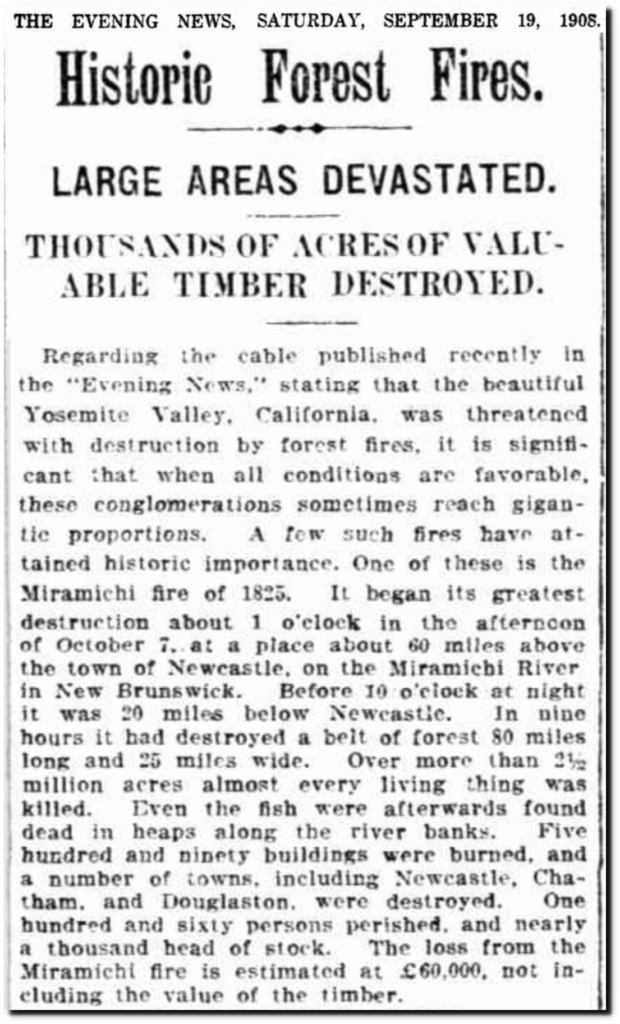 19 Sep 1908 – Historic Forest Fires. – Trove
History is not the friend of climate alarmists, so during February, the Biden Administration deleted all of the inconvenient data prior to 1983, which was the lowest burn acreage year on record.

Wildfires and Acres | National Interagency Fire Center