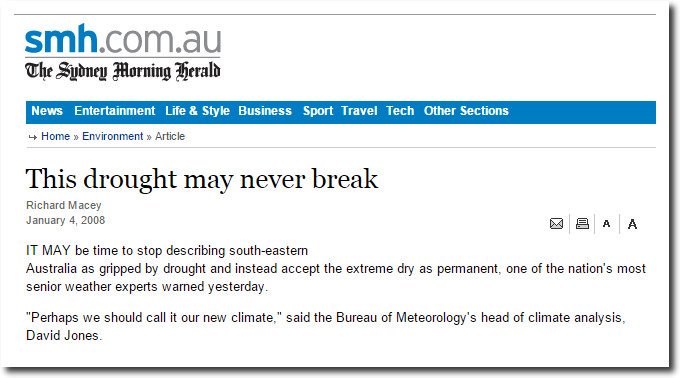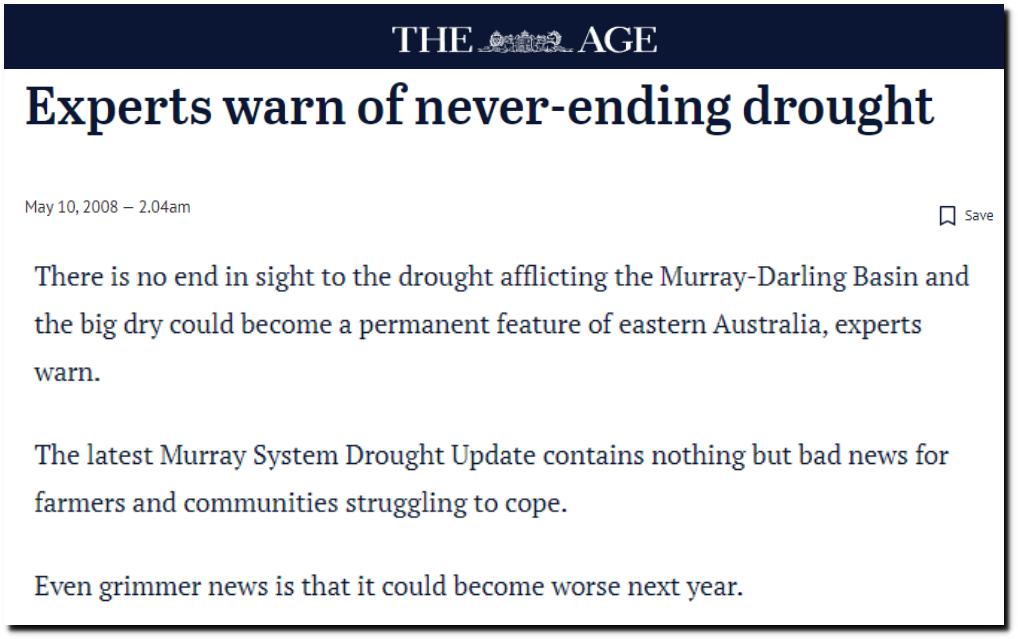 Experts warn of never-ending drought
After they made these forecasts, it rained so much in Australia that it caused sea level to drop.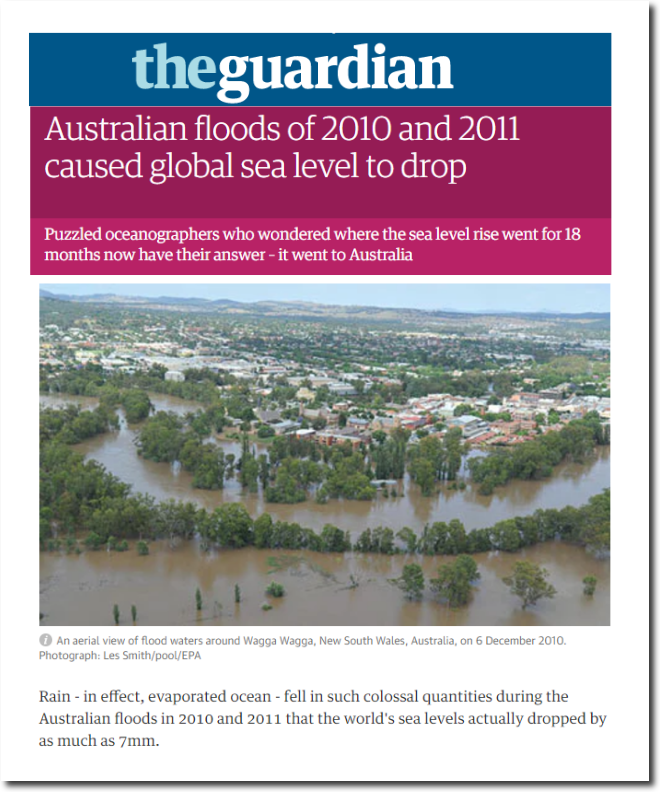 Australian floods of 2010 and 2011 caused global sea level to drop | Environment | The Guardian
This year has brought lots more rain to southeast Australia.
Australia floods: Western Sydney 'greatest concern' as more rain falls – BBC News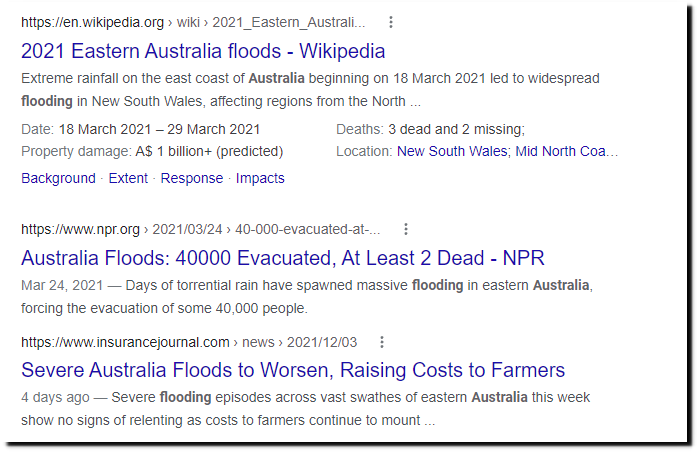 So team climate fraud changed their story say that droughts and floods are new features of Australia's climate brought on by climate change.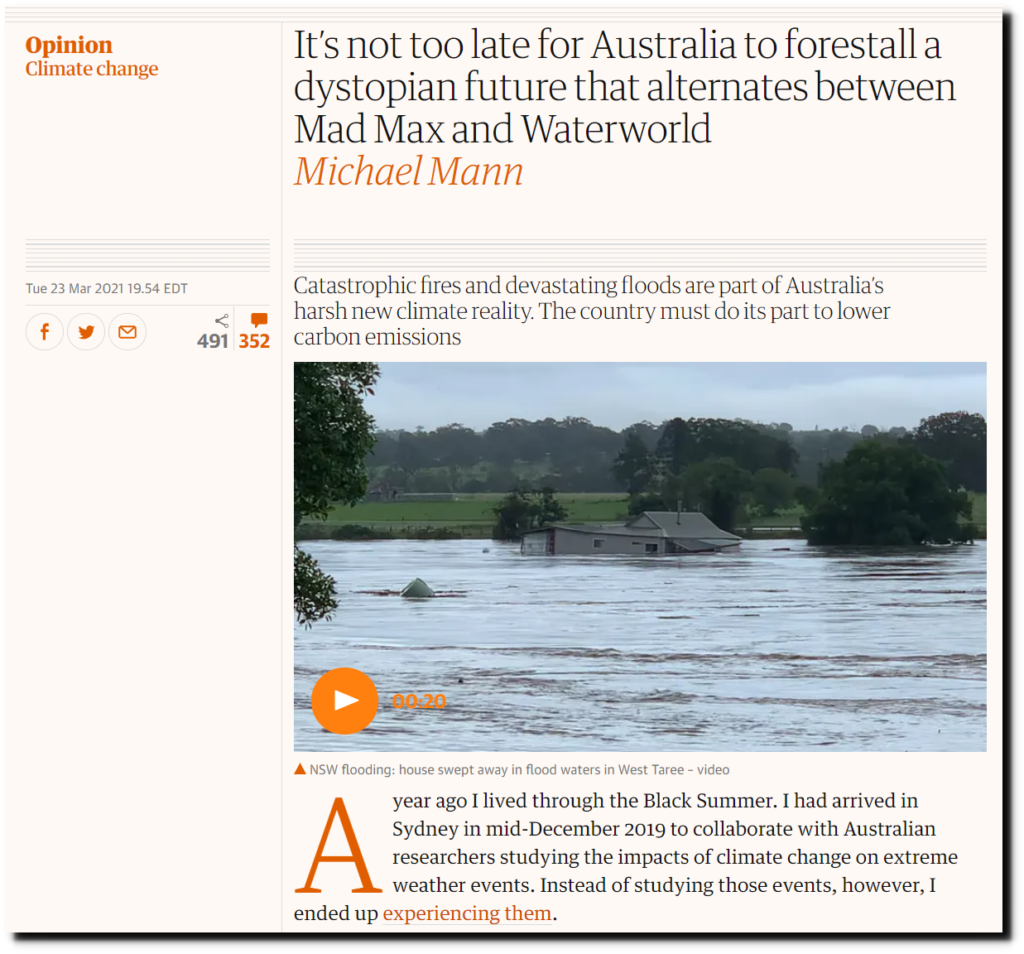 It's not too late for Australia to forestall a dystopian future that alternates between Mad Max and Waterworld | Climate change | The Guardian
This is the same climate Australia has always had.
"The theory of alternate long period or prevailing wet or dry seasons may be confirmed in the mind of any one who will observe the numerous small swamps in which there is a growth of gum trees, which must have required a period of at least fifteen years, during which there was no standing water on the ground, and after they had attained their present growth, a succession of hot seasons has left sufficient water on the ground to kill them."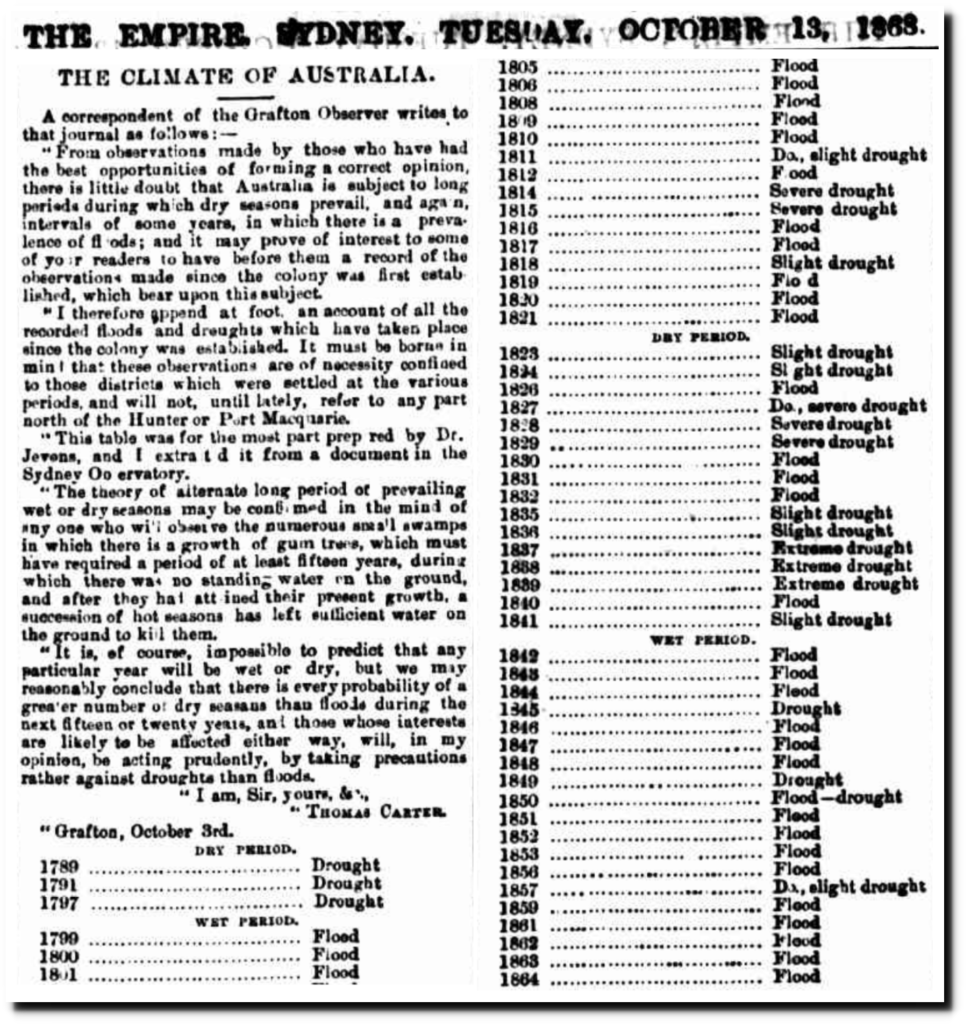 13 Oct 1868 – THE CLIMATE OF AUSTRALIA
"I love a sunburnt country,
A land of sweeping plains,
Of ragged mountain ranges,
Of droughts and flooding rains.
I love her far horizons,
I love her jewel-sea,
Her beauty and her terror
The wide brown land for me!"

– Dorothy Mackellar: "My Country" 1908
One hundred fifty years ago, this author lamented the prevalent superstition that the Australian climate was changing.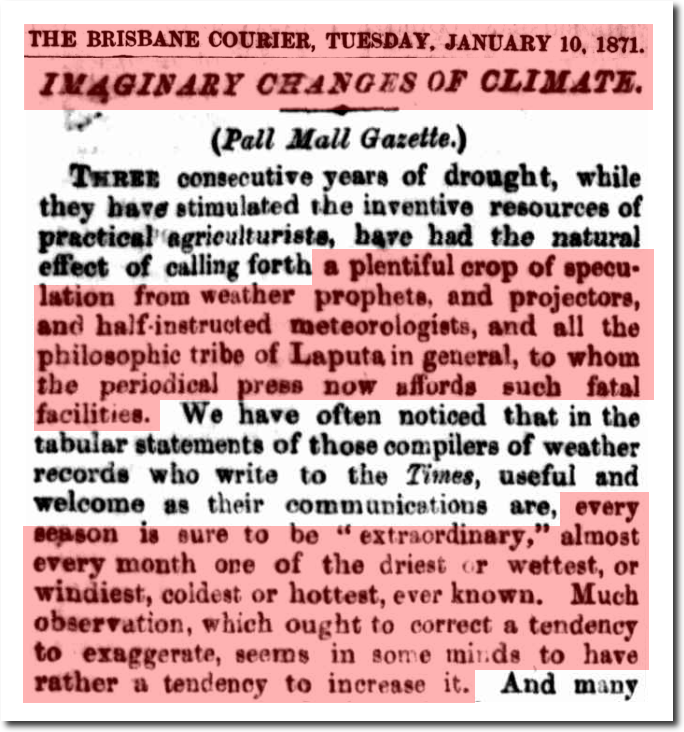 10 Jan 1871 – IMAGINARY CHANGES OF CLIMATE
The perceived changes have always been blamed on white men.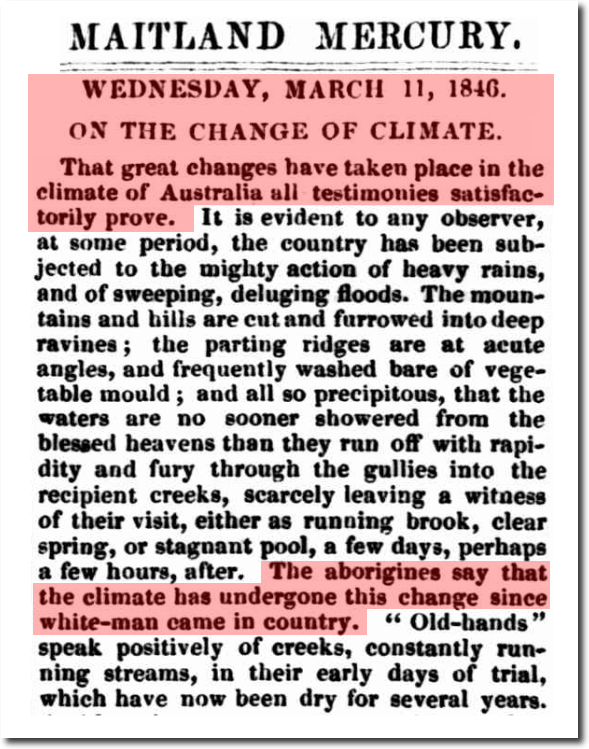 11 Mar 1846 – ON THE CHANGE OF CLIMATE
1974 started with historic flooding in Brisbane.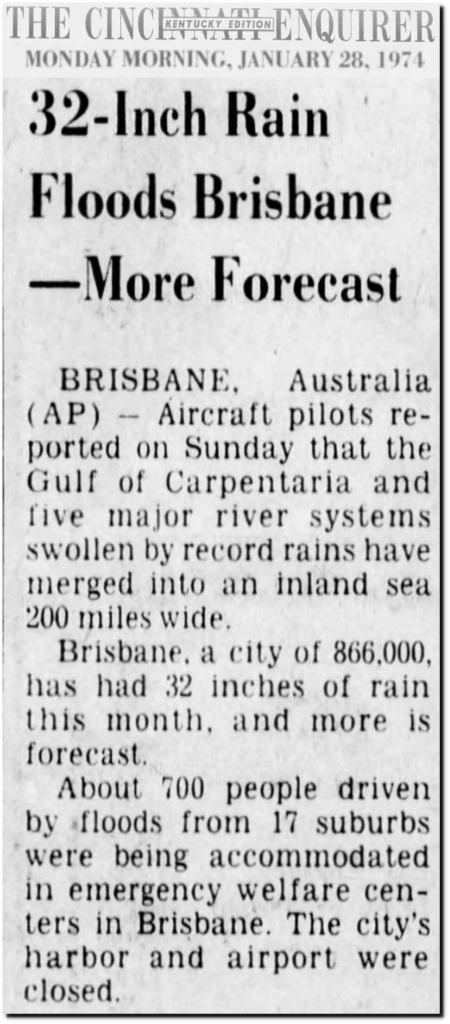 28 Jan 1974, Page 12 – The Cincinnati Enquirer at Newspapers.com
Then came record fires.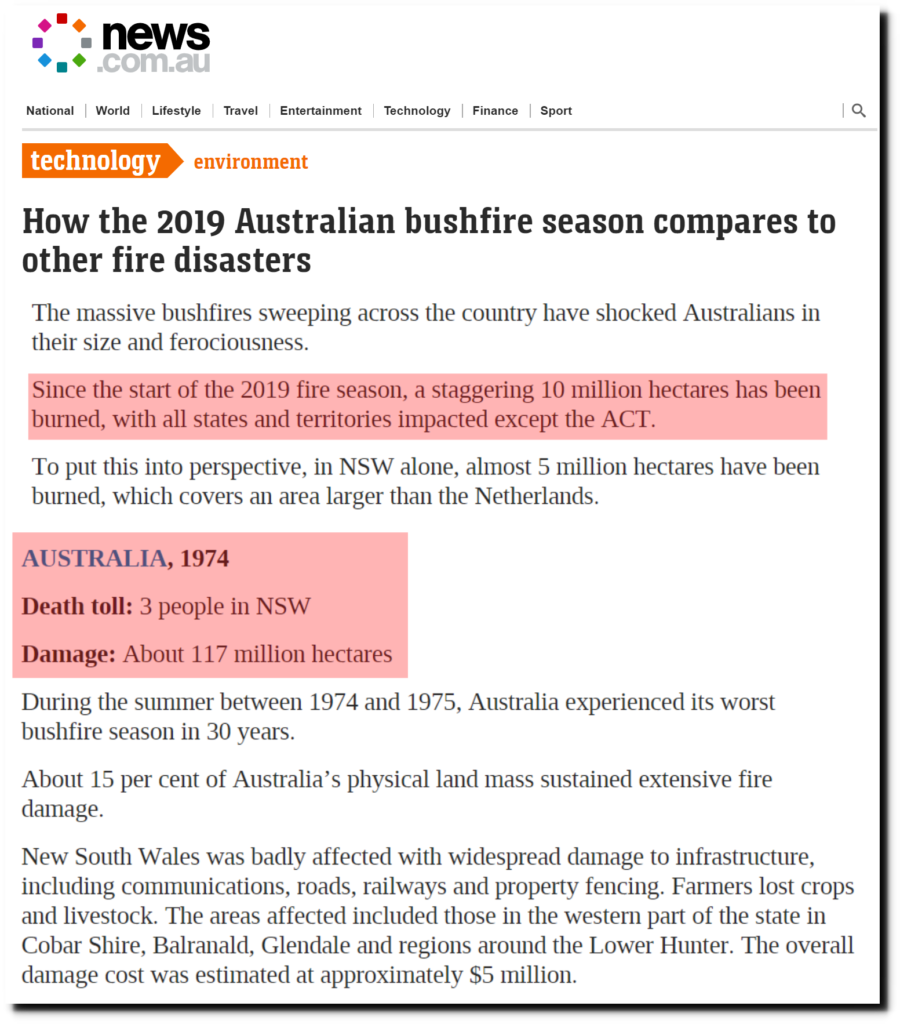 Australian bushfires: Why 2019 fire season is different from others
And 1974 finished with Cyclone Tracy destroying Darwin.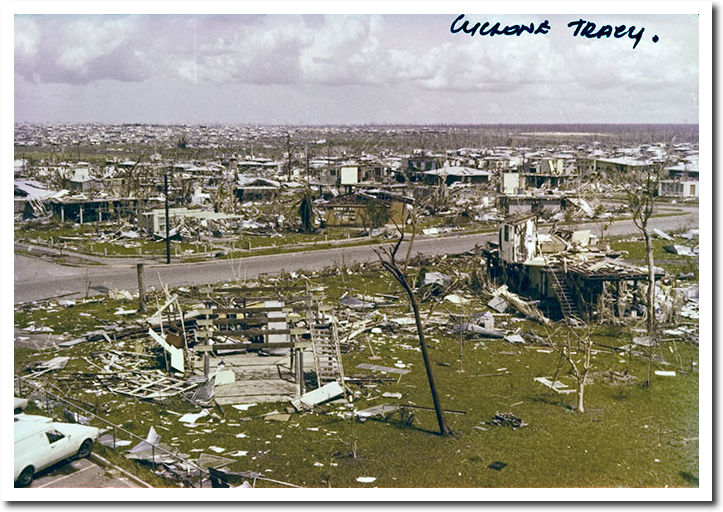 The press said these were indications of global cooling.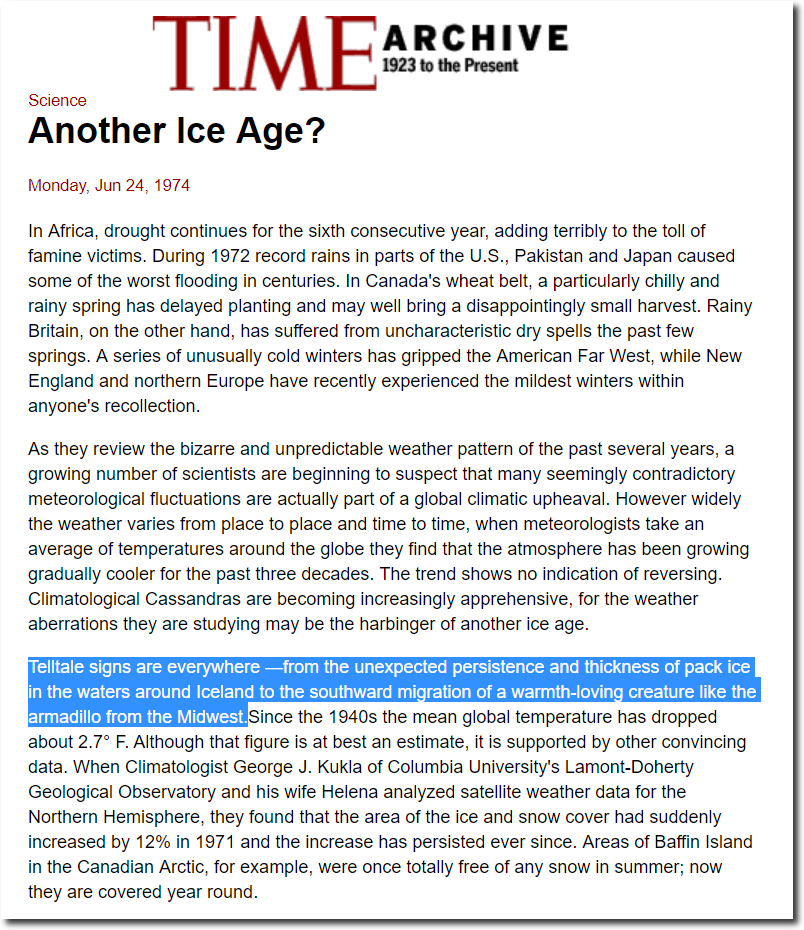 TIME Magazine Archive Article — Another Ice Age? — Jun. 24, 1974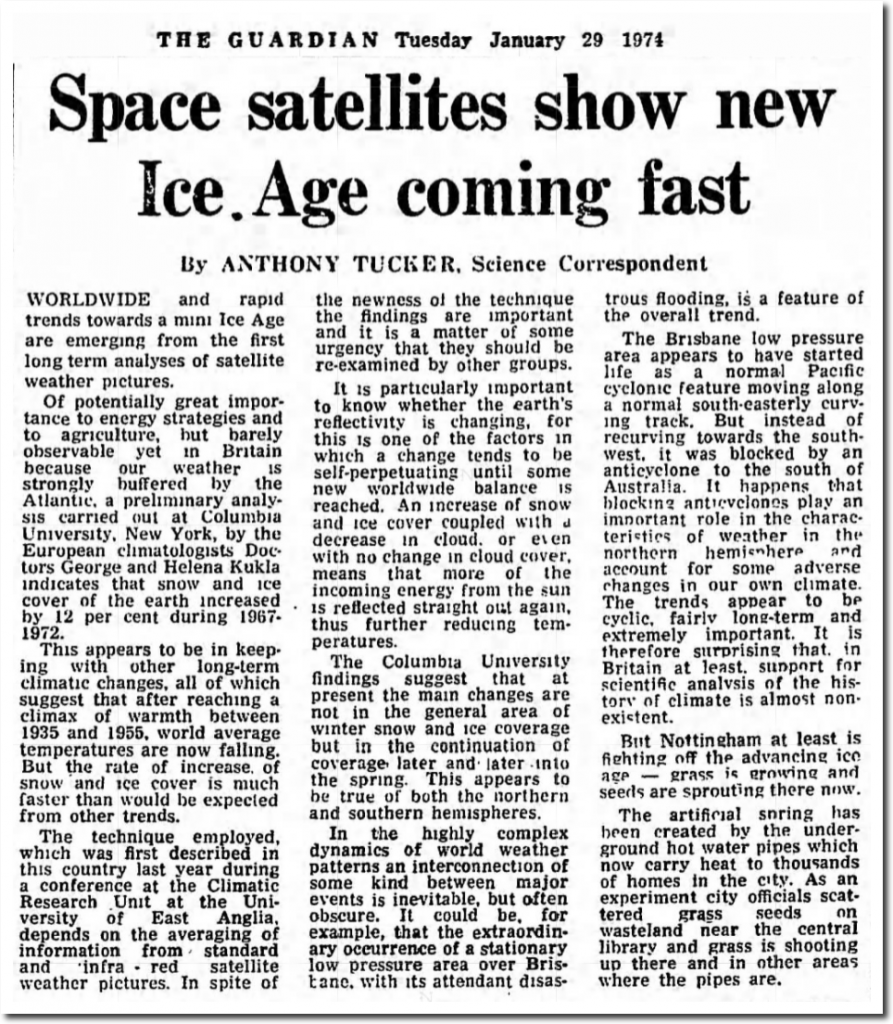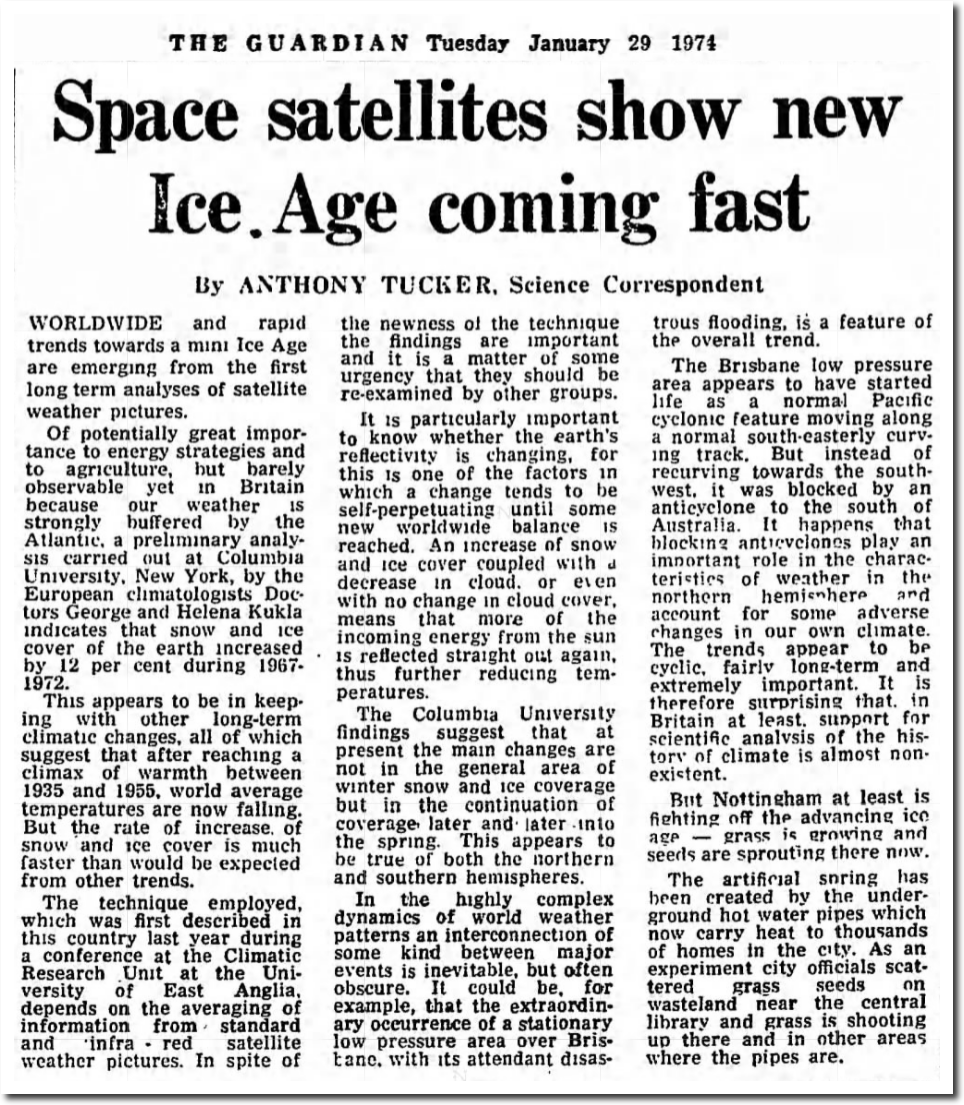 29 Jan 1974, 5 – The Guardian at Newspapers.com

17 Jan 1857 – BLACK THURSDAY. – Trove
On January 14, 1939 it was 114F (46C) at Sydney, NSW. Massive fires burned most of the forest from Melbourne to Canberra, and decimated the Koala population. Residents were traumatized for years by the sounds of the Koalas screaming in the forest.

19 Aug 1940 – KOALAS FACE EXTINCTION – Trove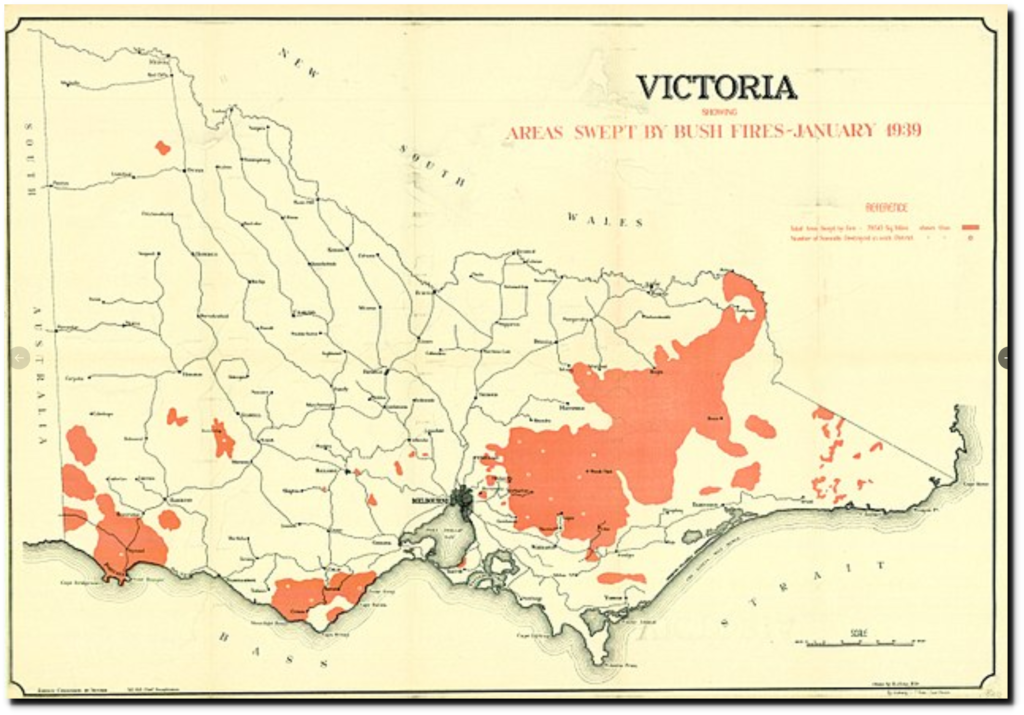 Inferno on Black Friday 1939: 71 deaths, 3,700 buildings, too much fuel and "lit by the hand of man" « JoNova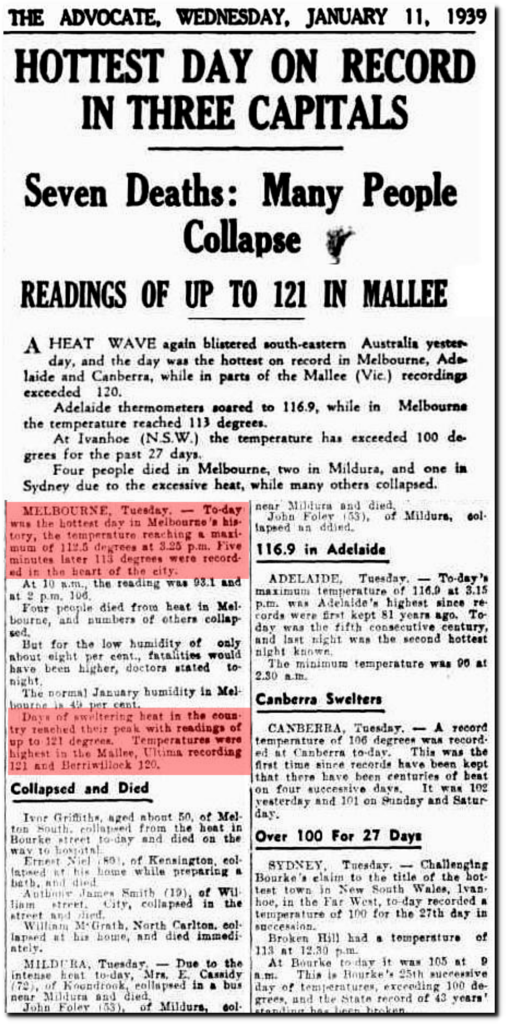 11 Jan 1939 – HOTTEST DAY ON RECORD IN THREE CAPITALS Seven Deaths: Many People Collapse – Trove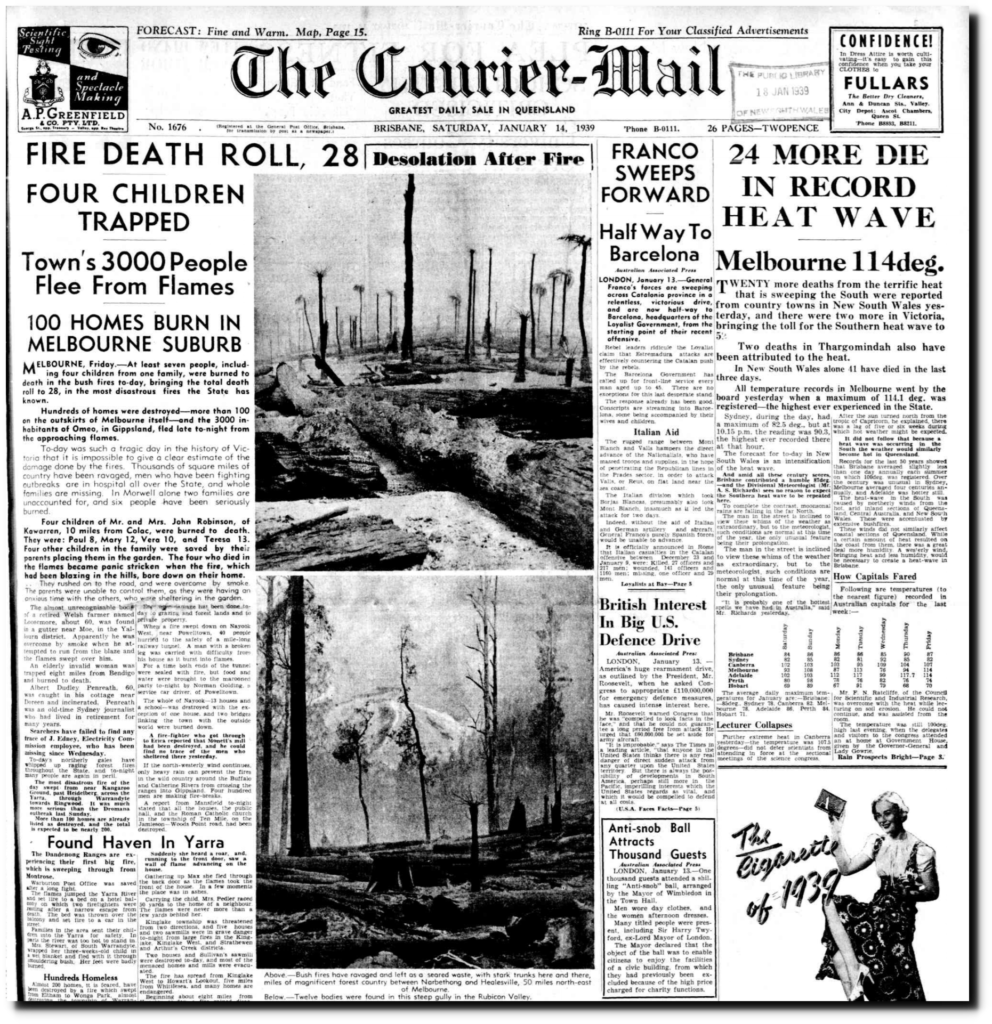 p1 – 14 Jan 1939 – The Courier-Mail (Brisbane, Qld. : 1933 – 1954) – Trove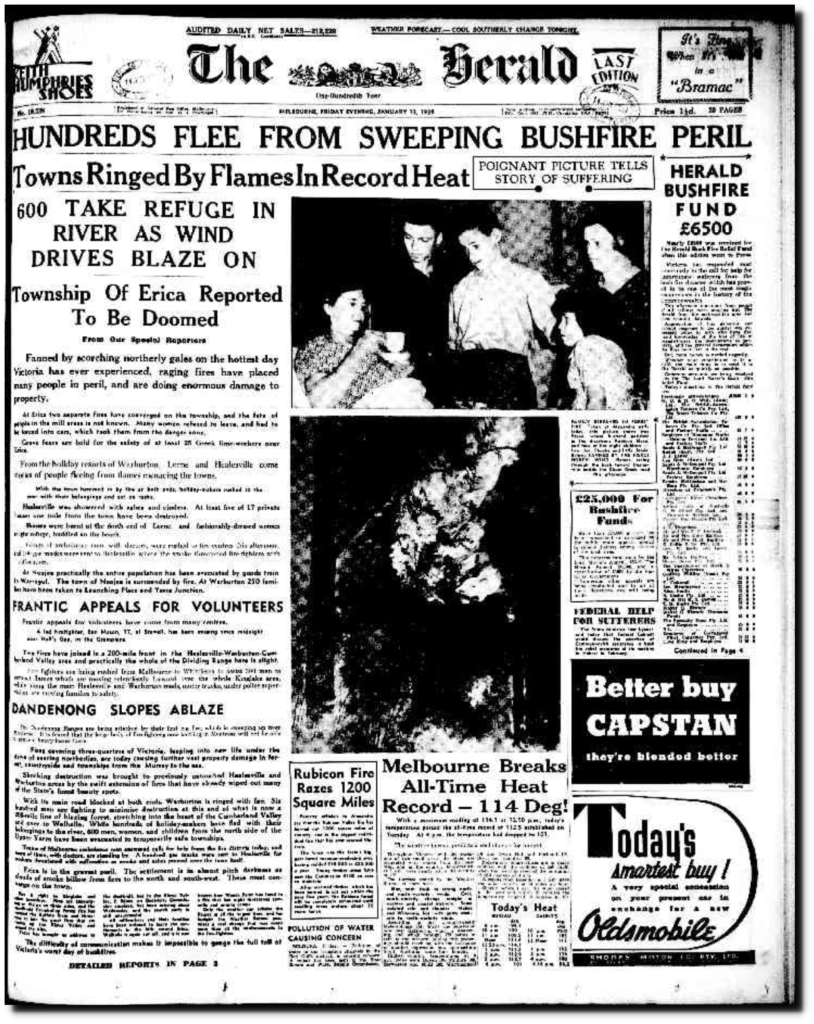 13 Jan 1939 – HUNDREDS FLEE FROM SWEEPING BUSHFIRE PERIL – Trove