Four years ago, the New York Times said the earth was getting too hot for snow and the winter Olympics was going to have to be cancelled in the future.

Of 21 Winter Olympic Cities, Many May Soon Be Too Warm to Host the Games – The New York Times
Experts predicted the 2018 Olympics would be the coldest ever, and also said it was threatened by global warming.

2018 Winter Olympics opening ceremony could be coldest ever – Curbed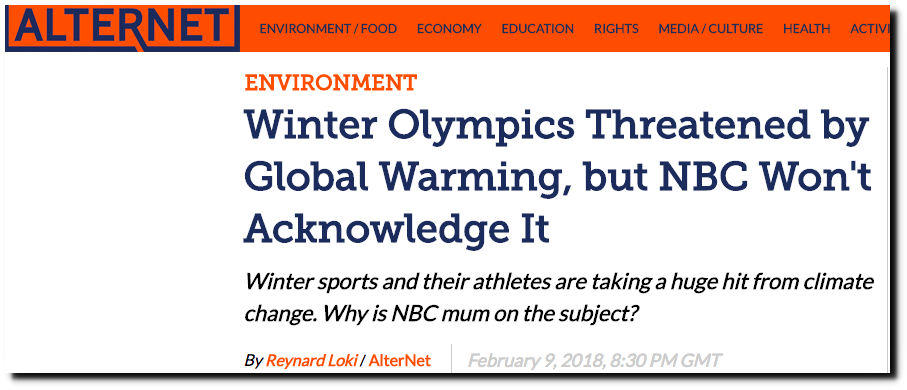 Winter Olympics Threatened by Global Warming, but NBC Won't Acknowledge It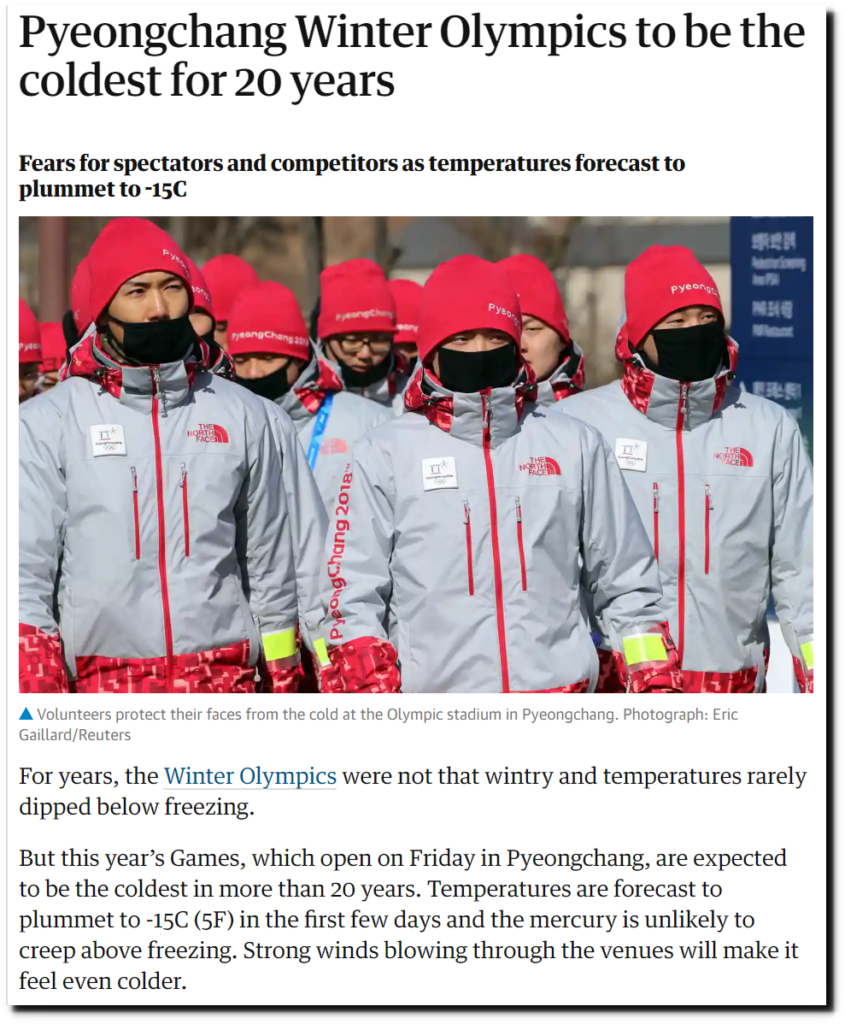 Pyeongchang Winter Olympics to be the coldest for 20 years | Sport | The Guardian
Ninety years ago today the eastern and southeastern US was experiencing an incredible January heatwave.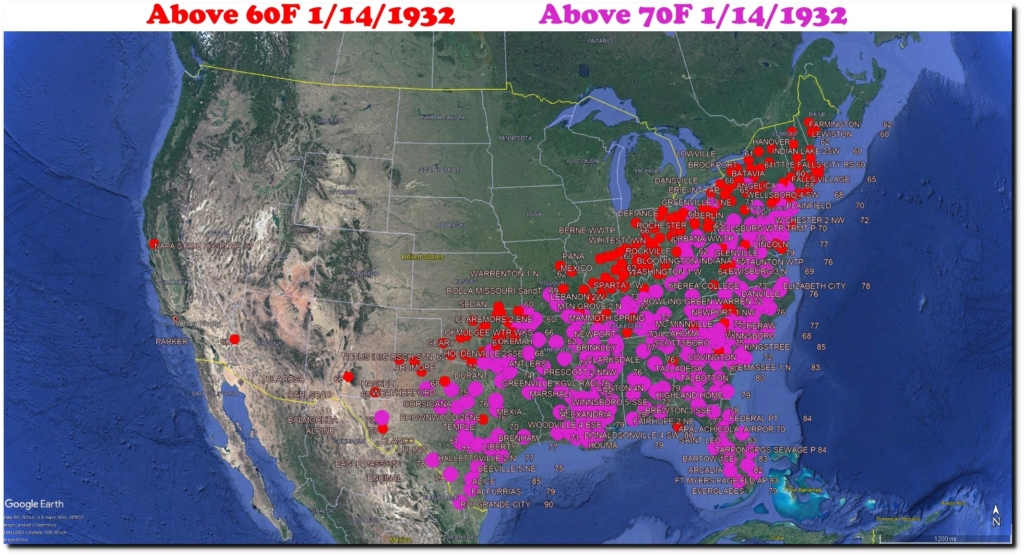 Texas was 90 degrees and New York State was 74 degrees.
TX 90
GA 87
NC 86
SC 85
FL 84
AL 82
LA 81
VA 81
MS 80
WV 80
AR 79
MD 79
OH 77
KY 76
PA 76
TN 76
DE 75
NJ 75
OK 75
NY 74
MO 73
IL 70
There was a large tornado outbreak along the frontal boundary.
14 Jan 1932, 1 – The Montgomery Advertiser at Newspapers.com
The Lake Placid, NY winter Olympics almost had to be cancelled because of a lack of snow.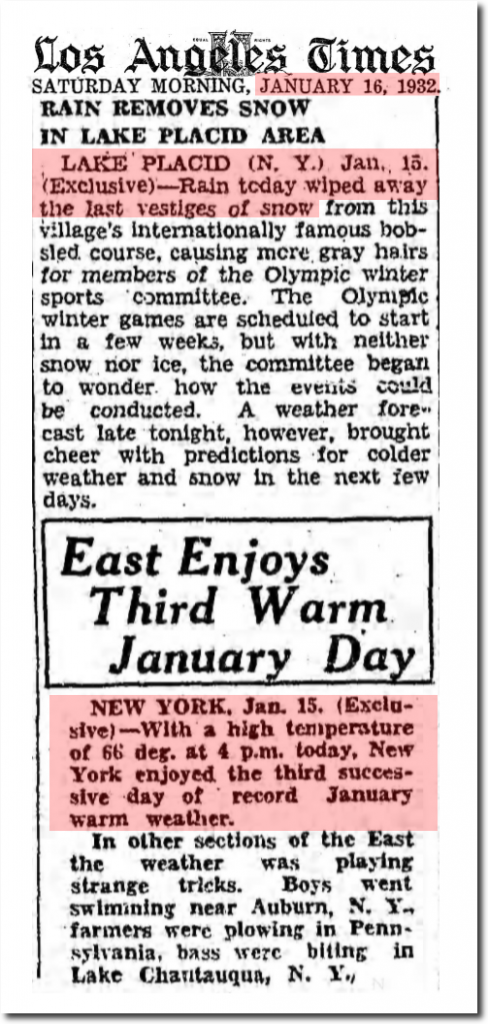 16 Jan 1932, Page 1 – The Los Angeles Times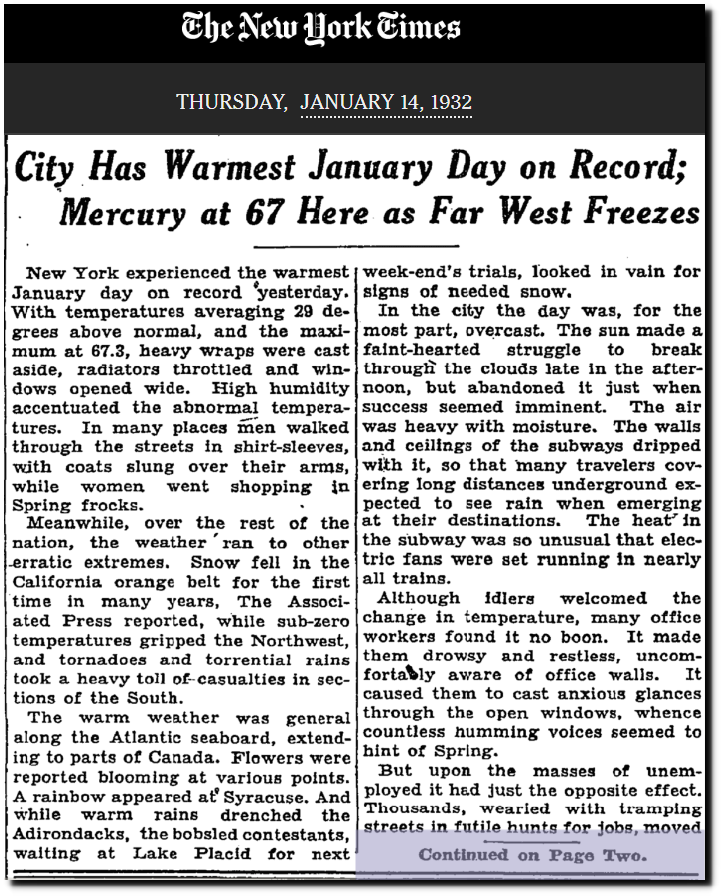 TimesMachine: January 14, 1932 – NYTimes.com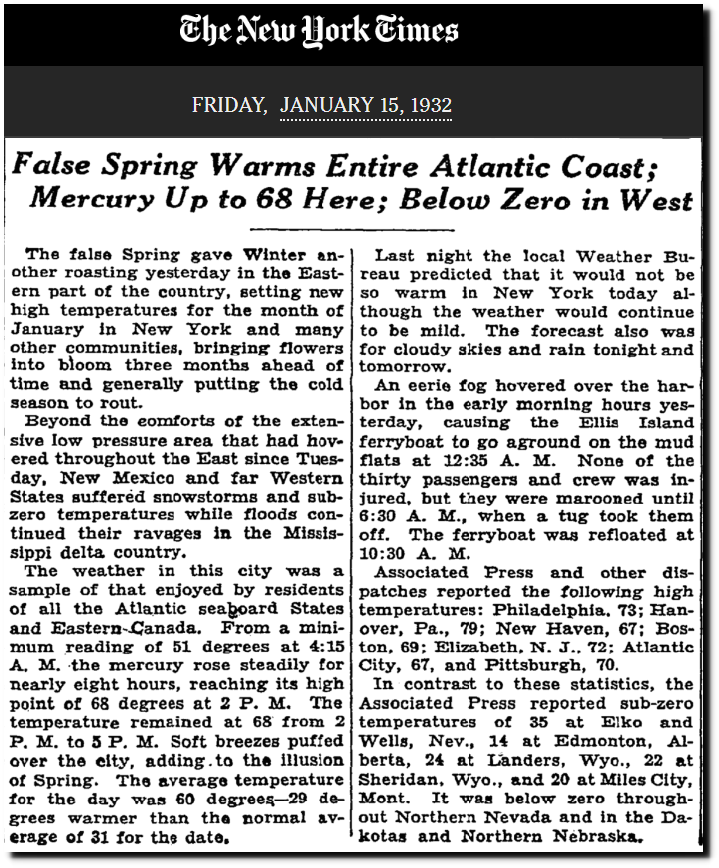 TimesMachine: January 15, 1932 – NYTimes.com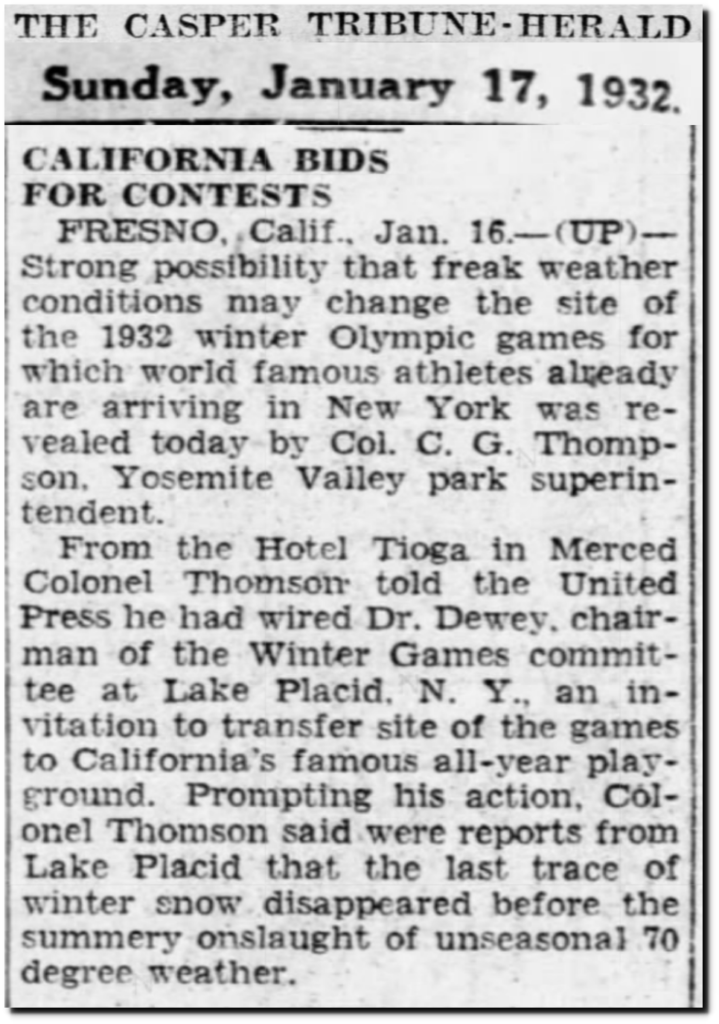 17 Jan 1932, 10 – Casper Star-Tribune at Newspapers.com
Eventually the snow came, but it wasn't enough.
29 Jan 1932, 7 – Bristol Herald at Newspapers.com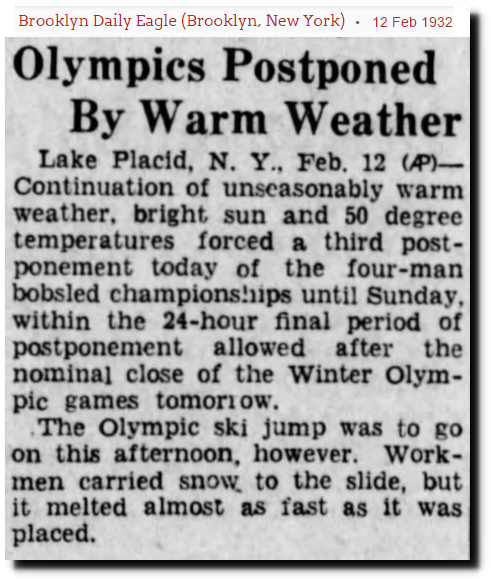 12 Feb 1932, Page 2 – The Brooklyn Daily Eagle at Newspapers.com
This is what Lake Placid looks like today.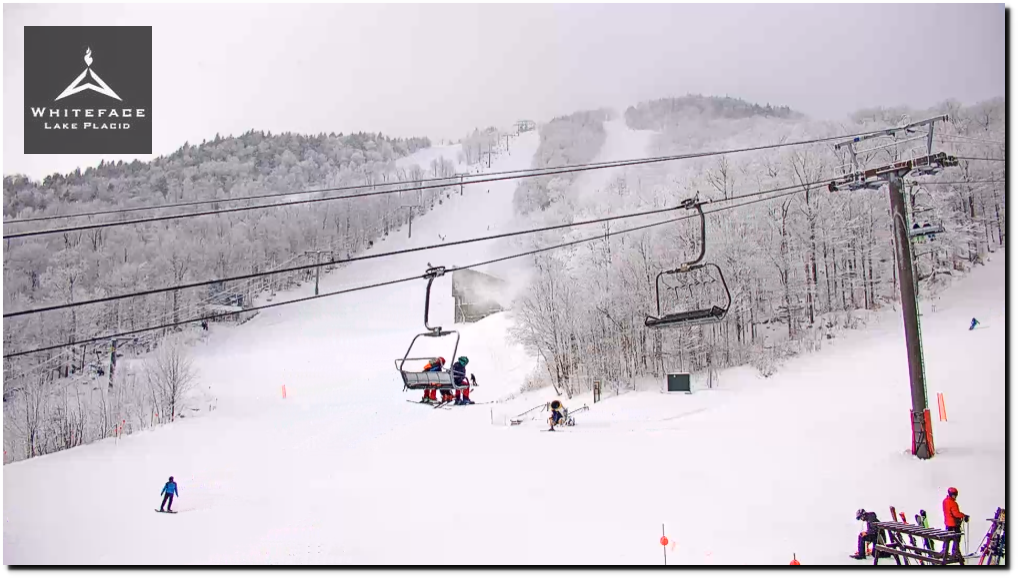 Whiteface Lake Placid Webcams | Whiteface Mountain
Lots of snow and cold forecast through the end of the month.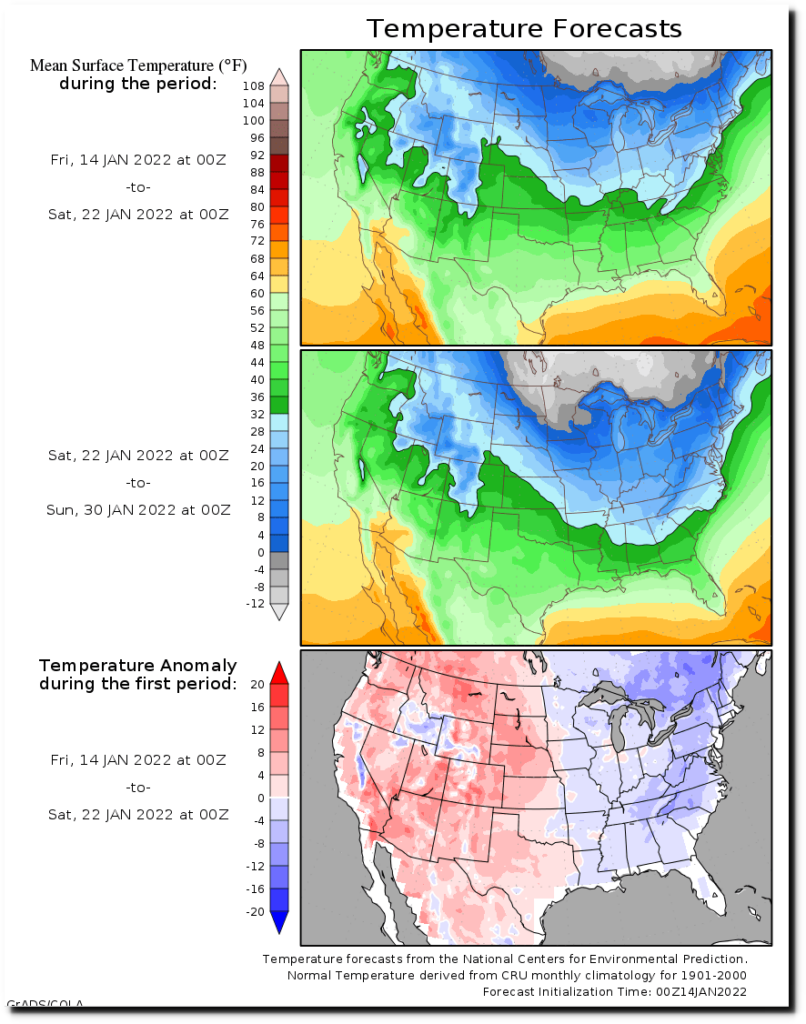 10-Day Temperature Outlook for the Conterminous U.S.
January 14 has gotten much cooler over the past century in the US, with 1928 being the warmest and 1932 being second warmest.