"There is science, logic, reason; there is thought verified by experience. And then there is California."

― Edward Abbey
California government wants to ban lawnmowers  and all outdoor power equipment, in order to "mitigate climate change."  They believe there is a direct connection between people mowing their lawn in California and California droughts and fires.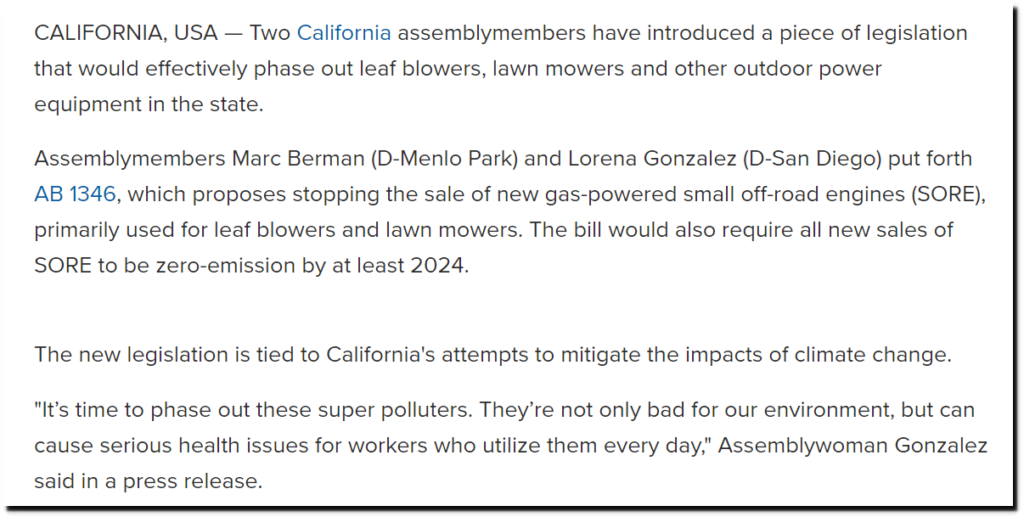 California lawmakers propose bill to ban gas-powered leaf blowers | abc10.com
Three years ago, Governor Jerry Brown thought he could prevent droughts and fires by spending almost $100 billion on a "train to nowhere."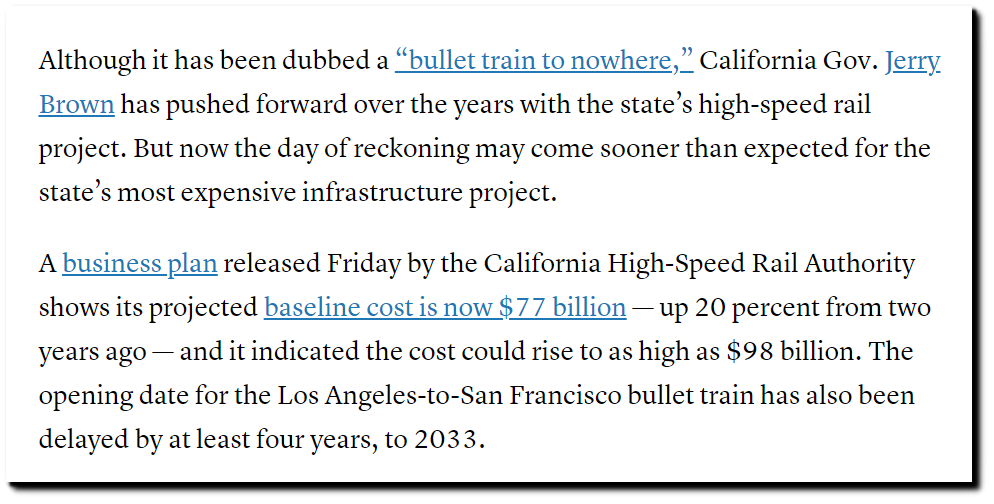 California's $77 billion high-speed rail project is in trouble
Fifteen years ago, Governor Schwarzenegger thought he could stop California droughts and fires via taxes.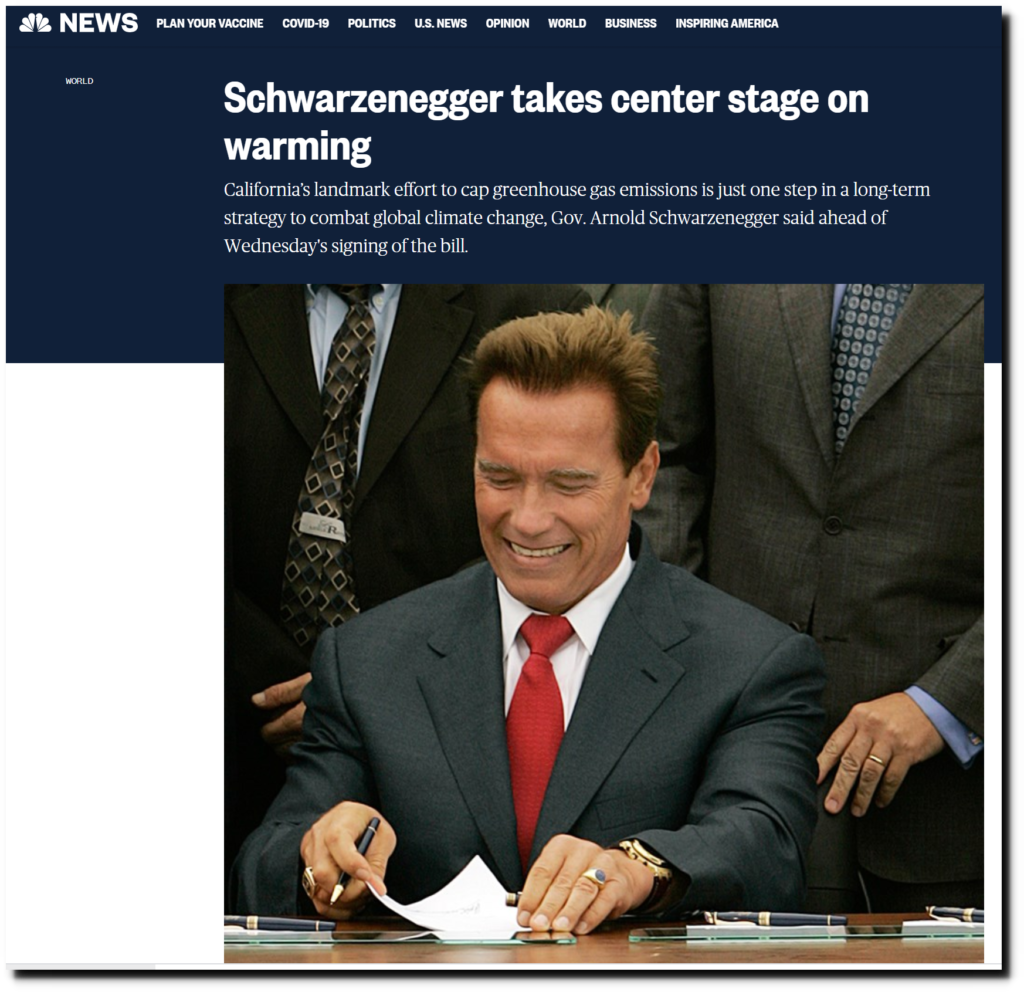 Schwarzenegger takes center stage on warming
Arnie's tax doesn't appear to have worked, because five years ago, Governor Brown and the New York Times announced that California was having a permanent drought.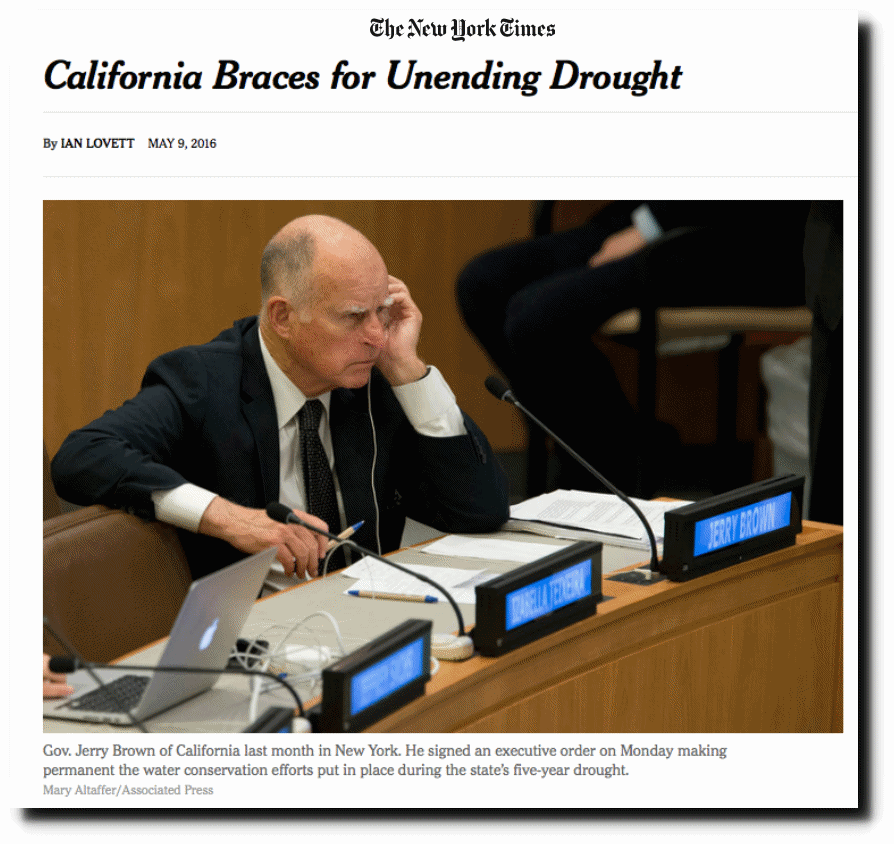 California Braces for Unending Drought – The New York Times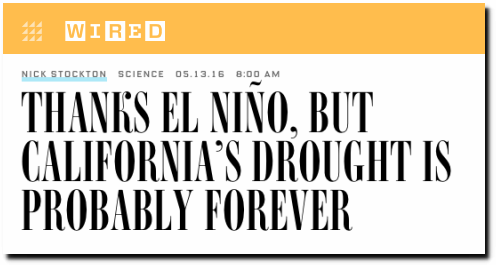 Thanks El Niño, But California's Drought Is Probably Forever | WIRED
A few months later, California was deal with historic flooding.

NWS: Northern California now on pace for 'wettest water year on record' – SFGate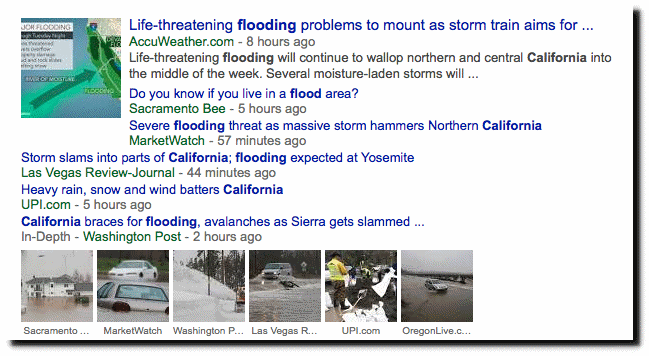 Forty years earlier, Governor Brown also announced the permanent drought.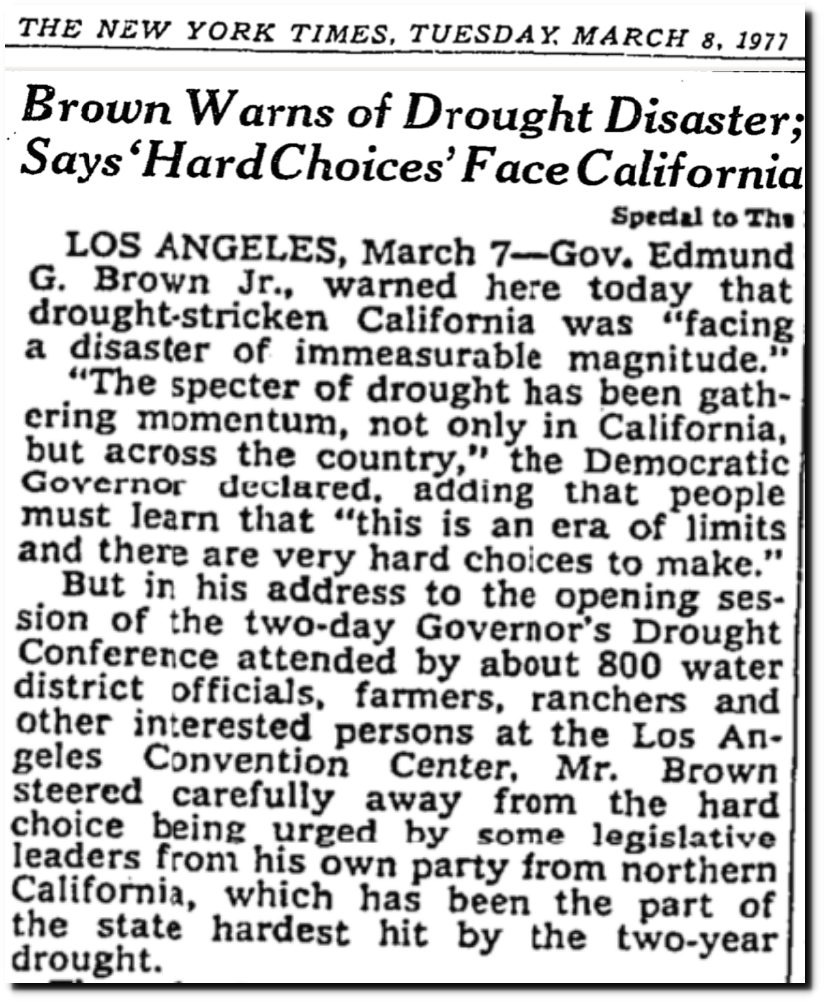 Brown Warns of Drought Disaster; Says 'Hard Choices' Face California – The New York Times
There is no trend in California precipitation since the end of the 19th century.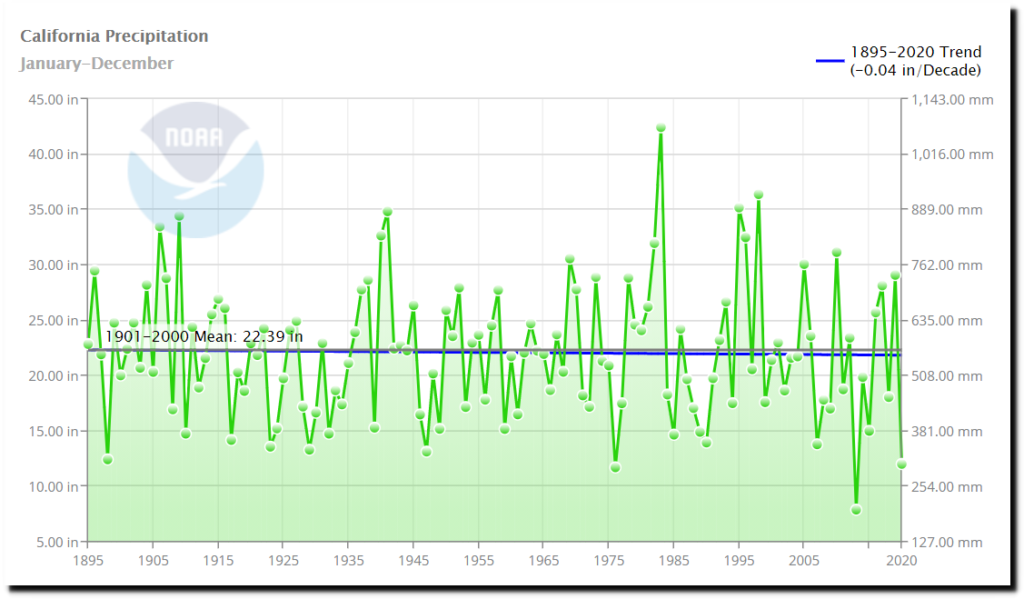 Climate at a Glance | National Centers for Environmental Information (NCEI)
But longer term, tree ring records show that California is prone to very severe droughts and the 20th century was unusually wet.


Graphic: California's droughts in the past 1,200 years – The Mercury News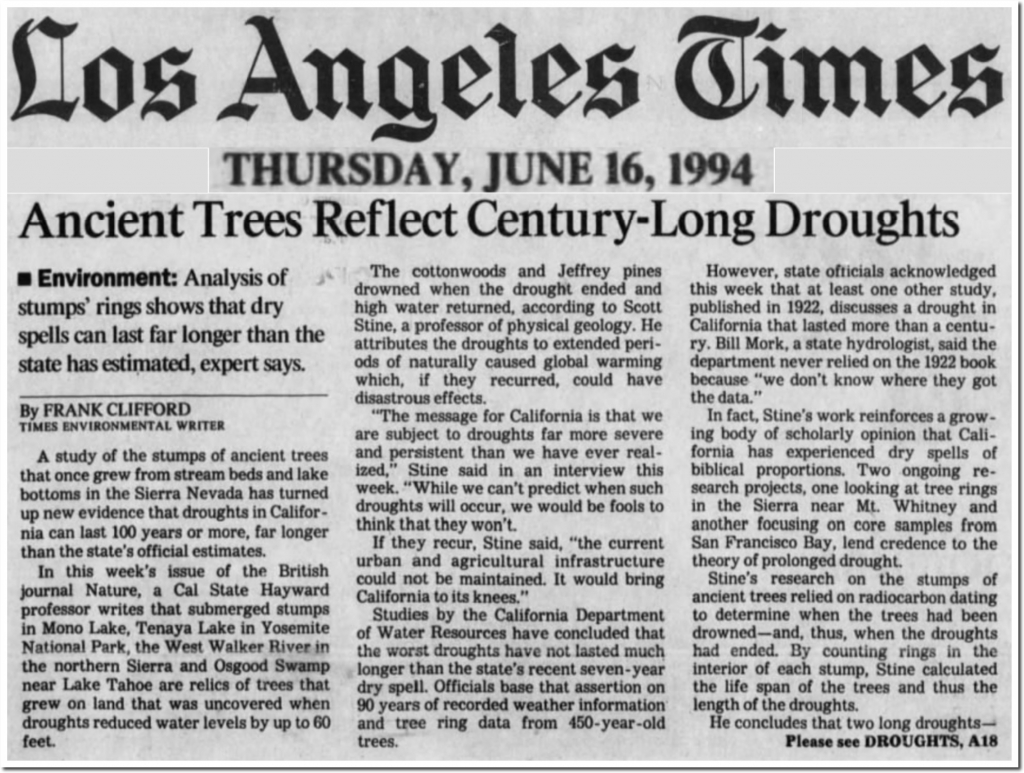 Ancient Trees Reflect Century-Long Droughts : Environment: Analysis of stumps' rings shows that dry spells can last far longer than the state has estimated, expert says. – latimes
Thirty years ago, the New York Times knew that the 20th century was unusually wet in California, and that the Medieval Warm Period was global.
"Lisa J. Graumlich, who examines the ring patterns of foxtail pine trees and western junipers in the Sierra Nevada, has compiled a detailed record of the year-to-year variation in temperature and precipitation over the last thousand years.

She has seen in the North American trees the feathery but unmistakable signatures of the Medieval Warm Period, a era from 1100 to 1375 A.D. when, according to European writers of the time and other sources, the climate was so balmy that wine grapes flourished in Britain and the Vikings farmed the now-frozen expanse of Greenland; and the Little Ice Age, a stretch of abnormally frigid weather lasting roughly from 1450 to 1850. A Crucial Question

"We can now see that these were global climate phenomena, not regional temperature variations," she said. "The question is, how did we get those warmer temperatures during pre-industrial times, and what can we learn from those conditions about what is going on today?"

Western landscapes in presettlement era were very smoky places, and droughts were caused by La Nina.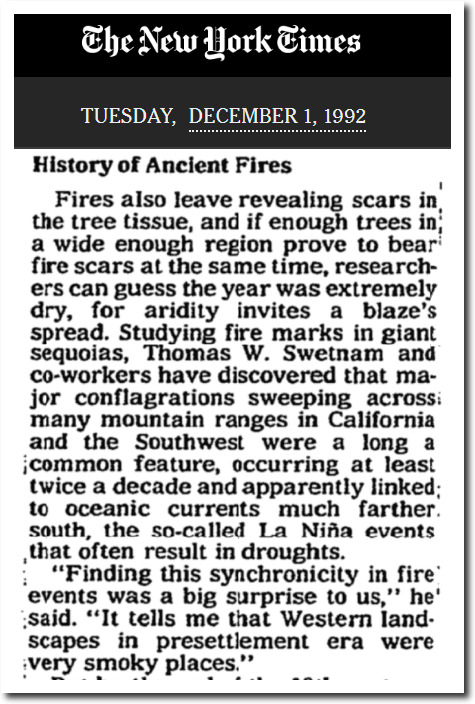 Warming? Tree Rings Say Not Yet – The New York Times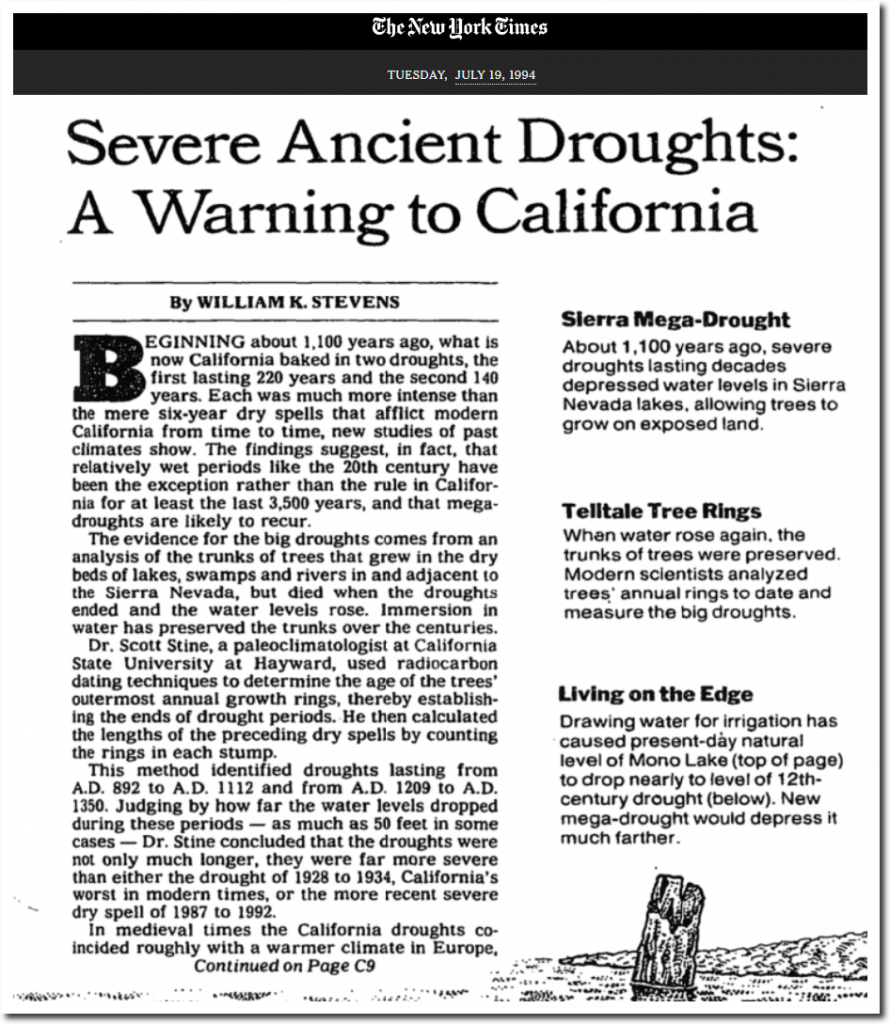 Severe Ancient Droughts: A Warning to California – The New York Times
Sixty years ago, the Squaw Valley Winter Olympics almost had to be cancelled because of a lack of snow.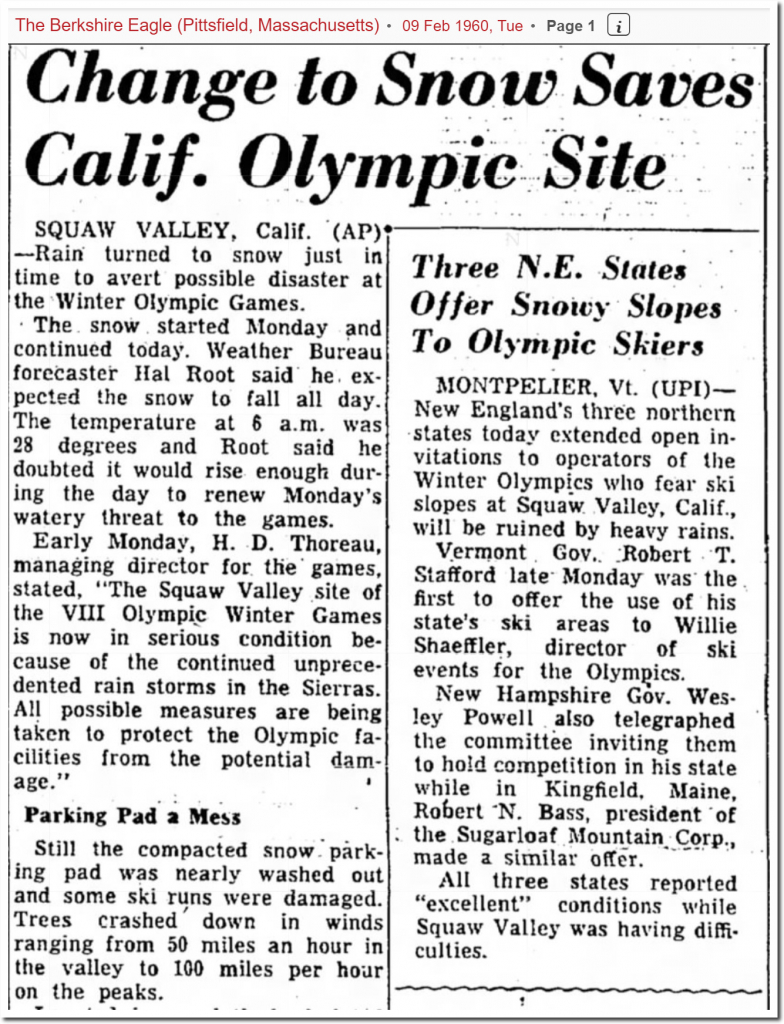 09 Feb 1960, Page 1 – The Berkshire Eagle at Newspapers.com
There is no correlation between California droughts and CO2, but California politicians believe they can prevent the same weather patterns California has always had, via greater and greater sacrifice. The same mentality as the Aztecs hundreds of years ago.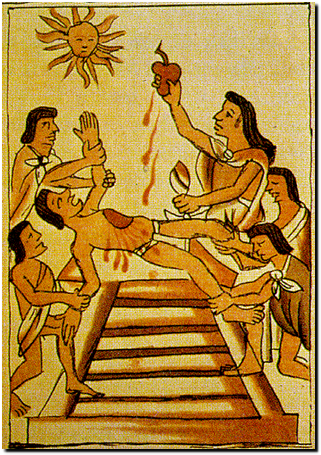 "Climate Change is real. California Republicans believe it and are working to address it."

– John Kasich and Arnold Schwarzenegger