Our leading intelligence experts apparently were unable to ask Hunter Biden, the laptop repairman or the FBI if it actually was Biden's laptop.
"More than 50 former senior intelligence officials have signed on to a letter outlining their belief that the recent disclosure of emails allegedly belonging to Joe Biden's son "has all the classic earmarks of a Russian information operation."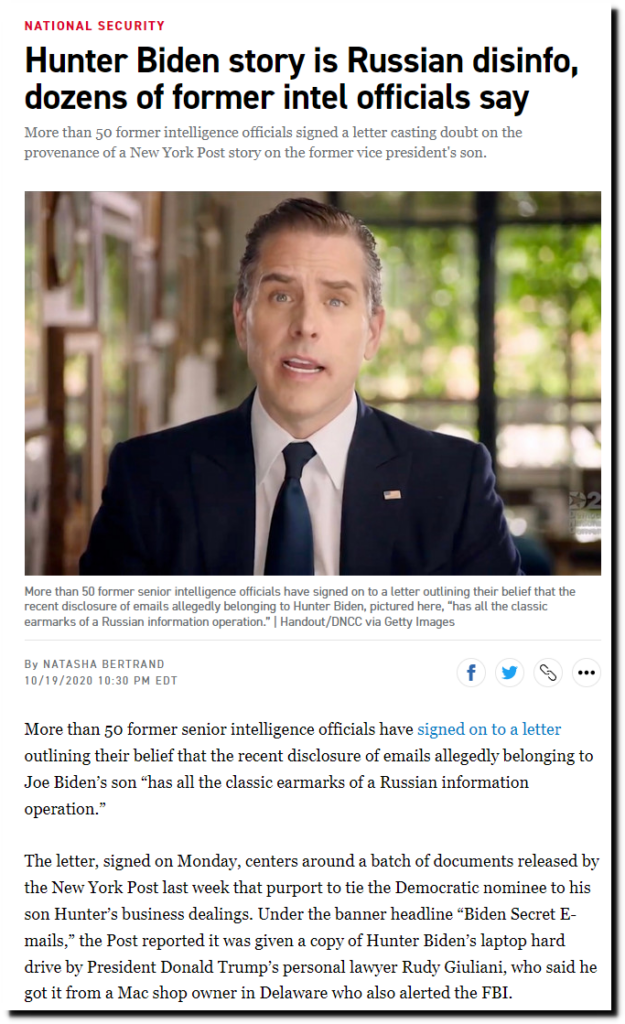 Hunter Biden story is Russian disinfo, dozens of former intel officials say – POLITICO
"If we are right, this is Russia trying to influence how Americans vote in this election, and we believe strongly that Americans need to be aware of this. "
Former IC Officers Public Statement
Signed by,

Jim Clapper
Former Director of National Intelligence
Former Under Secretary of Defense for Intelligence
Former Director of the National Geospatial Intelligence Agency
Former Director of the Defense Intelligence Agency

Mike Hayden
Former Director, Central Intelligence Agency
Former Director, National Security Agency
Former Principal Deputy Director of National Intelligence

Leon Panetta
Former Director, Central Intelligence Agency
Former Secretary of Defense

John Brennan
Former Director, Central Intelligence Agency
Former White House Homeland Security and Counterterrorism Advisor
Former Director, Terrorism Threat Integration Center
Former Analyst and Operations Officer, Central Intelligence Agency

…….