The Guardian says the Arctic is warming seven times faster than the rest of the planet.
"New data has revealed extraordinary rates of global heating in the Arctic, up to seven times faster than the global average."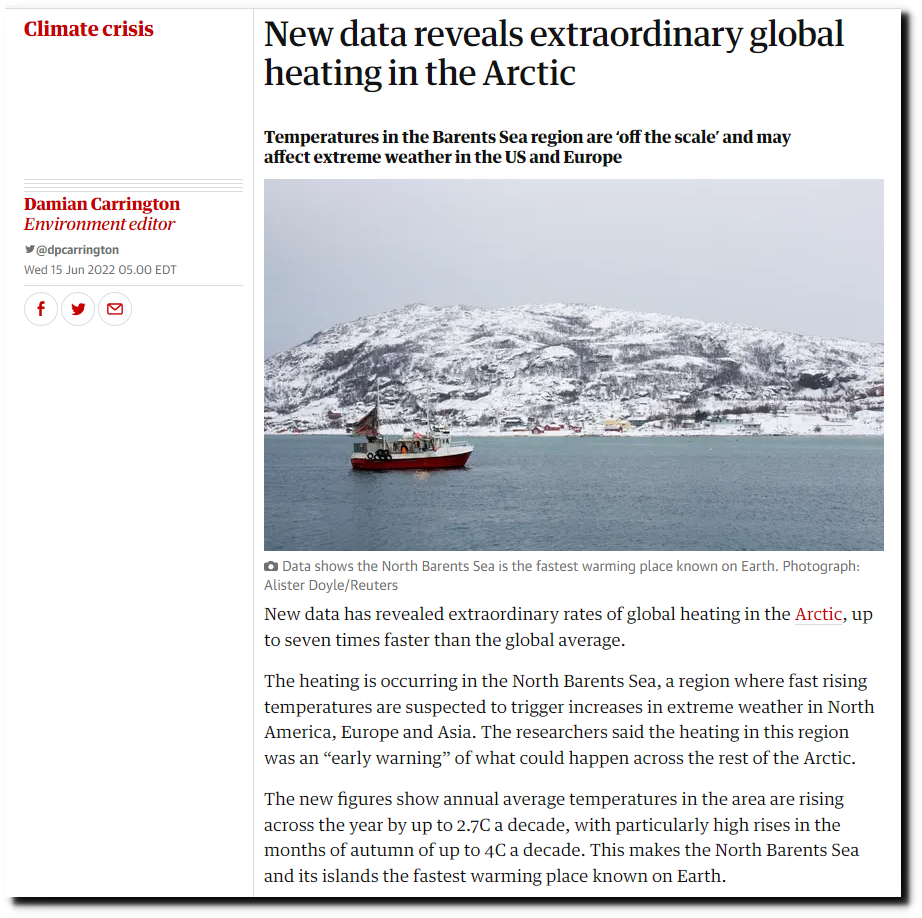 New data reveals extraordinary global heating in the Arctic | Climate crisis | The Guardian
The North Pole may be having the coldest spring/summer on record, with temperatures persistently below the 1958-2002 average.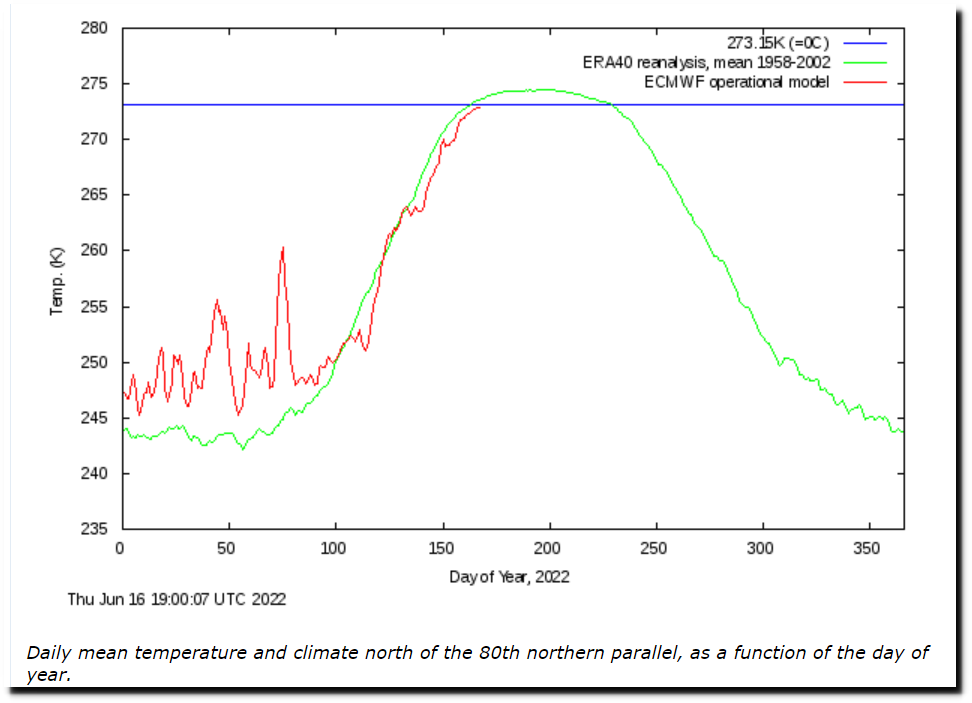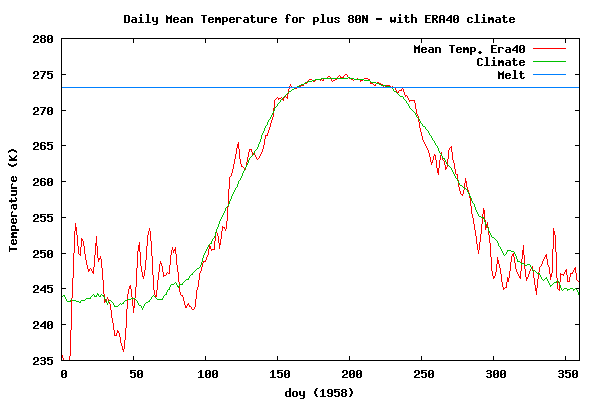 Ocean and Ice Services | Danmarks Meteorologiske Institut
Temperatures at the center of the Greenland Ice Sheet have barely gotten above -18C (0F) this summer.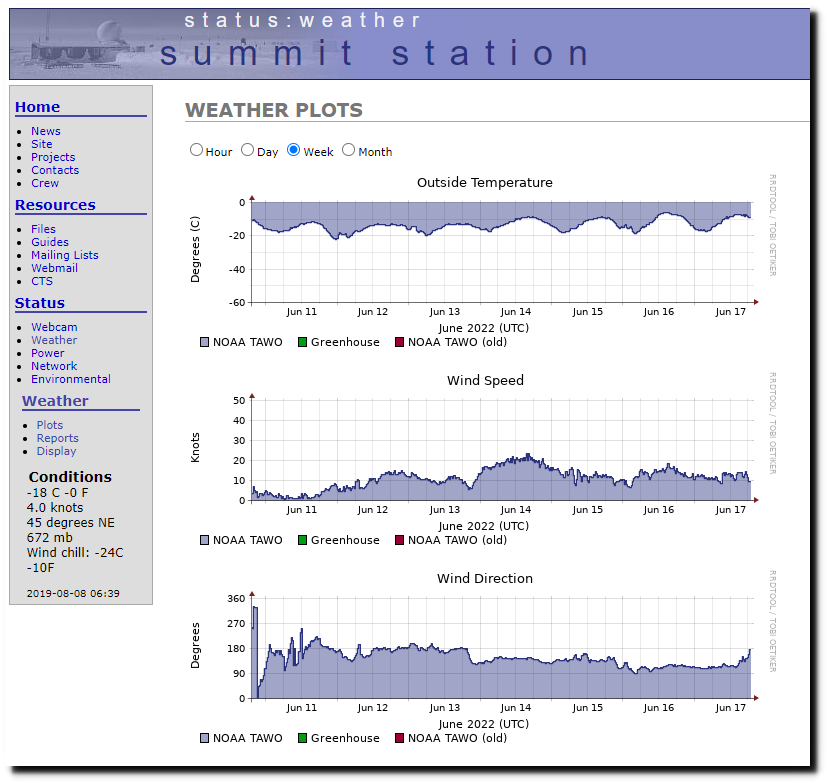 Greenland's surface has gained more ice than the 1921-2010 average for the fourth year of the last six.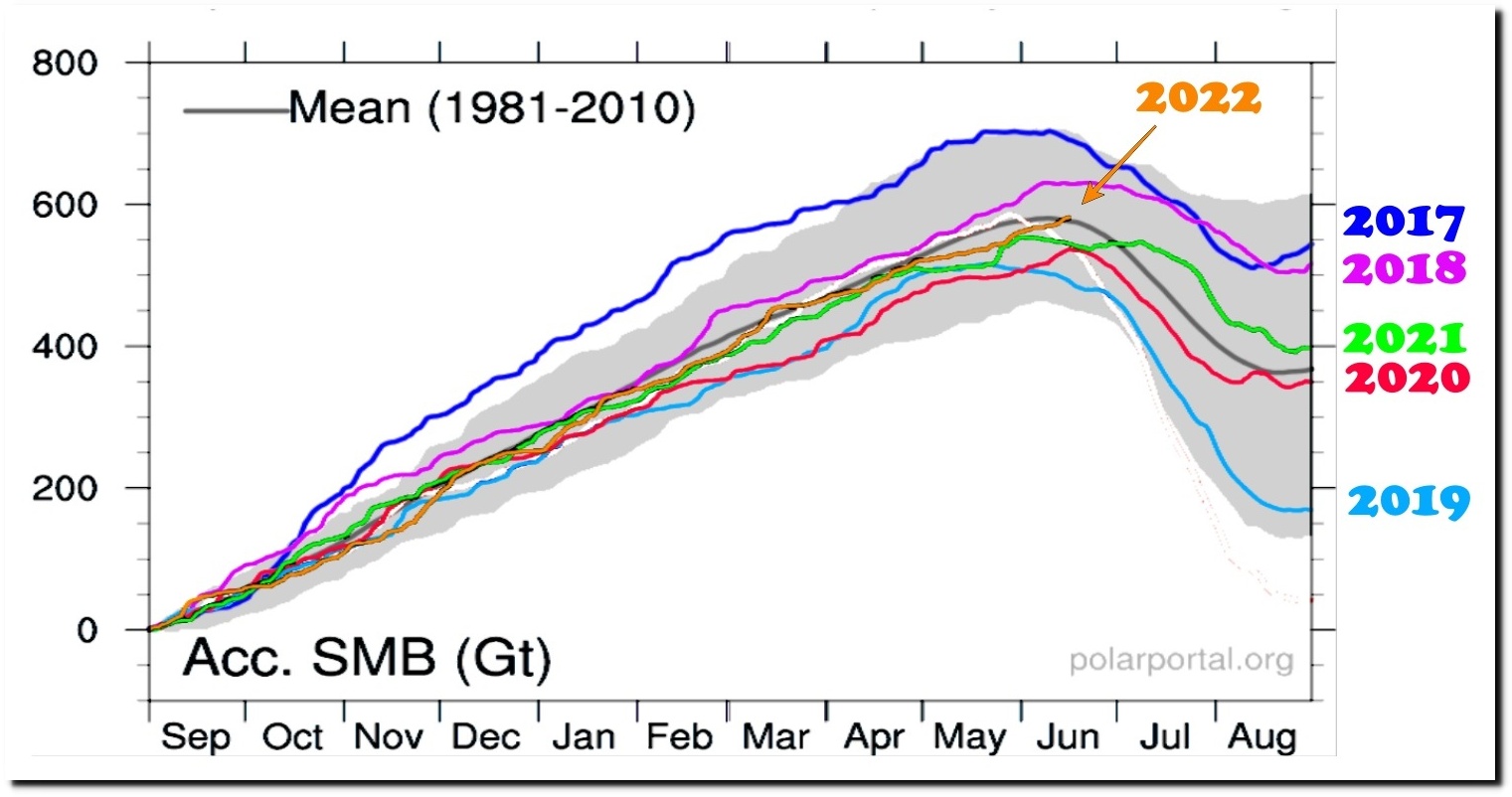 Surface Conditions: Polar Portal
Melt is below average.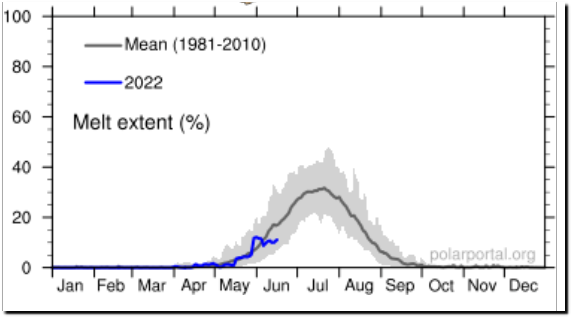 Surface Conditions: Polar Portal
Arctic sea ice extent is higher than it was fifteen years ago.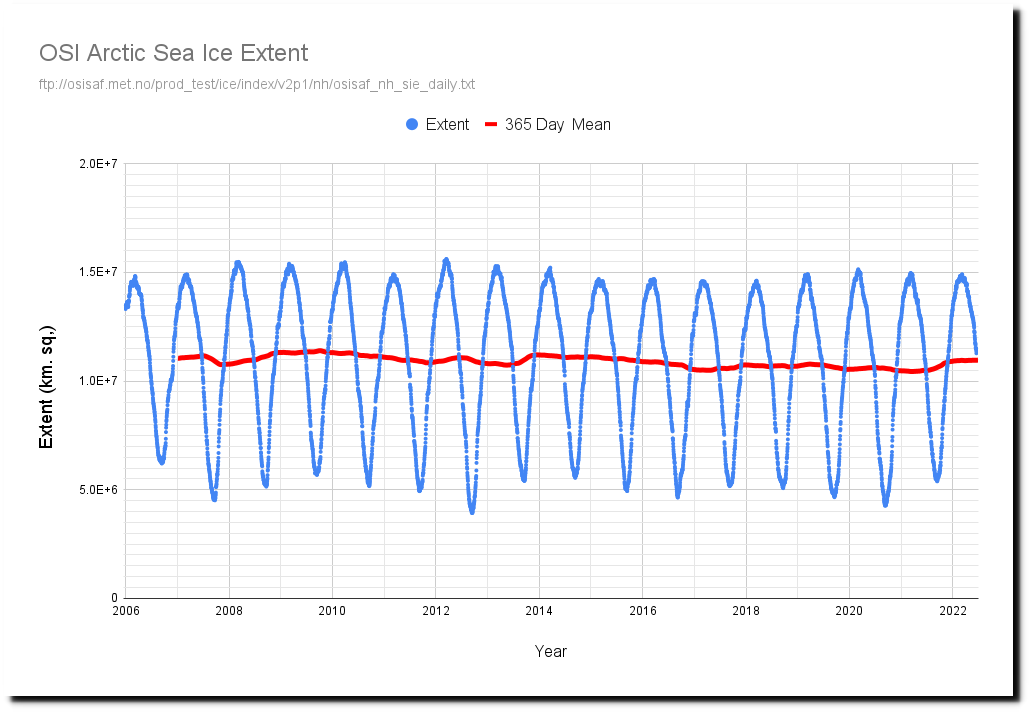 ftp://osisaf.met.no/prod_test/ice/index/v2p1/nh/osisaf_nh_sie_daily.txt
Same story from 1922.
"02 Nov 1922, Thu – Page1| ARCTIC OCEAN WARMING UP.

In Some Places Seals Are Finding Waters Too Hot, Says Report.

WASHINGTON, Nov. 2.—The Arc'tie ocean is warming up, icebergs are growing scarce and in some places the seals are finding the waters too hot, according to a report to the commerce department today from Consul Iffi, at Bergen Norway. .

Reports from fishermen, seal hunters and explorers, he declared, all point to a radical change in climatic conditions and hitherto unheard of temperatures in the Artic zone, exploration expeditions reporting that scarcely any ice has been met with as far north as 81 degrees 29 minutes: .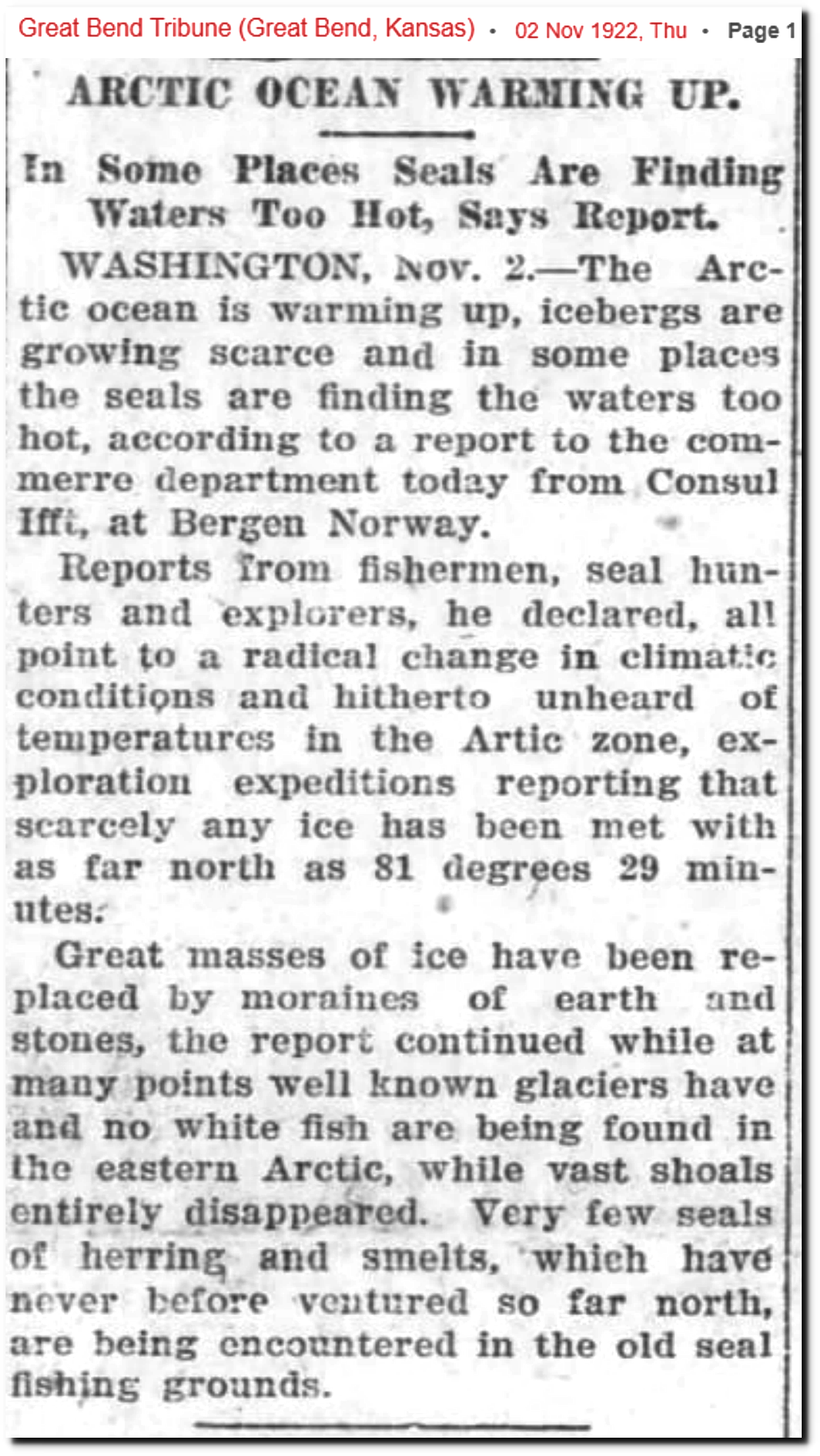 02 Nov 1922, Page 1 – Great Bend Tribune at Newspapers.com
"Chronicle (Adelaide, SA : 1895 – 1954), Saturday 14 June 1924, page 47

The rise of 22 deg. in the average temperature of Spitsbergen has not occurred at the expense of the Australian climate,  according to Sir Douglas Mawson

the ice at the poles is certainly decreasing,' said Sir Douglas cheerfully"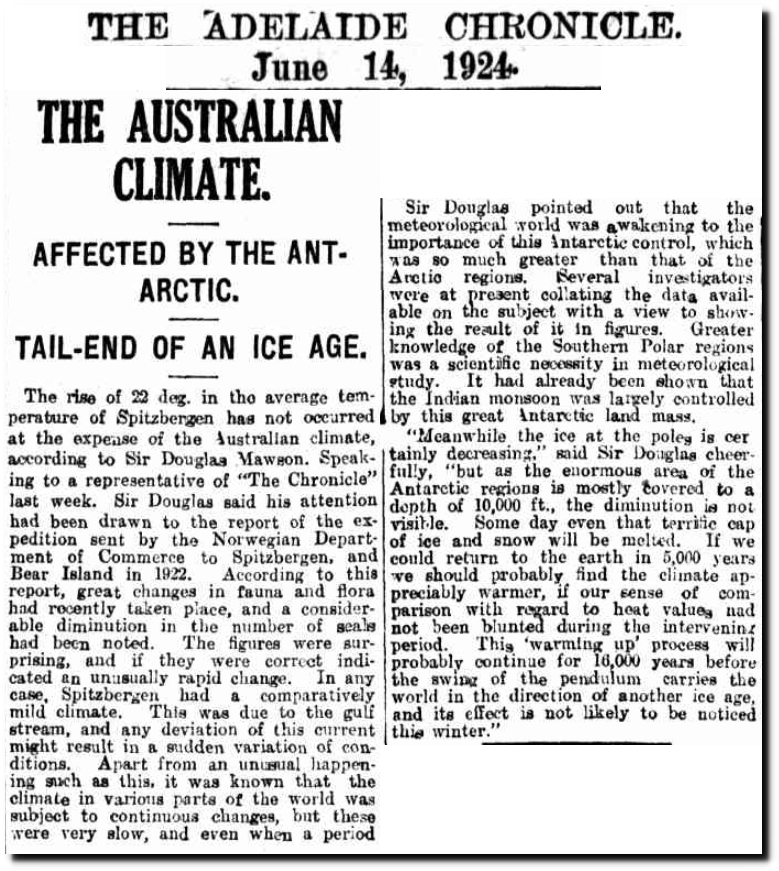 14 Jun 1924 – THE AUSTRALIAN CLIMATE. – Trove
"LONDON, Feb. 18. 1925 —The latest investigations confirm the theory that the arctic climate has changed considerably in recent years. The temperature of the Gulf Stream, which in. 1925, was higher than fn the previous year, shows: an average increase of from four to five degrees centigrade since 1900 when it was first measured by the explorer Nansen.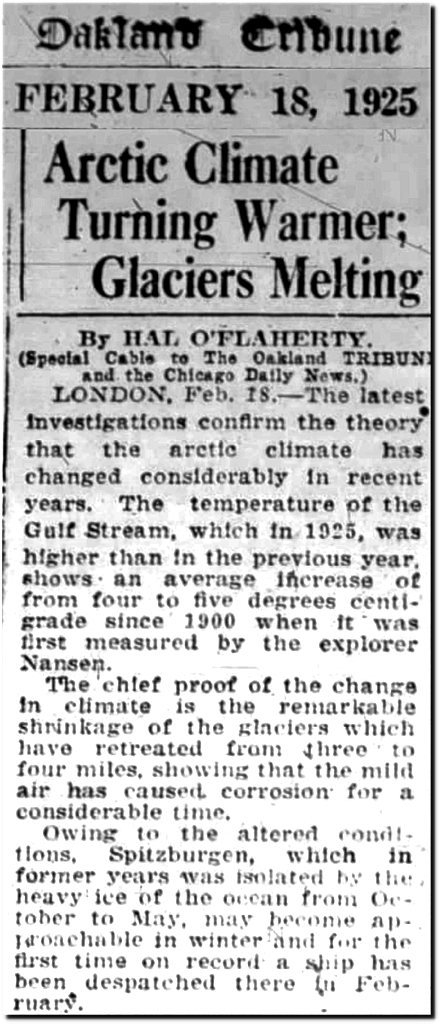 18 Feb 1925, Page 12 – Oakland Tribune at Newspapers.com
"FRIDAY, SEPTEMBER 28, 1939

Scientists have confirmed the fact that the Arctic regions around Spitzbergen are warming up at the rate of approximately one degree every two years.

Since 1910. when observations first started in those regions, the cumulative rise of winter temperature has amounted to nearly 16 degrees"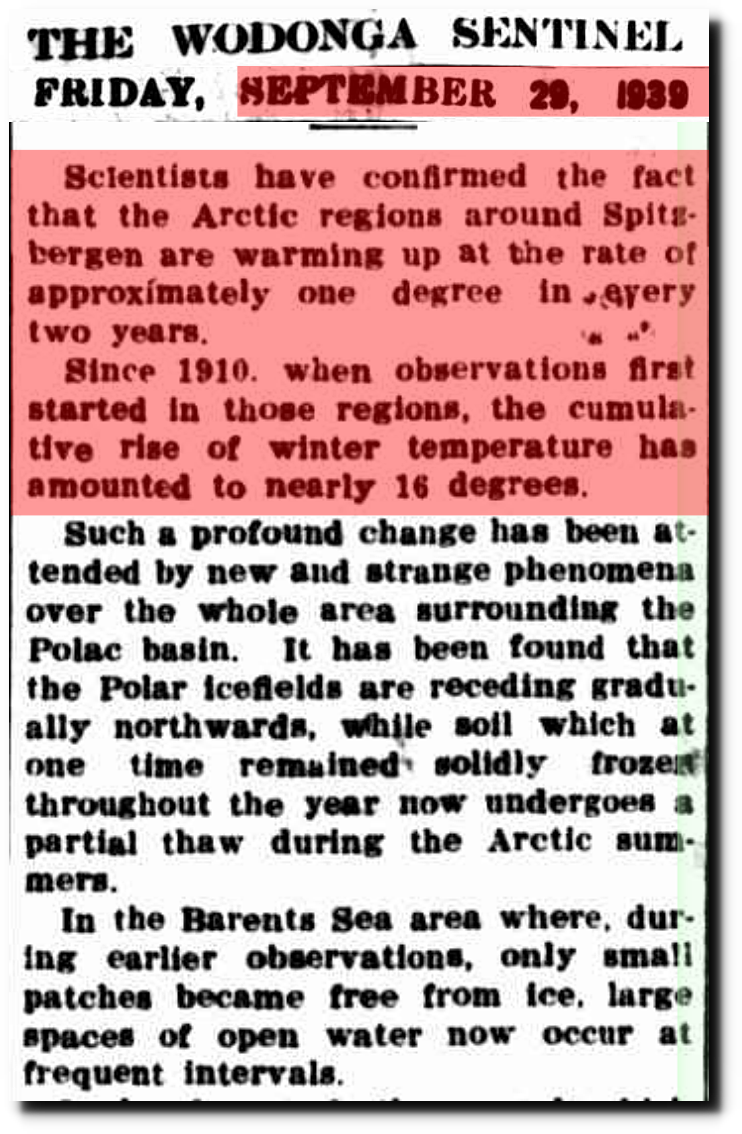 29 Sep 1939 – What is The World Coming To? – Trove
"If the Antarctic ice regions and the major Greenland icecap should re-duce at the rate of the present melting, he said, the oceanic surfaces would rise to catastrophic proportions. People living in the lowlands along the shores would be inundated. Temperatures in the Arctic had increased 10deg Fahrenheit since 1900, an "enormous" rise from the scientific standpoint."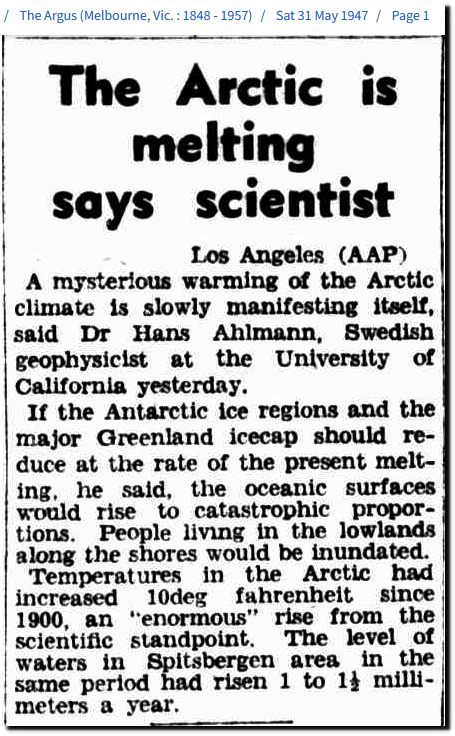 31 May 1947 – The Arctic is melting says scientist – Trove
"Since 1910, for instance, the mean winter temperature in Spitzbergen is up 14 degrees F. "If this goes on," Mr. Murphy points out, "the Arctic Ocean will be open the year round" before the close of the twentieth century."

New Scientist  December 1, 1960