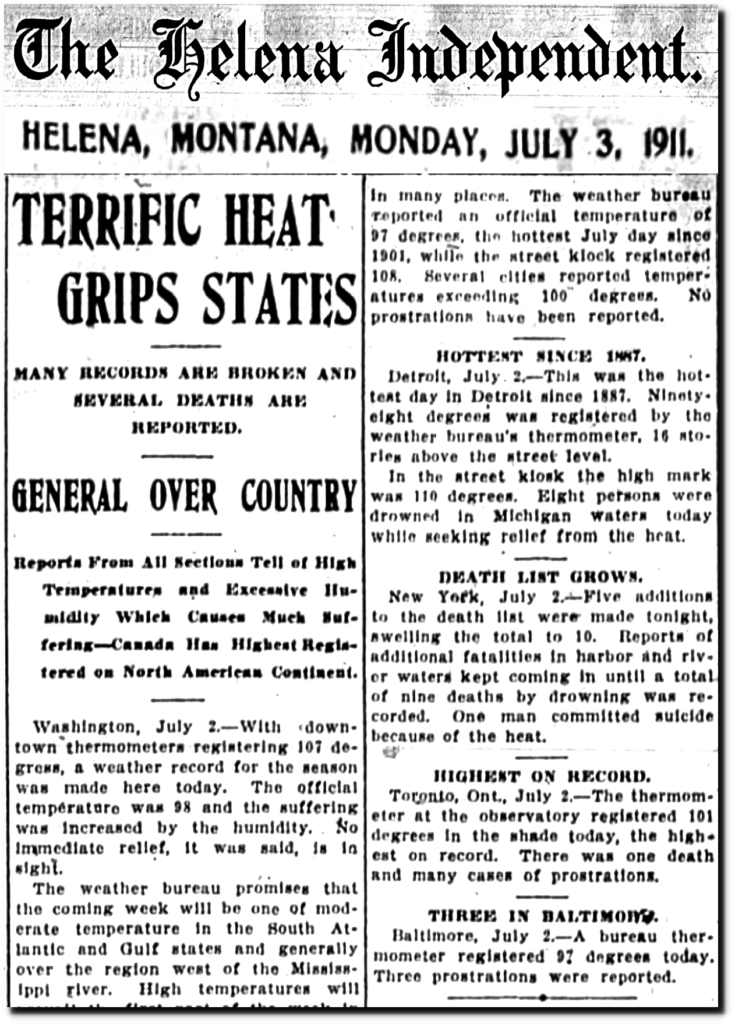 03 Jul 1911, 1 – The Independent-Record at Newspapers.com
MO 113 IA 110
KS 109 AZ 108 OK 108 CA 107 NE 107 IL 106 OH 106 SD 106 IN 105 MD 105 MI 105 TN 105 WI 105 NH 104 NJ 104 NY 104 TX 104 VA 104 AR 103 MS 103 DE 102 KY 102 LA 102
MA 102 PA 102 WV 102 AL 101 ME 101 VT 101
CT 99 MN 99 NM 99 SC 99 CO 98 NC 98 UT 98 GA 97 ND 97 MT 96 FL 94 WY 94 ID 93 NV 93 OR 92 WA 91 RI 90
Compare with July 3, 2021
CA 113
AZ 107 ID 107 UT 106 MT 105 SD 104 ND 103 NV 101 OR 100
CO 99 NM 98 WA 98 WY 98 NE 97 TX 96 NC 94 FL 92 KS 92 MN 92 LA 91 AL 90 IA 90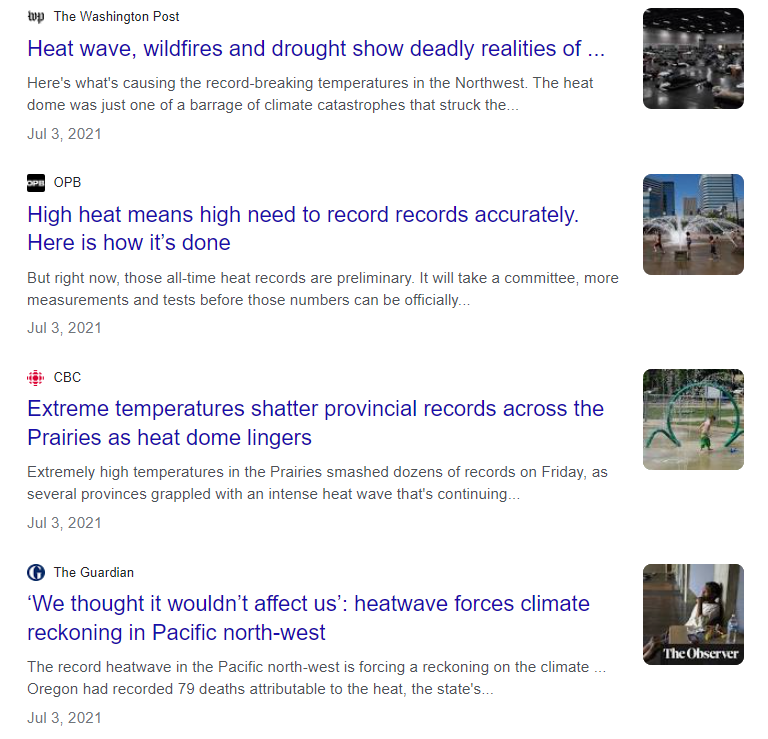 And from July 3, 1901
"

The New York Times

HEAT BRINGS DEATH TO OVER 200 PERSONS.

Several Hundred Others Collapse in Stifling Atmosphere.

STORES AND OFFICES CLOSE

Foundries and Factories Shut Down, Building Operations Cease.

Street Car Service Hampered by Exhaustion of Employees — Fierce Squalls Afford Some Relief to the Suffering City.

Over 200 deaths in all the boroughs and over 300 cases of prostration in Manhattan alone, two heat records smashed to smithereens, and two furious black squalls which brought some relief was the result of yesterday's meteorological record.

The maximum temperature came at 2:15 o'clock in the afternoon, when the mercury reached the 99- degree mark—within one degree of the highest record in the history of 1e Weather Bureau, and equal to the high- previous July record, and 5 degrees higher than the previous July 2 record om
the books of the bureau.

"The heat was so0 intense that the entire city was as If paralyzed. Many big companies and wholesale houses closed their doors as early as noon, in order to give their stenographers and clerks 2 chance to flee the city. Almost all of the insurance companies closed their doors. The Metropolitan Street Railway Company was unable to run its cars on strict schedule time for want of men to take the place of those who gave out. All work on the tunnel as well as on buildings and construction work throughout the city was suspended, and even the hospitals were affected.