"The year 1896 may have been one of the worst year for tornadoes in the history of the USA. There were at least 40 killer tornadoes, including the only one to cause more than 100 deaths in two separate cities.

April 11, 1896
Destructive thunderstorms swept across central Texas producing two killer tornadoes, both at night. A twelve-year-old boy died in one of five homes destroyed at the south edge of Colorado City in Mitchell County. At least one woman was killed in he rural home southwest of Cottonwood in Callahan County. There were other deaths across central Texas  that may have been tornado related.

April 15, 1896
An early season F3 tornado wiped out a half dozen farms at 3 AM near Faulkton, South Dakota. Two children died in one farmhouse.

April 20, 1896
In Sandusky County, Ohio, a violent F4 tornado "crept along the ground like a mammoth rock, and smoke puffed at the top like an engine." At least five homes were leveled to the ground at Booktown. Nineteenth century newspapers could always be counted on for unique and unusual descriptions of the tornado funnel.

April 24, 1896
In a brief touchdown at Salem, Roanoke County, Virginia, a tornado destroyed a bowling alley and a home. Three of the eight members of a family in one home were killed.

April 25, 1896
A half-mile-wide, violent tornado cut a swath across Cloud, Clay and Washington Counties in Kansas. At least nine people, possibly eleven, died, all in Clay County as 27 farm homes were destroyed. Newspapers reported that "everything was leveled as if a roller had passed over it," and the body of a dead child was reportedly carried for a half mile.

May 7, 1896
Pieces of a South Dakota farmhouse near Clark were carried for two miles. One woman was killed and ten other people were injured in the home.

May 15, 1896
This tragic day began with the death of an elderly man in his home at the hands of a 4 AM tornado in McPherson County, Kansas. The major activity was in the Red River area of Texas and Oklahoma. Three of the four members of one tornado family caused deaths and great destruction. The first damaged or destroyed 22 homes southwest of Denton, Texas, killing two people. Three more died north of Denton at the hands of the second member of the tornado family. The third member was among the most intensely devastating tornadoes in the nineteenth century. The funnel seemed to enter its shrinking stage as it turned to its left and cut across the west side of Sherman. At least fifty homes were destroyed, twenty of them completely obliterated. There were multiple deaths in seventeen families. A trunk lid with the owner's name on it was carried for 35 miles. Many bodies were found a quarter mile from homesites cleaned of every stick of debris. The death toll was at least 73. A new thunderstorm spawned a tornado in Bryan County, killing four members of a family near Blue.

May 17, 1896
This unusual day produced killer tornadoes in Kentucky and Kansas, a rare combination. An early morning funnel described as "an enormous blue haze" obliterated a house near Elva, Kentucky, killing all five members of one family. At 5 PM, another of the nineteenth century's most intensely violent tornadoes touched down near Palmer, Kansas, and lifted a hundred miles to the east northeast, near Falls City, Nebraska. Up to a mile wide, it devastated the Kansas towns of Seneca, Oneida, and Sabetha, leaving the farms in between "as bare as the prairie." The tornado may have been almost two miles wide as it passed near Reserve, Kansas. The death total was 25.

May 24, 1896
Moving to the east, this F4 tornado passed just north of DesMoines, Iowa at about 11 PM. Six, possibly seven, members of one family were killed at the north edge of Valeria. They were caught in the open, running to the storm cellar. Five others died in a nearby home. A steel railroad rail was reportedly driven 15 feet into the ground. The death toll was at least 21.

May 25, 1896
This week of almost continuous strong and violent tornado activity (perhaps the most violent single week of tornado activity in US history) continued with a 1 AM, F4 tornado in Ogle County, Illinois. A mother and three children died as a home was leveled south of Egan. A half hour later, three more died and six were injured in a home south of Davis Junction, Illinois. The late afternoon devastated parts of central and eastern Michigan. At 6 PM, in Tuscola County, Michigan, a home in which a funeral was taking place was destroyed. The thirty people in attendance ran safely to a ditch before the home was "lifted and dashed to the ground." A man in a nearby home was killed by debris as he watched the events from his window. Two hours later, two people were killed as thirty homes were destroyed at Mount Clemons, Michigan. At 9 PM, the third F5 tornado of the year began leveling homes near Ortonville, Oakwood, and Thomas, Michigan. Nine people died in a single home at Ortonville. On the ground for thirty miles, the funnel killed at least forty-seven people.

May 27, 1896
What may have been the first tornado of the day killed a woman near Bellflower, Missouri. At 3:15 PM, three students died and sixteen were injured in the destruction of the Dye School in Audrain County, Missouri. A few minutes later, the same tornado killed one student and injured nineteen at the Bean Creek School. At 6:15 PM, two children died on a farm in Osage County, Missouri. At about 6:30 PM, two tornadoes touched down almost simultaneously from separate storms. One leveled entire farms near New Minden, Hoyleton, Richview, and Irvington, Illinois. The other was the third deadliest tornado in US history, taking a total of at least 255 lives. In Saint Louis, Missouri, people died in homes, factories, saloons, hospitals, mills, railroad yards, and churches, as a half-mile-wide swath was cut across the center of the city. At least 137 people died at Saint Louis. Other people living on shanty boats may have perished in the Mississippi River, but were not counted because their bodies were washed downstream. At East Saint Louis, Illinois, the funnel had narrowed but may have also intensified. Devastation there was more complete, and 118 people were killed. Twenty seven more people died in other Illinois tornadoes this day.

May 28, 1896
At 1:30 PM a small tornado killed one person in a factory at Columbia, Pennsylvania. About an hour later, what may have been a single tornado killed two people in barns near Langhorne, Pennsylvania, then crossed the Delaware River and killed two more people in barns south of Trenton, New Jersey.

July 8, 1896
After a rather uneventful June, a hurricane crossed the Florida Panhandle and moved northward across eastern Tennessee and Kentucky. At Spring Hill, North Carolina, a woman was killed by flying debris in a tornado as she hung on to a tree.

July 26, 1896
One woman died as a tornado destroyed a home in Marshall County, Iowa.

July 29, 1896
A store was destroyed by a tornado at Glouster, Athens County, Ohio. The owner died under the debris.

Oct 28, 1896
A two day tornado outbreak began in Pittsburg County, Oklahoma, where a man and child were killed north of Hartshorne. The nervous and still recovering town of Sherman, Texas, also had a close call with another tornado. One man was killed in a home just southeast of Sherman. In Lincoln County, Oklahoma, the postmaster and his wife were killed at Mitchell, east of Guthrie.

October 29, 1896
Tornado activity resumed in the morning in Tensas Parish, Louisiana. Three people drowned as a tornado threw tenant homes into Lake Bruin. Later in the day, a watespout on the Mississippi River came ashore at New Orleans and swept two people into the river. Both drowned.

November 25, 1896
Two homes were "blown to atoms'" near Mart, Texas. One person was killed.

November 26, 1896
The last known killer tornado of the year took one life in a tenant home near Tunica, Mississippi at 10:40 PM.
This week in 1896
25 May 1896, Page 1 – Portsmouth Daily Times at Newspapers.com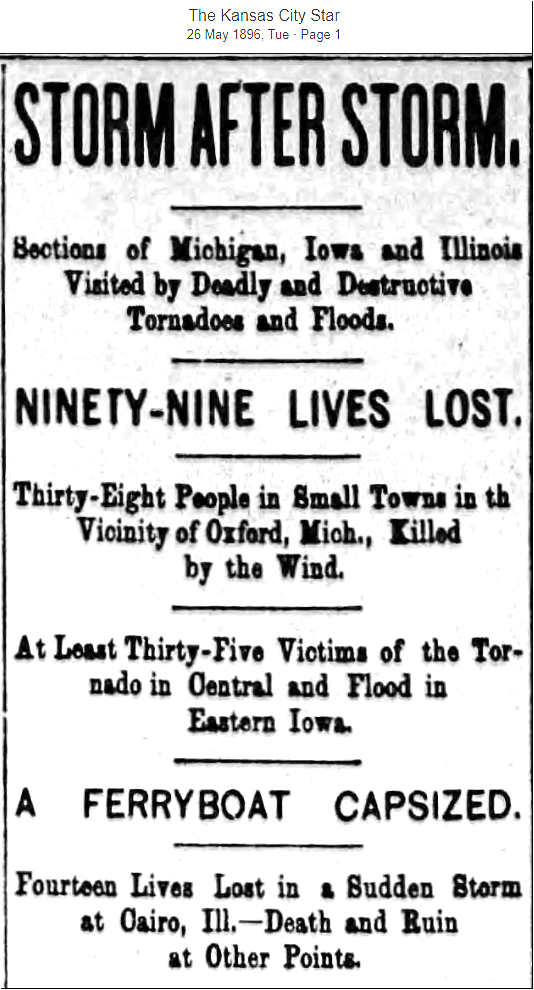 26 May 1896, 1 – The Kansas City Star at Newspapers.com