Saturday 28 September 1935, page 23
HUNDREDS DEAD  IN TYPHOON
75,000 HOMES LOST
Destruction in Japan
A Government communique states that 200 persons were killed in the typhoon that swept over Klouslou Island of the Tokio region on Thursday, The missing number 105 in addition to 52 sailors who are believed to have been drowned when the typhoon caused a collision between four destroyers and an aircraft carrier during manoeuvres.
The number of houses destroyed is computed at 75,974, and 191 bridges have been demolished"
28 Sep 1935 – HUNDREDS DEAD IN TYPHOON – Trove
"Friday 1 November 1935, page 11
1OOO BELIEVED DROWNED IN ' HAITI
A message from Port au Prince (Haiti) says that belated reports from remote sections of the island indicate that the aftermath of the tropical hurricane which swept Jamaica and Cuba in the West Indies last week-end caused considerable damage in Haiti. ' Hundreds of persons are reported to have been drowned in the towns of Jacmale and Jeremie following torrential rains, and the indications are that the total deaths may exceed 1000. Communication with the stricken areas is still disrupted. The Government is rushing relief to thousands of homeless who are suffering from exposure and hunger.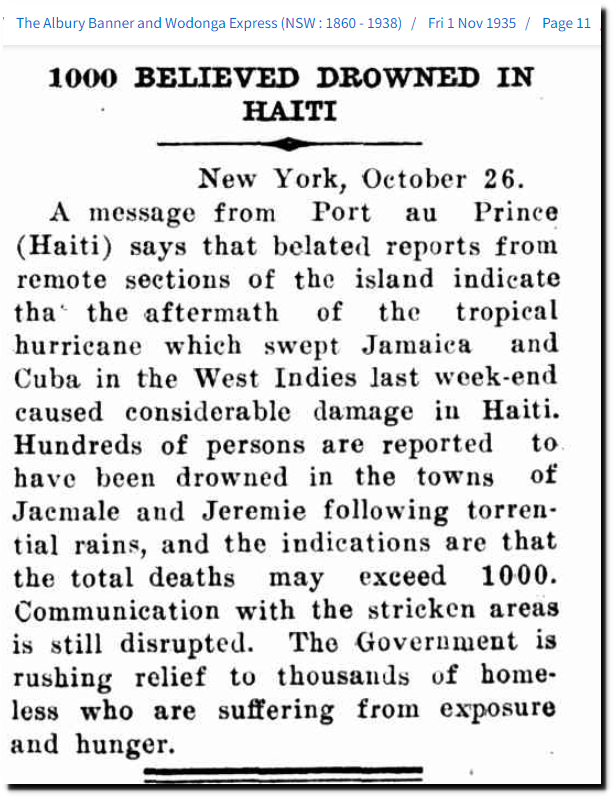 01 Nov 1935 – 1000 BELIEVED DROWNED IN HAITI – Trove
"

Monday 9 September 1935, page 1
OVER 400 LOST IN FLORIDA HURRICANE

In order to avoid pestilence, the Governor of Florida (Mr. Scholtz), has ordered the cremation of all bodies of Florida Keys storm victims who have not yet been placed in coffins.

The latest reports indicate that there are 446 dead or missing.