The Texas grid is failing again and the "Energy Reliability Council Of Texas" (ERCOT) is telling people to cut back usage.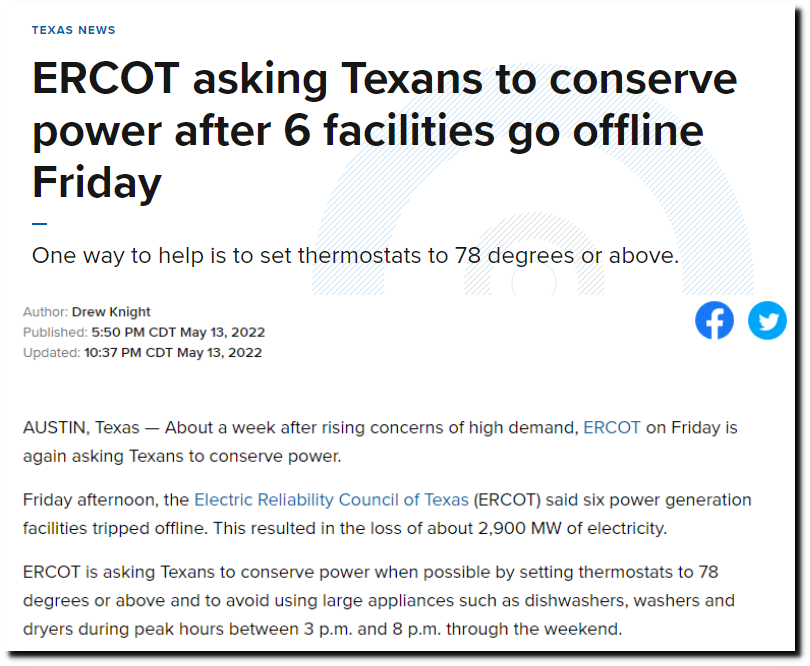 Doug Lewin describes himself as an expert on grids, energy efficiency and renewable energy. He implies the problem is more hot weather due to global warming.

ERCOT calls for power conservation after 6 facilities go offline | kvue.com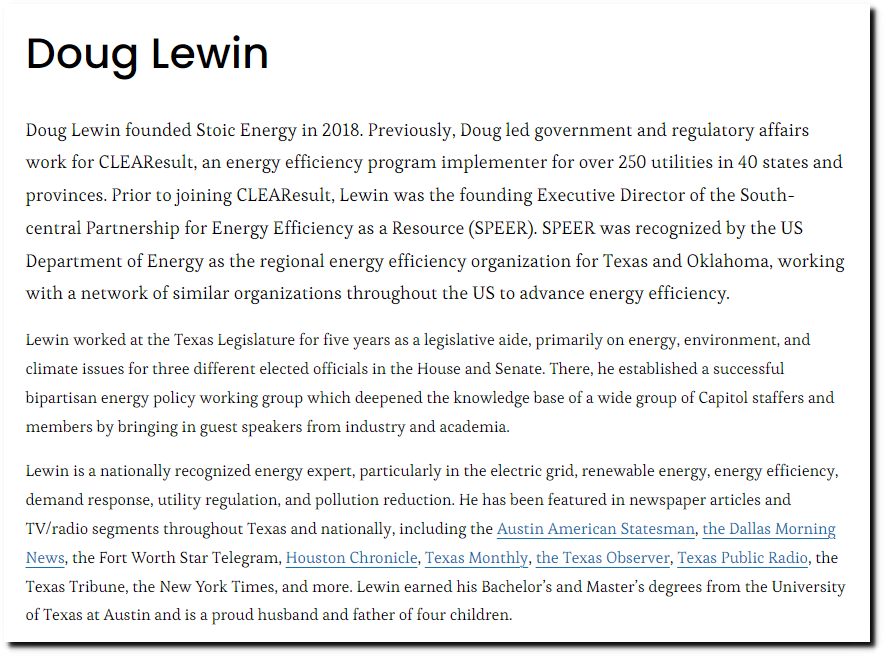 About — Stoic Energy Consulting
So far this year, 4% of days in Texas have been over 95F (25C.) In 2011 more than thirty percent of days were over 95F and the average before 1960 was about twenty-percent.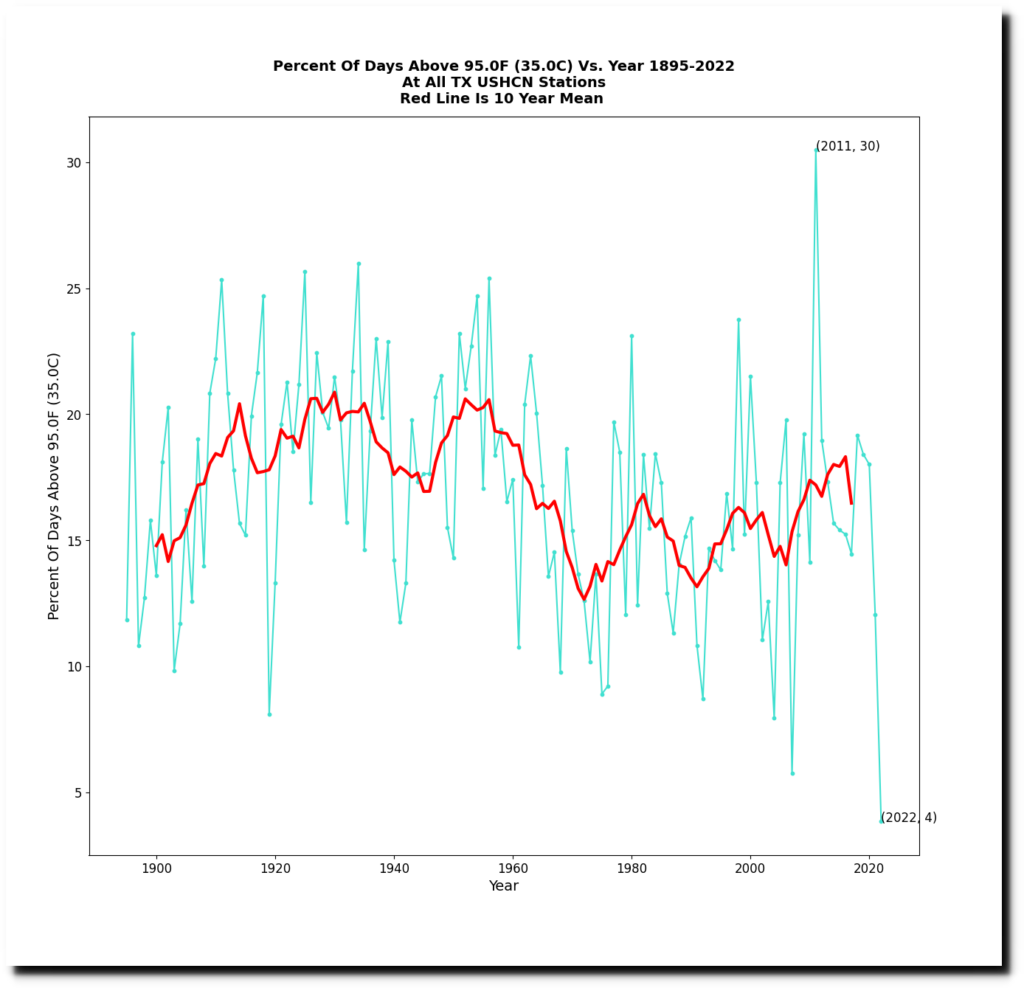 During 2011, the grid problems occurred during winter and only in ERCOT areas. Other parts of the state did not have problems.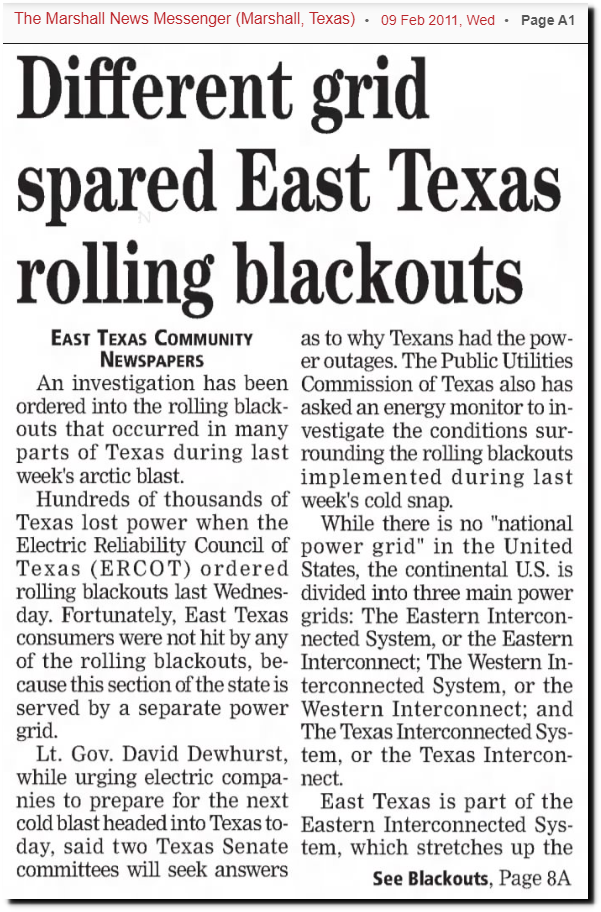 09 Feb 2011, A1 – The Marshall News Messenger at Newspapers.com
"SWEPCO has never initiated rolling blackouts, McCloud said. Because ERCOT is a grid by itself within state boundaries, there is no way to get power into the state. So when the grid unexpectedly lost 2,000 megawatts generation due to power plant problems coupled with high temperatures, officials issued a Level 1 alert."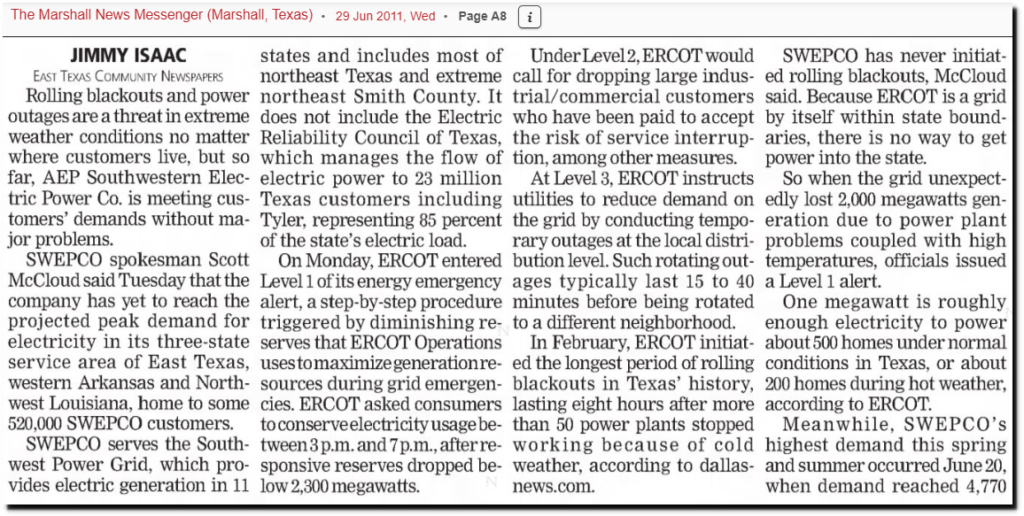 29 Jun 2011, A8 – The Marshall News Messenger at Newspapers.com
Ten years later on February 12, 2021 USA Today bragged that up to two-thirds of Texas electricity was generated by wind.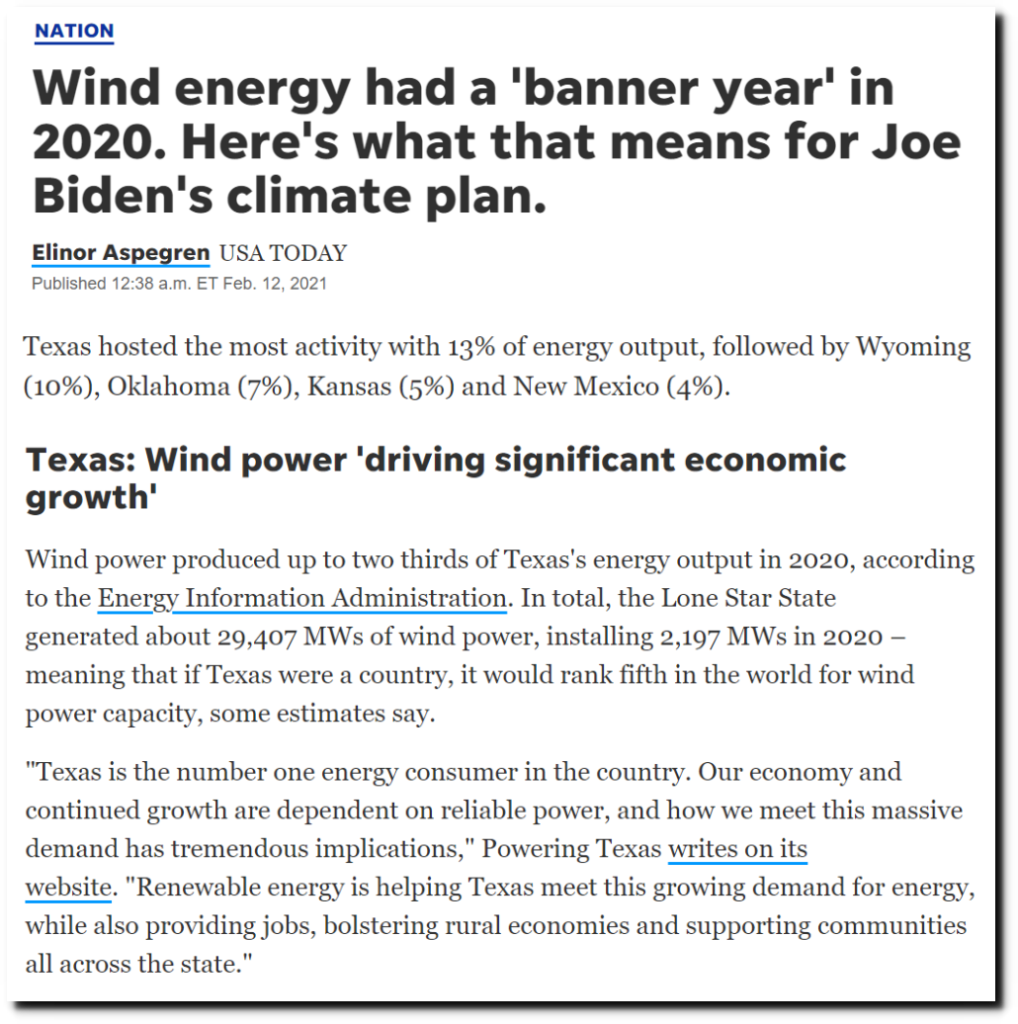 Wind energy: Texas, Wyoming and Joe Biden's climate plan
Two days later the wind turbines froze up as did many people in Texas when the ERCOT grid collapsed.
USA changed their story and said the failure of Texas wind was a "warning to Biden and all of us."
Renewable energy really is part of the cause of Texas' blackouts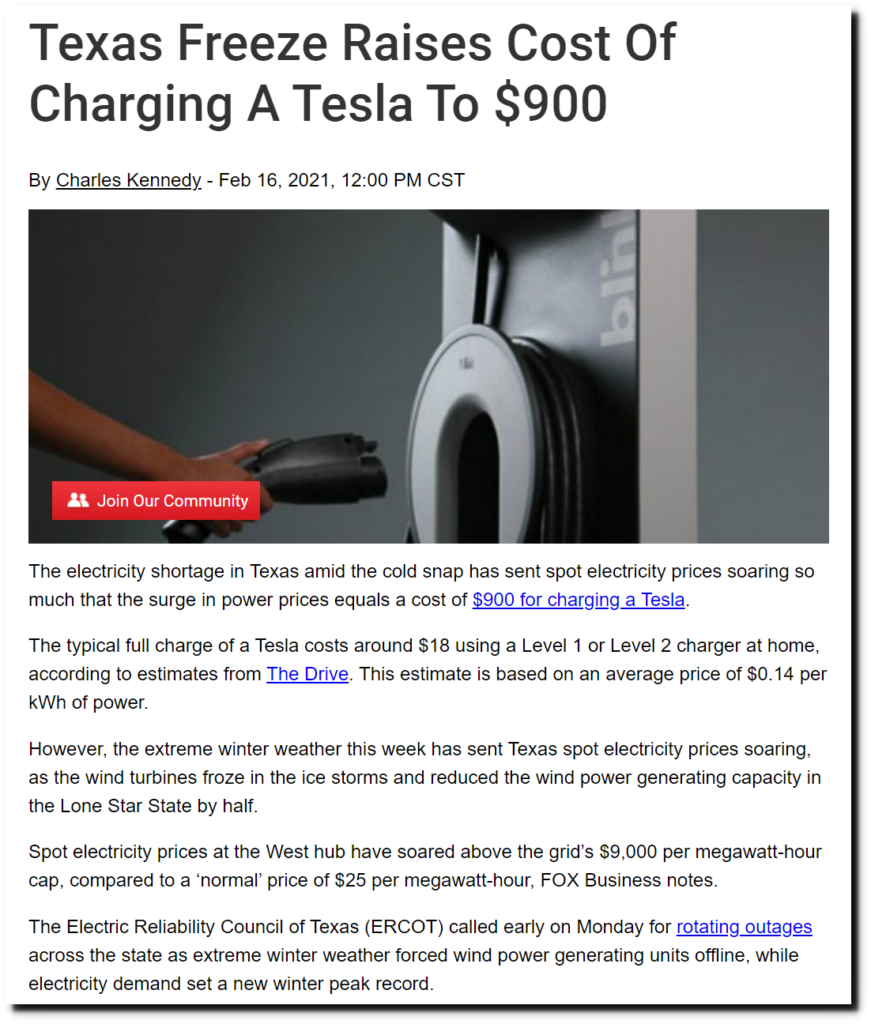 Since 2011, Texas has added massive wind capacity.  So why is the ERCOT grid inadequate?  The wind turbines were supposed to cooling the climate and making the grid reliable.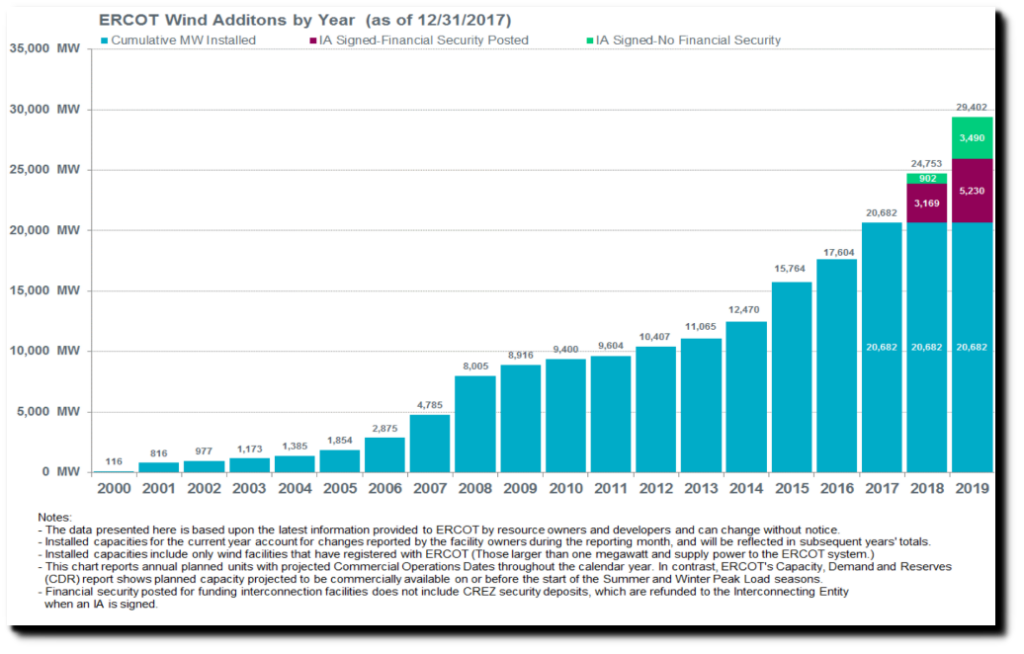 Texas Got 18 Percent of Its Energy from Wind and Solar Last Year – Scientific American Blog Network