On May 22, 1911 the temperature reached 101F (38C) at Lewiston, Maine.  The only higher temperature ever recorded there was 102F (39C) on July 4, 1911 when they reached 102F (39C.)  Maine hasn't had a 100 degree reading during any month since 2011.
"The Boston Globe 23 May 1911, Tue – Page 2

RECORD HEAT FOR ANY MONTH IS REACHED AT LEWISTON

LEWISTON, Me, May 22—According to the records kept at the gatehouse of the Union water power company, the thermometer reached the highest point this afternoon recorded in this city since 1885, when that company first began to keep its records.
At 8 o'clock this afternoon it registered 101° in the shade, which is half a degree above the highest before recorded in May or any other month.

There has been no rain here for weeks and grass and crops are burning up."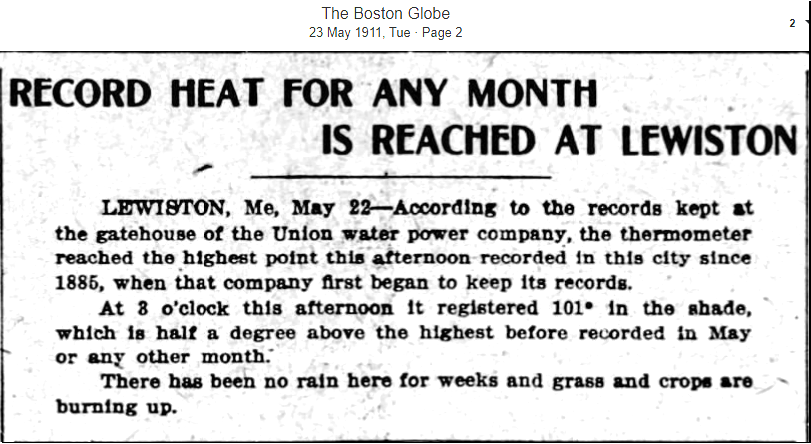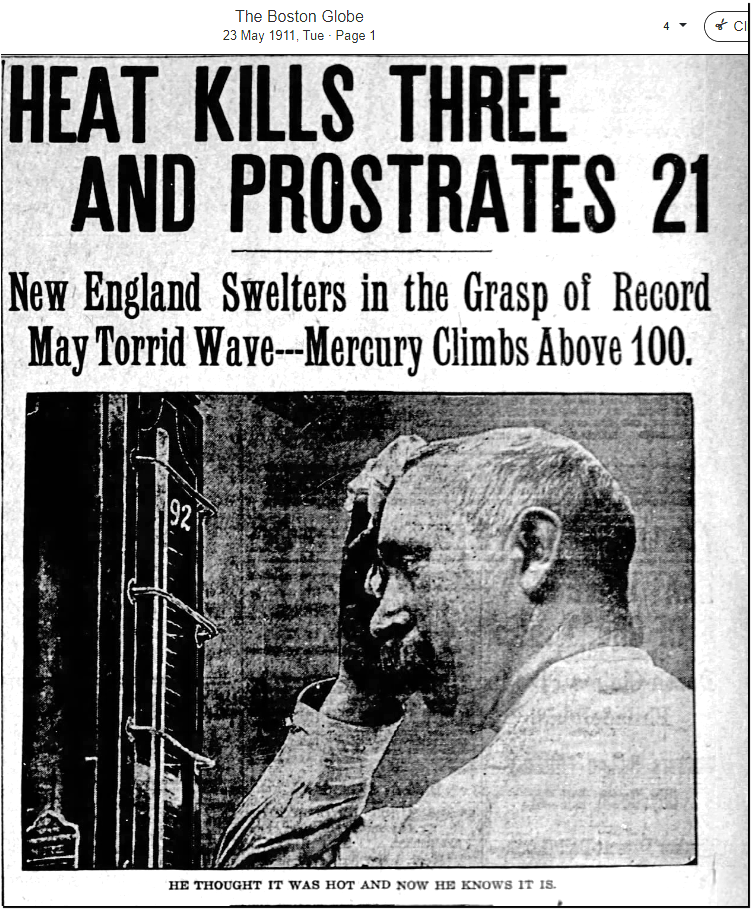 23 May 1911, 2 – The Boston Globe at Newspapers.com
That year set a lot of weather records.
02 Feb 1911, Page 1 – Fort Scott Daily Tribune and Fort Scott Daily Monitor at Newspapers.com
OK 93
TX 93
NM 87
KS 86
LA 86
MS 85
AR 84
MO 84
AZ 83
AL 81
FL 80
GA 79
TN 78
IL 76
SC 75
IN 74
KY 74
CA 72
WV 70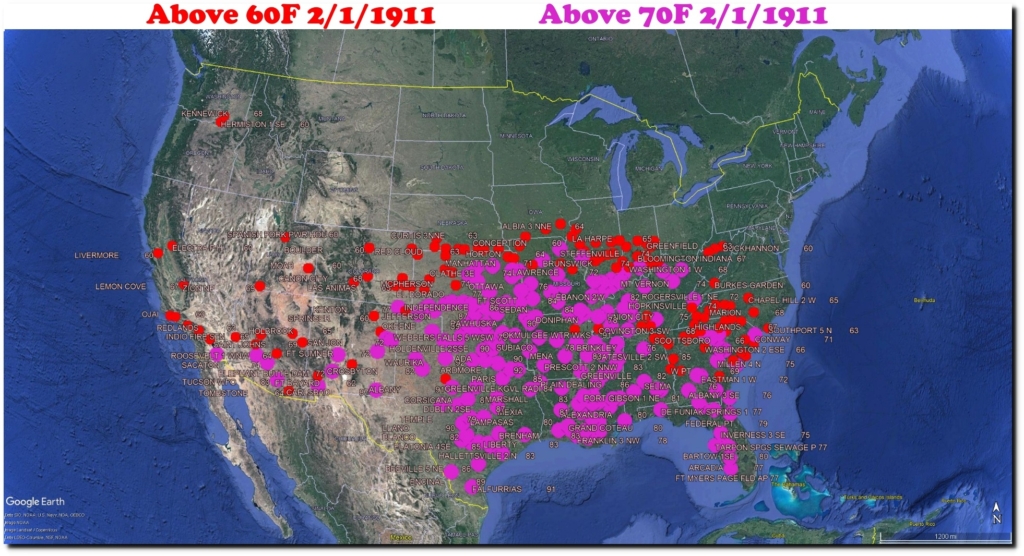 May, 1911 brought precedent 100 degree temperatures to Maine and Quebec. May 22, 1911 brought the hottest May temperatures ever recorded in Maine, Vermont and New Hampshire.
23 May 1911, Page 1 – Pittsburgh Daily Post at Newspapers.com
22 May 1911, Page 1 – The Sydney Morning Herald at Newspapers.com
This was followed by the hottest July 4th on record in the US, during a two week heatwave which killed thousands of people in New England. July 3rd, 1911 was the hottest day on record in New Hampshire.  July 4th, 1911 was the hottest day on record in Massachusetts and Vermont, and July 10, 1911 was the hottest day on record in Maine.
04 Jul 1911, Page 1 – The Scranton Republican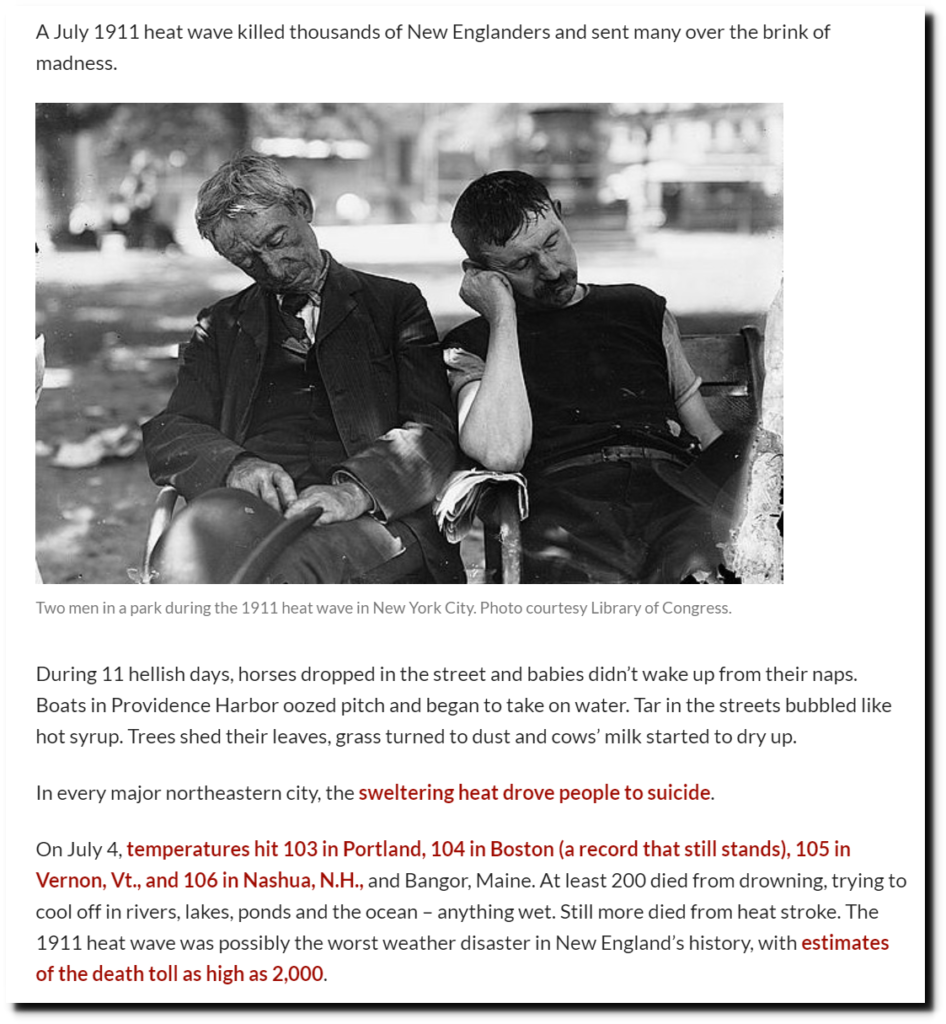 The 1911 Heat Wave Was So Deadly It Drove People Insane – New England Historical Society
05 Jul 1911, 1 – The Boston Globe at Newspapers.com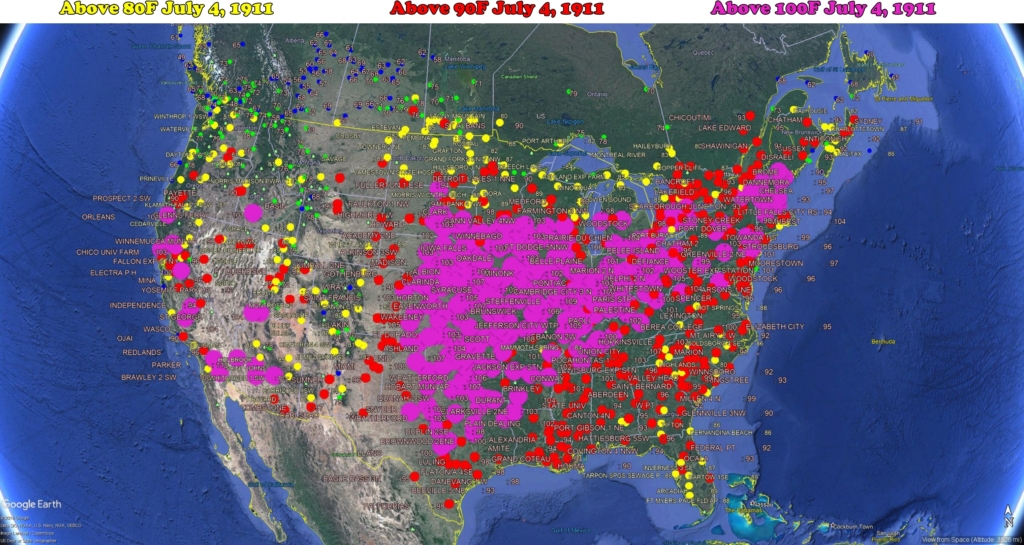 And Europe had a seventy day long heatwave which killed tens of thousands of people.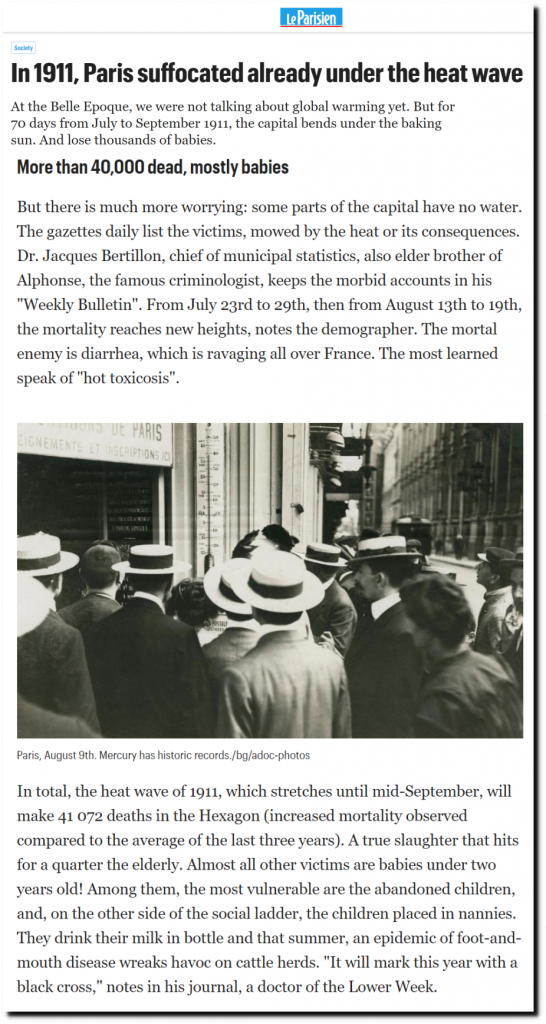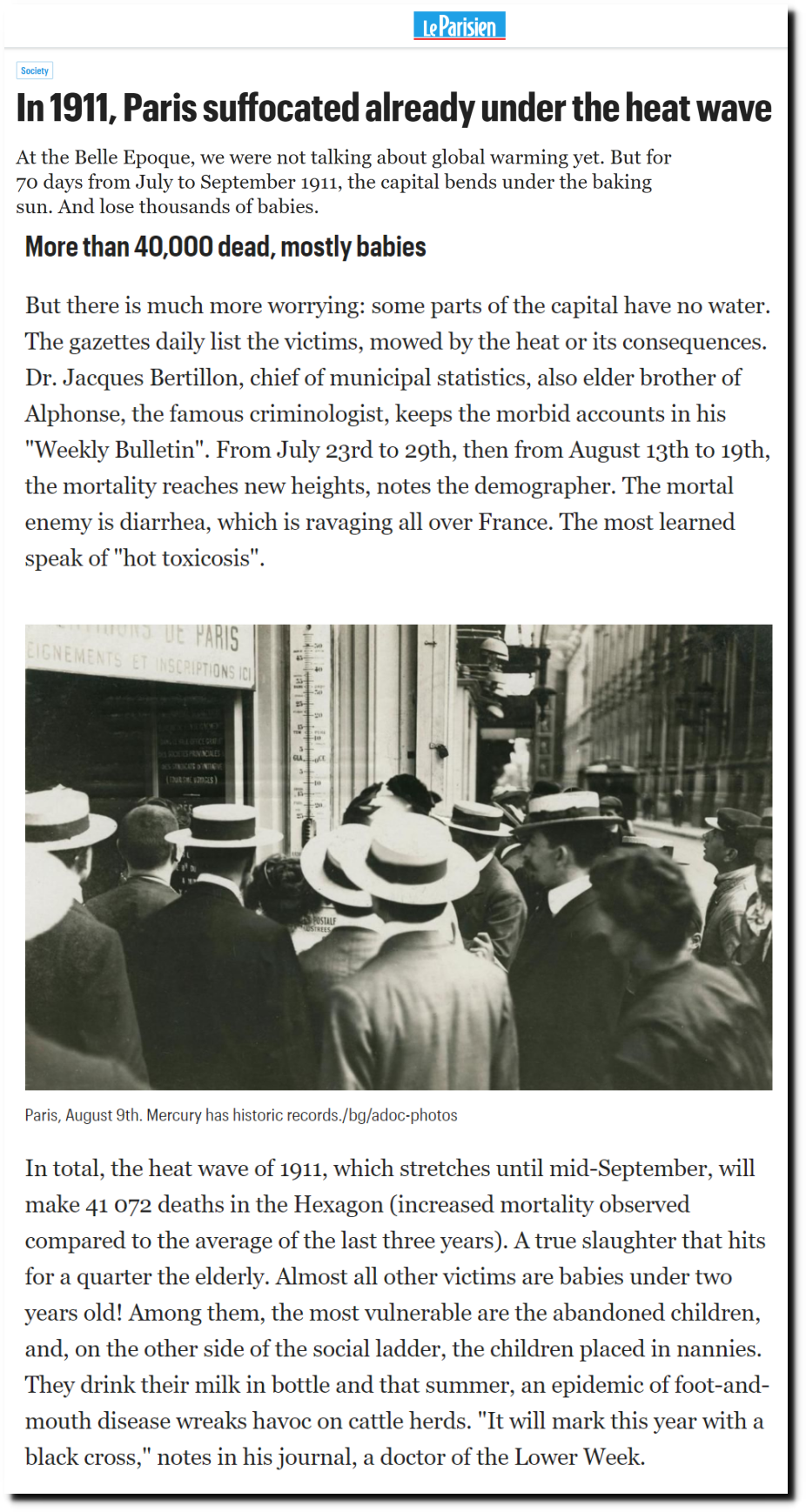 En 1911, Paris suffoquait déjà sous la canicule – Le Parisien
London was 100 degrees on August 9, 1911.
29 Aug 1930 – DEATHS REPORTED. – Trove
More than a thousand people died in Germany.

11 Aug 1911 – TERRIBLE HEAT WAVE. – Trove
12 Aug 1911 – WEATHER IN SOUTH AUSTRALIA. – Trove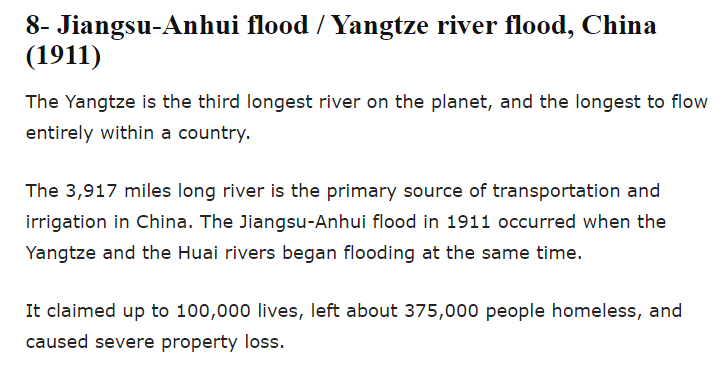 Top 10 Deadliest Floods In The Known History Of The World – ValueWalk