The devastating food shortage that has millions of the world's poor people in its grip is directly related to what climatologists increasingly suspect is a gradual global cooling process that is causing erratic weather changes from one year to the next.

Early frosts from Texas to the Dakotas. typhoons in India. drought in Siberia, expansion of the desert south of the African Sahara are evidence of unfavorable shifts in the earth's climate that have been occurring since 1945. U.S. weather experts say.

Weather records show that the annual average temperatures over the Northern Hemisphere rose dramatically from about 1890 through 1945. but have been falling ever since. The total change has averaged about one-half degree centigrade, with the greatest cooling in the all-important wheat – growing regions of North America and Europe. The drop has already shortened the growing season in England by two weeks and caused a dangerous southward shift of monsoon winds in rice – growing regions of Southeast Asia.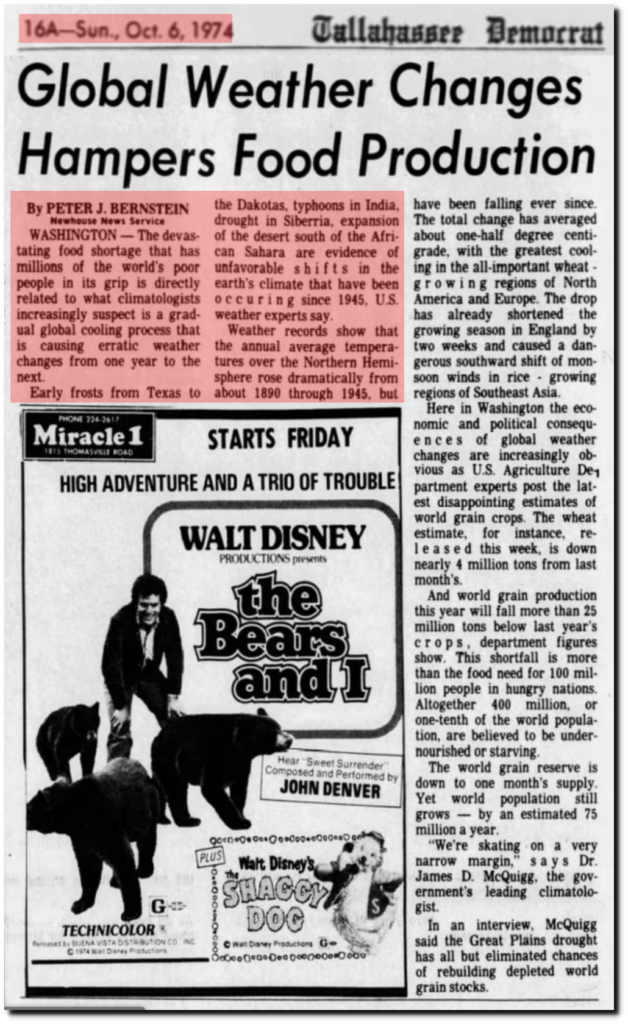 06 Oct 1974, Page 16 – Tallahassee Democrat at Newspapers.com
Hear "Sweet Surrender" Composed and Performed by JOHN DENVER