Alaska probably had their coldest coldest autumn on record and Hawaii is having blizzard warnings.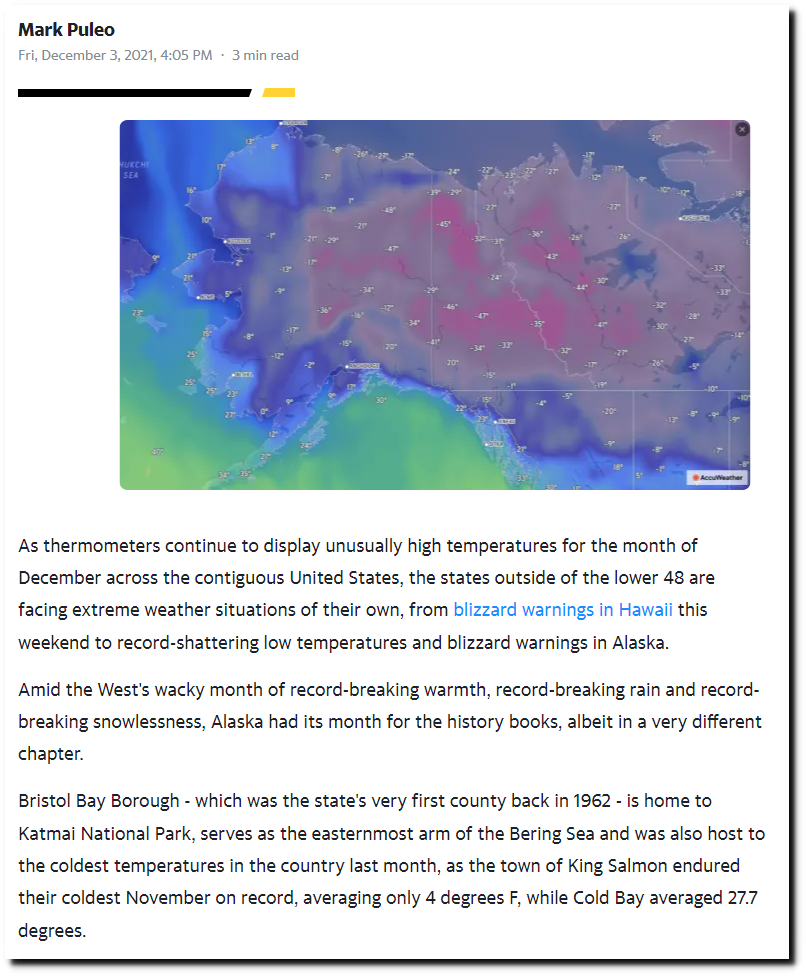 Record-shattering cold has gripped Alaska and refuses to let go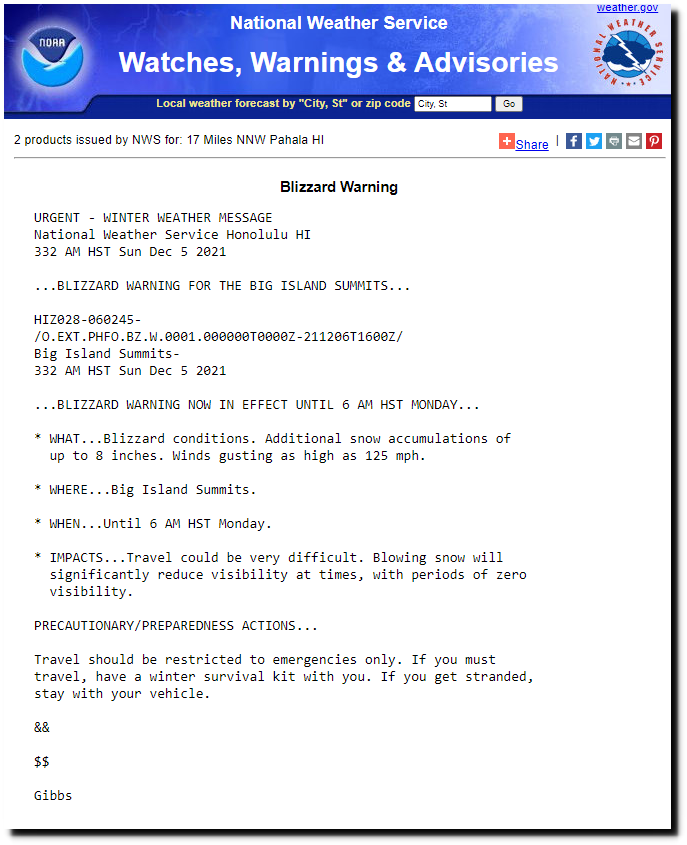 WWA Summary by Location for 19.42N 155.59W with HIZ028/HIC001/HIZ228 emphasis Blizzard Warning
Arctic sea ice volume is above the 2004-2013 average.
FullSize_CICE_combine_thick_SM_EN_20211204.png (1337×1113)
Ships are trapped in the ice.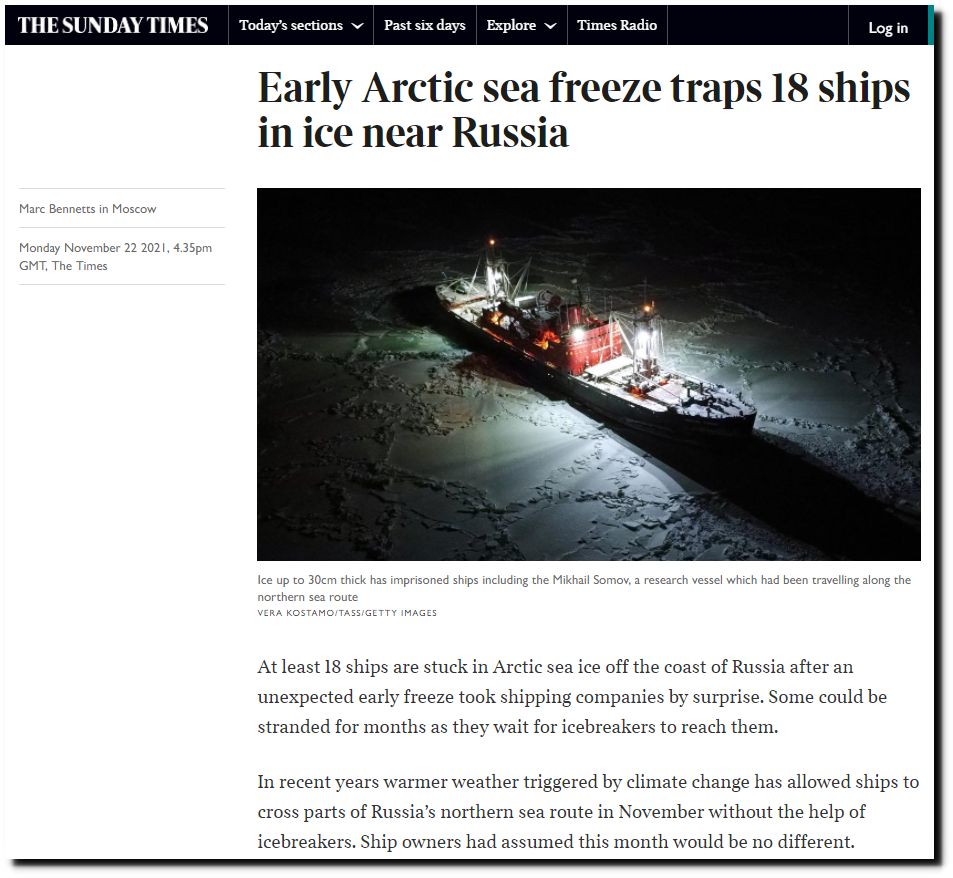 Early Arctic sea freeze traps 18 ships in ice near Russia | World | The Times
But we had a warm day on December 1, prompting Andrew Freedman to declare another global warming emergency.
In Cheyenne, Wyo., the temperature reached 70°F on Thursday, setting a state record for the month of December. A monthly record was also set in Nebraska, according to the National Weather Service.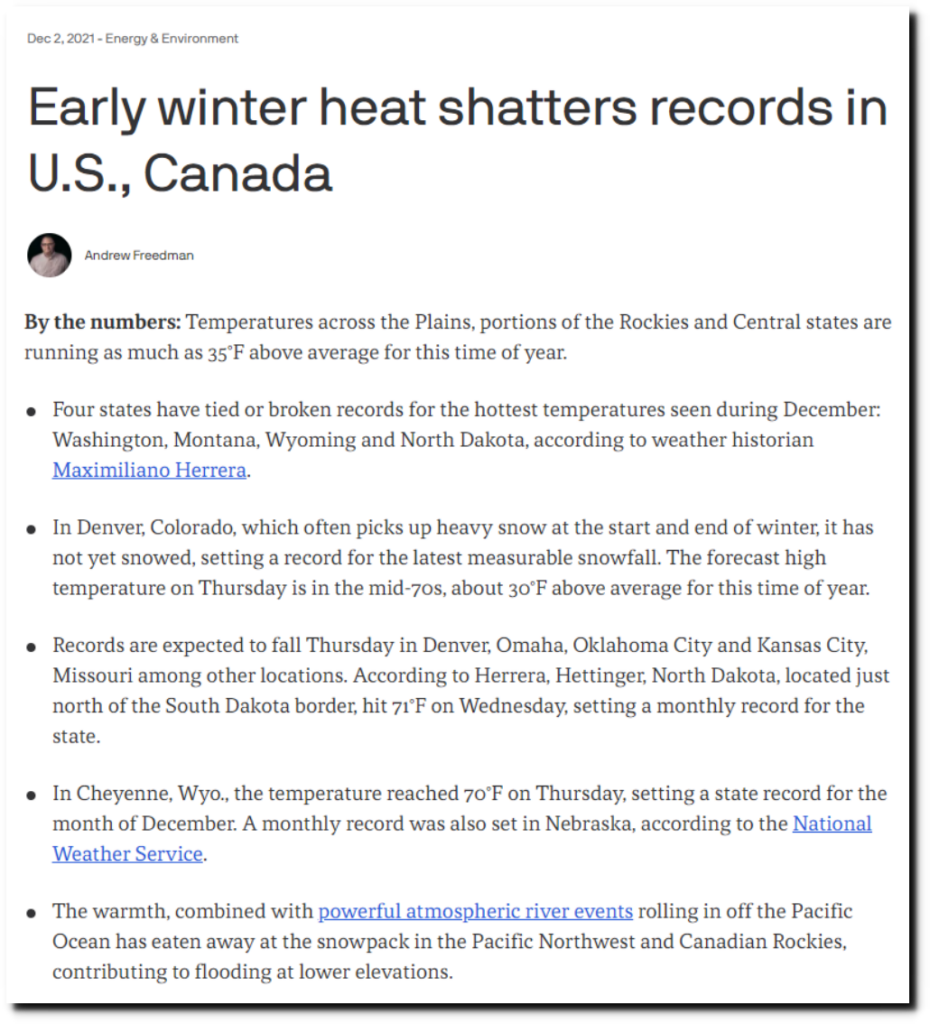 Astonishing early-winter heat wave envelops the U.S. and Canada and shatters records – Axios
It wasn't a record for Wyoming. On this date in 1939 five states were over 90F and twenty-two states were over 70F. Sheridan, Wyoming was 78 degrees that day, which was eight degrees higher than Andrew Freedman's claimed record. Nebraska was 75 degrees which was also higher than the claimed record.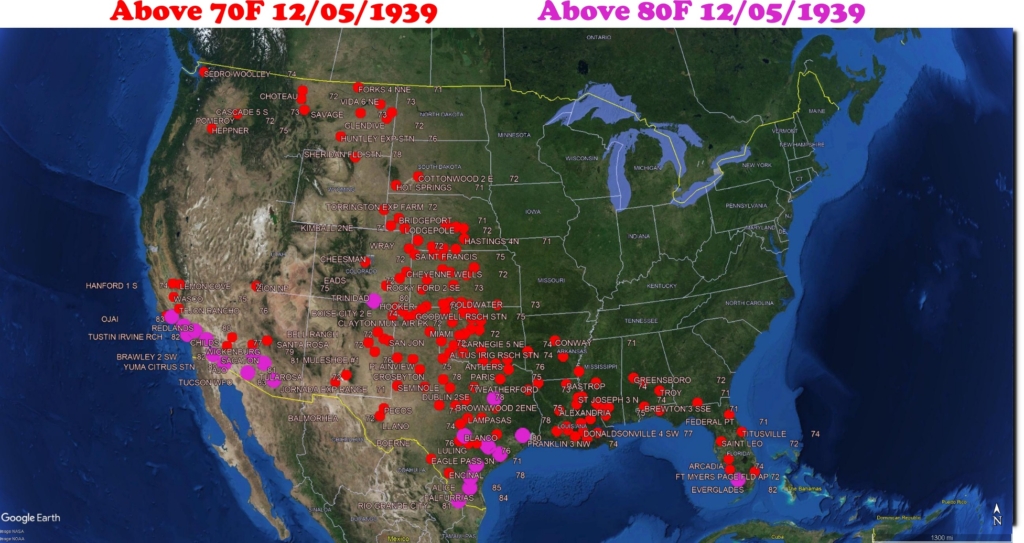 CA 85
TX 85
AZ 83
FL 82
CO 80
LA 78
NM 78
WY 78
OK 77
MT 76
KS 75
NE 75
OR 75
UT 75
GA 74
MS 74
WA 74
AL 72
AR 72
SD 72
NV 70
ND 70
The following day was even warmer. On December 6, 1939 Nebraska reached 83 degrees and Colorado reached  88 degrees.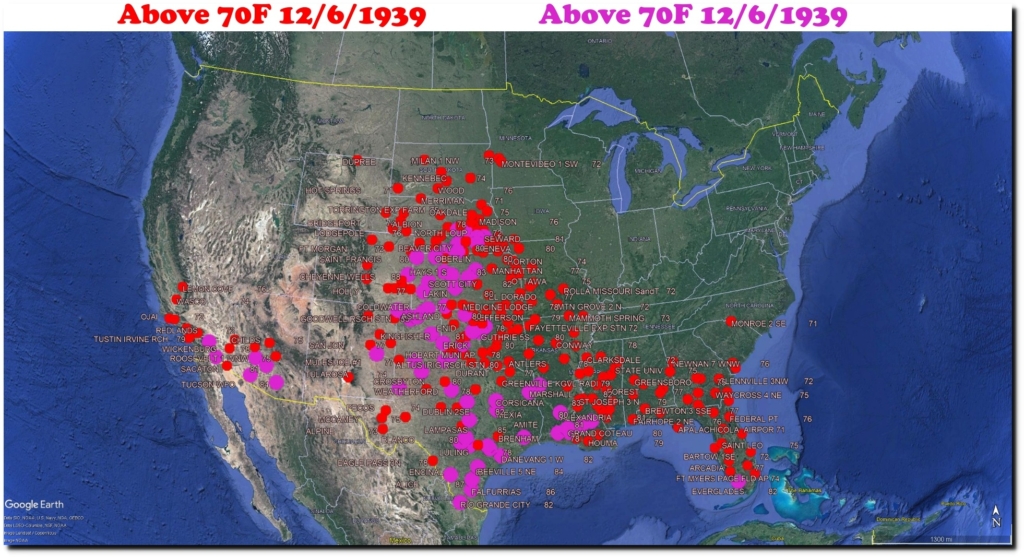 CO 88
CA 87
TX 87
AZ 85
OK 85
KS 83
LA 83
NE 83
FL 82
NM 80
MS 79
AR 78
GA 78
MO 78
AL 77
SD 76
WY 75
MN 73
SC 73
IA 71
NC 71
MT 70
TN 70
Cheyenne had four days over 65F during December 1939.
The National Weather Service tweet didn't say it was a record for Nebraska, rather they said it was a record for once city in Nebraska.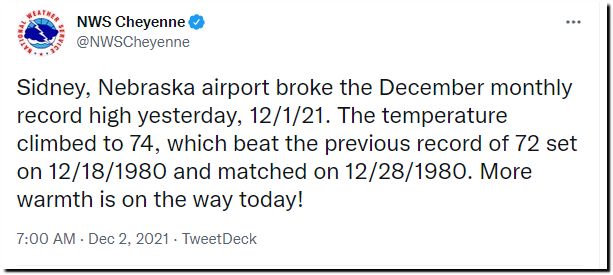 December 1939 was the warmest on record in the US, with almost 30% of days over 60F.
That year also brought record heat and fires to Australia.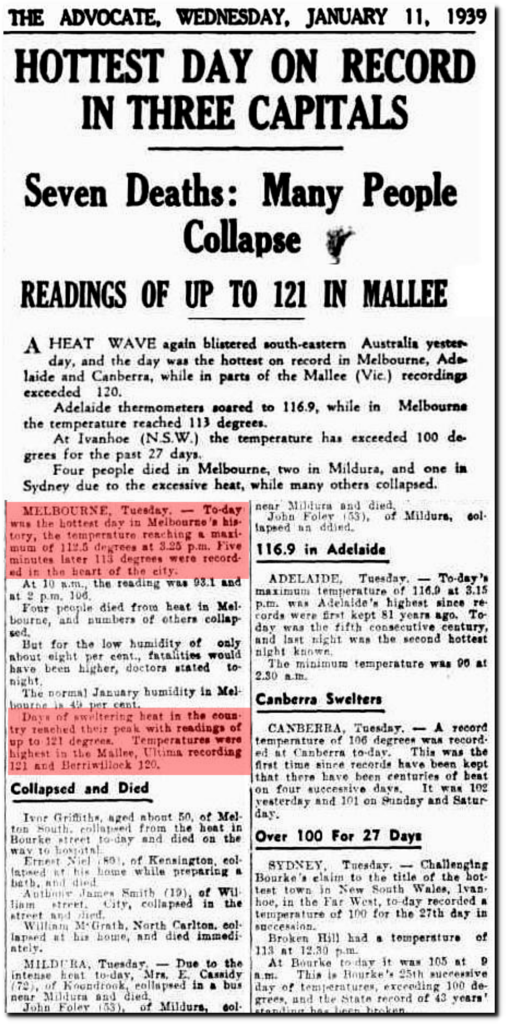 11 Jan 1939 – HOTTEST DAY ON RECORD IN THREE CAPITALS Seven Deaths: Many People Collapse – Trove
11 Jan 1939 – BOURKE'S RECORD BROKEN. – Trove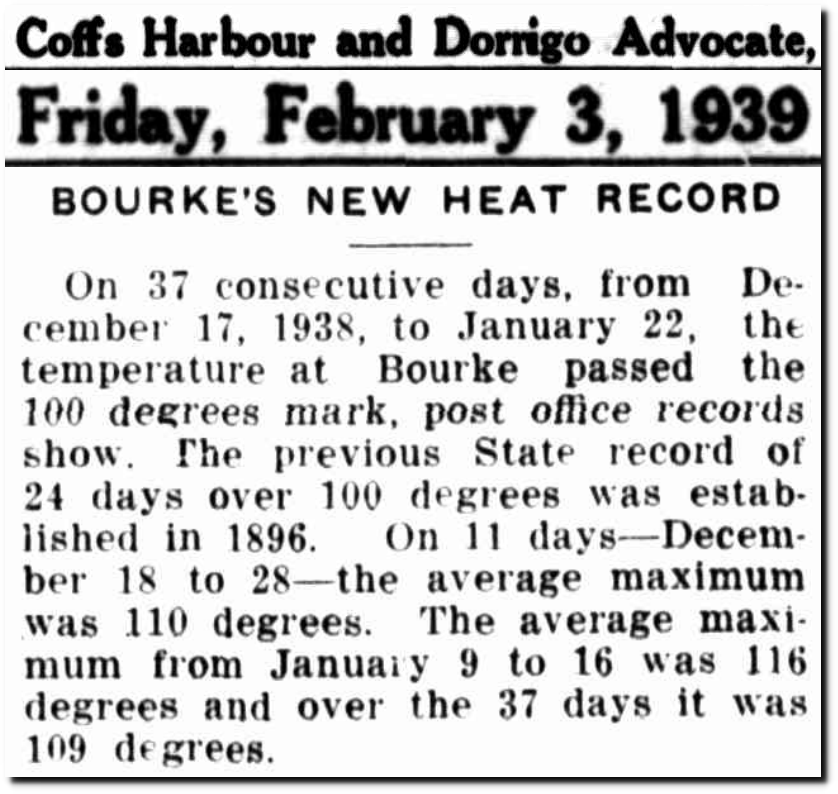 03 Feb 1939 – BOURKE'S NEW HEAT RECORD – Trove
13 Jan 1939 – STATE'S BLANKET OF HEAT. – Trove

19 Aug 1940 – KOALAS FACE EXTINCTION – Trove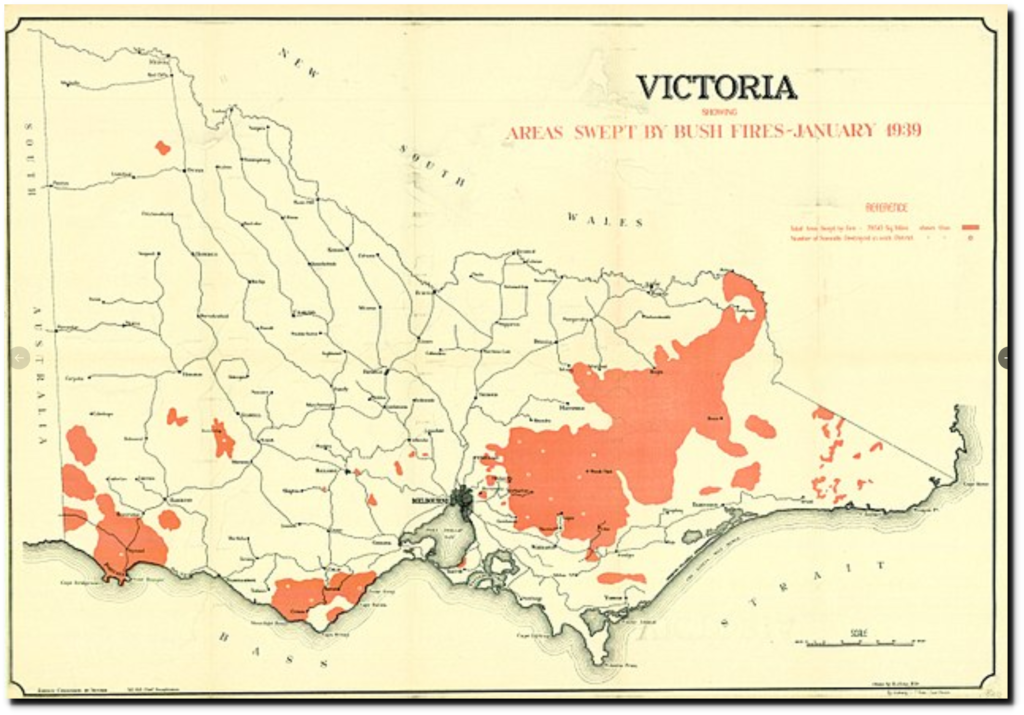 Inferno on Black Friday 1939: 71 deaths
The warm weather last week also prompted the usual claims of the end of snow.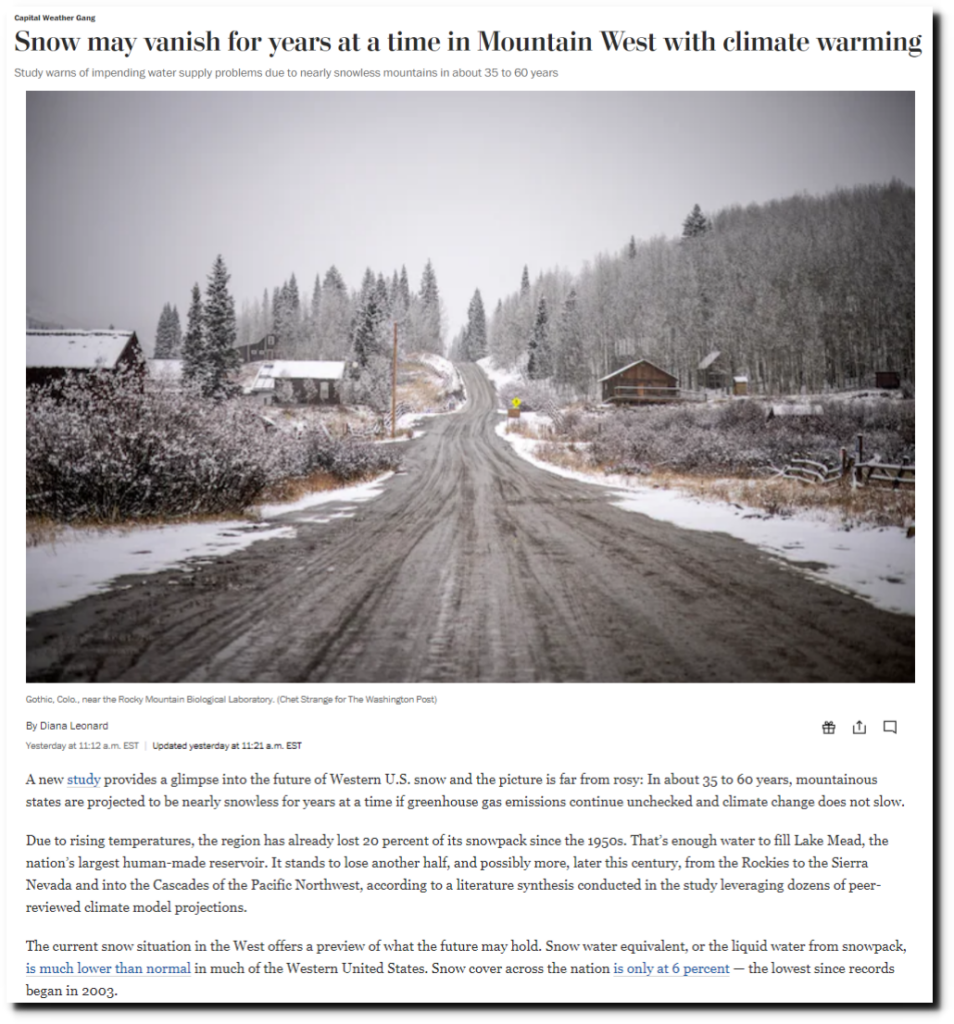 Western U.S. could become nearly snowless due to climate change – The Washington Post
We are about to get a lot of snow and cold here in the west, but it didn't happen 45 years ago.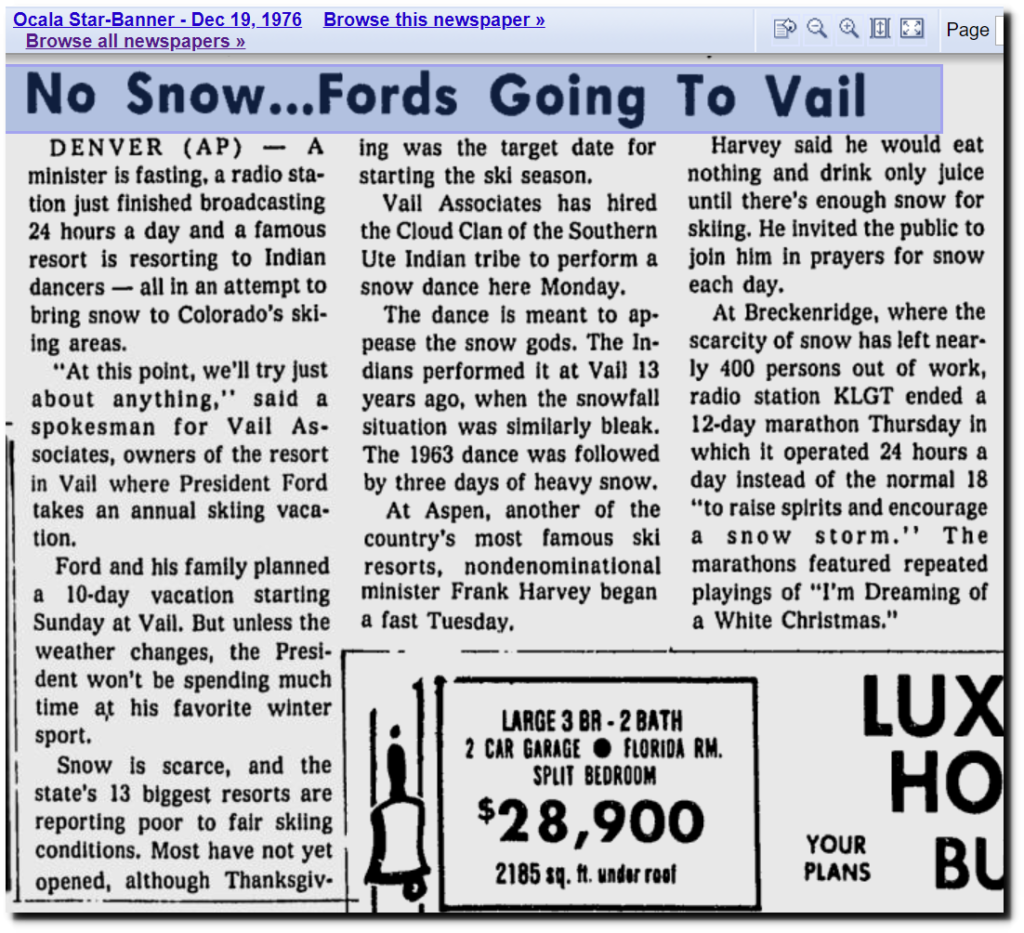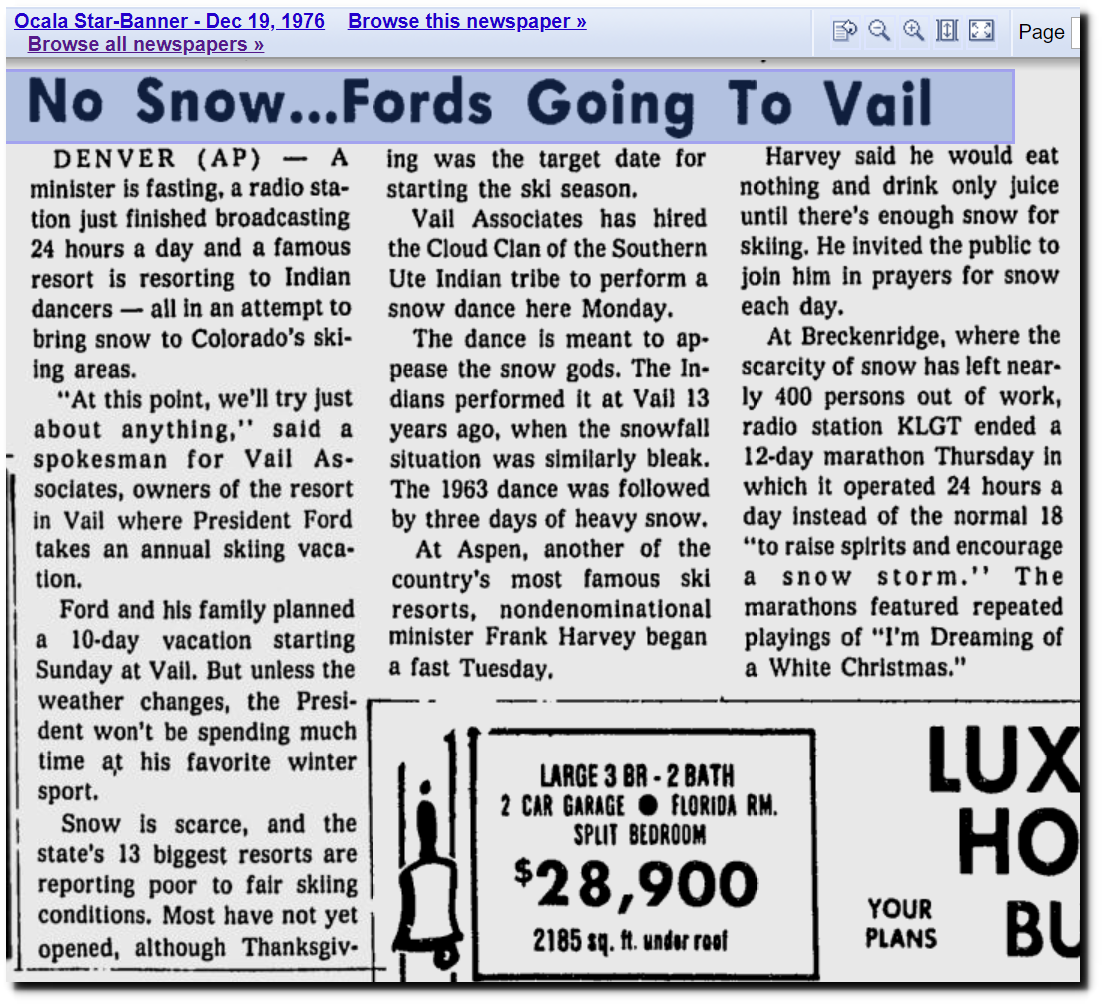 Ocala Star-Banner – Google News Archive Search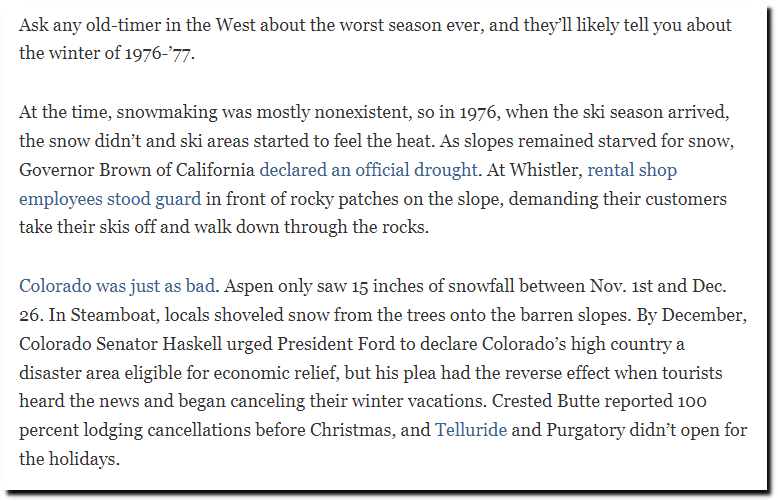 History and Lessons from Bad Ski Seasons
On July 31, 1976 – Colorado had one of the deadliest floods in US history.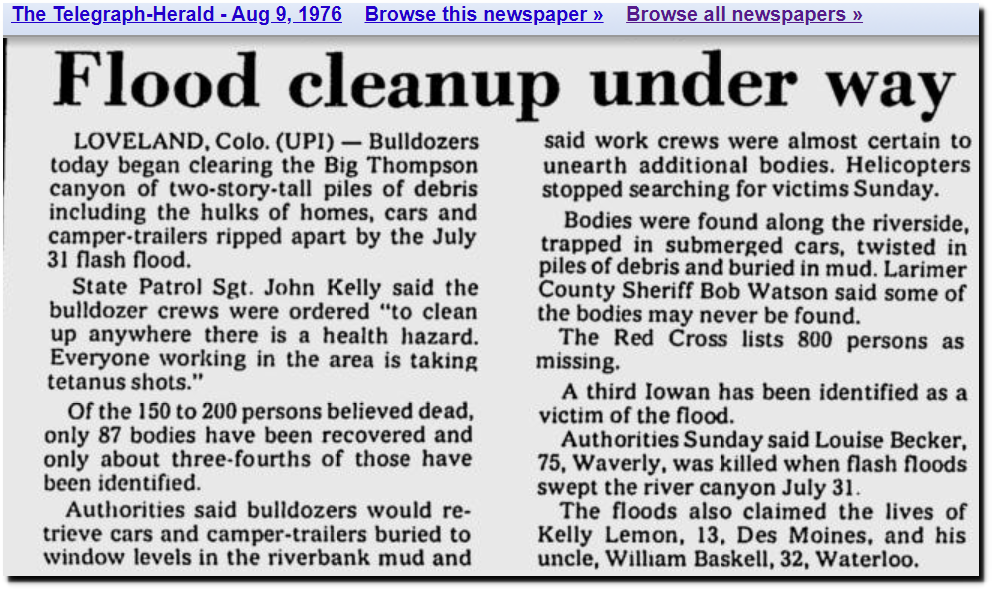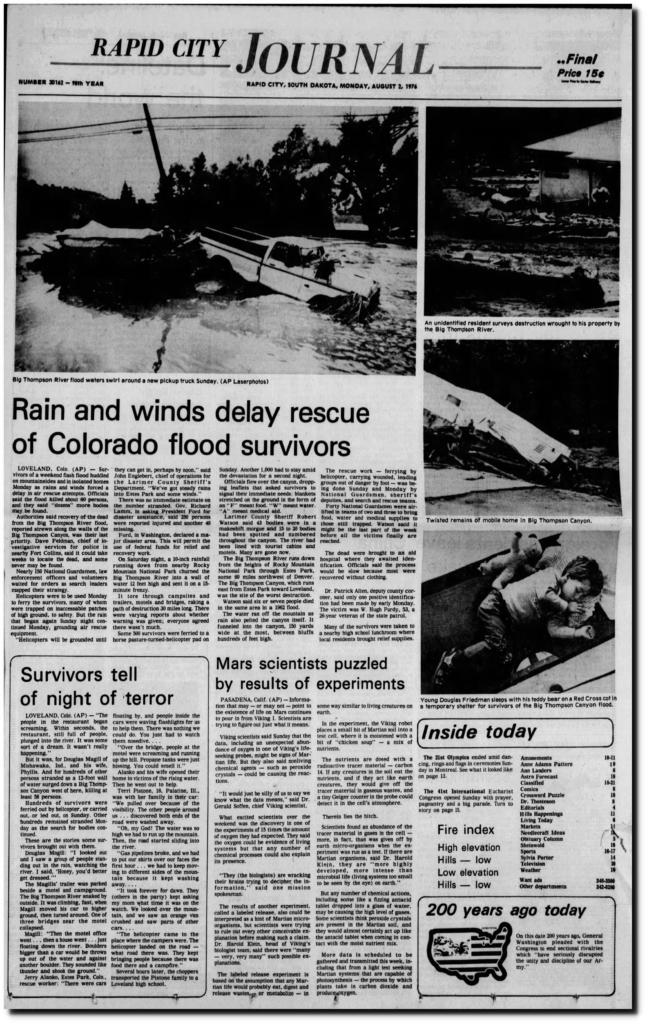 02 Aug 1976, 1 – Rapid City Journal at Newspapers.com
Pakistan was also ravaged by floods.

The Telegraph-Herald – Google News Archive Search
England was having their hottest and driest summer on record.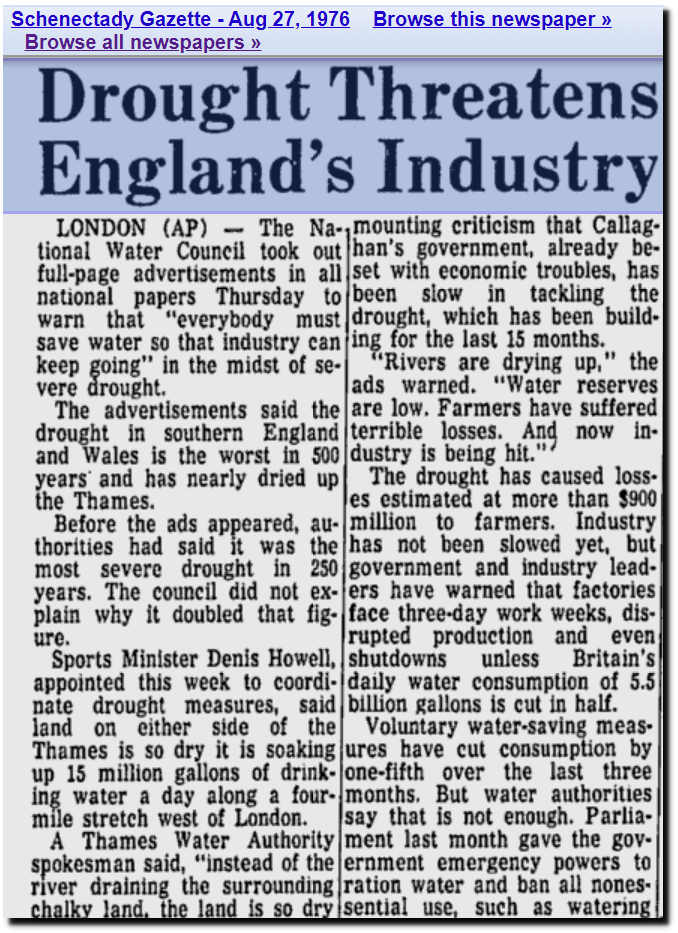 Schenectady Gazette – Google News Archive Search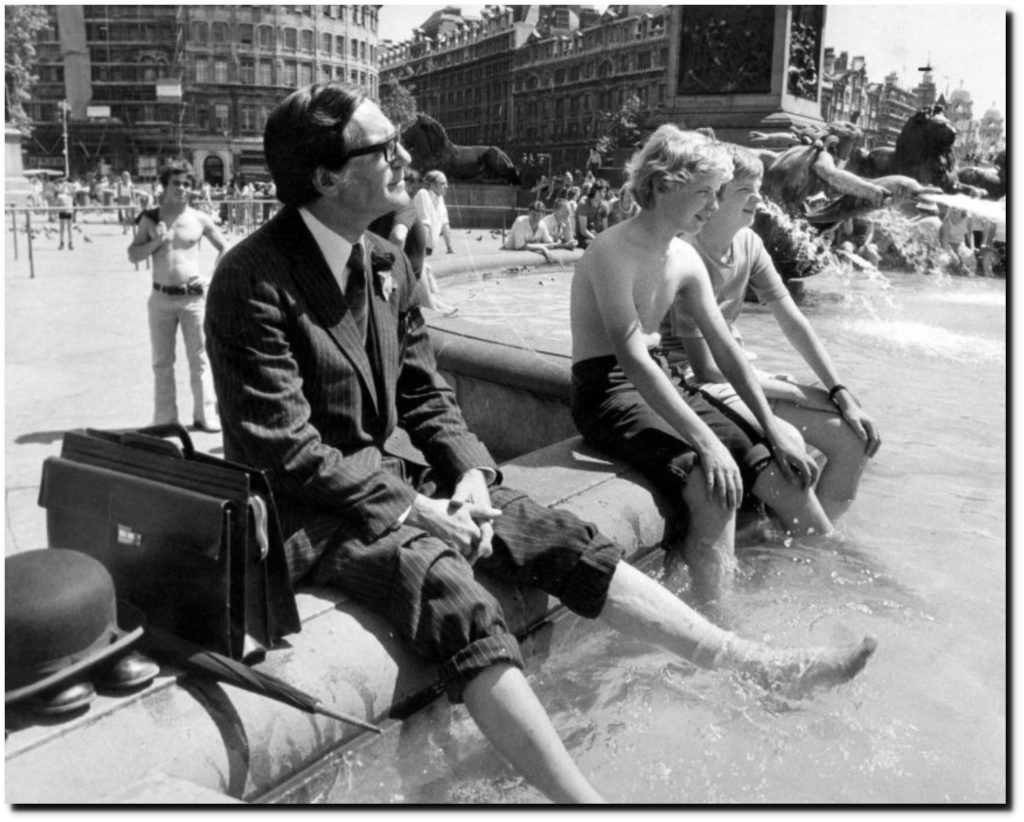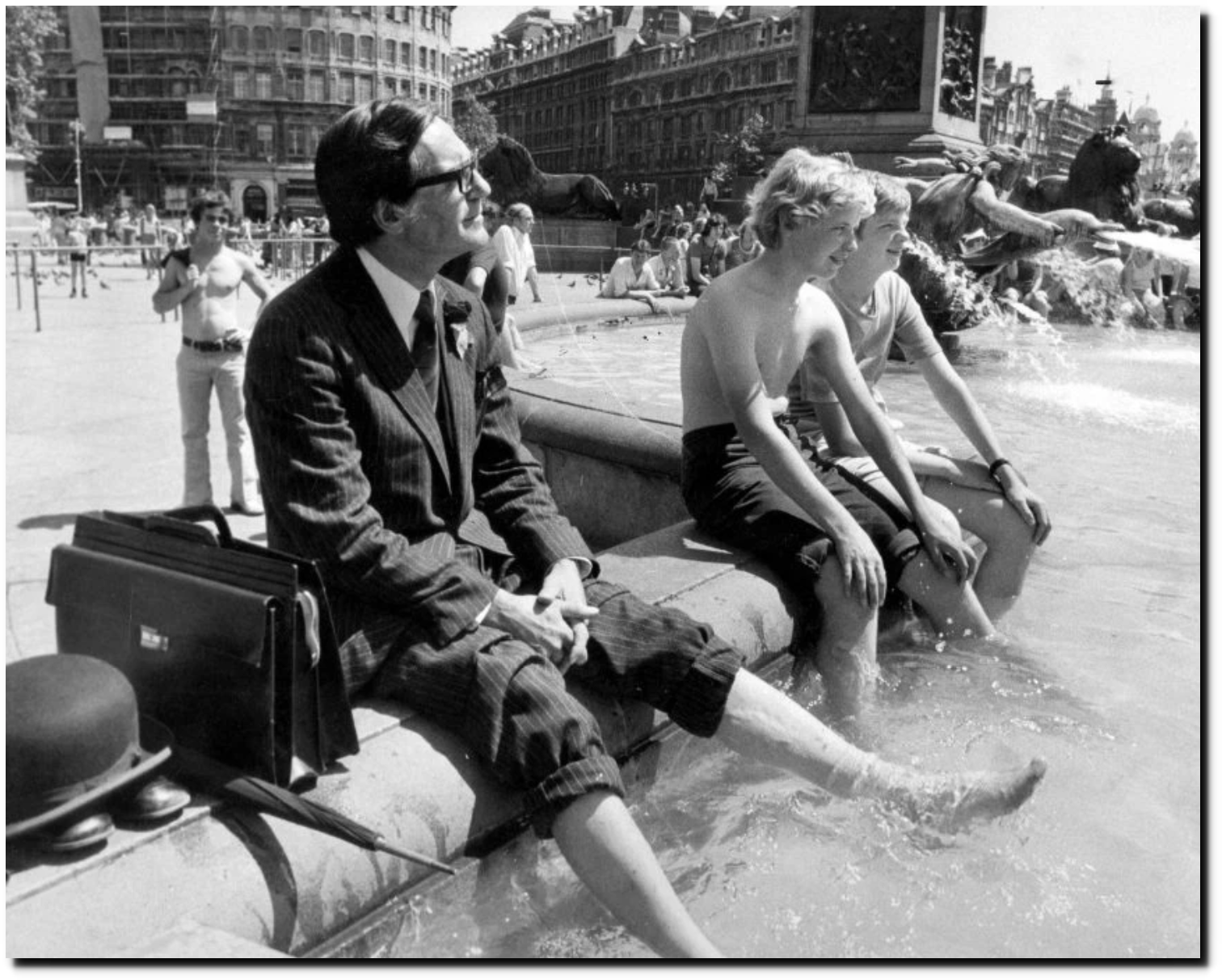 The CIA issued a report blaming the bad weather on global cooling.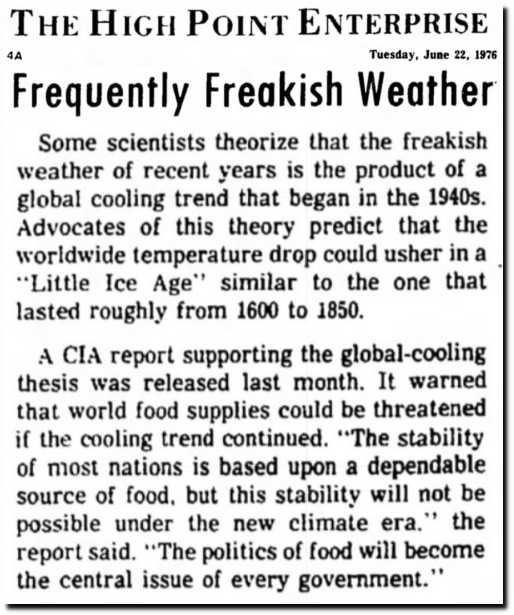 22 Jun 1976, Page 5 – The High Point Enterprise at Newspapers.com
Pine Beetles were on a rampage in Oregon. Experts predicted all of the tress would be dead by 1986.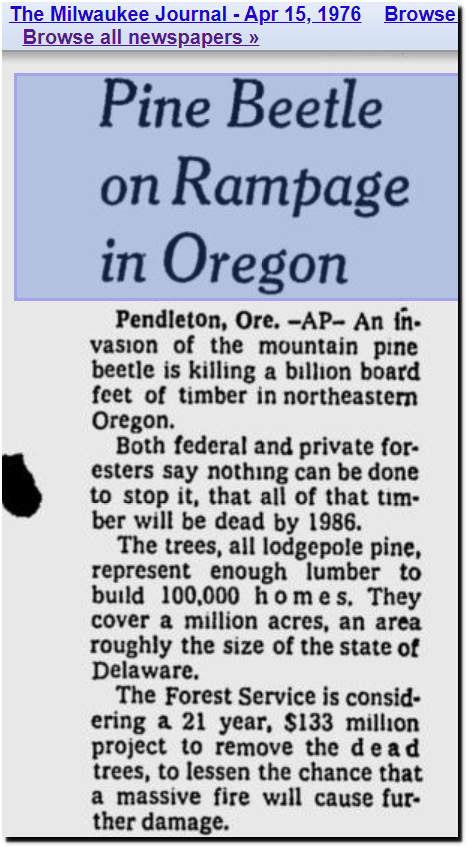 The Milwaukee Journal – Google News Archive Search
It was snowing in Miami.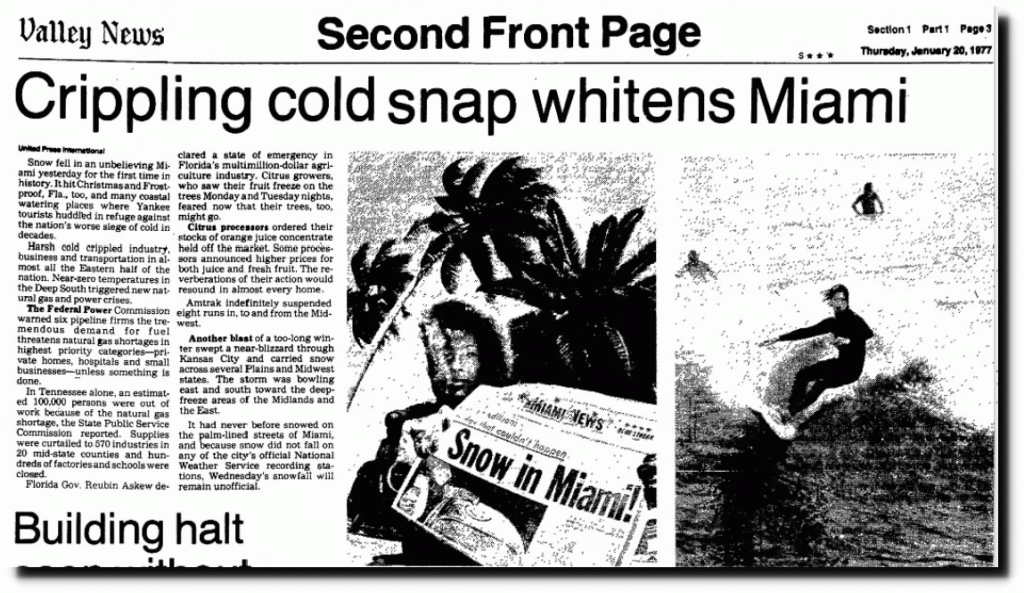 20 Jan 1977, Page 3 – Valley News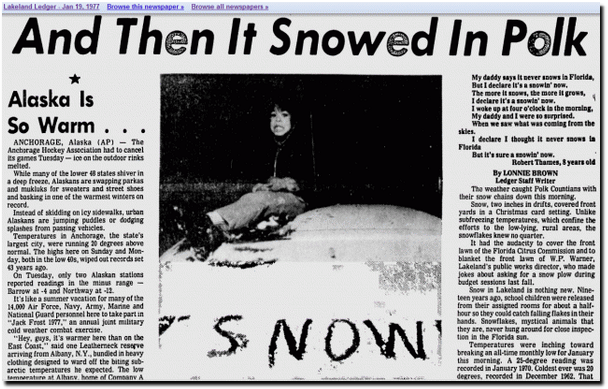 Lakeland Ledger – Google News Archive Search
Alaska was warmer in Florida.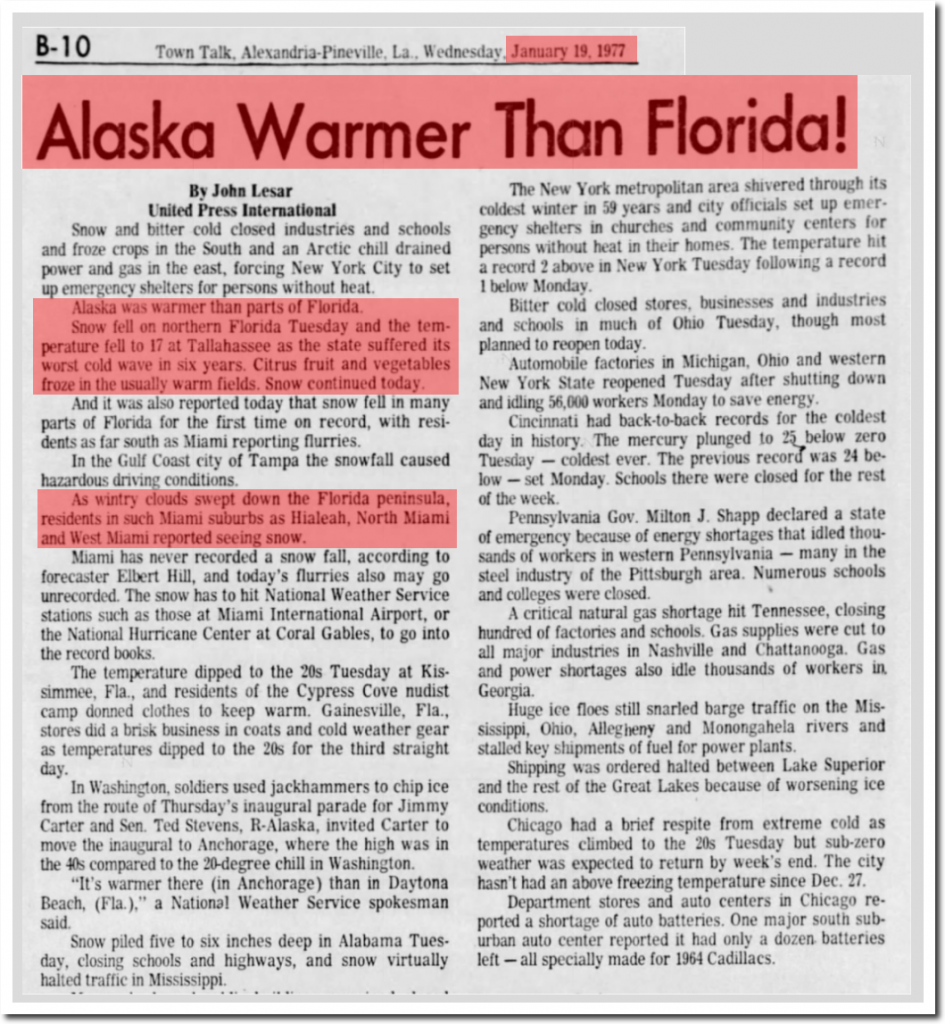 19 Jan 1977, Page 20 – The Town Talk at Newspapers.com
National Geographic described it as "The Year the Weather Went Wild."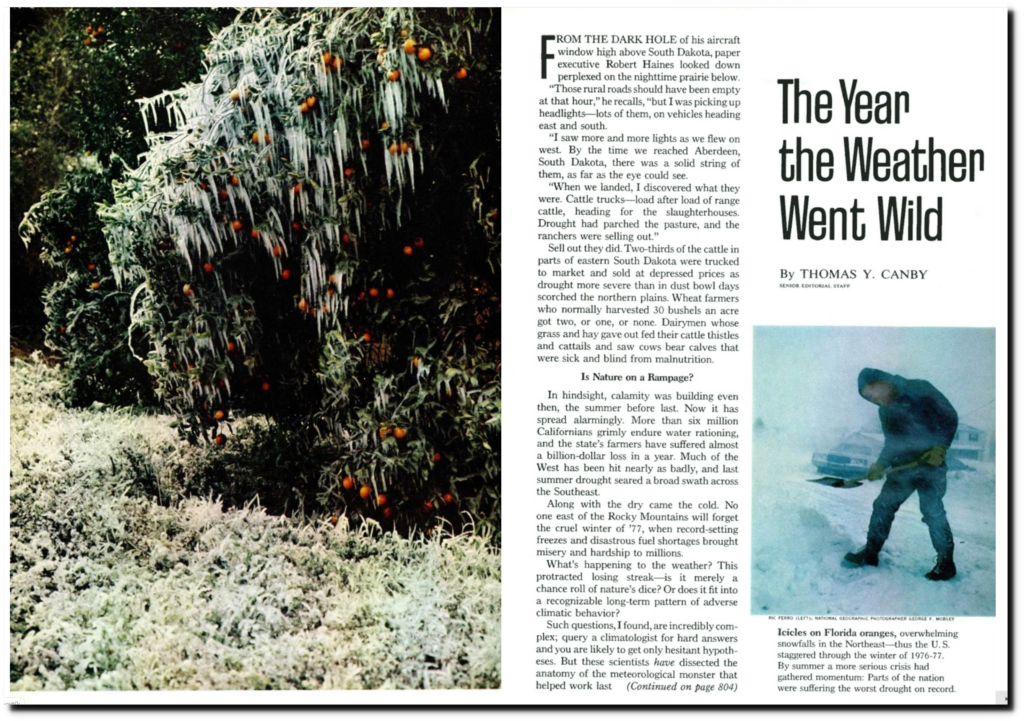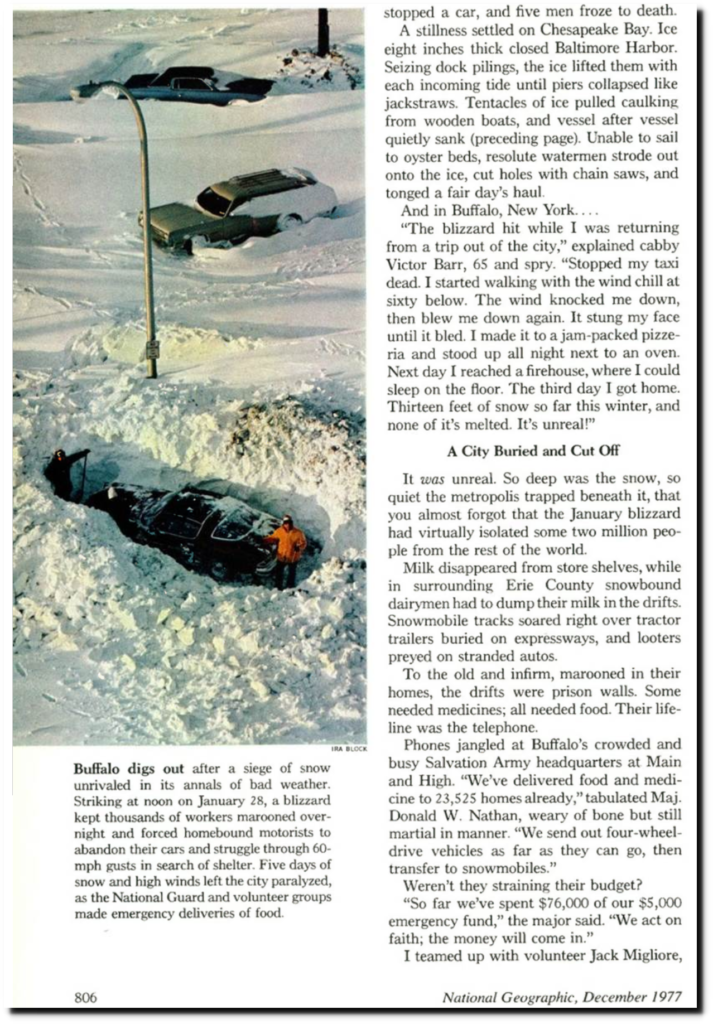 The National Geographic Archive | December 1977 | page 1
Jerry Brown declared a drought disaster in California.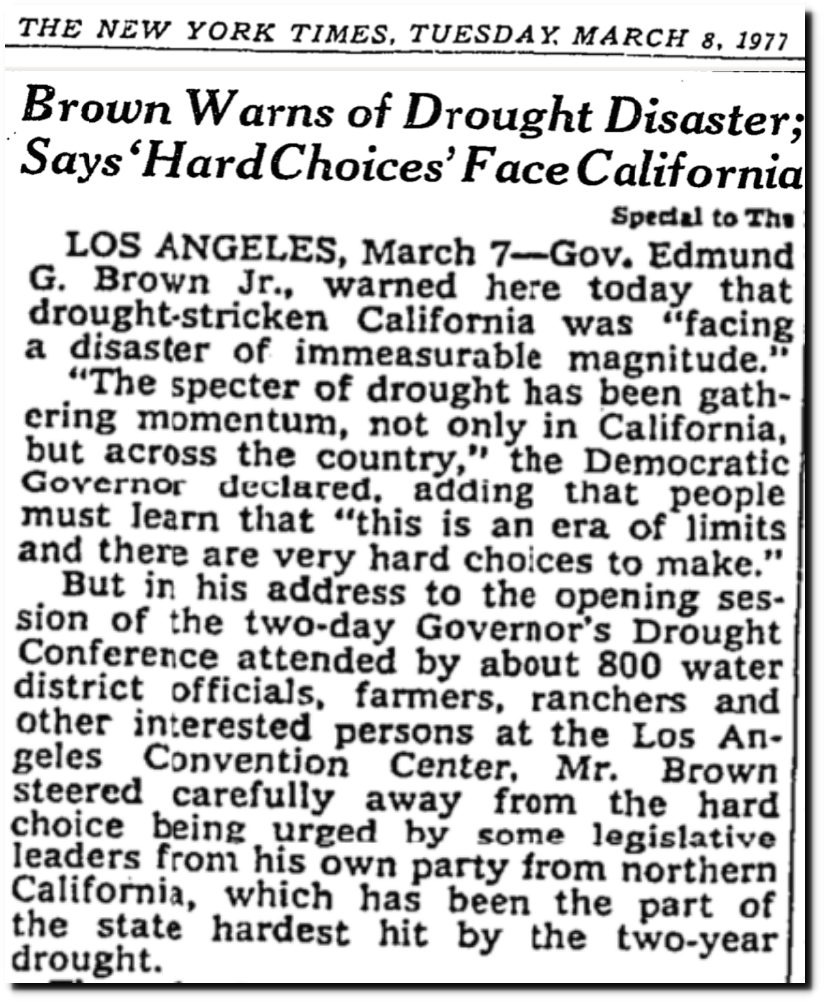 Brown Warns of Drought Disaster; Says 'Hard Choices' Face California – The New York Times
The extreme weather was blamed on a very wavy jet stream.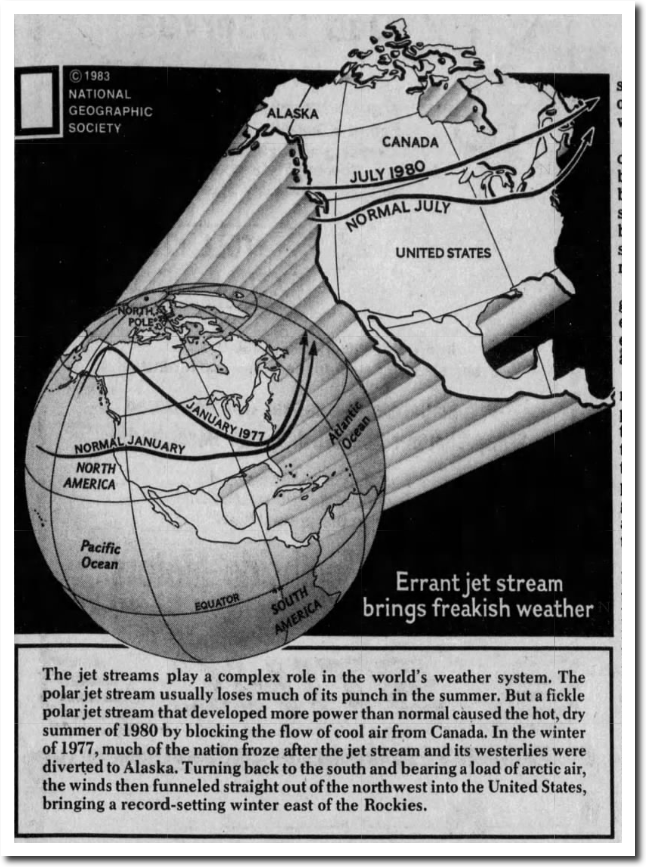 25 May 1983, Page 29 – Stevens Point Journal at Newspapers.com
Which was blamed on global cooling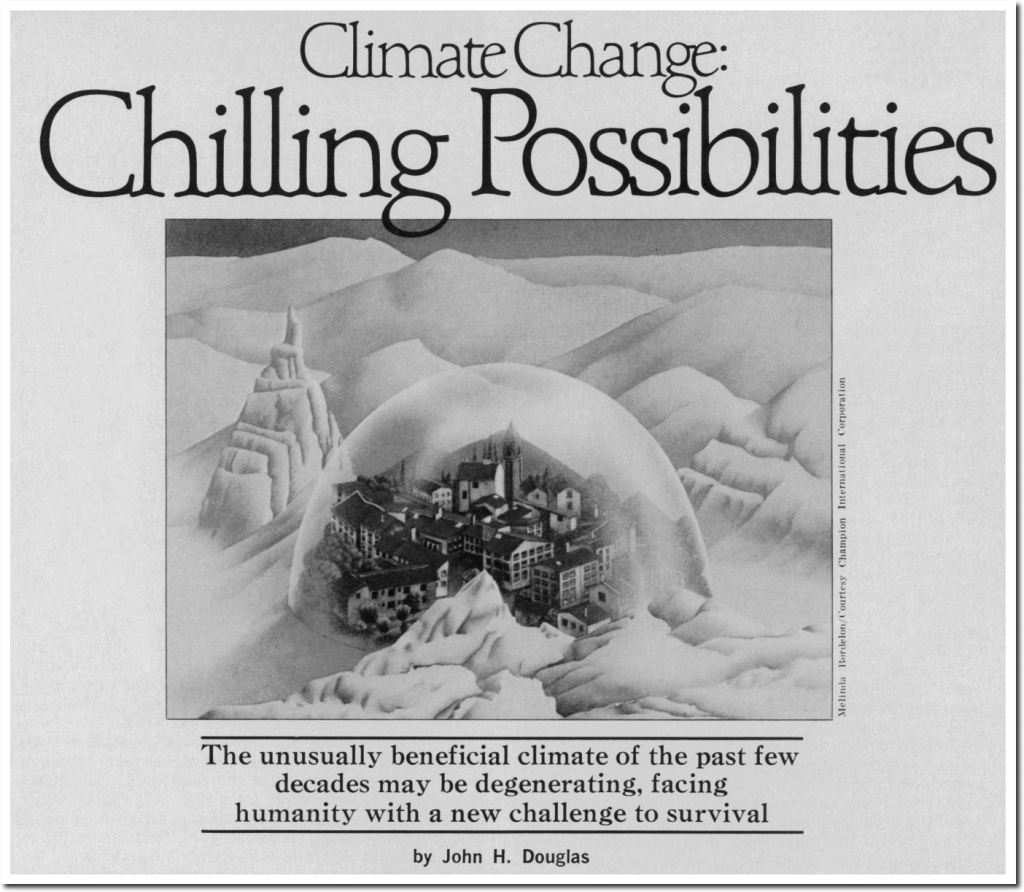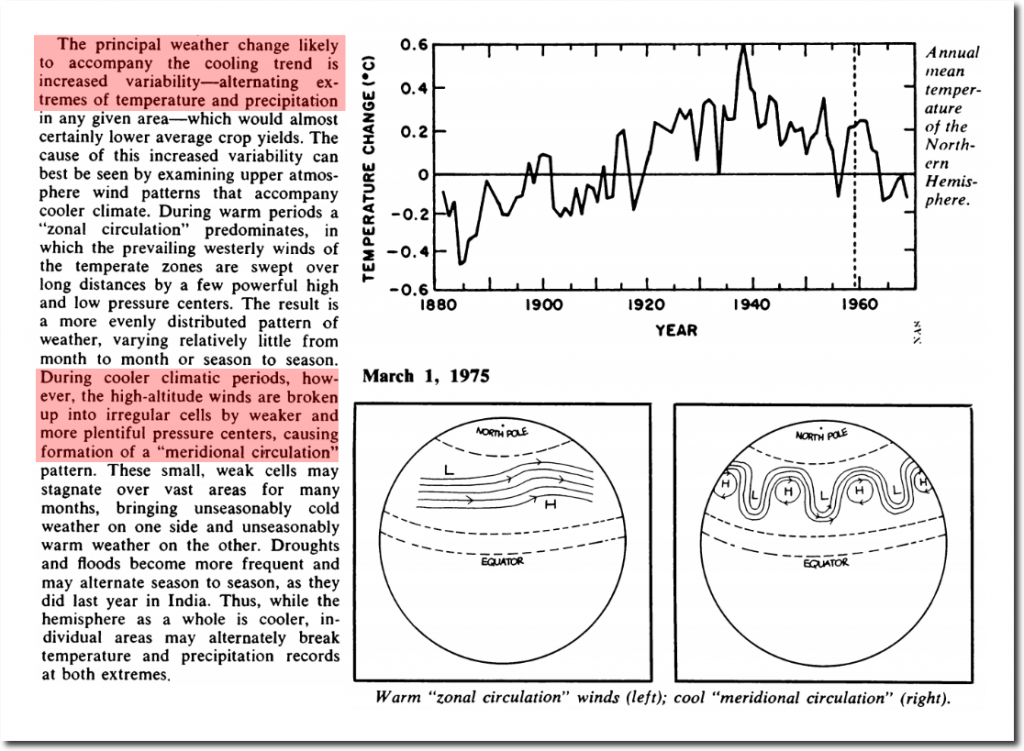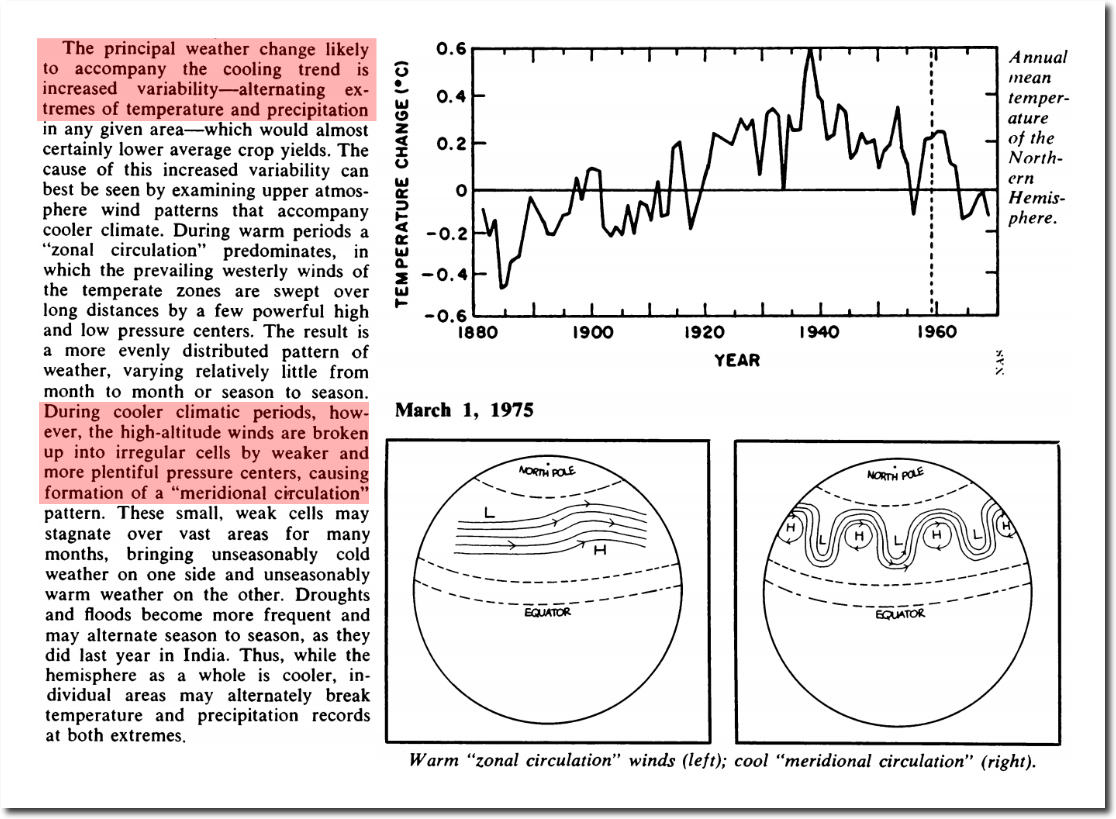 Scientists now blame the same weather pattern on global warming.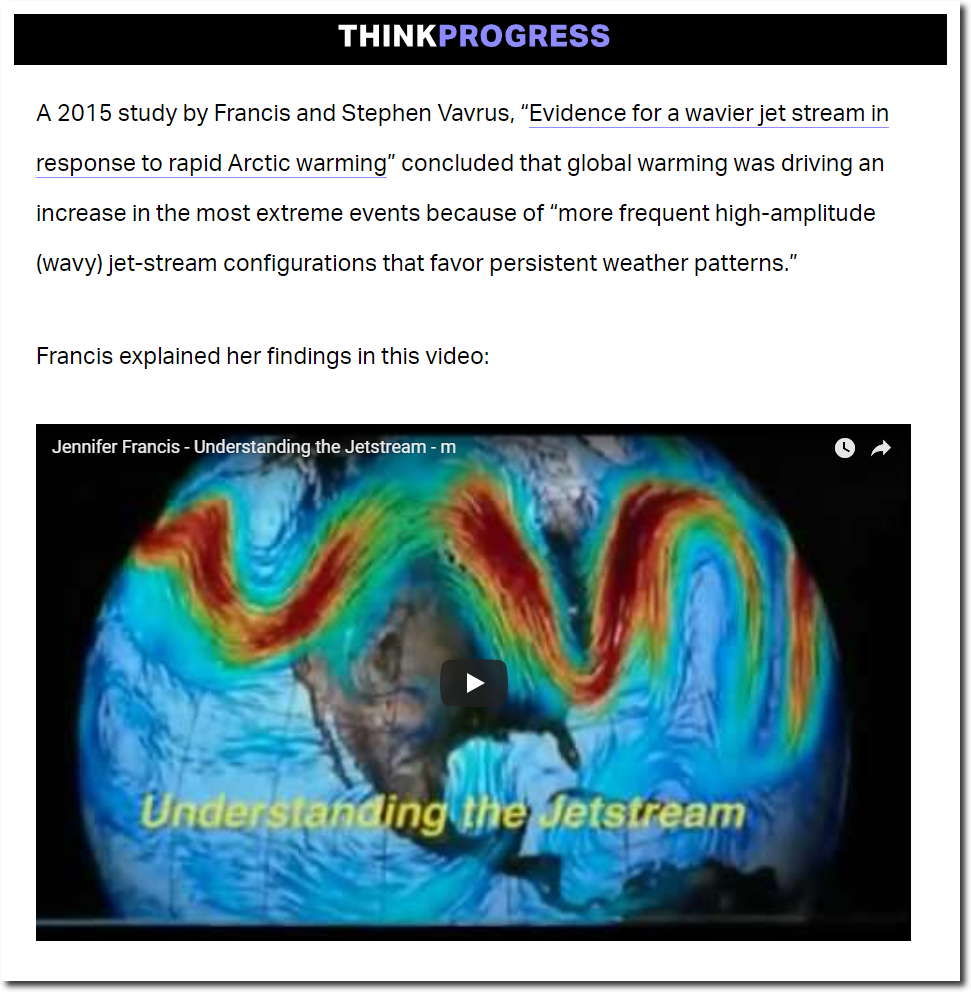 Reality is that snow cover has increased during the ski season.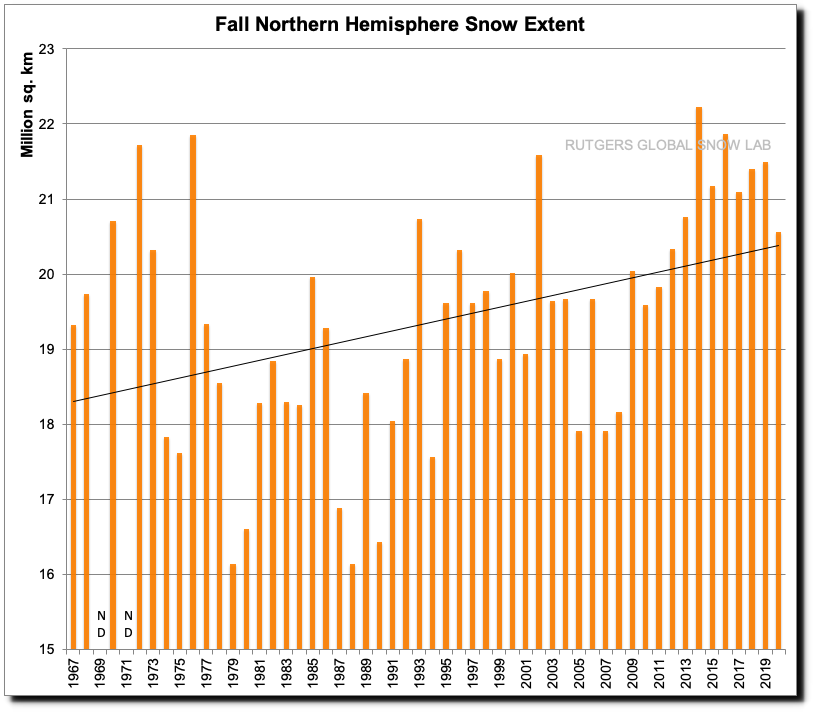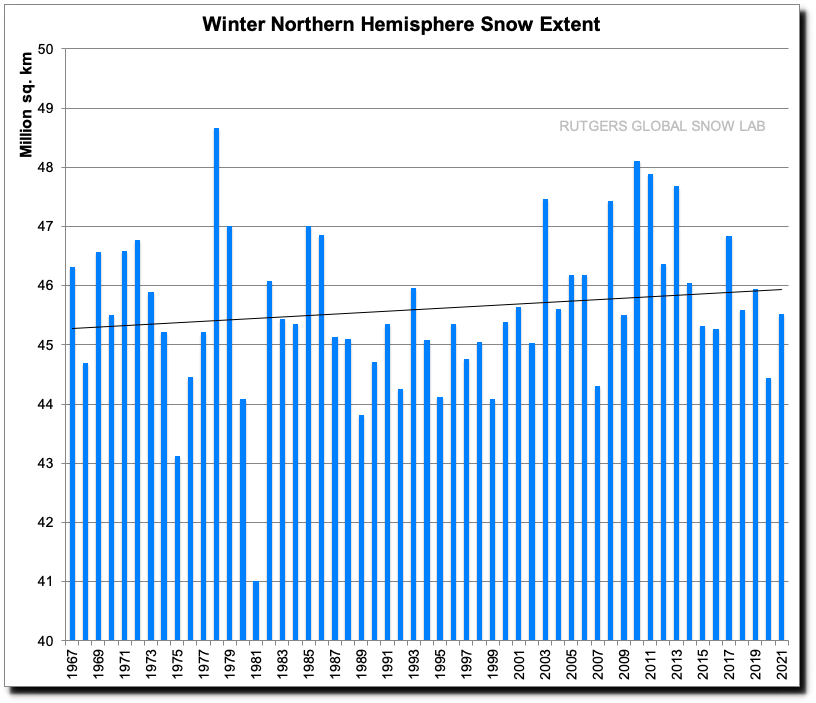 The same predictions of doom were made in 2019

But ski seasons are getting longer, not shorter.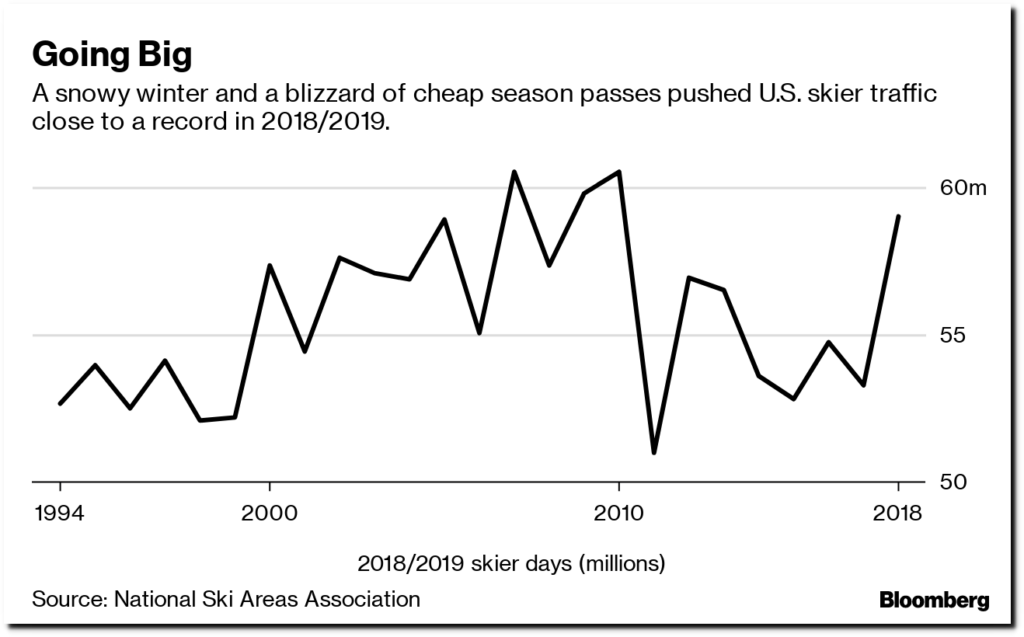 A Skier's Guide to Climate Change: Enjoy It for Now – Bloomberg
The person who Andrew Freedman cited in his article has me blocked.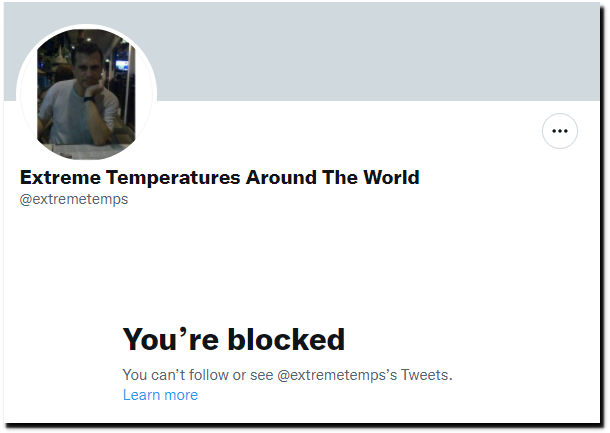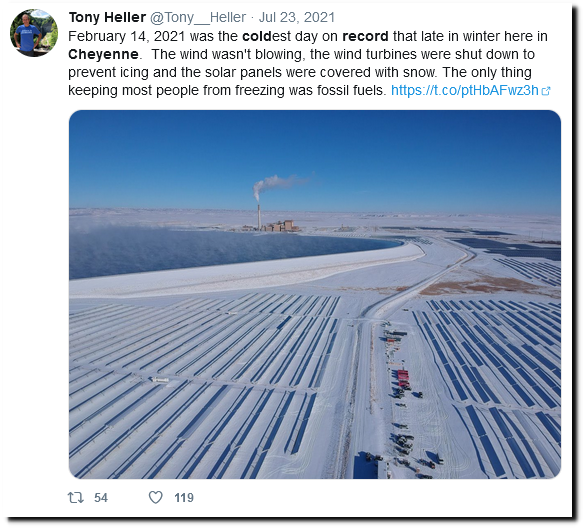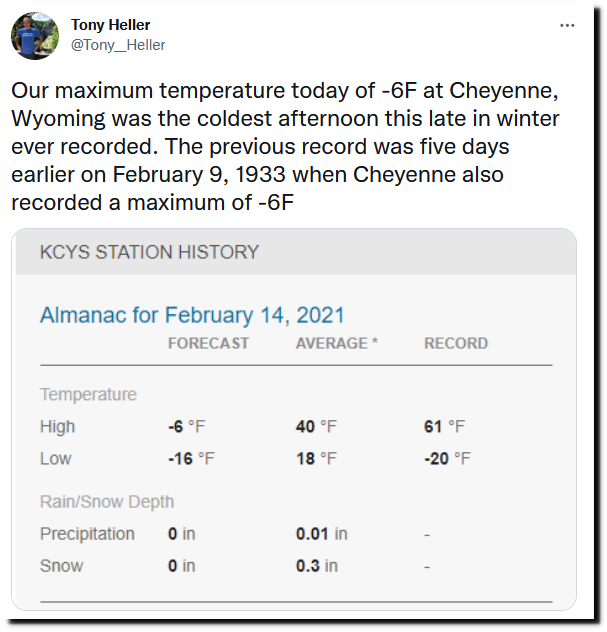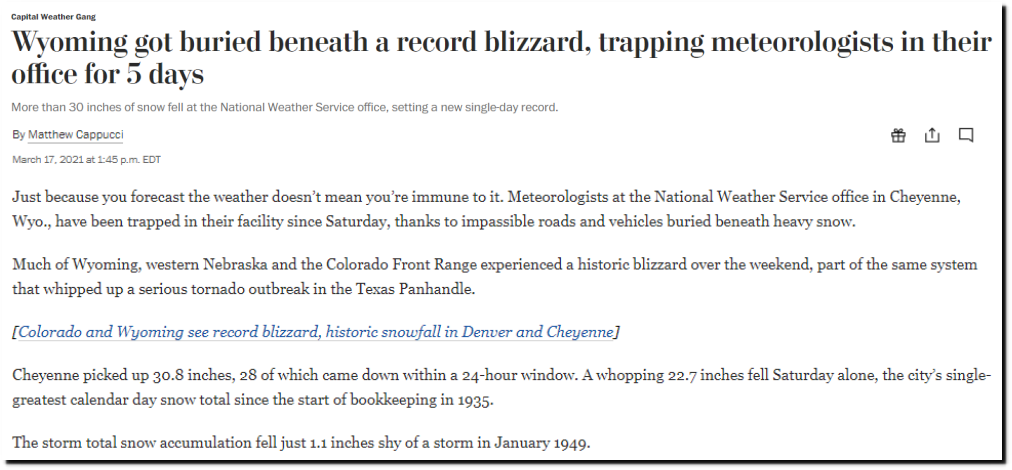 Wyoming got buried beneath a record blizzard, trapping meteorologists in their office for 5 days – The Washington Post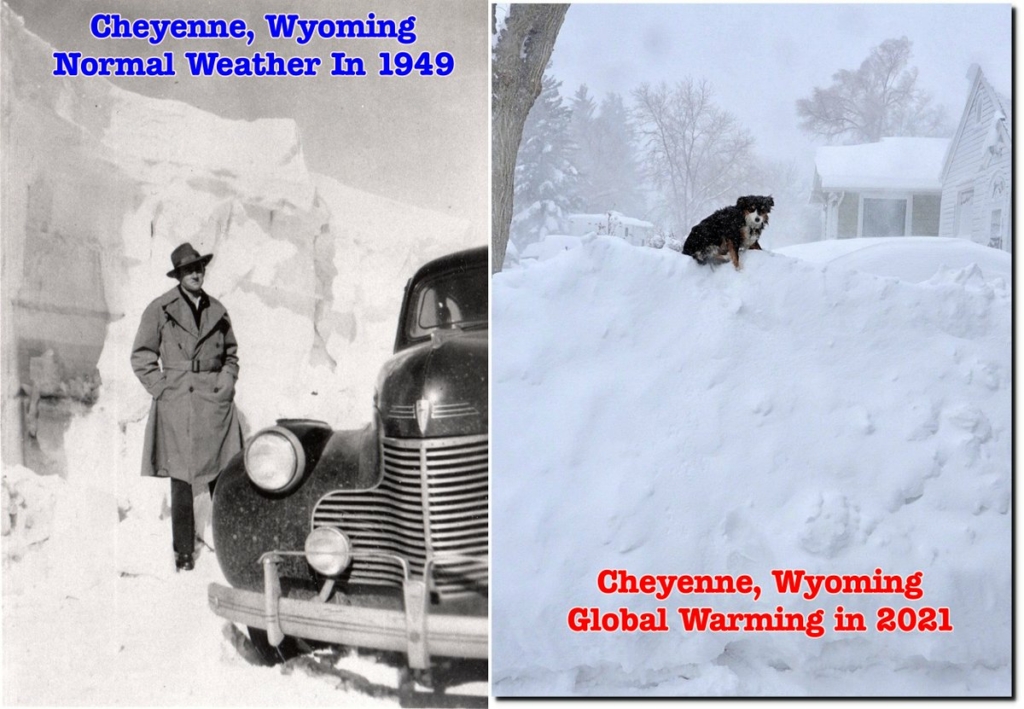 September 8, 2020 was the coldest afternoon (32F) that early in Autumn in Cheyenne.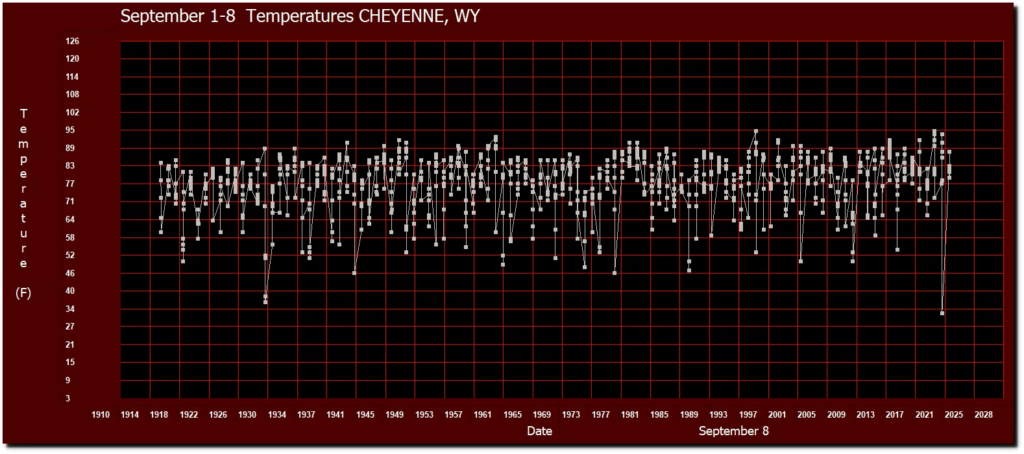 October 25, 2020 was the coldest afternoon (11F) that early in Autumn in Cheyenne.