In 2011, the BBC announced that 2011 was the deadliest year for tornadoes, because people didn't know how to count accurately before 1950.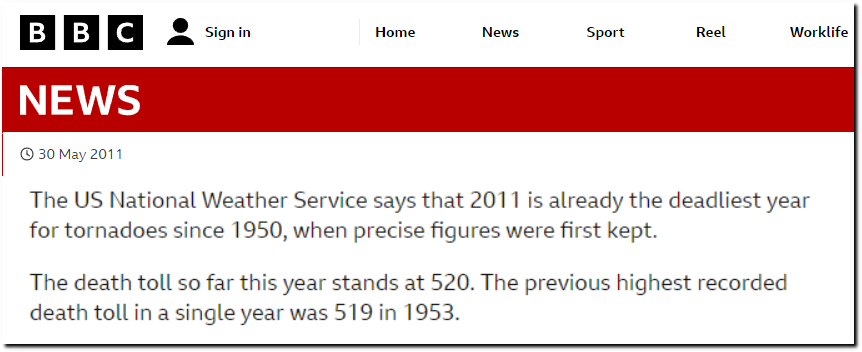 Barack Obama: Joplin tornado 'a national tragedy' – BBC News
We built the atomic bomb in 1945 and were actually quite good at counting before 1950.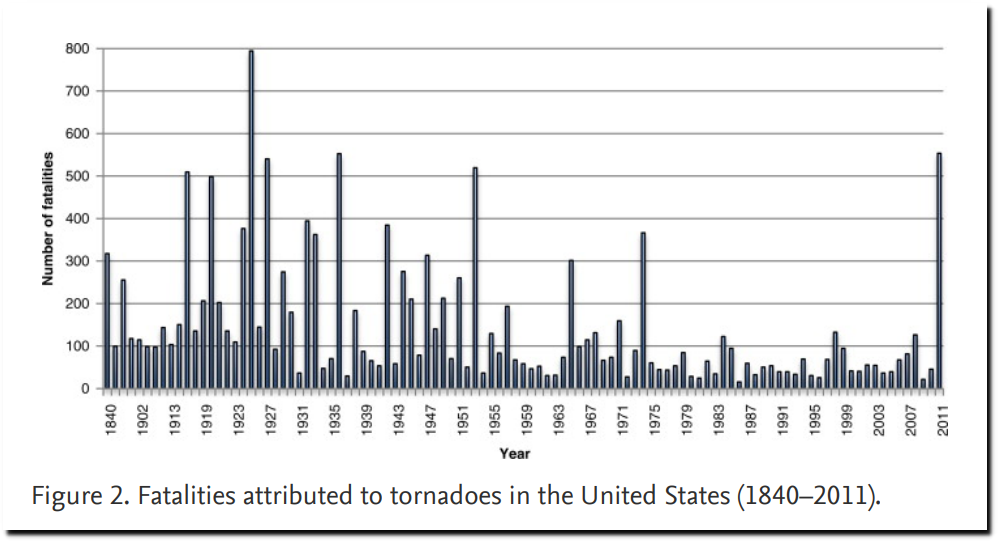 Tornado – an overview (pdf) | ScienceDirect Topics
By 2021, the press determined that the 2011 outbreak was the deadliest in history.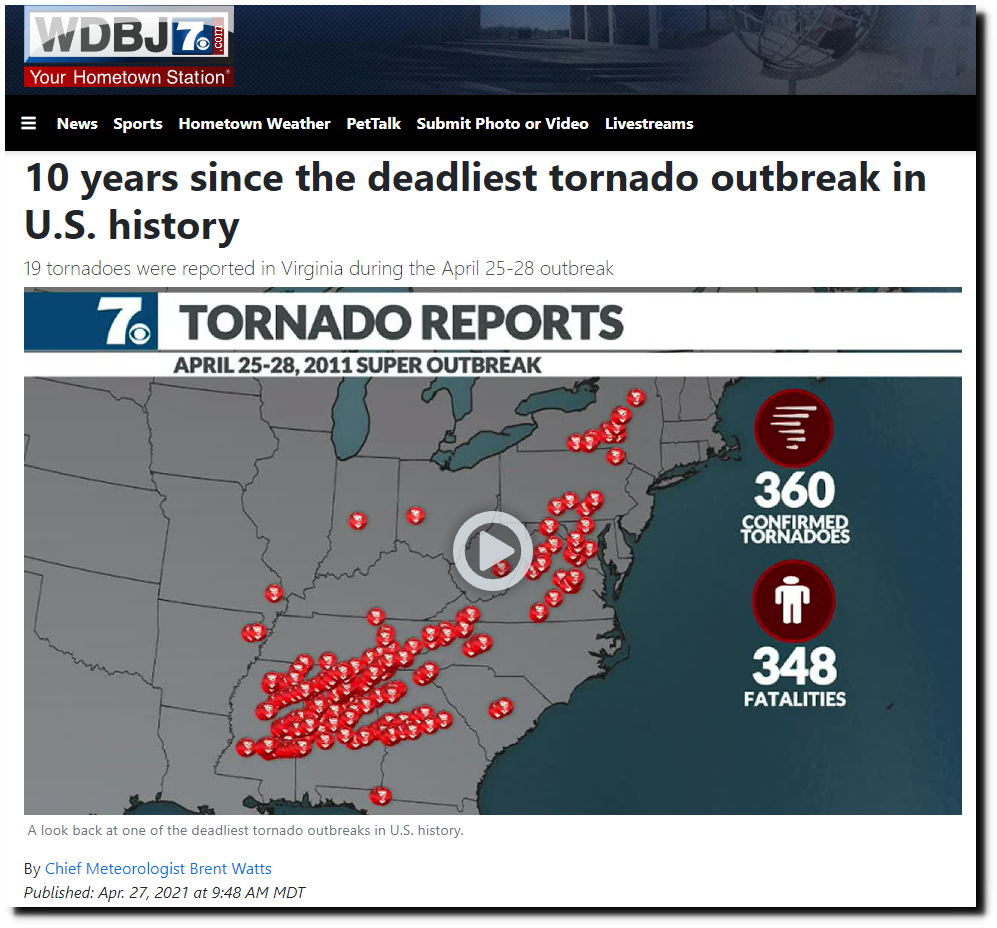 10 years since the deadliest tornado outbreak in U.S. history
Back in the real world, the 2011 outbreak didn't rank in the top ten over the past century.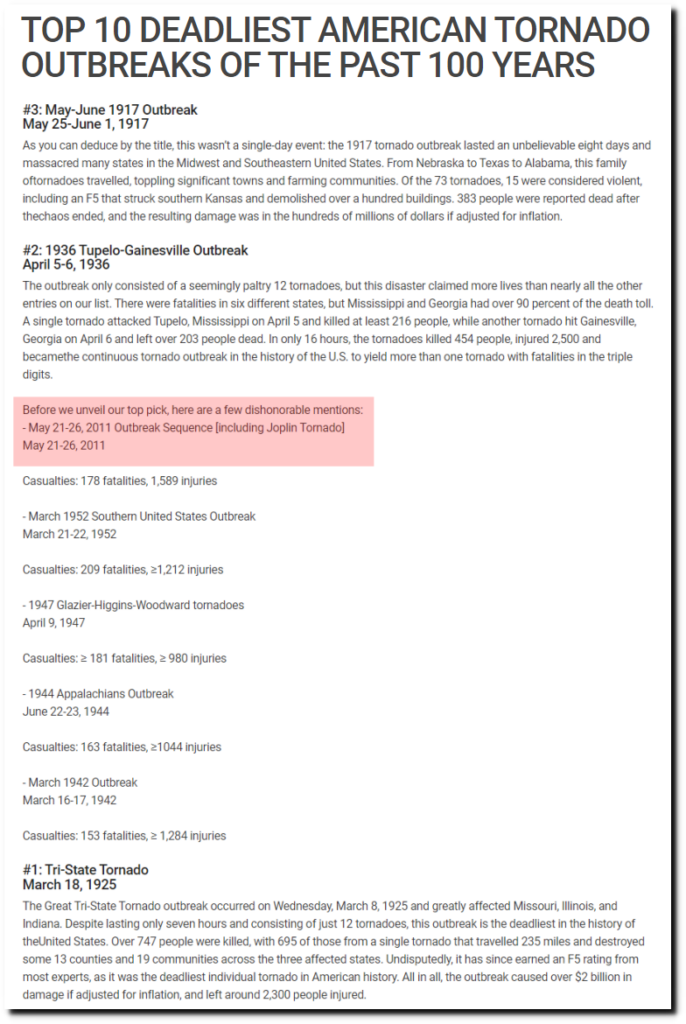 Top 10 Deadliest American Tornado Outbreaks of the Past 100 Years | WatchMojo.com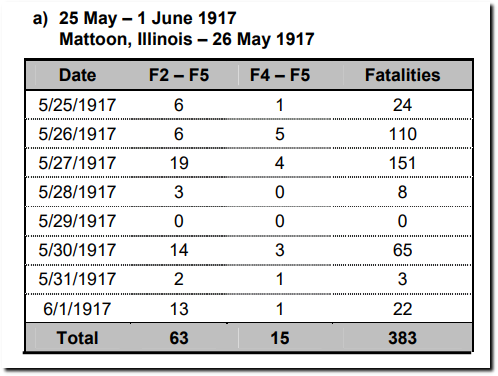 Microsoft Word – Tornado Outbreak Day Sequences _22nd SLS Oct 2004_ Schneid…
The worst tornado outbreak may have occurred in 1896.
"The tornado outbreak sequence of May 1896 was a series of violent and deadly tornado outbreaks that struck much of the Central and Southern United States from May 15 to 28, 1896. It is considered one of the worst tornado outbreak sequences on record with tornado expert Tom Grazulis stating that the week of May 24–28 was "perhaps the most violent single week of tornado activity in United States history".[1] There were four particularly notable tornado outbreaks during the two-week period. It produced three F5 tornadoes as well as the third deadliest tornado ever in United States history. A total of 484 people were killed during the entire outbreak sequence by at least 38 different tornadoes which struck Texas, Oklahoma, Kansas, Nebraska, Kentucky, Iowa, Illinois, Michigan, Missouri, Pennsylvania, New Jersey and Maryland."