Top climate fraudster Steven Mosher claims that none of my graphs are reproducible. I have generated tens of thousands of graphs, so it should be a no-brainer for him to come up with a huge set of graphs which prove his point.
If he can't do that, then his end of the challenge will be to stop committing climate fraud, deceiving the public, and lying about me. Are you up for it Steven?
I provide all of my source code, so anyone can reproduce my work. I have made graphing errors from time to time, but always correct them when I become aware of the issue.
Addendum : I'm going to make it easy for him. Here is one of my more popular graphs.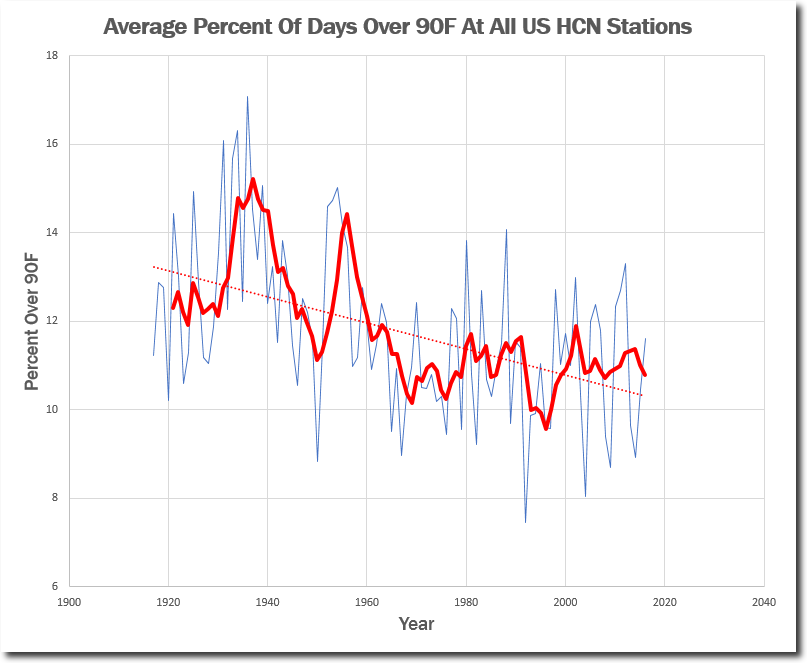 Source code is here.
Here are the instructions, which will work on Linux, Mac, or a Windows system with Cygwin. Download the link above, GHCN.tgz
tar xzvf GHCN.tgz
cd release
make
chmod 755 get
./get
cd ghcnd_hcn
./ghcn.exe US.txt threshf=90 > US_90F.csv
Here is the Excel file.  Everyone should be able to reproduce it, and demonstrate conclusively that Mosher is a fraud.