The global warming scam is beginning to collapse. Even CBS News in Boston is starting to understand.
BOSTON (CBS) — Despite the snow blitz of 2015, many baby boomers still insist that, overall, we don't get the harsh bitter cold and deep snowy winters like we did in the good ole days.

Weather records prove that just isn't the case and despite the ongoing claims that snows are becoming rare and hurting winter sports, this millennium has been a blessing to snow lovers and winter sports enthusiasts.

The last decade stands out like a sore thumb! It has had 29 major impact northeast winter storms with NO previous 10-year period with more than 10 storms! In Boston, 7 out of the last 10 years have produced snowfall above the average 43.7 inches.
Additionally, the trend for fall snow across the northern hemisphere has been increasing, defying the forecasts over the last two decades for snows becoming an increasingly rare event. The 10-year running mean of the Boston area snowfall has skyrocketed to the highest level since snow records were kept and that goes back about 145 years!
Note the slam on Michael Mann here :
Interestingly, some scientists have stated that increasing snow is consistent with climate change because warmer air holds more moisture, more water vapor and this can result in more storms with heavy precipitation. The trick, of course, is having sufficient cold air to produce that snow. But note that 93% of the years with more than 60″ of snow in Boston were colder than average years. The reality is cooling, not warming, increases snowfall.
It was a well written article, until this point where the author threw in this global warming BS.
The greatest warming has been happening in the Arctic region and that can produce a weaker, less stable jetstream that allows frigid air to dive farther south to mix with the warmer oceans to trigger more potential snow events.
Will The Snowiest Decade Continue? « CBS Boston
This is complete nonsense.  The identical jet stream pattern occurred during the 1970's, when Arctic sea ice was at a peak.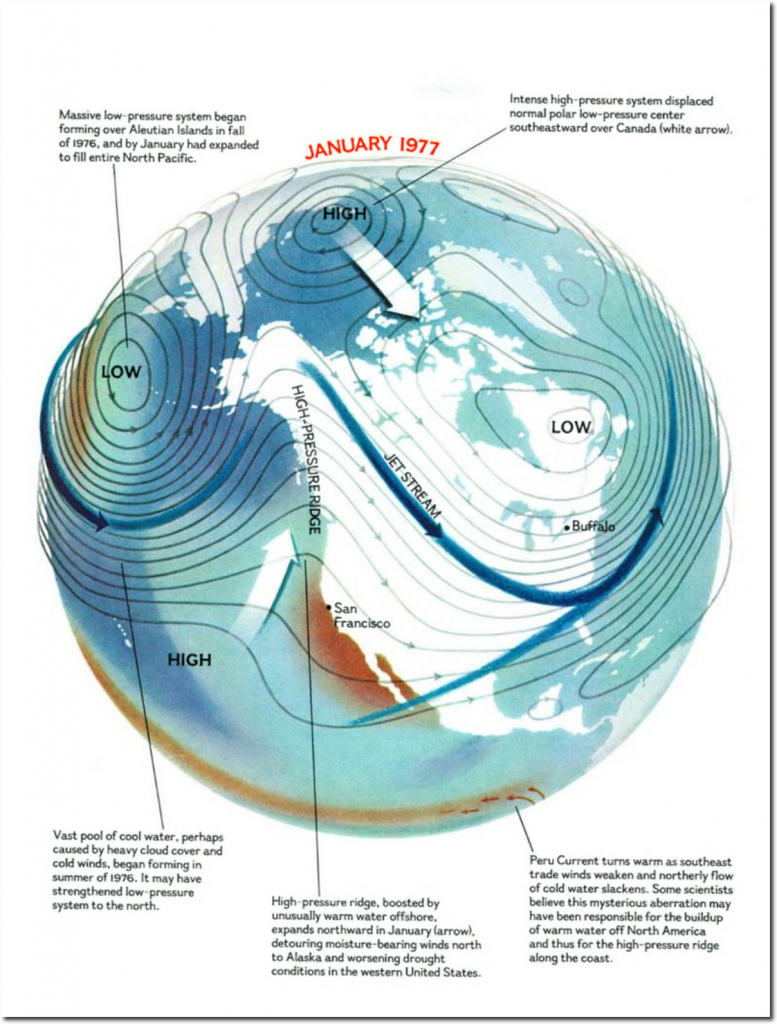 National Geographic Magazine Archive
It snowed in Miami in 1977, while Alaska was warm.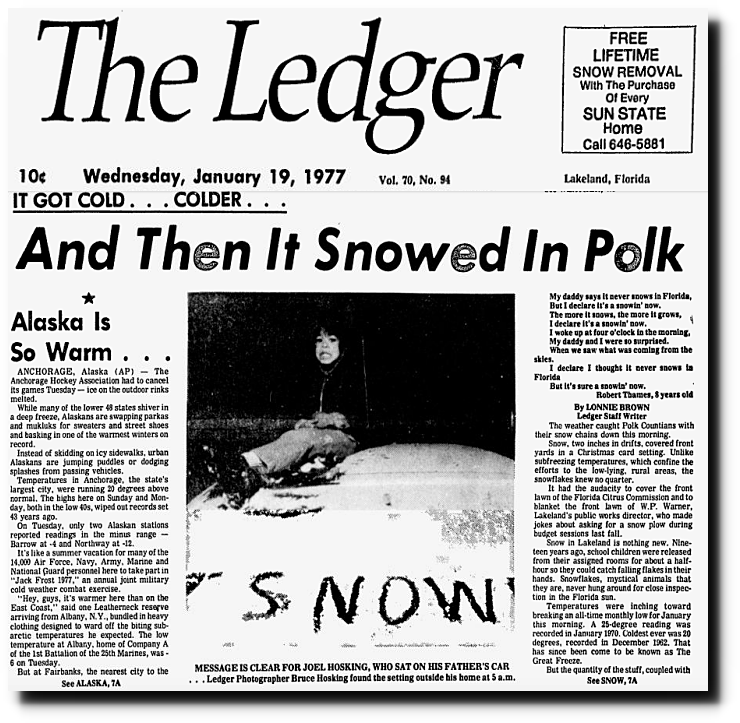 Lakeland Ledger – Google News Archive Search
During the 1970's, the polar vortex was blamed on global cooling instead of global warming.
Scientists have found other indications of global cooling. For one thing there has been a noticeable expansion of the great belt of dry, high-altitude polar winds —the so-called circumpolar vortex—that sweep from west to east around the top and bottom of the world.
TIME Magazine Archive Article — Another Ice Age? — Jun. 24, 1974

24 Sep 1974, 16 – The Guardian at Newspapers.com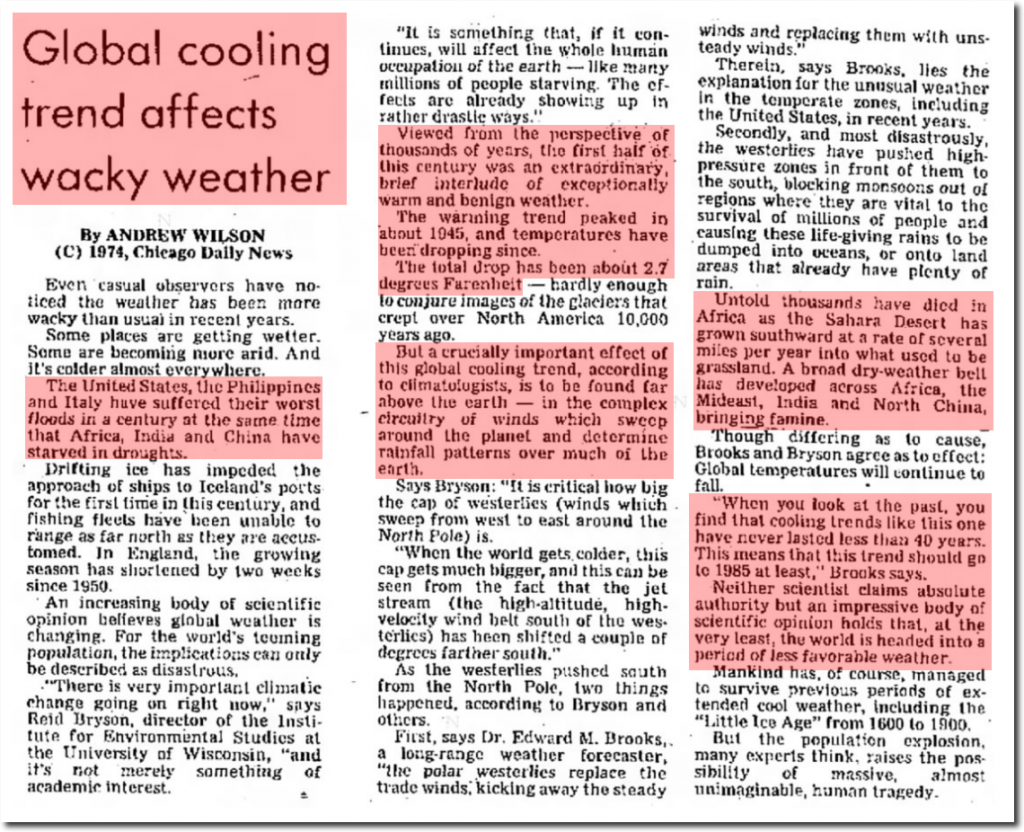 24 Aug 1974, Page 16 – Kingsport Times-News at Newspapers.com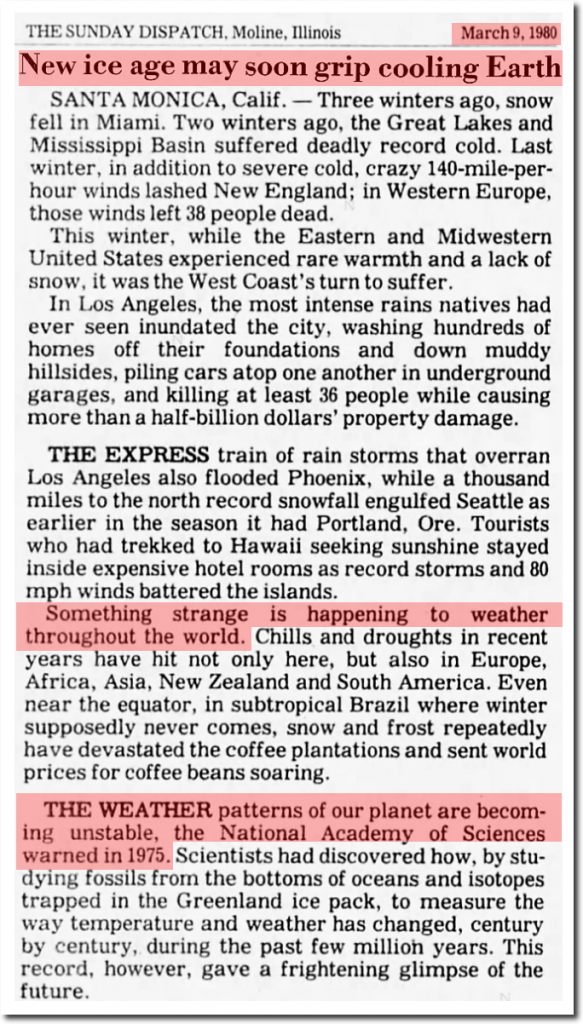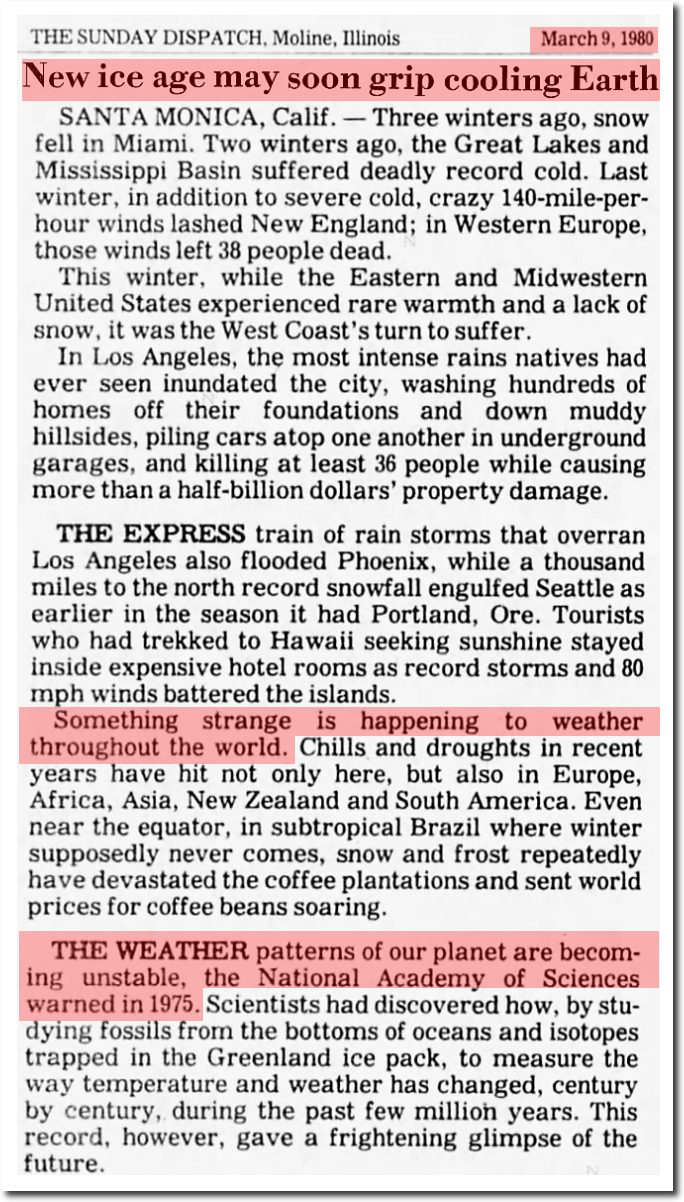 09 Mar 1980, 4 – The Dispatch at Newspapers.com
One step at a time.  At least they are starting to get the statistics right.