Orange County, Florida used to be one of the largest citrus producers in the state.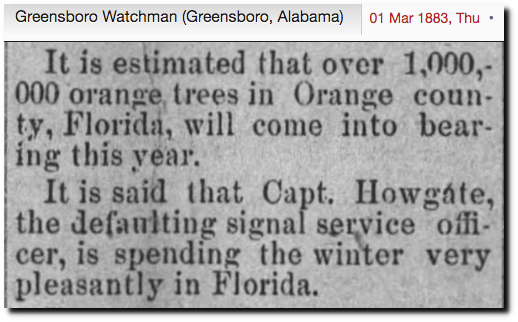 01 Mar 1883, 2 – Greensboro Watchman at Newspapers.com
But it got too cold there, and the citrus industry is nearly gone.
Today there are so few citrus groves left in Orange County they could fit neatly inside a single modern housing development such as east Orlando's Avalon Park.

Orange County at one time was one of the top five producers of citrus ….. a freeze in the 1950s had wiped out most of the tangerine production ….. At just 2,300 acres today, the amount of ground covered in trees is down 50 percent in the last 10 years and is just a tiny fraction of the some 50,000 acres of groves in Orange County before the freezes of the 1980s. ….

That was around the time when the title "citrus grower" became a synonym for "real estate developer."

"We had no choice," Chicone recalled. "The first freeze came [in 1983] and most everybody replanted. It took a lot of money to clear the land and buy new trees and start producing. We all did that one time and then the second freeze came."

That was in 1985. Then another severe freeze in 1989, which wiped out much of whatever had managed to survive.
Kassab: The end of oranges in Orange County – Orlando Sentinel