Gavin says my graph is fake.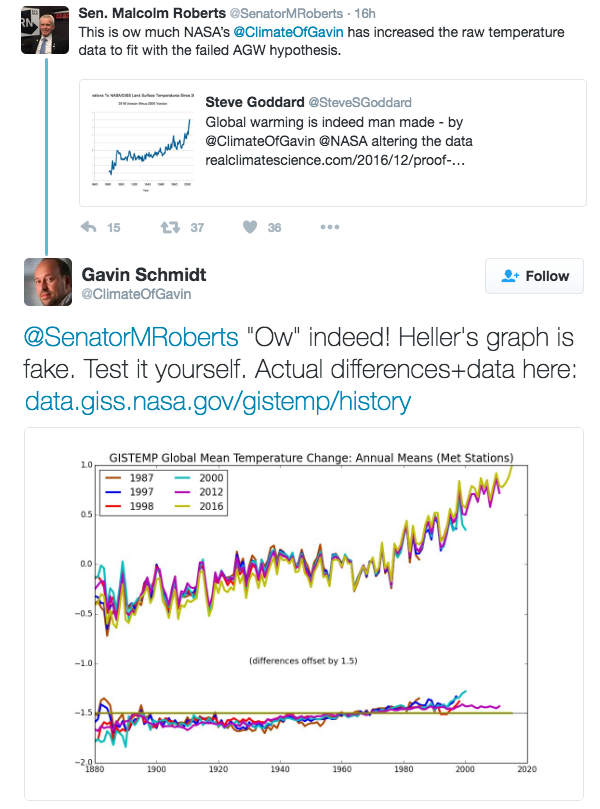 I generated the graph from Gavin's own data on the same NASA web page Gavin linked to. Apparently the primary person in charge of creating the propaganda behind the trillion dollar global warming scam is unfamiliar with his own data.
Here is the spreadsheet   2016_01_v3_GLB.Ts.xls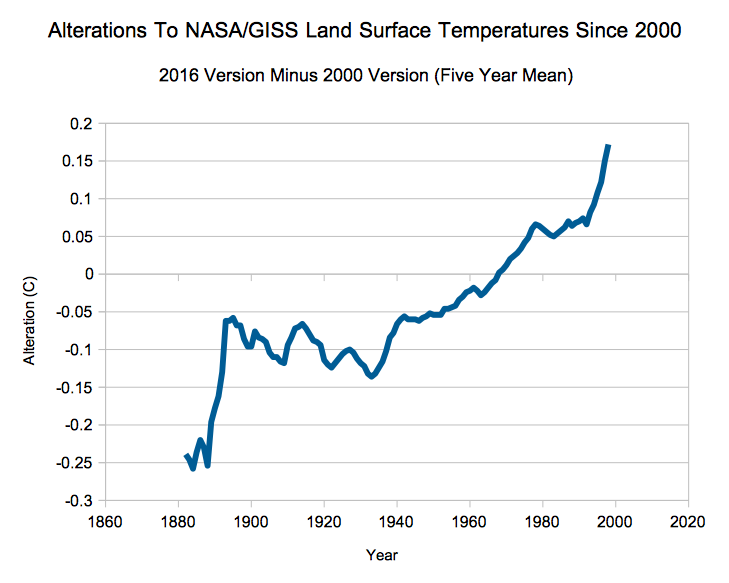 (Note : there was an error in my original graphs due to years being shifted by one. That caused some jitter and slightly increased discrepancy which is corrected in the graphs and spreadsheet here)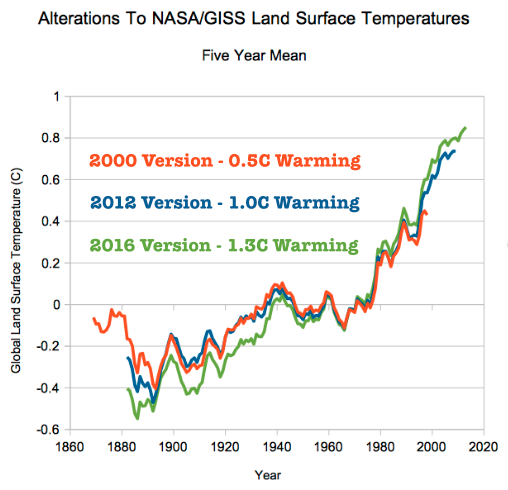 Satellites show little or no warming during the 16 years from 2000 to 2016 when Gavin has increased warming by 2.5X.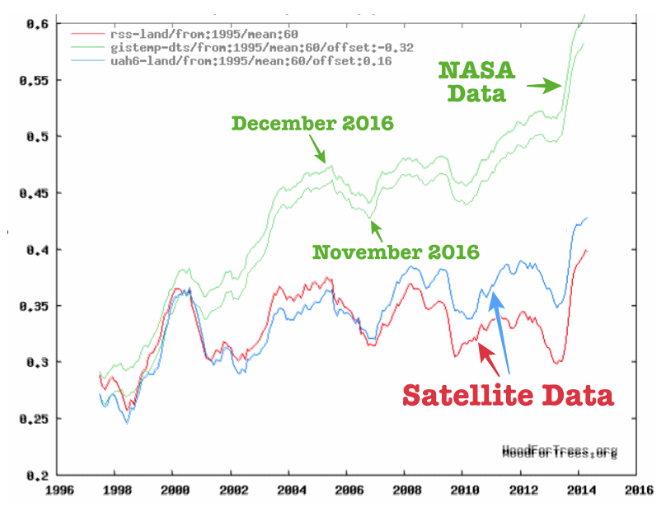 Wood for Trees: Interactive Graphs
Also note the optical illusion Gavin employs. The lines appear very close inside the circle.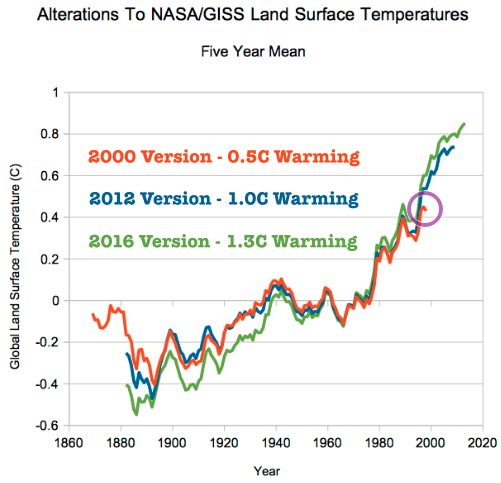 But there is actually a very large change from 2000 to 2016.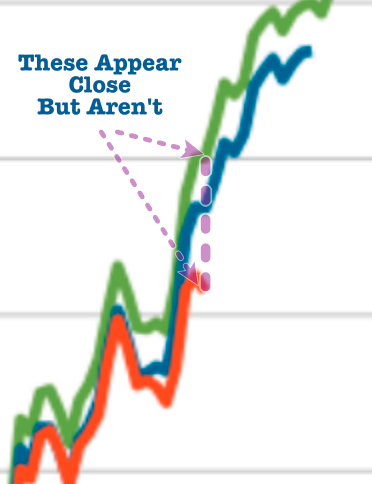 Here is Gavin's data :
2000 Version:

                 GLOBAL Temperature Anomalies in deg C     base period: 1951-1980
     
                    sources: GHCN 1701-12/2000 (meteorological stations only)
                    using elimination of outliers and homogeneity adjustment
                    Notes: 1941 DJF = Dec 1940 - Feb 1941 ;  ***** = missing
     
Year   Jan   Feb   Mar   Apr   May   Jun   Jul   Aug   Sep   Oct     Nov   Dec     J-D   D-N   DJF   MAM   JJA   SON
1867  -.37   .02  -.95   .41  -.01   .46   .23   .12   .23   .54     .07   .43      .1     *     *  -.18   .27   .28
1868 -1.01  -.83   .32   .09   .07   .22   .09  -.29  -.01   .27    -.51  -.06    -.14   -.1  -.47   .16   .01  -.09
1869   .23   .32  -.04    .1  -.34   .21   .16   .32  -.12  -.27     .06   .23     .07   .05   .17   -.1   .23  -.11
1870   .34  -.26  -.61  -.03  -.04    .2  -.11  -.56  -.18  -.05     .02  -.75    -.17  -.09   .11  -.23  -.16  -.07
1871   -.4  -.36  -.29   .03  -.19  -.13  -.11   .11  -.15   -.4    -.34   .18    -.17  -.25   -.5  -.15  -.05   -.3
1872   .33   .34  -.13  -.14   .05   .42   .06  -.84  -.04  -.25    -.07  -.46    -.06  -.01   .28  -.08  -.12  -.12
1873   -.7  -.31  -.21  -.48  -.09   .52  -.49   .41   -.2   .38    -.73   .33    -.13   -.2  -.49  -.26   .15  -.18
1874   .27  -.31   -.1   .16  -.29  -.39  -.09  -.25  -.41   .11     -.3   .15    -.12  -.11   .09  -.08  -.25   -.2
1875  -.11  -.44  -.48  -.09  -.07   .22    .2    .2  -.38  -.13    -.59  -.47    -.18  -.13  -.13  -.22   .21  -.36
1876    .1  -.17   .26  -.14  -.44  -.18  -.31  -.39  -.25   .29    -.16  -.09    -.12  -.15  -.18  -.11  -.29  -.04
1877  -.08   .28  -.11  -.29  -.49   .02   .28   .55  -.13  -.15      .3   .51     .06   .01   .03   -.3   .29   .01
1878   .27   .41   .95   .56  -.33  -.07   .04   .02   .48   .43     .22  -.05     .24   .29    .4   .39    .0   .38
1879   .03  -.32    .0  -.33  -.29  -.67  -.55   -.2  -.09    .0    -.26  -.54    -.27  -.23  -.11  -.21  -.47  -.12
1880   .26   .08  -.11  -.15  -.13  -.55   -.2   .03   .05  -.42    -.32  -.02    -.12  -.17  -.07  -.13  -.24  -.23
1881  -.53  -.05  -.13    .1    .2  -.82  -.03  -.08  -.16  -.18    -.17   .28    -.13  -.16   -.2   .05  -.31  -.17
1882   .76   .43   .26  -.31  -.12  -.62  -.52  -.19   .23  -.13      .1    .0    -.01   .01   .49  -.06  -.44   .07
1883  -.16  -.53  -.05   .18   .01   .56   .21  -.01   -.3  -.17    -.39   .13    -.04  -.05  -.23   .05   .25  -.28
1884   -.2    .1  -.26  -.74  -.74  -.44  -.54  -.11  -.23  -.42    -.61  -.85    -.42  -.34   .01  -.58  -.36  -.42
1885  -.59  -.45  -.56  -.49  -.39  -.58  -.12   .08  -.12   .21    -.27   .34    -.24  -.34  -.63  -.48  -.21  -.06
1886  -.49  -.46  -.44  -.17  -.18  -.17  -.12  -.22  -.25  -.67     .01  -.19    -.28  -.23   -.2  -.26  -.17   -.3
1887  -.55  -.82  -.26  -.41  -.46  -.66  -.23  -.37  -.52  -.29    -.73  -.25    -.46  -.46  -.52  -.38  -.42  -.51
1888  -.37  -.57  -.64  -.06  -.41  -.24  -.33  -.32  -.34  -.04     .32    .1    -.24  -.27  -.39  -.37   -.3  -.02
1889   .17    .4   .23   .32   .31  -.01  -.34  -.31  -.23   .03    -.22   .07     .03   .04   .22   .29  -.22  -.14
1890  -.17  -.38  -.14  -.07  -.29  -.04  -.43   -.2  -.03  -.07    -.58  -.26    -.22  -.19  -.16  -.17  -.22  -.23
1891  -.79 -1.05  -.49  -.65  -.23   -.5   -.8  -.63  -.47  -.66    -.34  -.11    -.56  -.57   -.7  -.46  -.64  -.49
1892  -.51  -.08  -.45  -.72  -.48   -.4  -.31  -.14  -.42  -.41     -.4  -.51     -.4  -.37  -.23  -.55  -.28  -.41
1893 -1.54  -.79  -.44  -.28  -.44  -.45  -.04    .0  -.19   .24    -.29  -.48    -.39  -.39  -.94  -.39  -.16  -.08
1894  -.62  -.63  -.19  -.47   -.5  -.31   -.3  -.32  -.55  -.08    -.05  -.03    -.34  -.38  -.58  -.39  -.31  -.23
1895  -.53  -.88  -.48   -.5  -.26  -.24  -.62  -.22  -.17  -.02    -.01  -.01    -.33  -.33  -.48  -.41  -.36  -.07
1896   .03  -.22  -.47  -.42  -.48  -.38   -.3  -.47  -.22   .14    -.38  -.12    -.27  -.27  -.07  -.46  -.38  -.15
1897  -.13  -.26  -.33   .09  -.06  -.27   .15  -.26  -.23  -.43    -.03  -.06    -.15  -.16  -.17   -.1  -.13  -.23
1898   .23  -.32  -.57  -.34  -.53  -.23  -.08   .11   .02  -.44    -.31  -.17    -.22  -.21  -.05  -.48  -.07  -.24
1899  -.43  -.37  -.15  -.32  -.51  -.26  -.34  -.28  -.03   -.3     .11  -.15    -.25  -.25  -.32  -.33  -.29  -.07
1900  -.43  -.06   .01  -.07   .04   .13  -.18  -.13  -.08   .17    -.09  -.05    -.06  -.07  -.21  -.01  -.06    .0
1901  -.15  -.08  -.05   .07  -.02   .12  -.27  -.06   .05  -.04    -.08  -.18    -.06  -.05  -.09    .0  -.07  -.02
1902  -.29  -.03  -.06  -.18  -.28  -.28  -.32  -.47  -.44  -.38    -.41  -.52     -.3  -.28  -.17  -.17  -.36  -.41
1903  -.27  -.13  -.07  -.48  -.38   -.6  -.23  -.38  -.44  -.51    -.46  -.41    -.36  -.37  -.31  -.31   -.4  -.47
1904  -.54  -.61  -.31   -.3   -.6  -.47  -.61  -.36  -.45  -.43     -.2  -.25    -.43  -.44  -.52   -.4  -.48  -.36
1905  -.41  -.86  -.16  -.15  -.12  -.22  -.33  -.23  -.28  -.35     .09  -.17    -.27  -.27   -.5  -.14  -.26  -.18
1906  -.23  -.24  -.41   .11  -.17  -.06  -.09  -.08  -.28  -.04    -.31  -.06    -.16  -.17  -.22  -.15  -.08  -.21
1907  -.38  -.51  -.34   -.4  -.47  -.45  -.29  -.43   -.3  -.26     -.5   -.6    -.41  -.37  -.32   -.4  -.39  -.35
1908  -.32  -.17  -.48  -.33  -.18  -.32   -.2  -.28  -.14  -.41    -.59  -.33    -.31  -.33  -.36  -.33  -.26  -.38
1909  -.71  -.43  -.43  -.57  -.41   -.2  -.19  -.12  -.21  -.09    -.06  -.45    -.32  -.31  -.49  -.47  -.17  -.12
1910  -.27  -.17  -.37  -.08  -.13  -.27  -.09  -.09   .01  -.25    -.41  -.59    -.23  -.21  -.29  -.19  -.15  -.22
1911  -.55  -.53   -.5   -.4  -.25   -.3  -.09  -.19  -.16  -.17     .02  -.19    -.27  -.31  -.55  -.38  -.19   -.1
1912  -.13  -.12  -.45  -.21  -.19  -.23  -.41  -.58  -.44  -.47     -.5  -.29    -.34  -.33  -.15  -.28  -.41  -.47
1913  -.36  -.49  -.45  -.18  -.61  -.53  -.25  -.21  -.18  -.21    -.05   .04    -.29  -.32  -.38  -.41  -.33  -.14
1914   .17   .01   .07  -.19   .01  -.04  -.08  -.01  -.05   .12    -.21  -.15    -.03  -.01   .07  -.03  -.04  -.05
1915  -.08   .14   .03   .08   .01  -.02   .18  -.03   .13   .01     .15  -.05     .05   .04  -.03   .04   .04    .1
1916   .02  -.04  -.34  -.19  -.21  -.25  -.21  -.03  -.11  -.15    -.36  -.73    -.22  -.16  -.02  -.25  -.17   -.2
1917   -.5  -.72   -.7  -.47  -.72  -.41   .16  -.34  -.31  -.45    -.33  -.88    -.47  -.46  -.65  -.63   -.2  -.36
1918  -.55  -.48  -.44  -.41  -.63  -.25  -.42   -.4  -.15   .04    -.19  -.24    -.34   -.4  -.63  -.49  -.36   -.1
1919  -.24  -.15  -.06  -.04  -.04  -.02   .05  -.04  -.13   .06    -.33  -.25     -.1   -.1  -.21  -.05    .0  -.13
1920  -.01  -.17   -.1   .02  -.21  -.23   .01  -.08  -.15  -.37    -.25  -.42    -.16  -.15  -.14   -.1   -.1  -.26
1921   .13  -.12  -.02    .0  -.11   .05   .13  -.31  -.08  -.05     -.2  -.12    -.06  -.08  -.14  -.04  -.04  -.11
1922  -.28   -.3  -.19   .11  -.24  -.17   .11  -.13  -.04  -.14    -.01  -.04    -.11  -.12  -.23  -.11  -.06  -.06
1923  -.16  -.18  -.14  -.35  -.14  -.21  -.37  -.26  -.26  -.01     .05   .05    -.16  -.17  -.13  -.21  -.28  -.07
1924  -.23  -.35  -.04  -.33  -.15  -.05   .01  -.03   .05  -.08    -.02  -.22    -.12   -.1  -.17  -.17  -.02  -.02
1925  -.32   -.3   -.2  -.05  -.23  -.29  -.26  -.03  -.29  -.23     .07   .27    -.16   -.2  -.28  -.16  -.19  -.15
1926   .28   .33    .2  -.02  -.21  -.11  -.05   .09   .07  -.07     .12  -.22     .03   .07   .29  -.01  -.02   .04
1927   -.1  -.11  -.27  -.23  -.17  -.15   .07  -.19   .01   .25     .26  -.14    -.07  -.07  -.14  -.22  -.09   .17
1928   .15   .12    .0   .02  -.31  -.43   .02   .04   .09    .0     .12   .05    -.01  -.03   .04   -.1  -.12   .07
1929  -.26  -.38  -.29  -.32  -.29  -.31  -.24  -.27  -.16    .1     .08  -.49    -.24  -.19   -.2   -.3  -.27    .0
1930  -.18  -.01   .06  -.16    .0  -.14  -.01  -.05  -.12  -.13     .22   .03    -.04  -.08  -.22  -.03  -.07  -.01
1931  -.02   -.2   .06  -.12  -.08   .08   .21   .19  -.08   .12    -.03    .2     .03   .01  -.06  -.05   .16    .0
1932   .51   -.1  -.03   .22  -.02  -.31  -.05  -.09   .14   .19      .0  -.06     .03   .06    .2   .06  -.15   .11
1933   -.2  -.08  -.08  -.07  -.05  -.12   .03  -.13  -.02   .01    -.27  -.41    -.12  -.09  -.11  -.07  -.08  -.09
1934  -.02   .07  -.19  -.23   .17  -.03   .17   .18    .0   .05     .16    .2     .05  -.01  -.12  -.08   .11   .07
1935   -.2   .34   .21  -.33  -.15  -.07  -.08  -.16  -.32   .04    -.18  -.07    -.08  -.06   .12  -.09   -.1  -.16
1936  -.14   -.3  -.08   .09  -.21  -.06   .33   .09   .05   .08      .1   .17     .01  -.01  -.17  -.07   .12   .08
1937   .01   .16  -.08  -.03   .11   .09   .04   .12   .28   .28     .36   .04     .11   .12   .11    .0   .08   .31
1938    .1   .12    .3   .37   .17  -.04   .11  -.02   .12    .4     .17  -.04     .15   .15   .09   .28   .02   .23
1939   .07  -.03  -.25  -.07    .1   .01  -.02  -.19  -.09  -.07    -.11   .41    -.02  -.06    .0  -.07  -.07  -.09
1940  -.14   .11   .13   .09   .12   .22   .33   .12   .18   .06     .09   .29     .13   .14   .12   .11   .23   .11
1941   .13   .23  -.01   .07   .11   .19   .36   .12  -.17   .15     .02   .12     .11   .13   .22   .06   .22    .0
1942   .29   .04   .02   .04   .09   .09   .12    .1    .1   .01     .19   .13      .1    .1   .15   .05    .1    .1
1943  -.14   .14  -.09   .08  -.04  -.09   .18   -.2   .09   .34     .14   .28     .06   .05   .04  -.01  -.04   .19
1944    .4    .2   .15    .0  -.04  -.06   .11   .12   .26   .26     .07  -.09     .12   .15   .29   .03   .06    .2
1945   .08  -.07   .04   .22  -.24  -.22  -.13    .3    .1   .09    -.01  -.26    -.01   .01  -.03   .01  -.02   .06
1946   .08   .06  -.08   .14   .12  -.08   .14  -.04   .05  -.11     .01  -.22      .0    .0  -.04   .06    .0  -.02
1947    .0   .13   .23   .19   .07   .04   .09   .08   .04   .28     .26  -.07     .11    .1  -.03   .17   .07    .2
1948   .26  -.06  -.21  -.06   .06   .14  -.08  -.14  -.03   .01    -.14  -.13    -.03  -.03   .05  -.07  -.03  -.05
1949    .1  -.27  -.09  -.25   -.1  -.17    .0  -.11  -.02   .03    -.06  -.11    -.09  -.09   -.1  -.15   -.1  -.02
1950  -.22  -.26  -.06  -.18   -.2  -.07  -.06  -.27  -.12  -.15    -.33  -.12    -.17  -.17   -.2  -.15  -.13   -.2
1951  -.35  -.42  -.13  -.02   .09  -.08  -.06   .16   .04   .11     .09   .23    -.03  -.06   -.3  -.02    .0   .08
1952   .16   .16  -.08  -.01  -.08  -.01   .13   .17   .16   .02    -.15    .0     .04   .06   .18  -.06    .1   .01
1953   .13   .11   .21   .21   .07   .08   .03   .17   .12   .09     .07   .23     .13   .11   .08   .16    .1    .1
1954  -.26  -.04  -.06  -.11  -.16  -.15  -.21  -.17  -.17   .04     .23  -.07    -.09  -.07  -.02  -.11  -.18   .03
1955   .26  -.06  -.33  -.13  -.13  -.15  -.09   .03   -.1   .05     -.2  -.24    -.09  -.08   .05   -.2  -.07  -.08
1956  -.16  -.25  -.26  -.22  -.23  -.06  -.06  -.31  -.07  -.19    -.16  -.14    -.17  -.18  -.22  -.23  -.14  -.14
1957   -.1    .0   .01   .16   .12   .19  -.07   .15   .14   .02     .19   .23     .09   .05  -.08   .09   .09   .12
1958   .44   .26    .2   .14    .1  -.15   .15  -.08  -.07   .11     .11  -.07      .1   .12   .31   .15  -.03   .05
1959   .04   .06   .25   .14  -.01   .11   .09    .0  -.15  -.05    -.08   .09     .04   .03   .01   .13   .07  -.09
1960   .05   .28  -.45  -.22  -.14  -.06   -.1    .1   .06   .12     -.1    .2    -.02  -.03   .14  -.27  -.02   .03
1961    .1   .22   .06   .09   .23   .12   .01   .05   .18   .17     .08  -.14      .1   .13   .17   .13   .06   .14
1962   .06   .21    .1   .13  -.11    .1  -.11  -.07   .07   .05     .13   .03     .05   .04   .04   .04  -.03   .08
1963  -.02   .25   -.2  -.21  -.13   .03   .09   .22   .32   .07     .05    .0     .04   .04   .09  -.18   .11   .15
1964  -.05  -.16  -.29  -.37  -.38  -.13  -.01  -.27  -.39  -.31    -.18  -.33    -.24  -.21  -.07  -.35  -.14  -.29
1965  -.02  -.16   -.1  -.26  -.09   -.1  -.26  -.06   -.2  -.09    -.13  -.19    -.14  -.15  -.17  -.15  -.14  -.14
1966  -.22  -.07   .12  -.13   -.1  -.05   .11  -.08  -.05  -.25    -.04  -.08    -.07  -.08  -.16  -.04  -.01  -.11
1967  -.06  -.27   .01  -.07   .14  -.13   .06   .02   .03   .16     .01  -.01    -.01  -.02  -.14   .03  -.01   .06
1968  -.18  -.16   .24   -.1  -.15  -.08  -.12  -.07  -.27   .06    -.08  -.24     -.1  -.08  -.12    .0  -.09  -.09
1969  -.19  -.27  -.13   .15   .12    .1  -.09  -.07   .01   .05     .07   .32     .01  -.04  -.23   .04  -.02   .04
1970   .08   .28   .09   .04  -.07   .09   .06   -.1   .16   .06     .01  -.13     .05   .08   .23   .02   .02   .07
1971  -.06  -.16  -.23  -.09  -.11  -.26   -.1   .05   .01  -.03    -.12  -.13     -.1   -.1  -.12  -.14   -.1  -.05
1972  -.35  -.33  -.08  -.07  -.05   .06   .01    .2   .05  -.09    -.09   .12    -.05  -.07  -.27  -.07   .09  -.04
1973   .23   .31   .31   .34   .28   .23   .17   .05   .08   .17     .07  -.05     .18    .2   .22   .31   .15   .11
1974  -.07  -.26  -.04  -.11    .0    .0    .0   .12  -.13  -.06    -.08  -.05    -.06  -.06  -.13  -.05   .04  -.09
1975   .05   .04   .14    .0   .27   .02  -.02  -.23  -.05  -.08    -.15  -.24    -.02  -.01   .01   .14  -.08   -.1
1976  -.07  -.13  -.37  -.26  -.27  -.22  -.21  -.26  -.18   -.4    -.23  -.07    -.22  -.24  -.15   -.3  -.23  -.27
1977    .1   .21   .23   .24    .3   .27   .24   .27  -.14  -.09     .15   .07     .15   .14   .08   .26   .26  -.03
1978   .06   .14   .22   .21   .17  -.03   .15  -.24   .09  -.03     .05   .03     .07   .07   .09    .2  -.04   .04
1979   .11  -.14    .2   .19  -.08   .13  -.02   .05   .17   .19     .24   .46     .12   .09    .0    .1   .05    .2
1980    .3   .35   .35   .35   .42   .14   .26   .22   .28   .13     .25   .16     .27   .29   .37   .38    .2   .22
1981   .59   .54   .59   .45   .27   .34   .51   .55   .23   .07     .19   .43      .4   .37   .43   .44   .47   .16
1982   .08    .2   -.1   .03   .28   .04   .15    .0  -.03  -.02      .1   .34     .09    .1   .24   .07   .06   .02
1983   .45   .39   .38   .34   .46   .26   .19   .51   .49   .19      .3   .17     .34   .36   .39   .39   .32   .33
1984    .2   .08   .31   .08   .48  -.08    .2   .23   .22   .17     .07  -.04     .16   .18   .15   .29   .12   .15
1985   .26  -.01   .21   .14   .09    .2   .02   .35   .18   .08     .01   .08     .14   .13   .07   .15   .19   .09
1986    .3   .49   .31   .32   .18   .08    .1   .18   .01   .04     .03   .12     .18   .18   .29   .27   .12   .03
1987   .35    .5   .23   .38   .25   .44   .48   .11   .28   .31     .29   .48     .34   .31   .32   .29   .35   .29
1988    .6   .38    .6   .42   .57   .52   .34   .36   .45   .46     .08   .28     .42   .44   .49   .53   .41   .33
1989   .13   .36   .31   .26    .1   .11   .37   .46   .48    .3     .11   .34     .28   .27   .26   .22   .31    .3
1990   .47   .38   .85   .63   .45   .41   .62    .4   .19   .53     .56   .43     .49   .49    .4   .64   .48   .43
1991   .43   .48    .4   .62   .35   .63   .67   .51   .43   .25     .23   .26     .44   .45   .45   .46   .61    .3
1992   .45   .42   .47   .21   .16   .26   .01   .08  -.15  -.05     -.1   .16     .16   .17   .38   .28   .11   -.1
1993   .31    .3   .37   .26   .21   .09   .18   .16   .01   .18     .03   .09     .18   .19   .26   .28   .14   .07
1994   .37   .08   .24   .35   .21   .53   .31   .12   .46    .4     .34   .33     .31   .29   .18   .26   .32    .4
1995   .44   .73   .42   .48   .18   .33    .7   .43   .36   .57     .42   .29     .45   .45    .5   .36   .49   .45
1996   .33   .43   .35   .19   .27   .17   .48   .49   .29   .28     .39   .37     .34   .33   .35   .27   .38   .32
1997   .38   .48   .52    .3   .26   .48    .2   .32   .26   .36      .5    .5     .38   .37   .41   .36   .33   .37
1998   .59   .93   .69    .8   .76   .71    .8   .71   .43   .53     .53   .69     .68   .66   .67   .75   .74    .5
1999    .5   .71   .27   .35   .28   .43   .37   .43   .38    .4     .34   .34      .4   .43   .63    .3   .41   .38
2000    .1   .61   .39   .57   .31   .51   .41   .18   .45   .11     .24    .3     .35   .35   .35   .43   .36   .27

2016 version :

           GLOBAL Temperature Anomalies in deg C    base period: 1951-1980
     
                  sources: GHCN-v3 1880-01/2016 (meteorological stations only)
                    using elimination of outliers and homogeneity adjustment
                    Notes: 1941 DJF = Dec 1940 - Feb 1941 ;  ***** = missing
     
Year   Jan   Feb   Mar   Apr   May   Jun   Jul   Aug   Sep   Oct     Nov   Dec     J-D   D-N   DJF   MAM   JJA   SON
1880  -.75  -.32   -.4  -.59  -.29  -.42   -.4   .14  -.42   -.6    -.44  -.45    -.41     *     *  -.43  -.22  -.49
1881  -.69  -.54  -.28   -.2   .03 -1.05  -.46  -.18   -.3  -.42     -.5  -.08    -.39  -.42  -.56  -.15  -.56  -.41
1882   .17  -.06  -.03  -.53  -.32  -.97  -.64  -.06  -.02  -.26    -.34  -.61     -.3  -.26   .01  -.29  -.56   -.2
1883  -.62  -.89   -.4  -.26   -.3    .5   .06  -.09  -.39  -.51    -.63  -.32    -.32  -.34   -.7  -.32   .16  -.51
1884  -.53  -.28  -.34  -.88 -1.14  -.76  -.78   .21   -.3  -.71    -.75  -.92     -.6  -.55  -.38  -.78  -.44  -.59
1885  -.86  -.73  -.85  -.81  -.44  -.88  -.54  -.11  -.09   .02    -.33   .08    -.46  -.55  -.84   -.7  -.51  -.13
1886  -.71  -.77  -.63  -.55   -.5  -.78  -.33  -.69  -.36  -.81    -.44  -.68     -.6  -.54  -.47  -.56   -.6  -.54
1887  -.79 -1.19  -.51  -.77  -.79   -.6  -.33  -.19  -.56  -.47    -.85  -.58    -.64  -.64  -.89  -.69  -.37  -.62
1888  -.74  -.79  -.84  -.26   -.7  -.51  -.29  -.32  -.36  -.26    -.07  -.19    -.44  -.48   -.7   -.6  -.37  -.23
1889  -.28   .18   .08   .15   .09  -.23  -.42   -.6  -.36   -.2    -.43  -.38     -.2  -.18  -.09   .11  -.42  -.33
1890  -.56   -.6   -.6  -.53  -.91  -.55  -.58  -.59  -.32  -.25    -.73  -.49    -.56  -.55  -.51  -.68  -.57  -.43
1891  -.94 -1.03  -.51  -.67  -.48  -.55  -.71  -.57  -.49  -.57    -.55   .04    -.59  -.63  -.82  -.55  -.61  -.54
1892   -.6  -.29  -.58  -.69  -.64  -.55  -.33  -.23  -.44  -.31     -.6  -.57    -.49  -.43  -.28  -.64  -.37  -.45
1893  -1.4  -.97  -.57  -.63  -.71  -.65  -.11  -.33  -.24  -.07    -.12  -.35    -.51  -.53  -.98  -.64  -.36  -.14
1894  -.83   -.6  -.39  -.62  -.64  -.47  -.35  -.28  -.42  -.07    -.14  -.15    -.41  -.43  -.59  -.55  -.37  -.21
1895  -.67  -.77  -.49  -.45  -.29  -.27  -.49  -.18  -.11  -.07    -.14  -.05    -.33  -.34  -.53  -.41  -.31   -.1
1896  -.21  -.27  -.51  -.46  -.44  -.45  -.19  -.35  -.08   .02    -.43  -.19     -.3  -.28  -.18  -.47  -.33  -.16
1897  -.23  -.49  -.31   -.1  -.26  -.17   -.1  -.31  -.14  -.21    -.02  -.24    -.22  -.21  -.31  -.23  -.19  -.12
1898  -.11  -.45  -.81  -.58  -.64   -.3  -.36  -.26  -.05  -.42    -.47  -.21    -.39  -.39  -.27  -.68  -.31  -.32
1899  -.43   -.6   -.4  -.26  -.42  -.55   -.3  -.29  -.02  -.29    -.03  -.22    -.32  -.32  -.41  -.36  -.38  -.12
1900  -.54  -.03  -.18  -.17  -.16  -.12  -.34  -.17  -.07   .16    -.11  -.06    -.15  -.16  -.26  -.17  -.21    .0
1901  -.23  -.11  -.12  -.09  -.23   .01  -.24   -.2   .03  -.18    -.14  -.21    -.14  -.13  -.13  -.15  -.15  -.09
1902  -.32  -.04  -.19   -.2  -.32  -.39  -.47  -.52  -.41  -.47     -.5  -.56    -.37  -.34  -.19  -.24  -.46  -.46
1903  -.36  -.15  -.19  -.57  -.47  -.65  -.32  -.44  -.43   -.5    -.49  -.63    -.43  -.43  -.36  -.41  -.47  -.47
1904   -.8  -.76  -.57  -.46  -.66  -.49  -.62  -.51  -.45  -.53    -.26   -.4    -.54  -.56  -.73  -.56  -.54  -.41
1905  -.43  -1.0  -.25  -.32  -.37  -.33  -.44  -.31  -.25  -.38    -.09  -.27    -.37  -.38  -.61  -.31  -.36  -.24
1906  -.19  -.38  -.37   .04  -.21  -.23  -.22  -.19   -.3  -.19    -.55  -.27    -.26  -.26  -.28  -.18  -.21  -.35
1907  -.51  -.69  -.47  -.63  -.61  -.67  -.42  -.57   -.4  -.34    -.61  -.66    -.55  -.52  -.49  -.57  -.55  -.45
1908  -.38  -.33  -.54  -.47  -.34  -.44   -.4  -.42  -.18  -.43    -.61  -.42    -.41  -.43  -.46  -.45  -.42  -.41
1909  -.79   -.6  -.51  -.62  -.59  -.42  -.35  -.11  -.21  -.19    -.18  -.54    -.43  -.42   -.6  -.57  -.29  -.19
1910  -.48   -.4  -.47  -.33  -.28  -.35  -.22  -.14   -.1   -.3    -.53  -.67    -.36  -.35  -.47  -.36  -.24  -.31
1911  -.66  -.67  -.61  -.52  -.39  -.38  -.18  -.26  -.26  -.17    -.14  -.26    -.38  -.41  -.67  -.51  -.27  -.19
1912  -.21  -.14  -.43   -.3  -.21  -.26  -.49  -.62  -.35  -.47    -.45  -.32    -.36  -.35   -.2  -.31  -.46  -.43
1913  -.43  -.49  -.59  -.32  -.63   -.6  -.23   -.2  -.19  -.29    -.16   .04    -.34  -.37  -.41  -.51  -.34  -.21
1914   .15  -.04  -.05  -.19  -.03  -.07  -.21  -.08  -.08   .14    -.32  -.21    -.08  -.06   .05  -.09  -.12  -.09
1915  -.18   .04  -.09  -.03  -.21  -.19   .06  -.18   .03  -.08     .06   -.1    -.07  -.08  -.12  -.11   -.1    .0
1916   -.1  -.12  -.43  -.29  -.35  -.47  -.34  -.11  -.15  -.15    -.39  -.78    -.31  -.25  -.11  -.36  -.31  -.23
1917  -.52  -.73  -.81  -.54   -.8  -.45   .02  -.38  -.31  -.47    -.34  -.91    -.52  -.51  -.68  -.72  -.27  -.37
1918  -.63  -.61  -.51  -.55  -.76  -.42  -.47  -.47  -.19   .03    -.26  -.33    -.43  -.48  -.72  -.61  -.45  -.14
1919  -.28  -.27  -.14  -.15  -.17  -.17  -.07  -.08  -.21  -.05    -.42  -.29    -.19   -.2  -.29  -.16  -.11  -.23
1920  -.12  -.32  -.25  -.21  -.37  -.37   -.2  -.18  -.19  -.43    -.33  -.47    -.29  -.27  -.24  -.27  -.25  -.32
1921  -.03   -.2  -.12   -.2  -.21  -.11   .02  -.45  -.16  -.12     -.3  -.18    -.17   -.2  -.23  -.18  -.18  -.19
1922  -.41  -.45  -.32  -.12  -.42  -.32  -.07  -.27  -.17  -.27    -.12  -.17    -.26  -.26  -.35  -.28  -.22  -.19
1923  -.29  -.24  -.23  -.52  -.34  -.32  -.51  -.38  -.31  -.12    -.03  -.06    -.28  -.29  -.23  -.36   -.4  -.15
1924  -.26  -.42  -.15  -.51  -.29  -.17  -.17  -.17   -.1  -.16    -.08   -.3    -.23  -.21  -.25  -.32  -.17  -.11
1925  -.45  -.39   -.3  -.18  -.37  -.43  -.41  -.11   -.3  -.34    -.03   .18    -.26   -.3  -.38  -.28  -.32  -.22
1926   .24   .29    .2  -.12  -.38  -.23  -.17   .01   .01  -.14     .01  -.27    -.05  -.01   .24   -.1  -.13  -.04
1927  -.19  -.17  -.37  -.37  -.31  -.28  -.09  -.29  -.12   .15     .08  -.25    -.19  -.19  -.21  -.35  -.22   .04
1928   .03  -.01  -.12  -.13   -.4  -.54  -.05  -.05   .02  -.05     .06  -.07    -.11  -.12  -.08  -.22  -.21   .01
1929  -.29  -.48  -.38  -.44  -.42  -.43  -.38  -.39  -.21    .0    -.08   -.6    -.34   -.3  -.28  -.41   -.4   -.1
1930  -.23  -.19  -.07  -.21  -.17  -.23   -.2   -.2  -.15  -.29     .09  -.08    -.16   -.2  -.34  -.15  -.21  -.12
1931  -.13  -.27  -.07  -.28  -.18  -.09   .07   .08  -.18   .06    -.15   .08    -.09   -.1  -.16  -.18   .02  -.09
1932   .36  -.27  -.22   .03  -.23  -.47  -.23   -.2   .01   .06    -.11  -.17    -.12   -.1   .06  -.14   -.3  -.01
1933  -.33  -.25  -.22  -.19  -.15  -.27  -.14  -.21  -.12  -.08    -.39  -.54    -.24  -.21  -.25  -.19  -.21   -.2
1934  -.16  -.12  -.36  -.37  -.03   -.2  -.01   .03  -.09  -.07     .04   .11     -.1  -.16  -.27  -.25  -.06  -.04
1935  -.32   .21   .02  -.49  -.35  -.23  -.26  -.23   -.4  -.06    -.34  -.17    -.22   -.2    .0  -.28  -.24  -.27
1936  -.31  -.46   -.2  -.05   -.3  -.15   .22   .02    .0   .03     .04   .07    -.09  -.11  -.31  -.18   .03   .02
1937   -.1   .04  -.21   -.2  -.04  -.04  -.09   .04   .23   .18     .27  -.07      .0   .01    .0  -.15  -.03   .23
1938    .0   .02    .2   .24   .08  -.11   .01  -.07   .09   .32      .1  -.11     .07   .07  -.02   .18  -.06   .17
1939  -.01  -.14  -.36  -.17    .0  -.08  -.12  -.26  -.11  -.09    -.15   .35     -.1  -.13  -.09  -.18  -.15  -.12
1940  -.19   .08   .12   .01   .04   .15    .2   .08   .16   .04     .04   .22     .08   .09   .08   .06   .14   .08
1941   .02   .21  -.13  -.01   .08   .12   .27   .04   -.2   .09    -.05   .02     .04   .06   .15  -.02   .14  -.05
1942   .23  -.02  -.03  -.02   .02   .07   .06   .09   .07  -.01     .11   .07     .05   .05   .08  -.01   .07   .06
1943  -.19   .06  -.15   .02   -.1   -.1    .1  -.17   .05   .28     .09   .21     .01    .0  -.02  -.08  -.06   .14
1944   .33   .13    .1  -.07  -.07  -.11   .02   .05   .22   .22     .01  -.16     .06   .09   .22  -.01  -.01   .15
1945   .02  -.11  -.01   .12  -.27  -.29  -.22    .2   .04   .03    -.07  -.34    -.08  -.06  -.09  -.06  -.11    .0
1946   .02  -.03  -.15   .04   .02  -.15   .03  -.11    .0  -.17    -.07  -.27    -.07  -.08  -.12  -.03  -.08  -.08
1947  -.08   .06   .21   .14  -.01  -.04   .02   .01   .02   .25     .23  -.13     .06   .05   -.1   .12    .0   .16
1948   .22  -.14  -.28  -.13  -.02   .05  -.16  -.19  -.03  -.03    -.18  -.16    -.09  -.09  -.02  -.14   -.1  -.08
1949   .05  -.35  -.08  -.26   -.2  -.23  -.09  -.14  -.07    .0    -.07  -.13    -.13  -.13  -.15  -.18  -.16  -.04
1950  -.28  -.34  -.09  -.24  -.24  -.14  -.13  -.35  -.19  -.21    -.39  -.18    -.23  -.23  -.25  -.19  -.21  -.26
1951  -.37  -.46  -.17  -.06   .06  -.12  -.11    .1    .0   .05     .01   .15    -.08   -.1  -.34  -.05  -.04   .02
1952   .09   .12  -.17  -.07  -.13   -.1   .04   .09   .13  -.03    -.21  -.04    -.02  -.01   .12  -.12   .01  -.04
1953   .11   .07   .15    .1  -.03   .01  -.03    .1   .08   .06     .02   .15     .07   .05   .04   .07   .03   .05
1954  -.29  -.08  -.12  -.15   -.2  -.21  -.26  -.17  -.17   .01     .18   -.1    -.13  -.11  -.07  -.16  -.22   .01
1955   .24  -.09  -.36  -.16  -.14  -.17  -.13   .14  -.12   .02    -.25  -.28    -.11  -.09   .02  -.22  -.05  -.11
1956  -.23  -.31  -.32  -.26  -.27   -.1   -.1  -.32   -.1  -.22    -.21  -.18    -.22  -.23  -.27  -.28  -.17  -.18
1957  -.13  -.06  -.08   .03  -.01   .15  -.09    .2   .13  -.01     .15   .18     .04   .01  -.12  -.02   .08   .09
1958   .38   .23   .17    .1   .11   -.2   .04  -.13   -.1   .07     .07  -.08     .05   .08   .26   .13   -.1   .01
1959   .03   .07   .25   .19  -.01   .09   .08    .0  -.12   -.1     -.1    .1     .04   .02   .01   .14   .06  -.11
1960   .08   .26  -.47  -.21  -.15  -.02  -.12   .08   .07   .13     -.1   .18    -.02  -.03   .15  -.28  -.02   .03
1961   .09   .23   .04   .14   .19   .08  -.01   .04   .16   .08     .07  -.14     .08   .11   .17   .12   .04    .1
1962   .07   .16   .09   .06  -.11   .04  -.12  -.08  -.01    .0     .08    .0     .01    .0   .03   .01  -.06   .02
1963  -.02   .22  -.24  -.19  -.14   .01   .06   .15   .21   .07     .05  -.07     .01   .02   .07  -.19   .07   .11
1964  -.07  -.17   -.3  -.37  -.35  -.16  -.08  -.33  -.36  -.34    -.21  -.34    -.26  -.23   -.1  -.34  -.19  -.31
1965  -.06  -.18  -.13  -.29  -.16  -.18  -.24  -.09  -.24  -.11    -.13   -.2    -.17  -.18  -.19  -.19  -.17  -.16
1966  -.25  -.04   .12  -.11  -.09  -.02    .1  -.13  -.05  -.27    -.07  -.08    -.07  -.08  -.16  -.03  -.02  -.13
1967  -.09  -.25   .01   -.1   .15  -.12   .04   .03  -.01   .11     .01  -.01    -.02  -.02  -.14   .02  -.02   .04
1968   -.2  -.16   .32  -.09  -.18   -.1  -.12  -.09  -.29   .05    -.08  -.22     -.1  -.08  -.12   .02   -.1  -.11
1969  -.17  -.26  -.09    .1   .13   .02  -.03   -.1   .01   .06     .08   .34     .01  -.04  -.22   .05  -.04   .05
1970   .05   .27   .11   .12  -.06   .14   .08  -.07   .15    .1     .03  -.11     .07    .1   .22   .05   .05   .09
1971  -.03  -.15  -.21  -.06  -.07  -.21  -.11   .03   .04  -.03    -.12  -.06    -.08  -.08   -.1  -.11  -.09  -.04
1972  -.32  -.31  -.06  -.07  -.01   .08   .05   .19   .06  -.04    -.07   .14    -.03  -.05  -.23  -.05   .11  -.02
1973   .25   .32   .36   .35   .35    .3   .22   .07   .12   .21      .1  -.02     .22   .23   .24   .35    .2   .14
1974  -.04  -.22    .0  -.07   .03   .04  -.01   .14  -.15  -.06    -.06  -.04    -.04  -.03  -.09  -.01   .06  -.09
1975   .09    .1   .16   .05   .28   .07   .08  -.25  -.01  -.03    -.06  -.22     .02   .04   .05   .16  -.03  -.03
1976  -.01  -.07   -.3  -.22  -.24  -.17  -.14  -.22  -.15  -.37    -.17  -.03    -.17  -.19   -.1  -.25  -.18  -.23
1977   .13   .23   .31   .31   .31   .33    .3   .31  -.08   .01     .25   .15     .21    .2   .11   .31   .31   .06
1978   .13   .18   .28   .25   .21   .06    .2  -.16   .17   .05     .17   .11     .14   .14   .16   .24   .03   .13
1979   .18  -.09   .24    .2   .08   .23   .04   .13   .29   .28     .31   .54      .2   .17   .07   .17   .13   .29
1980   .36   .45   .42   .46   .47   .23   .37   .33   .35   .23     .28   .17     .34   .37   .45   .45   .31   .29
1981   .61   .57   .68    .5   .31   .39   .51   .52   .29   .13     .25   .49     .44   .41   .45    .5   .48   .22
1982   .13   .26  -.02   .02   .25   .03   .19   .09    .1   .02     .11    .4     .13   .14   .29   .08    .1   .08
1983    .5   .41   .47    .4   .49   .29   .21   .48   .57   .32     .33   .17     .39   .41   .44   .45   .33   .41
1984   .25   .16   .38   .17   .48   .05   .18   .28   .27   .23      .1   .03     .22   .23    .2   .34   .17    .2
1985   .31   .05   .26   .19   .23   .28   .06   .35   .26   .16      .1   .16      .2   .19   .13   .23   .23   .17
1986   .38    .5   .37   .42   .32   .15   .15   .19   .01   .12     .11    .2     .24   .24   .34   .37   .17   .08
1987   .43   .53   .24   .39   .29   .55   .59   .25   .35   .35      .3   .56      .4   .37   .39   .31   .46   .33
1988   .66   .48   .56   .49   .62   .58   .44   .55   .54   .51     .14   .35     .49   .51   .56   .55   .53    .4
1989   .28   .45   .46   .42   .22   .18   .46   .51   .53   .44     .21   .38     .38   .38   .36   .37   .38   .39
1990   .51   .42   .86   .62   .52   .46   .62   .43    .3   .52     .52   .46     .52   .51   .43   .67    .5   .45
1991   .48   .61   .47   .71   .43    .7   .63   .56   .61   .34     .32   .34     .52   .53   .52   .54   .63   .43
1992    .5   .43   .54   .23   .26   .29   .08   .14  -.06   .07     .02   .25     .23   .24   .42   .34   .17   .01
1993   .38   .41   .34    .3   .27   .26   .38   .22    .1   .22     .09   .21     .27   .27   .35    .3   .29   .14
1994   .39   .08   .25   .52   .25   .56    .4   .23   .44   .41     .51   .43     .37   .35   .23   .34    .4   .45
1995   .56   .89    .5   .58   .38   .51   .63   .58   .46   .67     .52    .4     .56   .56   .63   .49   .57   .55
1996   .41    .6   .45   .48   .34   .33   .55   .77   .41   .33     .49   .52     .47   .46   .47   .42   .55   .41
1997   .47   .54   .65   .38   .42   .66   .34   .43    .5    .6     .71   .69     .53   .52   .51   .48   .48    .6
1998   .71  1.19   .82   .83   .94  1.04   .91   .87    .6   .68     .65   .81     .84   .83   .87   .87   .94   .64
1999   .68   .87   .48   .43   .49   .63   .65   .55   .67   .63     .58   .53      .6   .62   .79   .47   .61   .63
2000   .31   .79   .69   .76   .56   .69   .63    .6   .57   .34     .48   .47     .57   .58   .54   .67   .64   .46
2001   .59   .64   .69   .62   .73   .66   .71   .66    .7   .62     .84   .73     .68   .66   .57   .68   .67   .72
2002   .97   .91  1.12    .8   .87   .66   .82   .69   .82   .64     .69   .54     .79   .81   .87   .93   .72   .71
2003   .91   .74   .71   .69   .87   .64   .65   .86   .83   .89     .66   .85     .77   .75   .73   .76   .72   .79
2004   .71   .92   .85   .76   .48   .64   .24   .58   .59   .83     .87   .67     .68   .69   .83    .7   .49   .76
2005   .97   .88   .93   .84   .75   .82    .8   .75   .96   .99      .9   .89     .87   .85   .84   .84   .79   .95
2006   .74   .93   .81   .67    .5   .77   .68   .83   .72   .84     .87   .93     .77   .77   .85   .66   .76   .81
2007  1.23   .92   .91   .93   .94   .66   .78   .86   .82    .8     .69    .7     .85   .87  1.02   .93   .77   .77
2008   .49   .44   .91   .66   .57   .52   .72    .4    .8   .74      .8   .72     .65   .64   .54   .71   .54   .78
2009   .75   .76   .65   .75   .79   .82   .86   .86   .91   .73     .85   .75     .79   .79   .74   .73   .85   .83
2010   .95  1.04  1.13  1.01   .96   .86   .74   .83   .88   .96     1.0    .7     .92   .93   .92  1.03   .81   .94
2011   .73   .66   .77   .84   .65   .74   .91   .96   .78   .85     .78   .79     .79   .78    .7   .75   .87    .8
2012   .61   .58   .71    .8   .96   .71   .58   .86    .9   .95     .94   .72     .78   .78   .66   .82   .72   .93
2013   .98   .78   .86   .67   .68   .88   .66   .79   .99   .86     .87   .84     .82   .81   .82   .73   .78   .91
2014   .95   .64    .8   .89  1.04   .77   .73   .86  1.07  1.04     .82   .97     .88   .87   .81   .91   .79   .98
2015   .94  1.07   1.1   .79   .88   .86   .77   .86   .81  1.18    1.21  1.42     .99   .95   1.0   .92   .83  1.07
2016  1.34     *     *     *     *     *     *     *     *     *       *     *       *     *     *     *     *     *