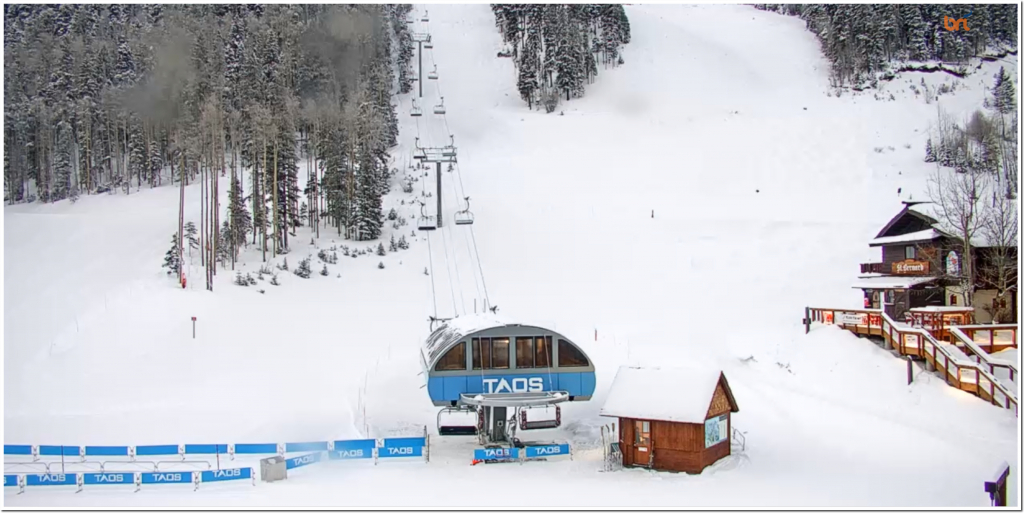 Web camera video hosting by Brownrice Internet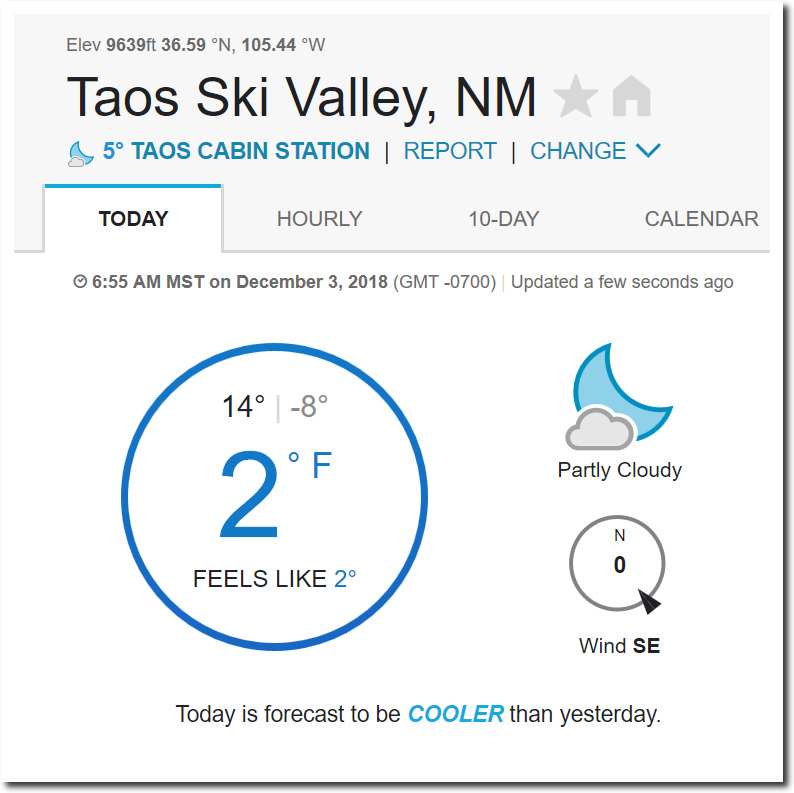 Earlier this year, carpetbagging Senator Tom Udall and his fascist buddy Sheldon Whitehouse warned us about this.
Today, U.S. Senator Tom Udall delivered a speech on the Senate floor to highlight the devastating impacts that climate change is having on New Mexico and the Southwest, and urged immediate and concrete action to mitigate the effects of climate change. Udall joined Rhode Island Senator Sheldon Whitehouse on the floor in honor of his 200th "Time to Wake Up" to the threat of climate change speech.

tourism and recreation – is threatened by reduced streamflow and a shorter snow season. Ski Santa Fe used to always open Thanksgiving weekend
VIDEO: Udall: Climate Change Presents the Greatest Threat our Nation and World Now Confront | U.S. Senator Tom Udall of New Mexico
Ski Santa Fe opened up on Thanksgiving Day.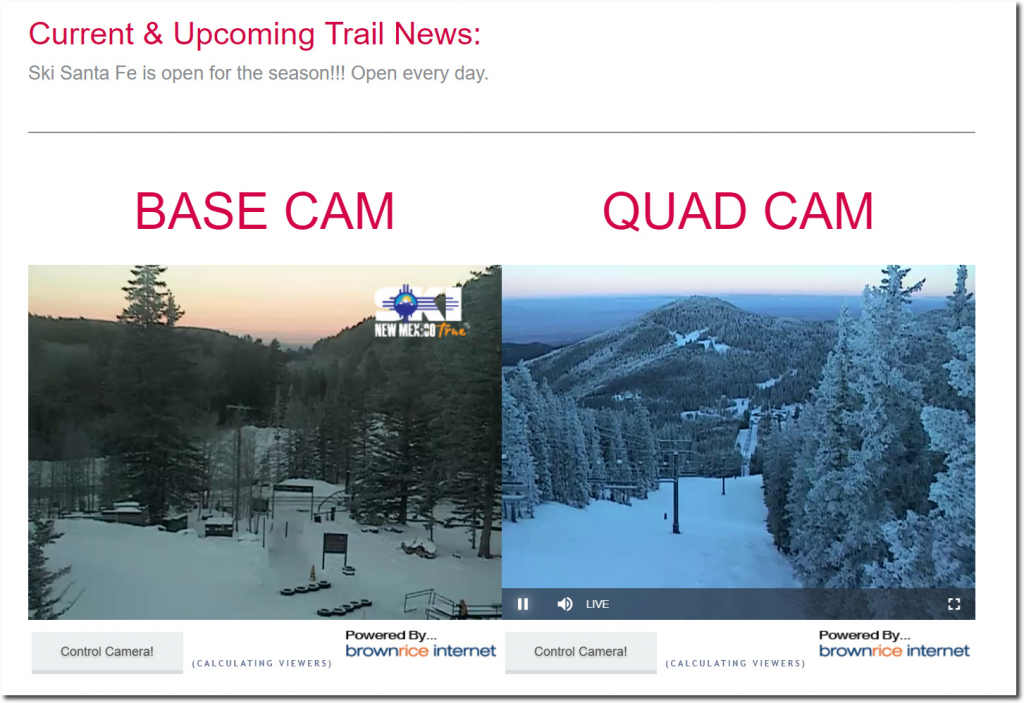 All Mountain Snow Report – Ski Santa Fe
I found this article from the Santa Fe newspaper on opening day very telling. When people watch television, they think the world is falling apart and get unhappy.  When they turn the television off, they get happy.
Ski Santa Fe starts season with much promise

By Robert Nott | rnott@sfnewmexican.com Nov 22, 2018

Guimel Acton of San Angelo, Texas, said she was thinking the same thing as she watched her husband and two children enjoy the slopes. She said the family drives to New Mexico every year to enjoy opening day at Ski Santa Fe because "we get to spend the day together, doing something fun and not watching TV.

This is a day to give thanks for that. "Being healthy, being happy — there is so much to be happy about in our lives if we don't concentrate on all the bad stuff."
Ski Santa Fe starts season with much promise | Local News | santafenewmexican.com
In a 2012 guest editorial in that paper, I explained that drought in New Mexico is cyclical. A year later was one of the wettest summers on record in New Mexico.
Reader View: Drought is normal for New Mexico – The Santa Fe New Mexican
Last year I explained that there is no conspiracy against the climate.
I was born and raised in Los Alamos, worked as a scientist at Los Alamos and Sandia national laboratories, and have been an active environmentalist all my life. Forty-five years ago this May, I traveled with my high school history teacher, Mary Louise Williams of El Rancho, to a congressional hearing and testified in support of the Escalante Wilderness in Utah. I was active in the fight for the clean air and water acts. I volunteered for two summers during the 1980s as a wilderness ranger in the Cibola and Santa Fe National Forests.

I now live in Boulder, Colo., and do all my commuting and shopping on a bicycle. I'm a well-known blogger in support of cycling, mass transit and protecting the environment. But I am best known as a climate change skeptic who is closely aligned with the Trump administration and the Trump Environmental Protection Agency. I provide much of the historical climate information used by the Trump EPA transition team and congressional Republicans.

Last week, I was attacked by The New York Times as part of a wildly misleading hit piece against EPA administrator Scott Pruitt. A similar article attacking Pruitt ("EPA head rejects climate change science," March 10) was published by The Washington Post and reprinted in The New Mexican.

As an insider, I know that there is no conspiracy against science or the environment in the Trump administration or at the Trump EPA. Quite the opposite — they are very serious about protecting the environment. The Obama EPA was obsessed with carbon dioxide and ignored actual pollution problems like the Flint, Mich., water supply. Two years ago, the EPA directly caused one of the largest toxic waste spills in the Animas River in Colorado after being warned for weeks to stop its activities there. No one in the EPA was ever held accountable or punished for that disaster.

The Washington Post story featured Pruitt's statement, "There is tremendous disagreement about [human impact] on climate." This is not an attack on science, it is a statement of fact. A 2013 survey of professional members of the American Meteorological Society found that only 52 percent believe humans are primarily responsible for global warming. No legitimate survey of scientists has ever come close to the 97 percent number used in TheWashington Post article. Mark Twain famously said, "There are lies, damned lies, and statistics."

Dr. William Gray of Colorado State University, who passed away last year at age 86, was a good friend of mine. He invented modern hurricane forecasting and was the best respected tropical meteorologist in the world. Dr. Gray was very vocal against exaggerated claims about global warming. On his deathbed, he asked me to continue his legacy against climate hysteria.

Former U.S. senator from New Mexico, Dr. Harrison Schmitt, is the only scientist to have walked on the moon and is a well-known climate change skeptic. Physicist Freeman Dyson is a well-known climate change skeptic and was once described by The New York Times as being "infinitely smart." Dr. Edward Teller was father of the American hydrogen bomb and was a well-known climate change skeptic. Dr. William Happer of Princeton is President Donald Trump's likely science adviser and a well-known climate change skeptic. There are tens of thousands of scientists who agree with Pruitt's questions about human impact. Science is about open discussion and debate, not dogma, censorship and personal attacks.

Eighty-four percent of U.S. counties voted for President Trump. Let's work together with our new president and the rest of America to keep America's environment great.

Tony Heller is a Los Alamos native and active environmentalist.