Forty-five years ago I was a senior in high school, deciding where to go to college. I spent a few days in a dormitory at the University of New Mexico.  It was cold, snowy and ugly – I hated every minute of it.
The next weekend I flew down to Phoenix to visit ASU, and when I got on the plane my seat was in the middle of a bunch of 6′-5″ guys sporting Afros. It turned out that they had the Western Athletic Conference sports banquet in Albuquerque the night before, and I was sitting with Lionel Hollings from ASU, and Eric Money and Coniel Norman from the U of A. They were all very friendly, and Lionel asked if I wanted a ride to campus.
So I showed up on campus in a convertible with the star of the basketball team.  It was 80 degrees and there were nearly naked, beautiful women covering the lawn in front of Palo Verde Main. I thought I had died and gone to heaven.  My decision wasn't difficult, needless to say.
The campus was beautiful, open and fun back then – now it is a crowded urban mess, surrounded by hideous tall glass buildings and reeking of political correctness. La Casa Vieja has shut down. Both fraternity rows have been torn down, as has Palo Verde Main – where the sororities were housed.  But ASU was an incredible place in 1974.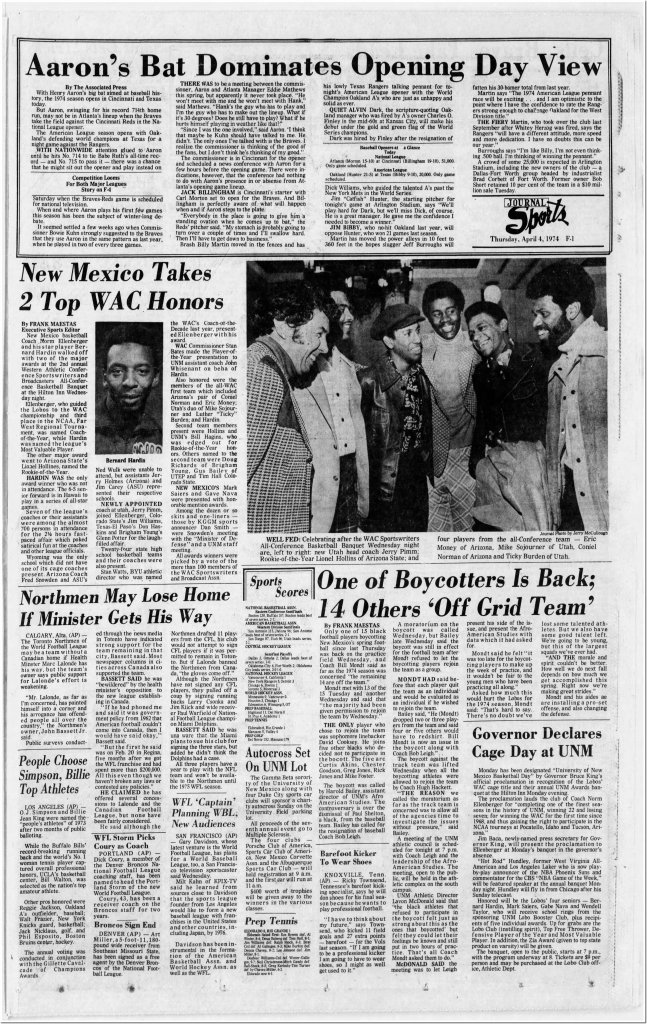 04 Apr 1974, Page 57 – Albuquerque Journal at Newspapers.com
The good news is that The Chuckbox is still there, is exactly the same as 45 years ago – and they have Lovebirds in the tree across the street.