As always, the press is hysterical about a hot day.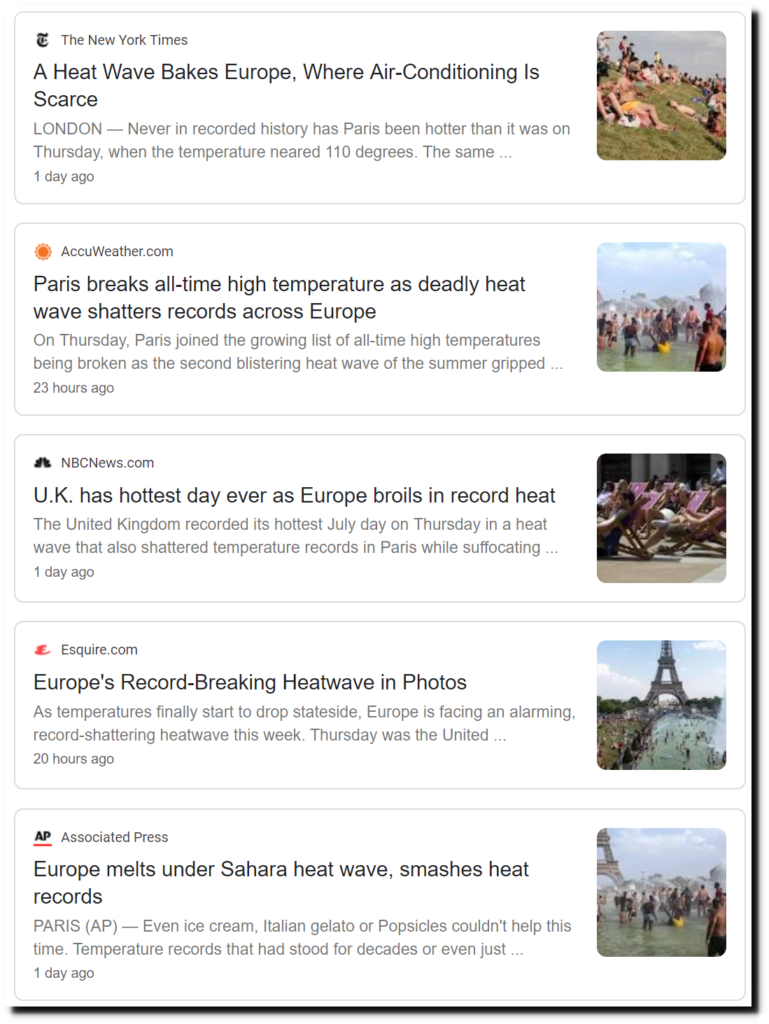 The summer of 2019 in Paris has been nearly identical to the summer of 1947 so far, though it looks like the rest of the summer will be cooler.
On July 25, Paris Le Bourget Airport reached 106F, one degree warmer than the 1947 peak. This is not surprising because the wind was blowing from the south across the massive Urban Heat Island of Paris.
Unfortunately, the 2003 data for Paris Le Bourget is missing from the NOAA archives, but other locations in France were much hotter in 2003.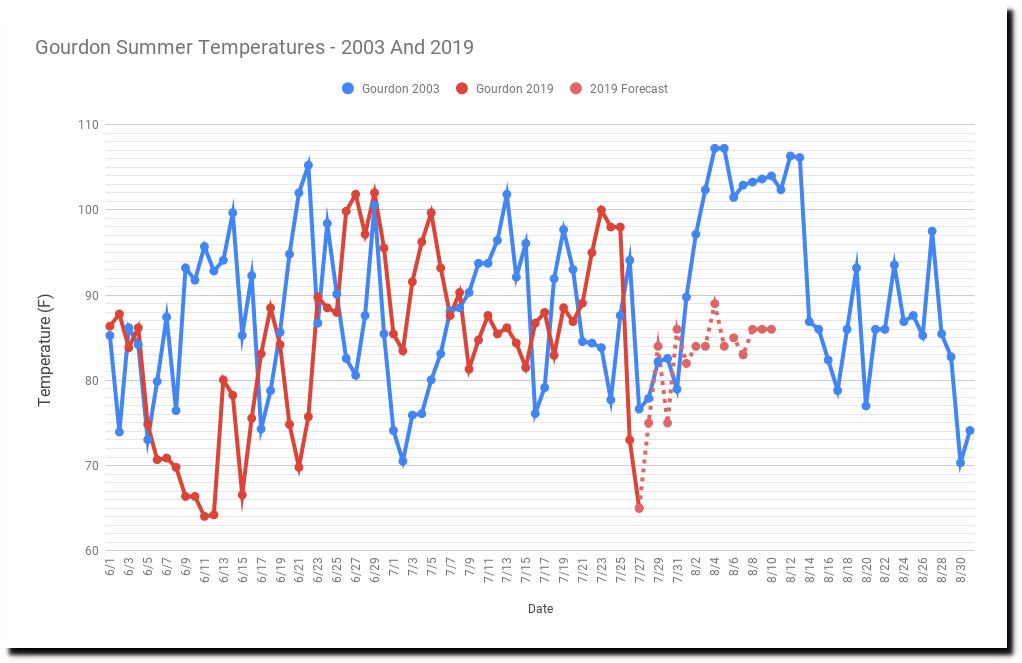 Europe's worst heatwave of the 20th century occurred in 1911, and lasted for more than two months – well into September.
Tens of thousands of people died in Europe from the heat during the summer of 1911.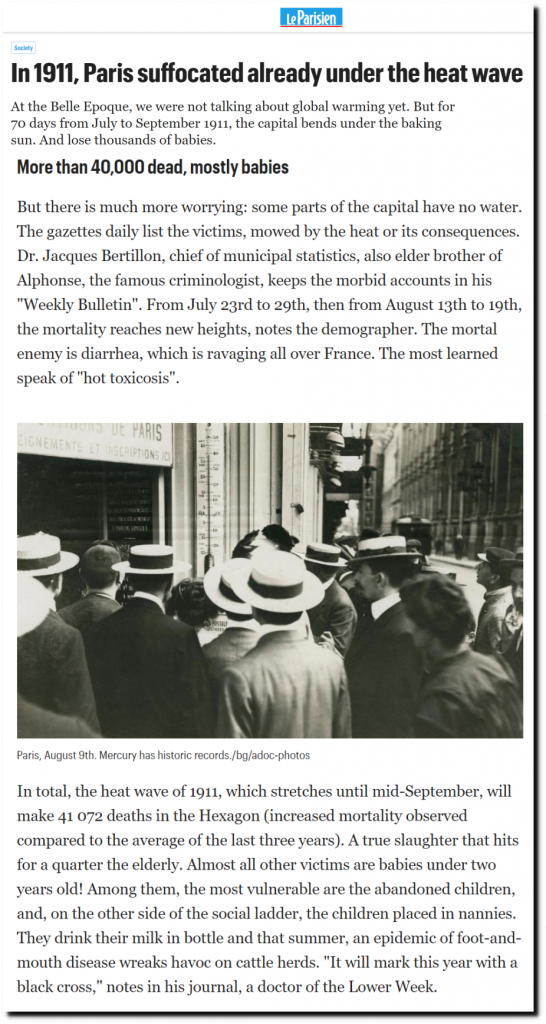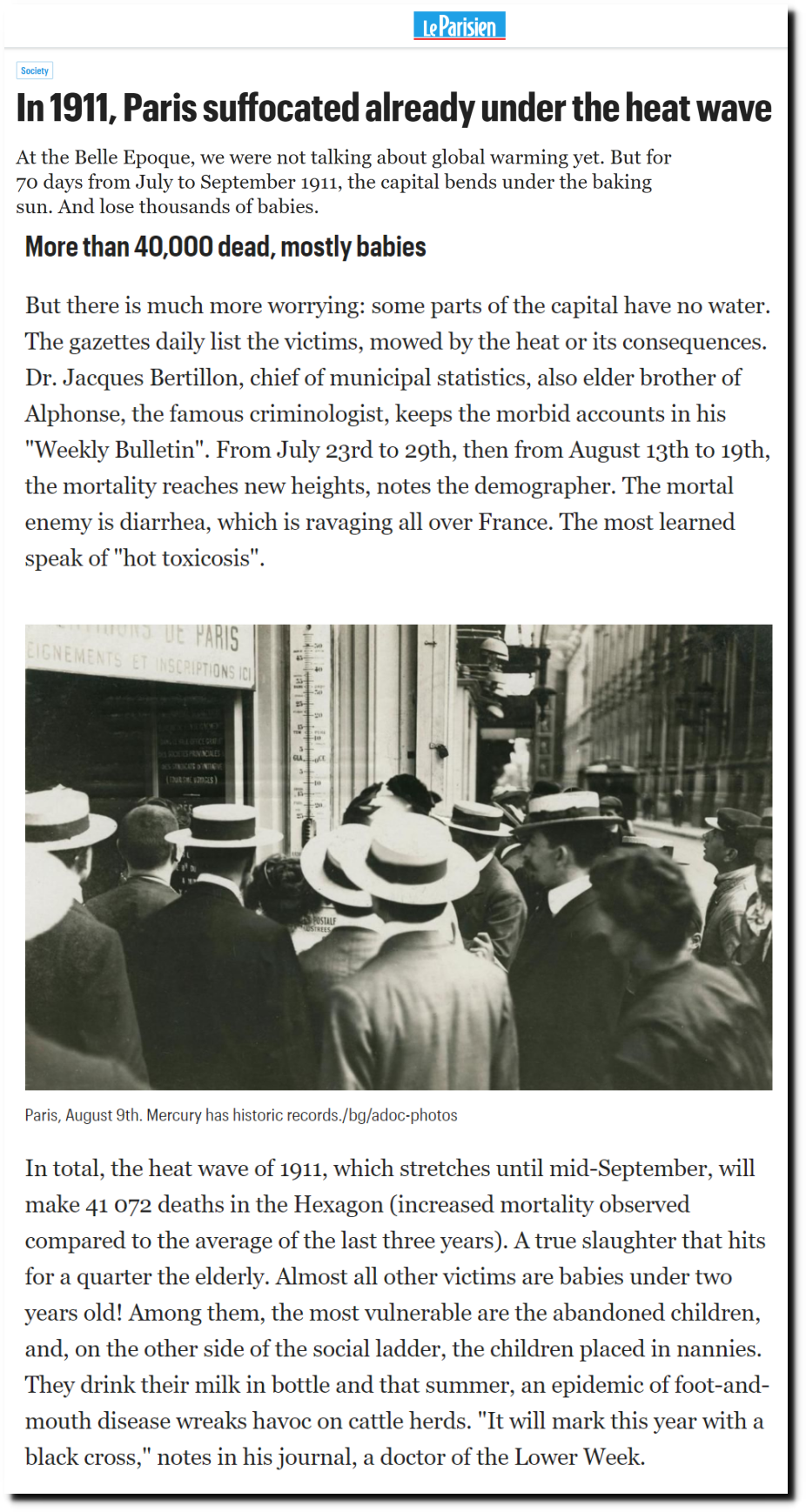 En 1911, Paris suffoquait déjà sous la canicule – Le Parisien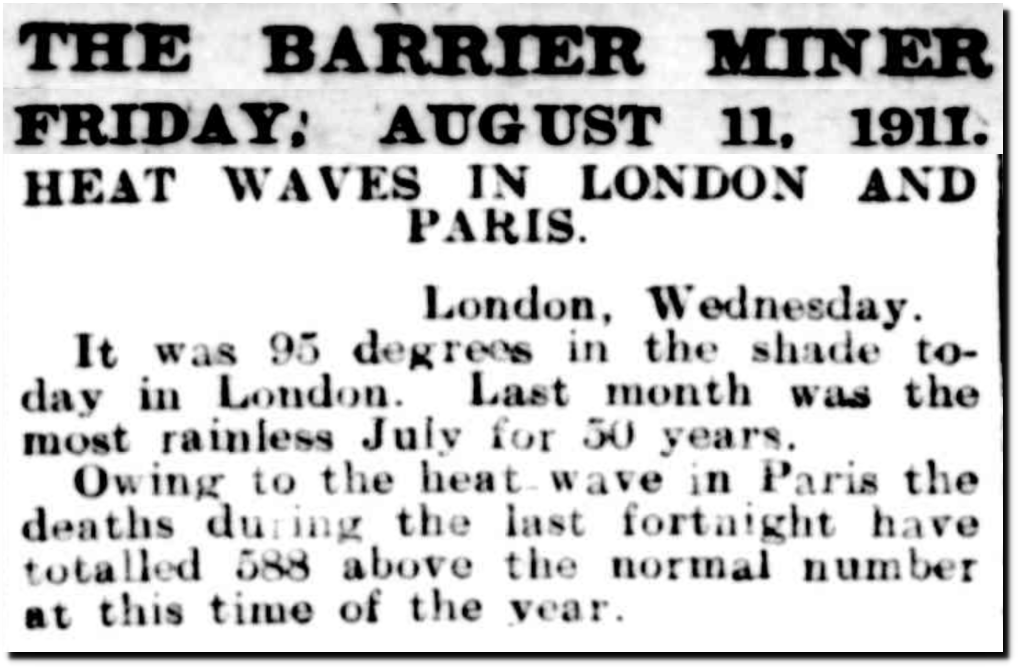 11 Aug 1911 – TERRIBLE HEAT WAVE. – Trove
Thousands of deaths in Europe and America.

11 Aug 1911 – TERRIBLE HEAT WAVE. – Trove
The Northeast US had their worst heatwave that summer. The three hottest days on record in the Northeast US all occurred during 1911.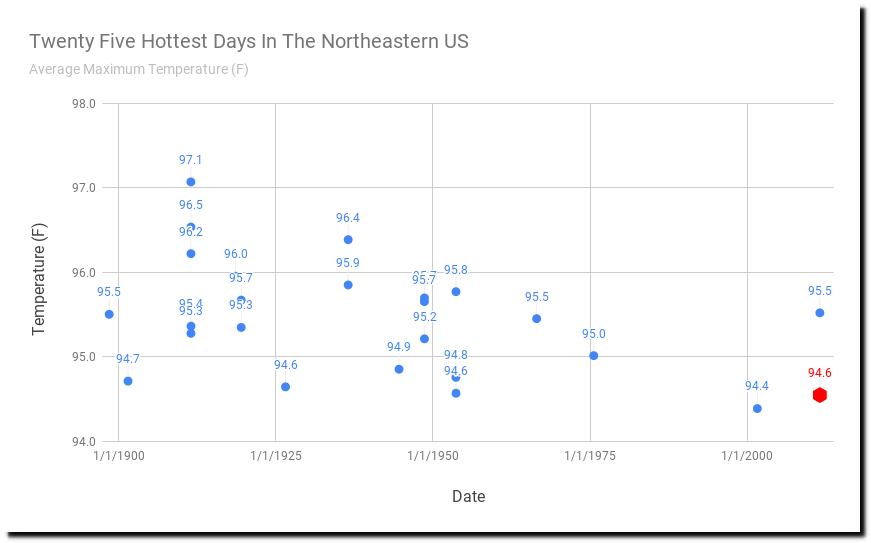 The hottest July 4th on record in the US occurred in 1911.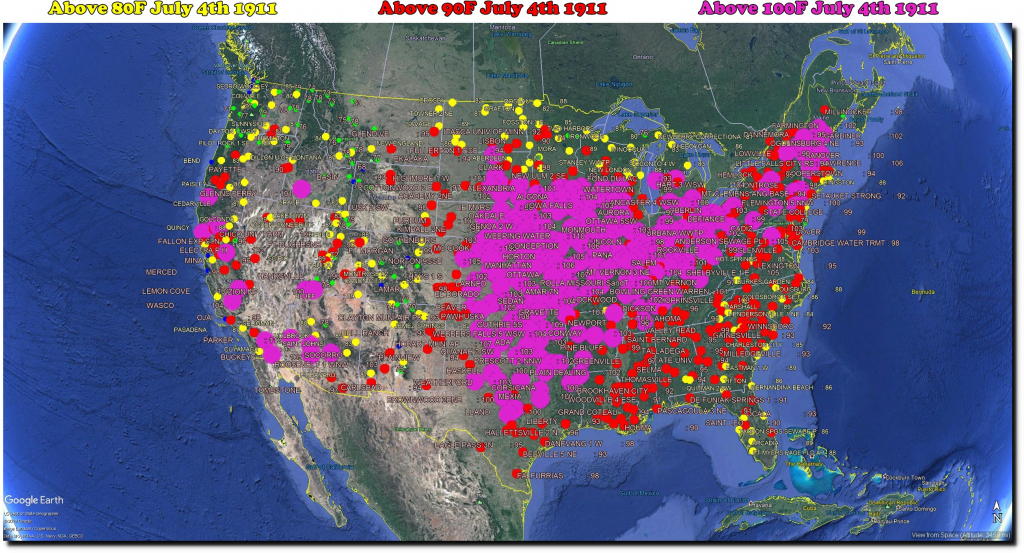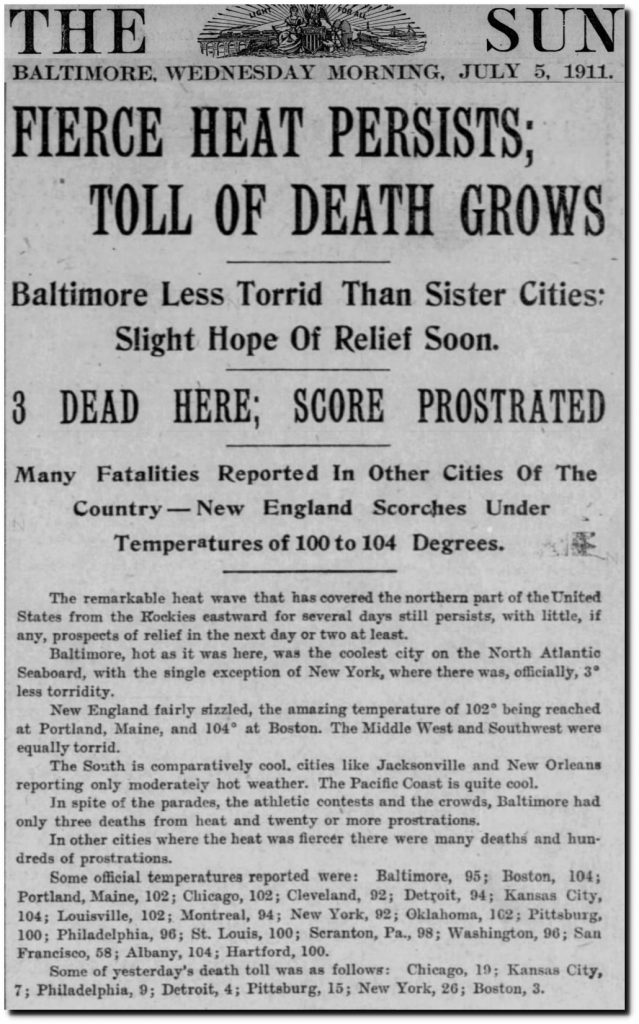 05 Jul 1911, 1 – The Baltimore Sun at Newspapers.com
May 1911 also brought an unprecedented heatwave to the Northeastern US. Almost ten degrees warmer than May, 2019.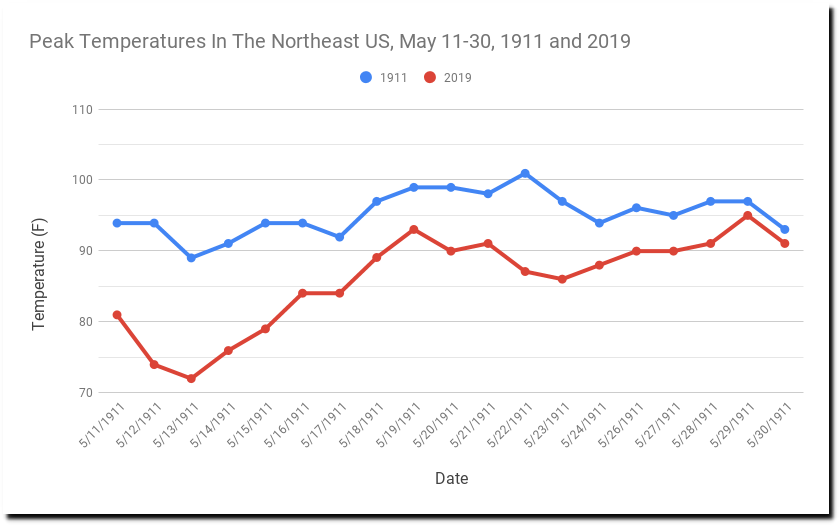 On May 22, 1911 it was 101 degrees at Lewiston, Maine, 100 degrees at Farmington, Maine and 102 degrees at Purcellville, Virginia. Temperatures like that are incomprehensible now in May.
The May heatwave caused hundreds of deaths.
22 May 1911, Page 1 – The Sydney Morning Herald at Newspapers.com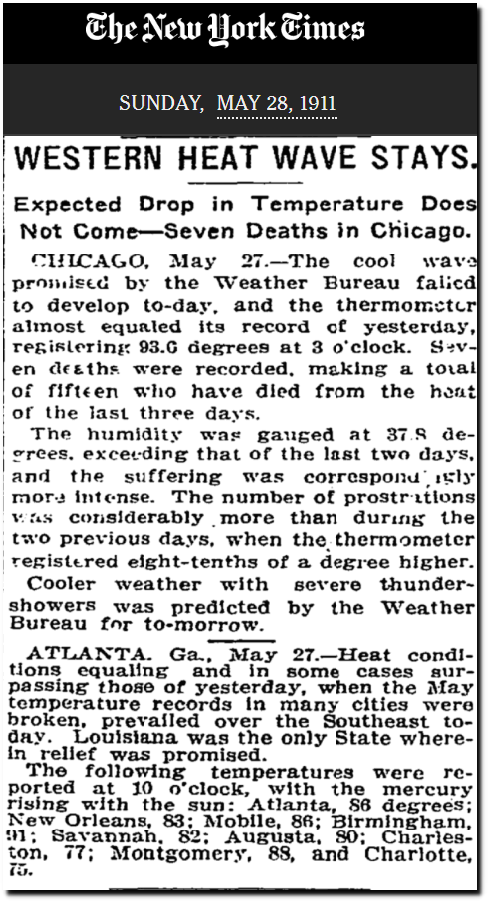 TimesMachine: Sunday May 28, 1911 – NYTimes.com
Women played baseball in cool summer outfits.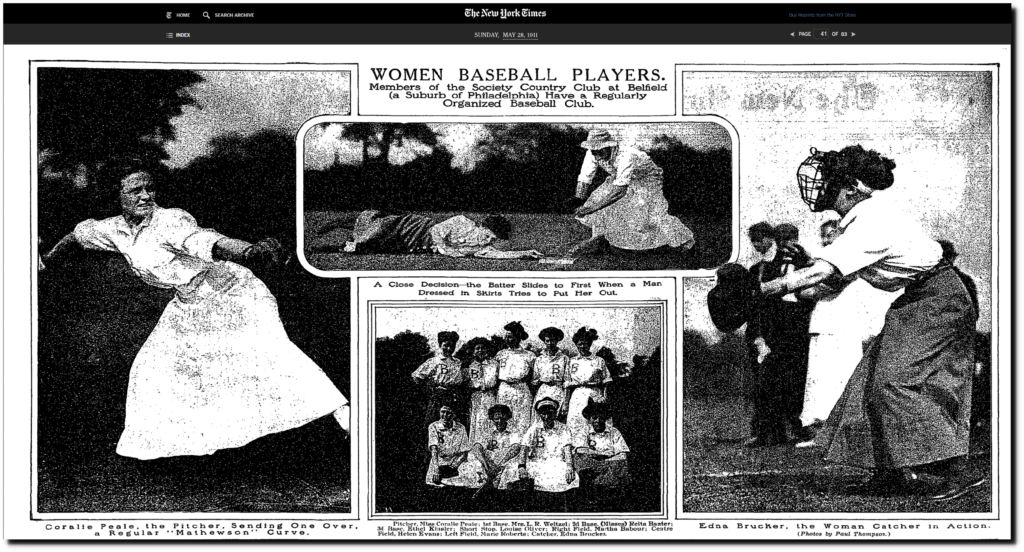 On February 1 1911 brought another unprecedented heatwave. It was 93 degrees in Oklahoma and Texas, 86 degrees in Kansas, 84 degrees in Missouri, 75 degrees in Illinois and 71 degrees in Indiana.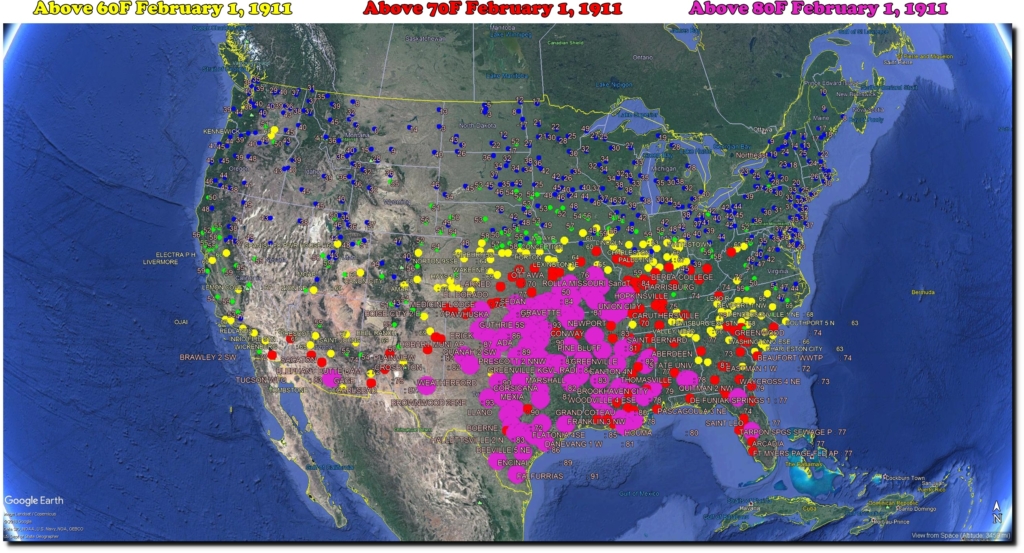 02 Feb 1911, Page 1 – Fort Scott Daily Tribune and Fort Scott Daily Monitor at Newspapers.com
Europe has been having terrible heatwaves and droughts for thousands of years. including 200,000 deaths in Paris in 1821.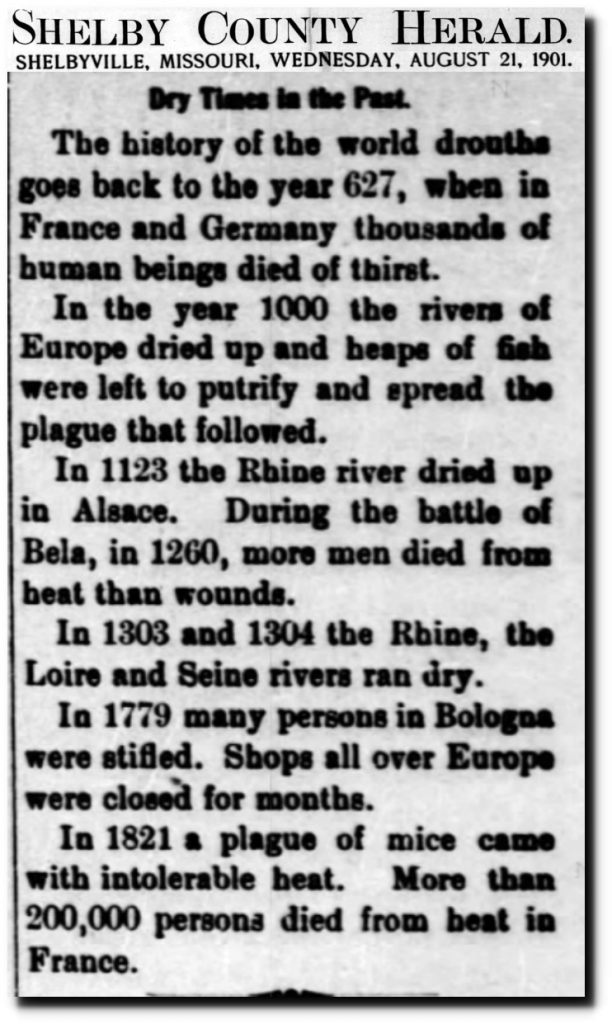 21 Aug 1901, Page 3 – Shelby County Herald at Newspapers.com
If climate scientists were actual scientists, they would want to understand what causes heatwaves – rather than mindlessly blaming CO2. The unprecedented heat of 1911 across America and Europe was not caused by CO2 – obviously something else controls heatwaves. And two years later, California set the world's record temperature of 134 degrees.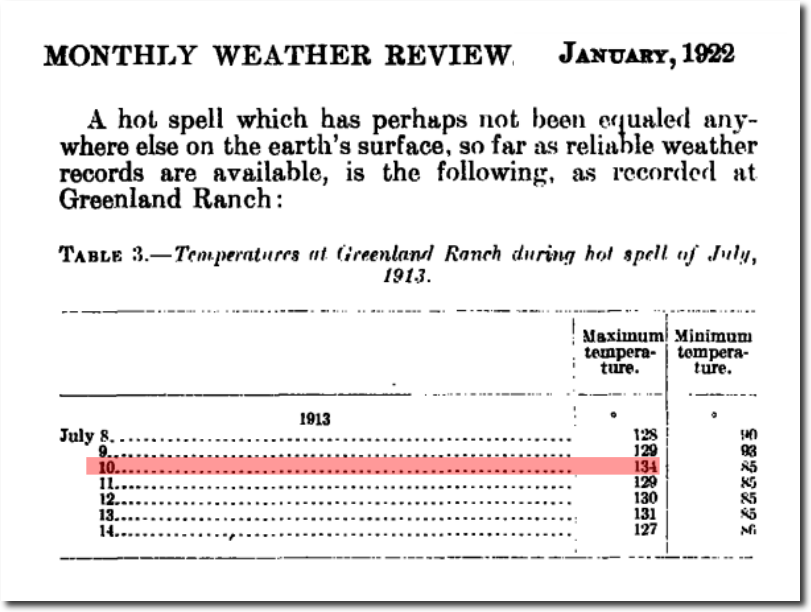 The July, 1913 heatwave was from coast to coast.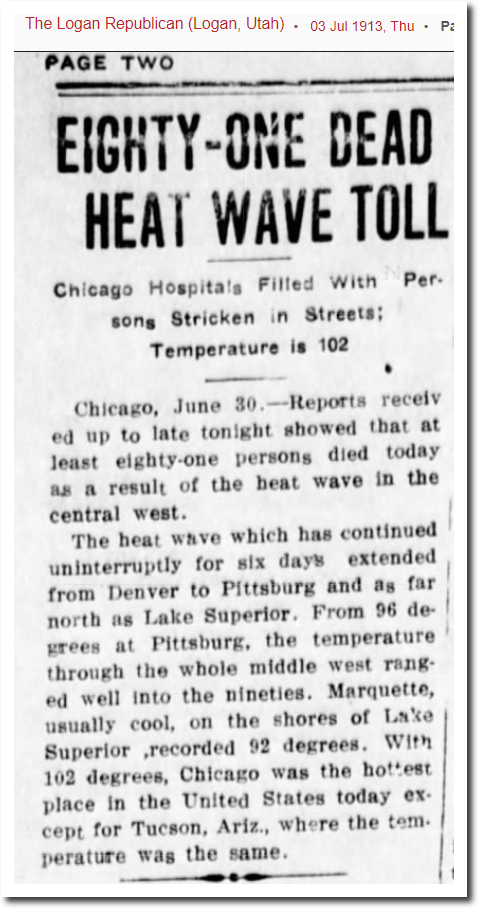 03 Jul 1913, Page 2 – The Logan Republican at Newspapers.com
The worst floods on record in the Ohio Valley occurred during 1913.
And Houston had some of their worst flooding in 1913.
It is unfortunate that climate scientists aren't interested in understanding climate – but that isn't what they are paid to do.