Climate Central published this map showing how Midwest winters are burning up since the 1970's.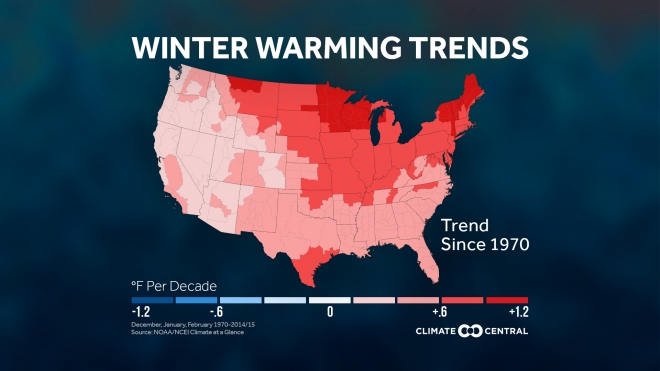 As the world continues to warm from the increase of greenhouse gases, the amount of extreme cold during winter will start to decrease. According to a 2013 report by Climate Central, nationwide nighttime winter temperatures since 1970 have risen about 30 percent faster than nighttime temperatures over the entire year. Every NOAA climate division has shown warming, with the Upper Midwest, Great Lakes, and New England warming the most over the past 45 years.
This is the standard climate fraud from people who are paid to lie about climate. They started their trend in the coldest decade of the temperature record. Had they started in any other decade and used the actual measured thermometer data, there would have been no warming or cooling. The warmest decade was during the 1930's, and recent years are about 2C cooler.