Earlier this month, fake news Bloomberg had a big story titled : Alaska's Big Problem With Warmer Winters 

Alaska's Big Problem With Warmer Winters – Bloomberg
March has been the coldest on record in Fairbanks so far, almost 50 degrees Fahrenheit colder than 1981. March temperatures in Fairbanks have plummeted over the last 35 years.
The warmest day in Fairbanks so far this month was 22F.
Earlier this winter, Alaska dropped to -54 degrees, and residents wanted to leave.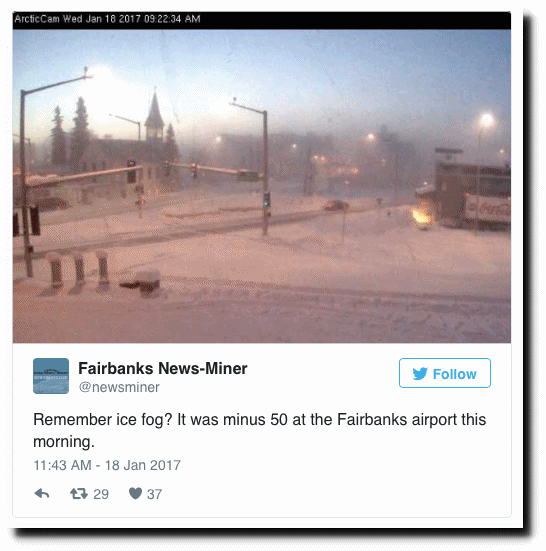 "I want to leave," Cynthia Erickson of Tanana, Alaska, told the Associated Press. "My teeth are frozen to my lips." In Tanana, the temperature dropped to 54 below zero on Wednesday, the coldest spot in the state. "It's just miserable," Erickson added. "I hate everybody who lives in a warm place."
Climatologists whose funding depends on fake climate news, predictably tried to invoke global warming, saying that cold weather used to be much more common in Alaska.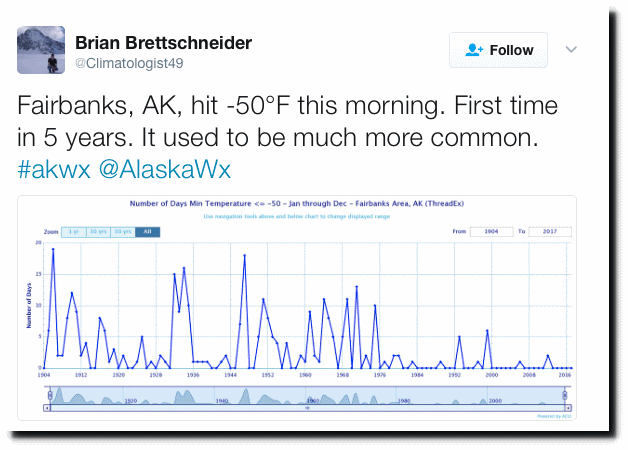 What Brian didn't bother to mention is that there was a step change at the PDO shift in 1976, and no change since then.

Alaska temperatures have hardly changed over the last 40 years. The changes which occurred 40 years ago were due to changes in ocean circulation, and had nothing to do with "global warming" or carbon dioxide.