From 1900 to 1970, the Northeast US was in drought most of the time, and was plagued with large forest fires. But since 1970, the Northeast has been wet and has had very little drought.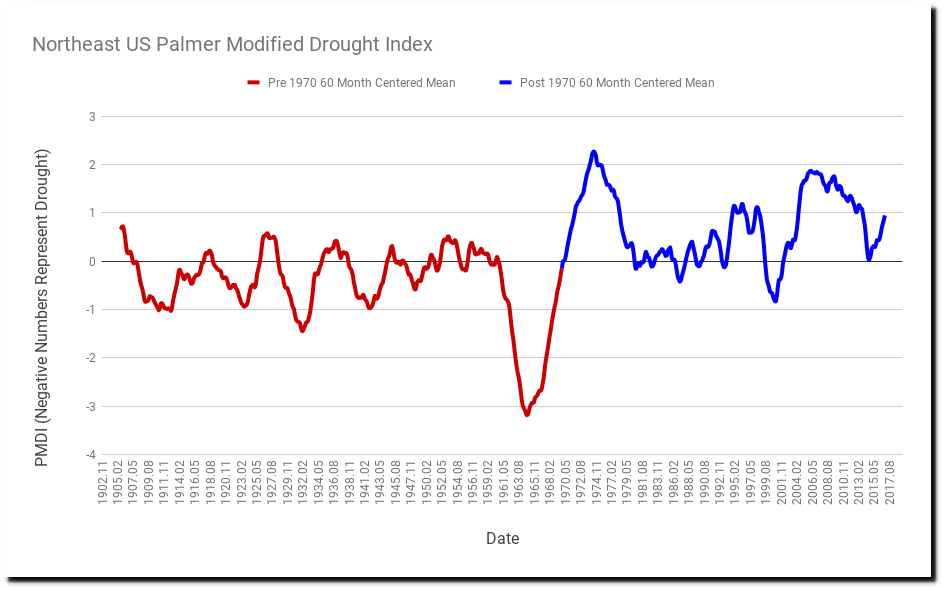 Climate at a Glance | National Centers for Environmental Information (NCEI)
During the 1960s drought, huge areas of forest were burning.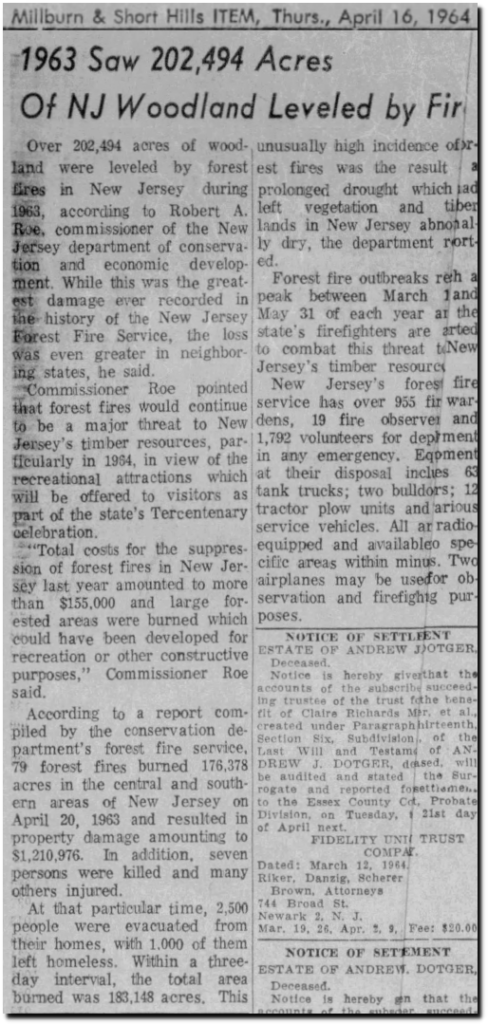 16 Apr 1964, 23 – The Item of Millburn and Short Hills at Newspapers.com
You don't see headlines like this one from 1947 any more.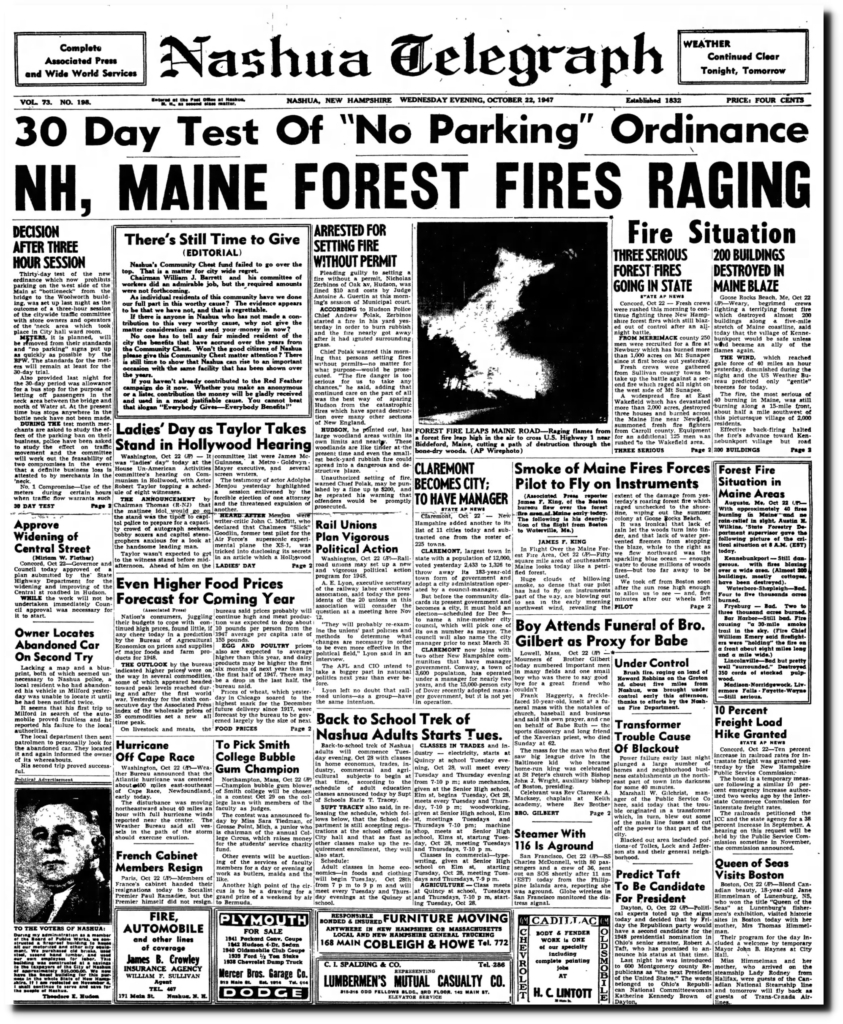 22 Oct 1947, Page 1 – Nashua Telegraph at Newspapers.com
Nearly one-half of Maine's Acadia National Park burned that year.
02 Nov 1947, 1 – The Boston Globe at Newspapers.com
Fires destroyed nine towns in Maine.

The Year a State Burned: Maine Fires of 1947 Wipe Out 9 Towns – New England Historical Society
An 1825 fire burned 2.5 million acres of New Brunswick in nine hours.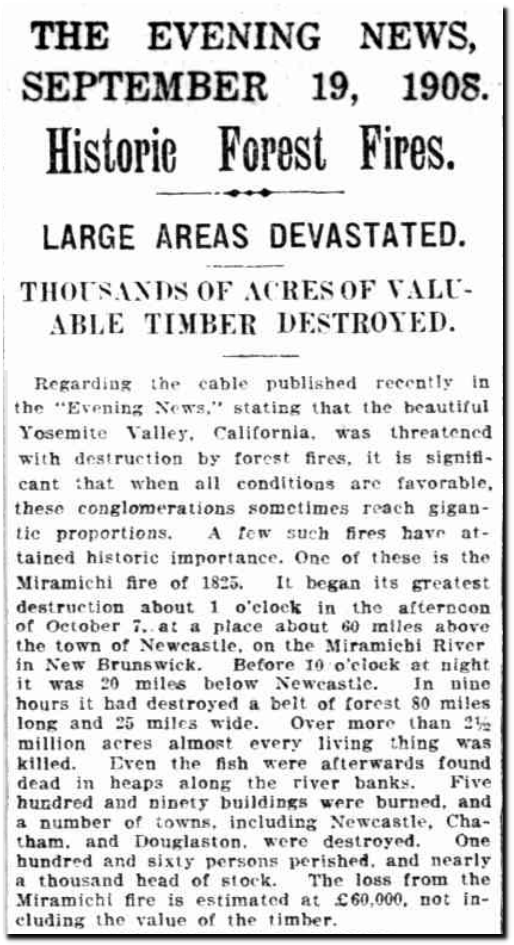 19 Sep 1908 – Historic Forest Fires. – Trove
New York City nearly ran out of water in the 1960s.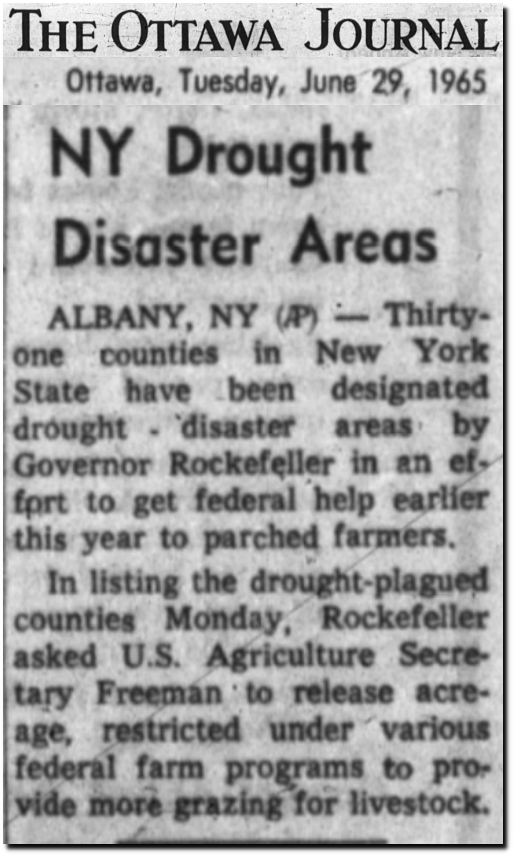 29 Jun 1965, Page 1 – The Ottawa Journal at Newspapers.com
08 Aug 1965, Page 1 – The Ogden Standard-Examiner at Newspapers.com
The Northeast used to get terrible heatwaves, but they are much less common now – with recent years among the least hot on record.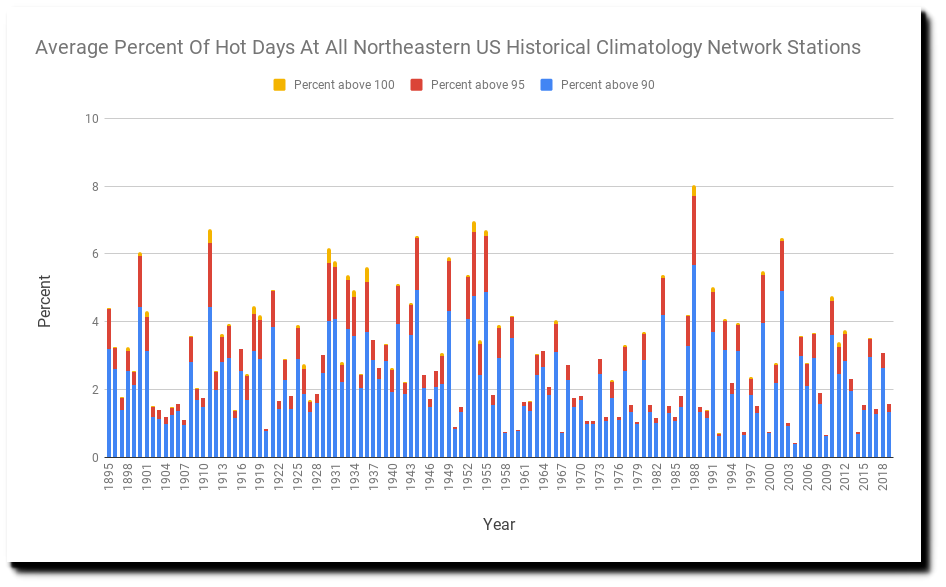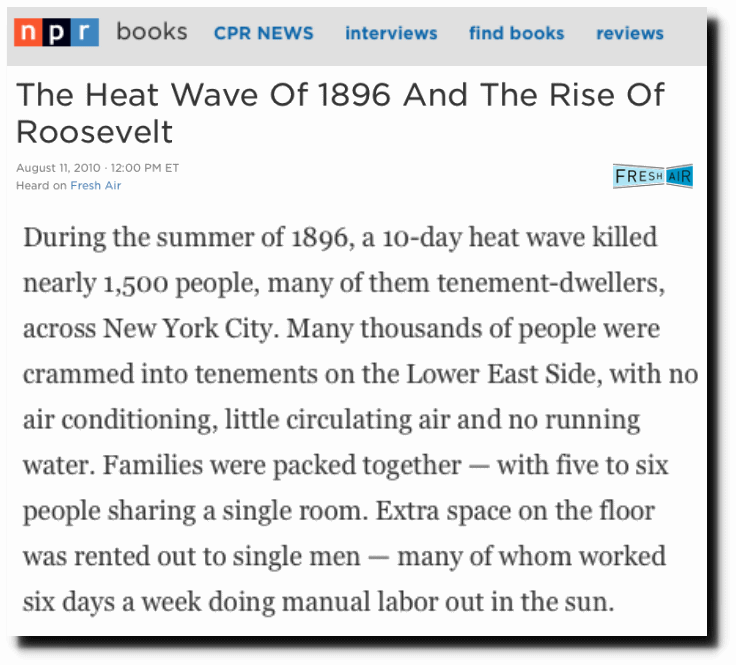 The 1901 heatwave killed thousands of people. The Northeast US was over 90 degrees every day except two from June 22 to July 31 that year, peaking at 107 degrees on July 2 at York, PA.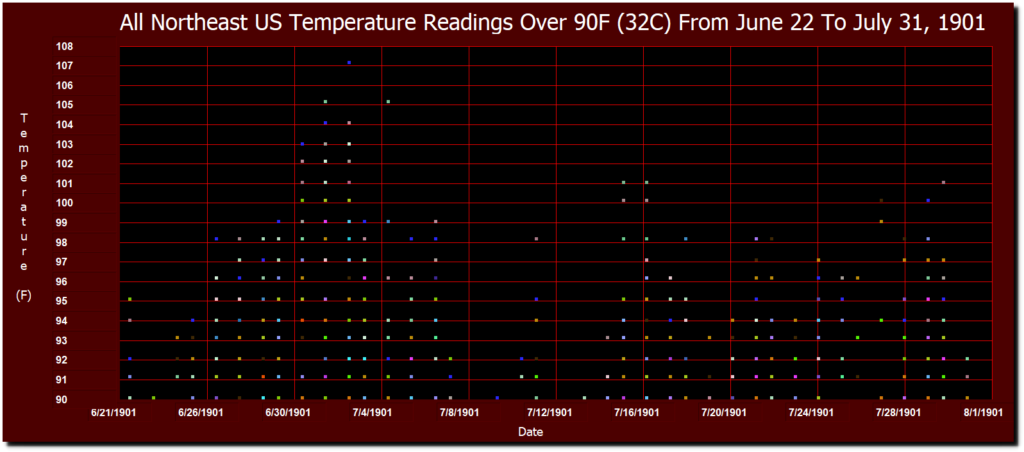 The 1911 heatwave killed thousands of people in New England and across the country.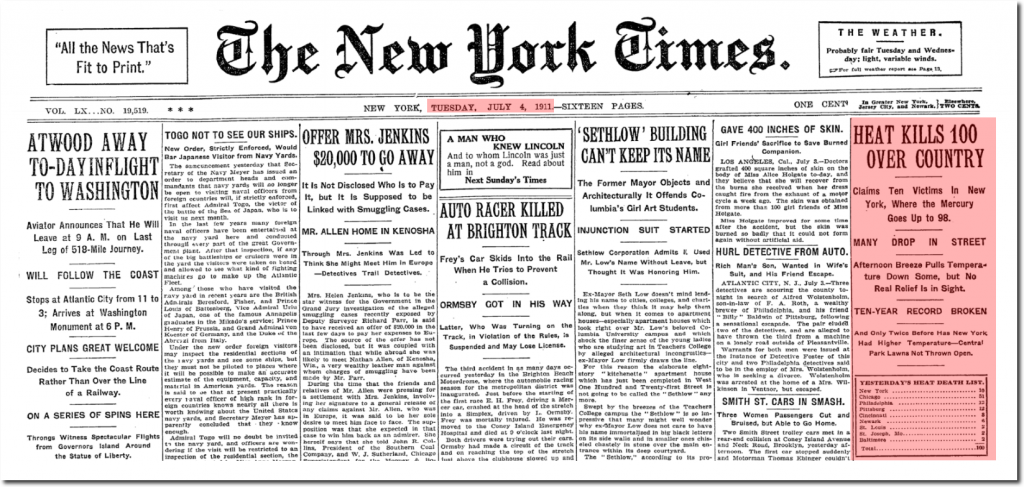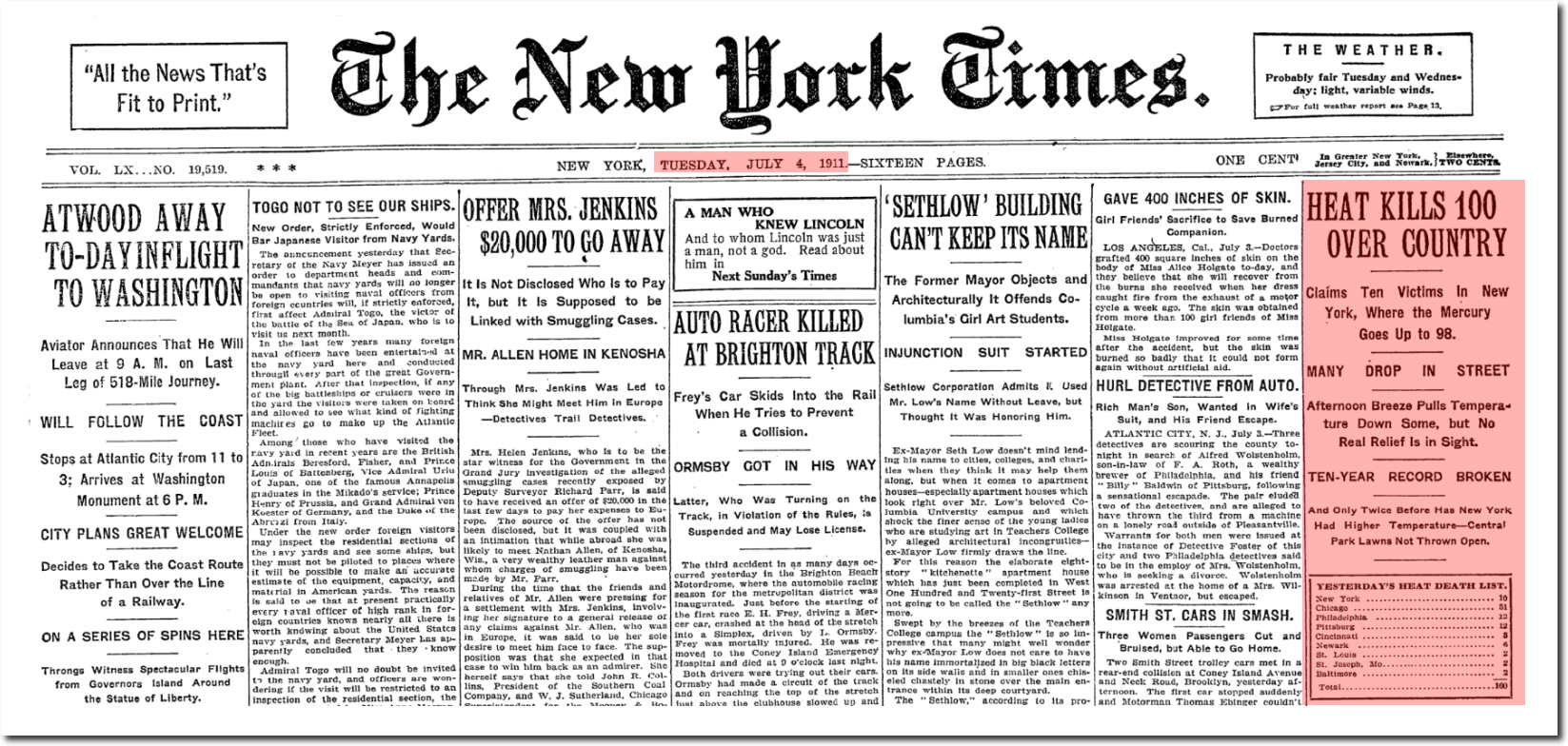 May, 1911 brought precedent 100 degree temperatures to Maine and Quebec. May 22, 1911 brought the hottest May temperatures ever recorded in Maine, Vermont and New Hampshire.
23 May 1911, Page 1 – Pittsburgh Daily Post at Newspapers.com
22 May 1911, Page 1 – The Sydney Morning Herald at Newspapers.com
This was followed by the hottest July 4th on record in the US, during a two week heatwave which killed thousands of people in New England. July 3rd, 1911 was the hottest day on record in New Hampshire.  July 4th, 1911 was the hottest day on record in Massachusetts and Vermont, and July 10, 1911 was the hottest day on record in Maine.
04 Jul 1911, Page 1 – The Scranton Republican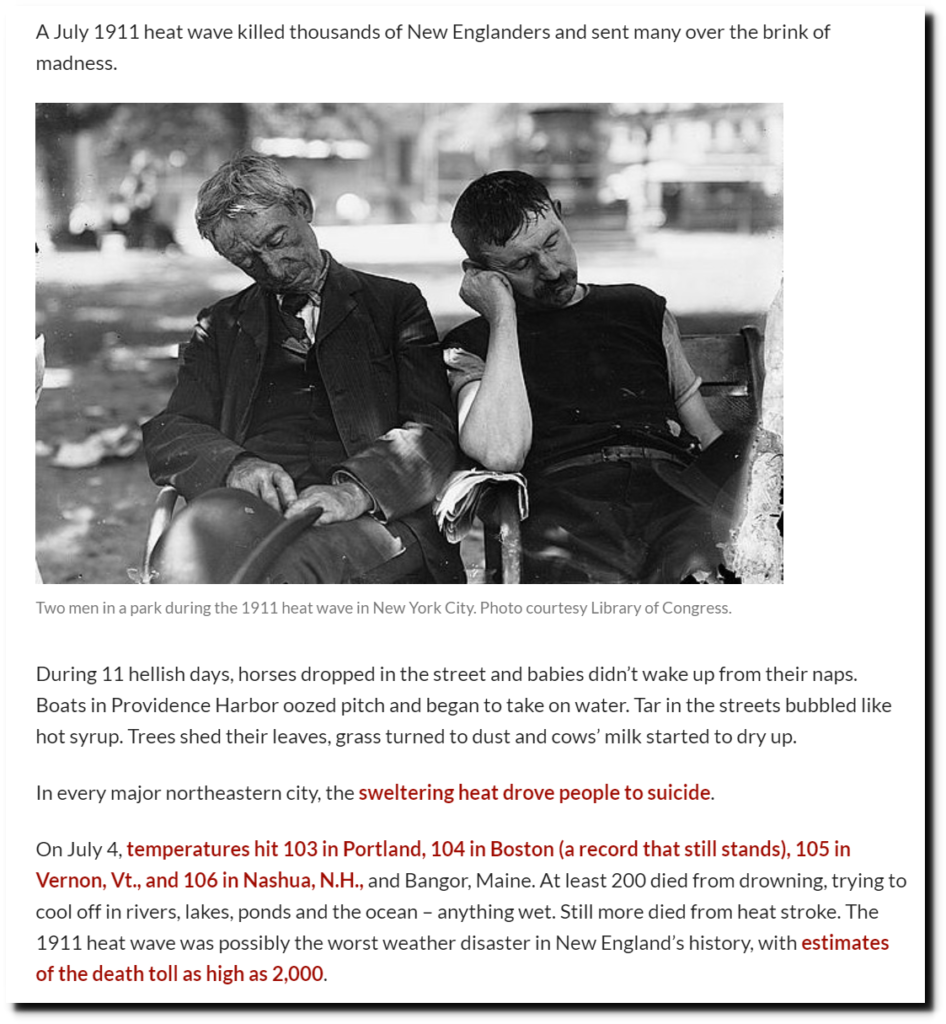 The 1911 Heat Wave Was So Deadly It Drove People Insane – New England Historical Society
July 4th. 1911 was the hottest on record in the US.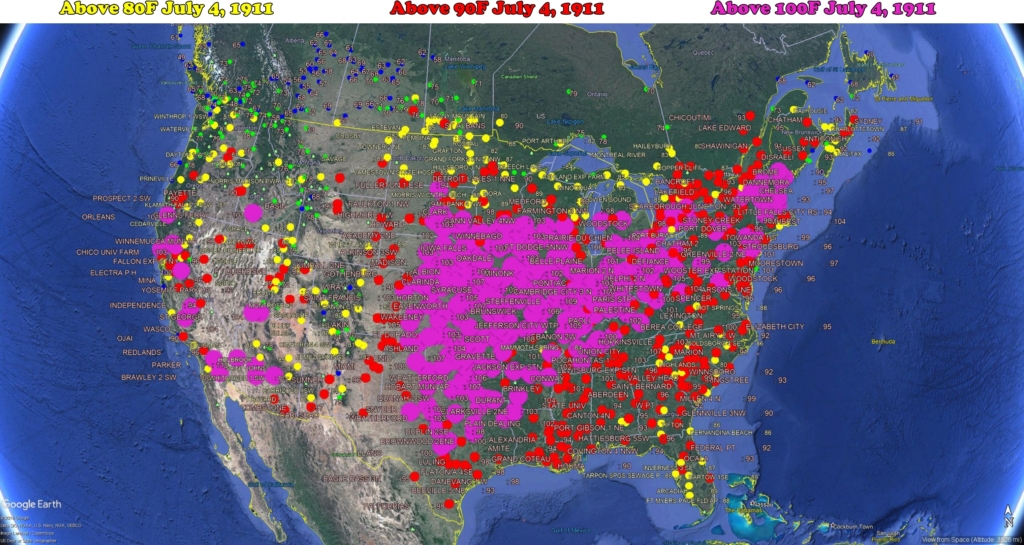 And Europe had a seventy day long heatwave which killed tens of thousands of people.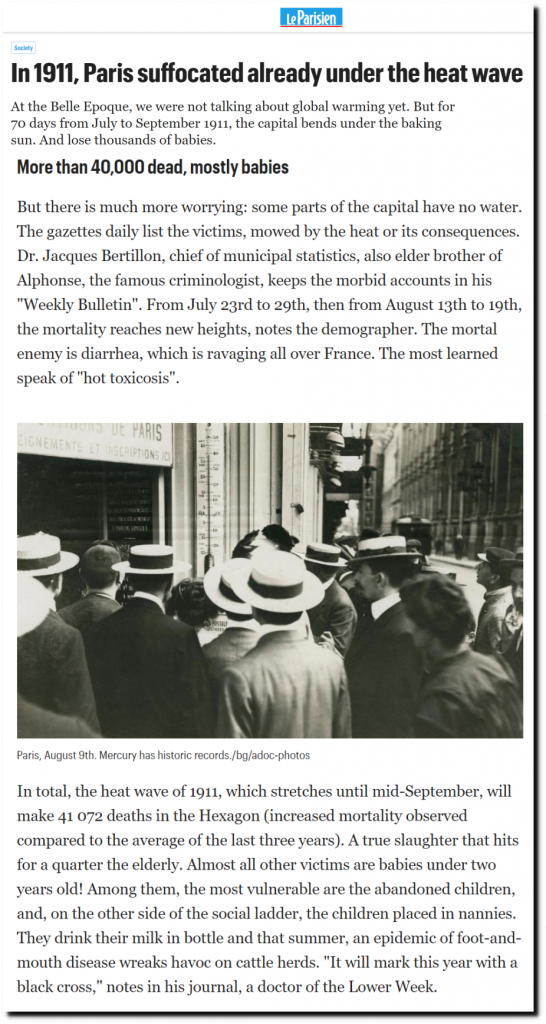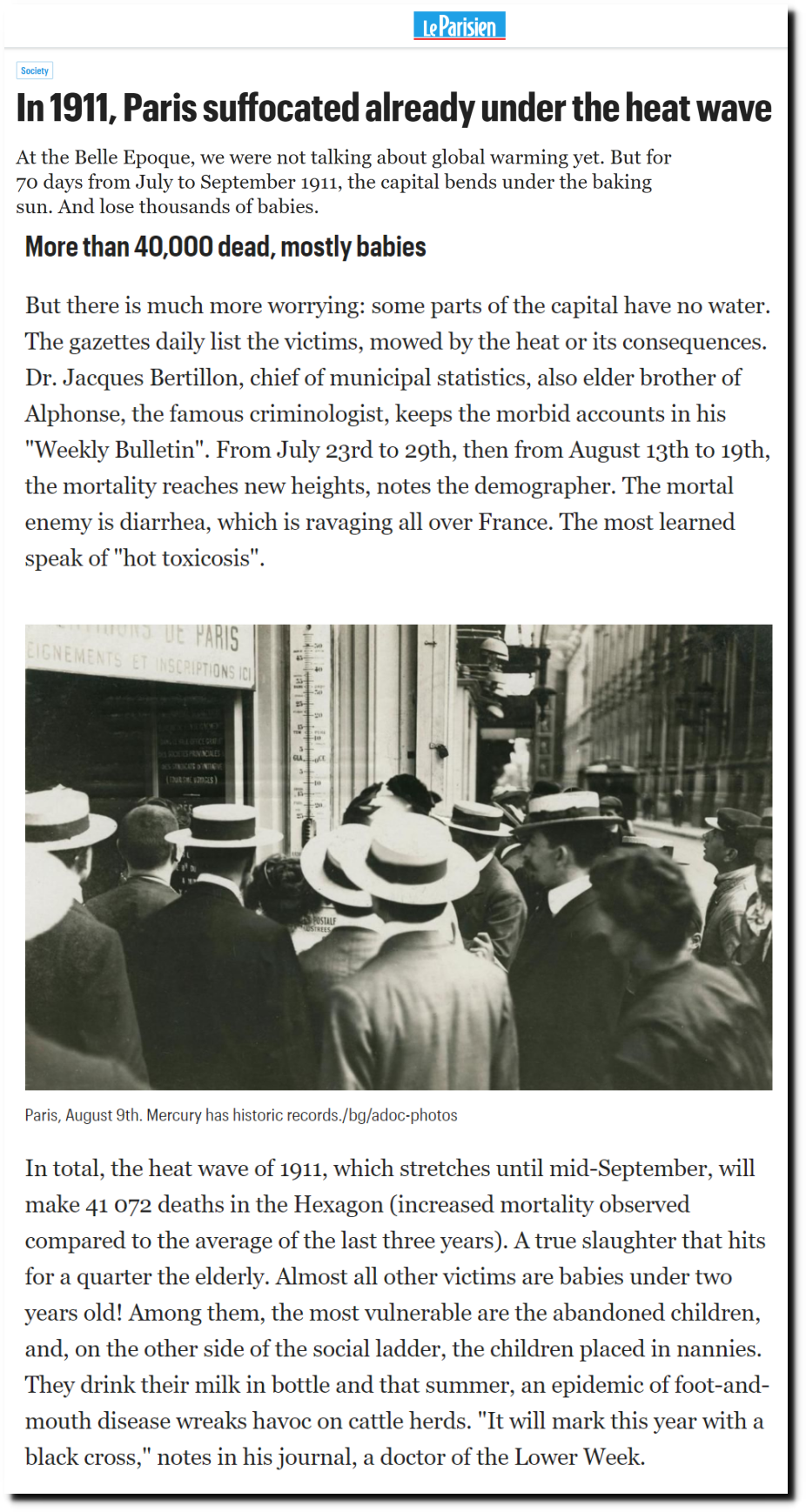 En 1911, Paris suffoquait déjà sous la canicule – Le Parisien
London was 100 degrees on August 9, 1911.
29 Aug 1930 – DEATHS REPORTED. – Trove
More than a thousand people died in Germany.

11 Aug 1911 – TERRIBLE HEAT WAVE. – Trove
New England hasn't been hit by a major hurricane in 65 years, but in 1954 they were hit by two in two weeks.
11 Sep 1954, Page 1 – The Edwardsville Intelligencer
The 1938 New England Hurricane, narrowly missed Manhattan and was the most damaging storm on record in New England.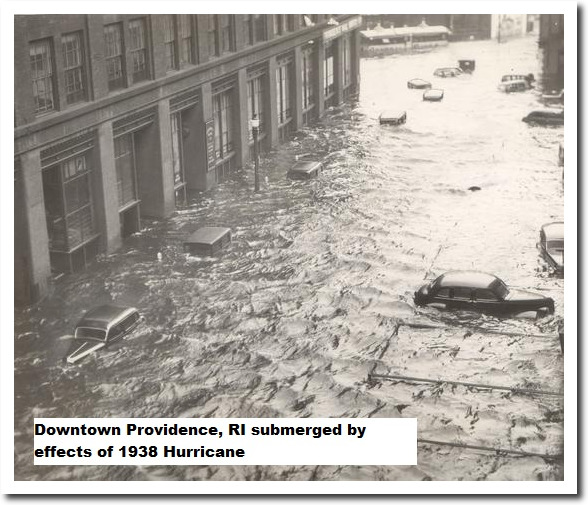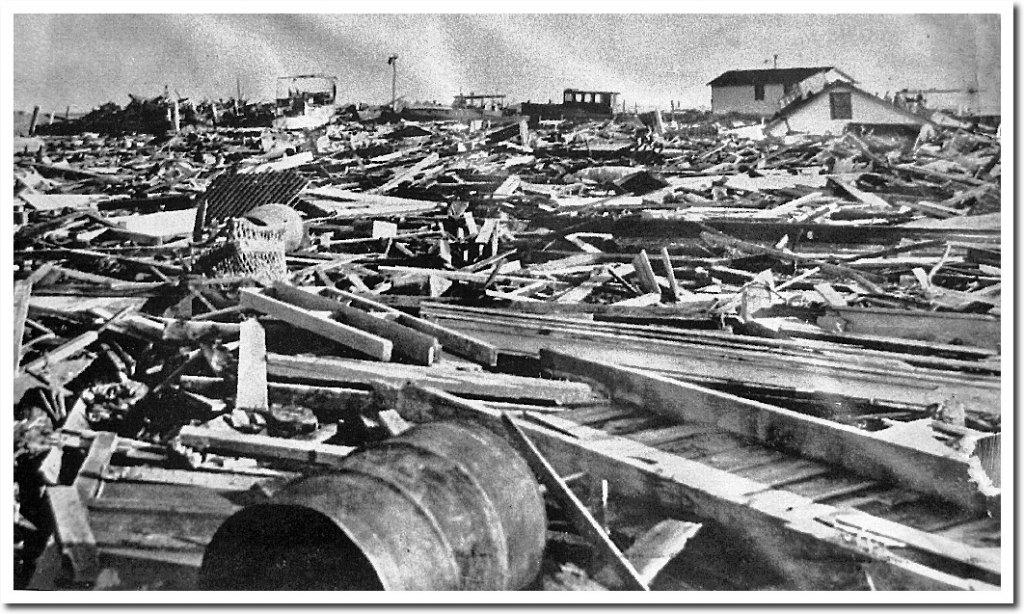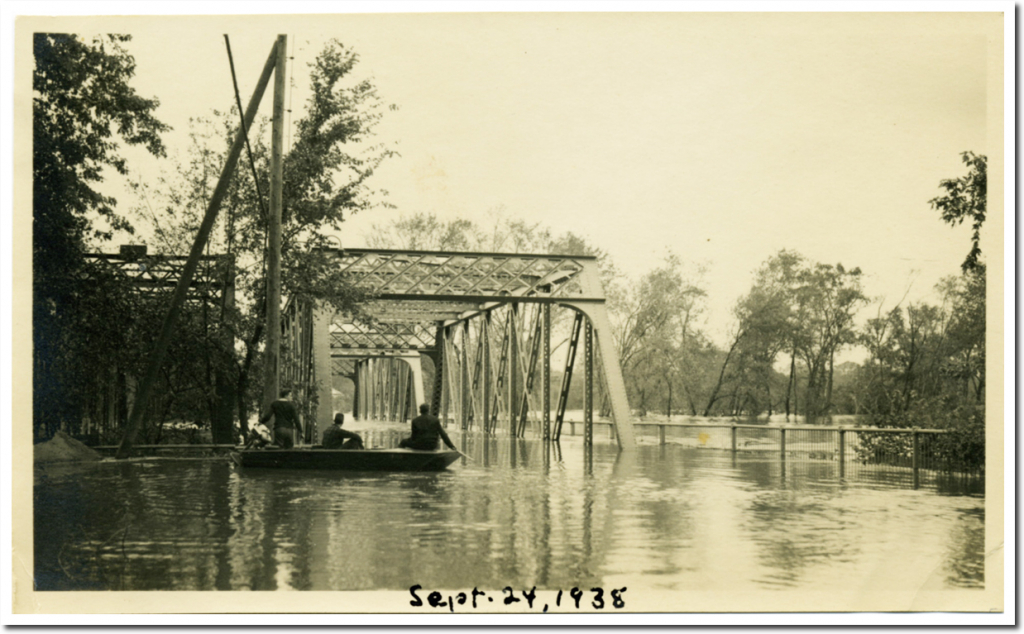 Providence, RI  September 1938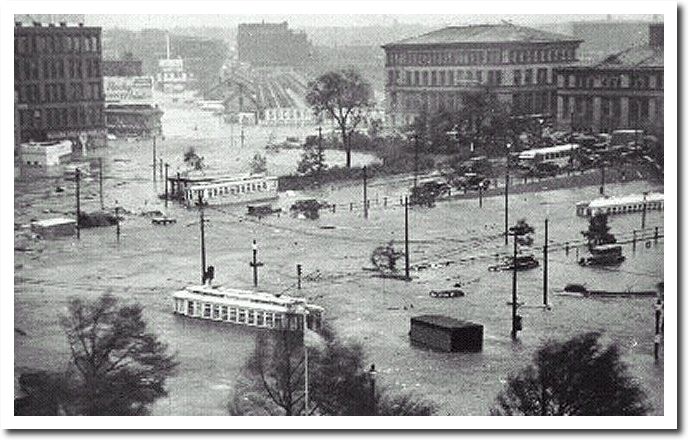 This is what Providence looked like in the 1815 New England Hurricane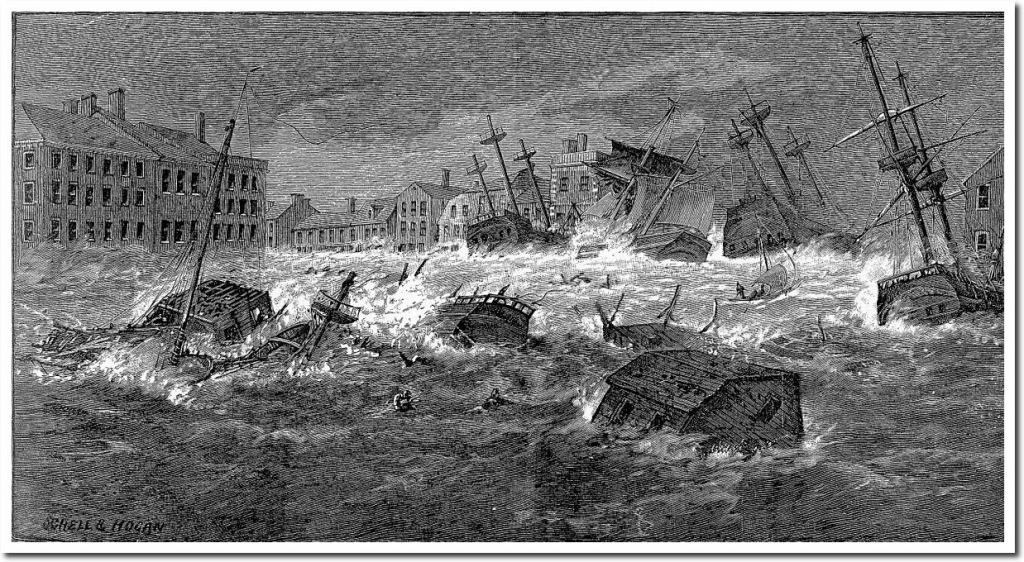 In 1635, a major hurricane in new England produced a 21 foot storm surge, and pilgrims were convinced the apocalypse was imminent.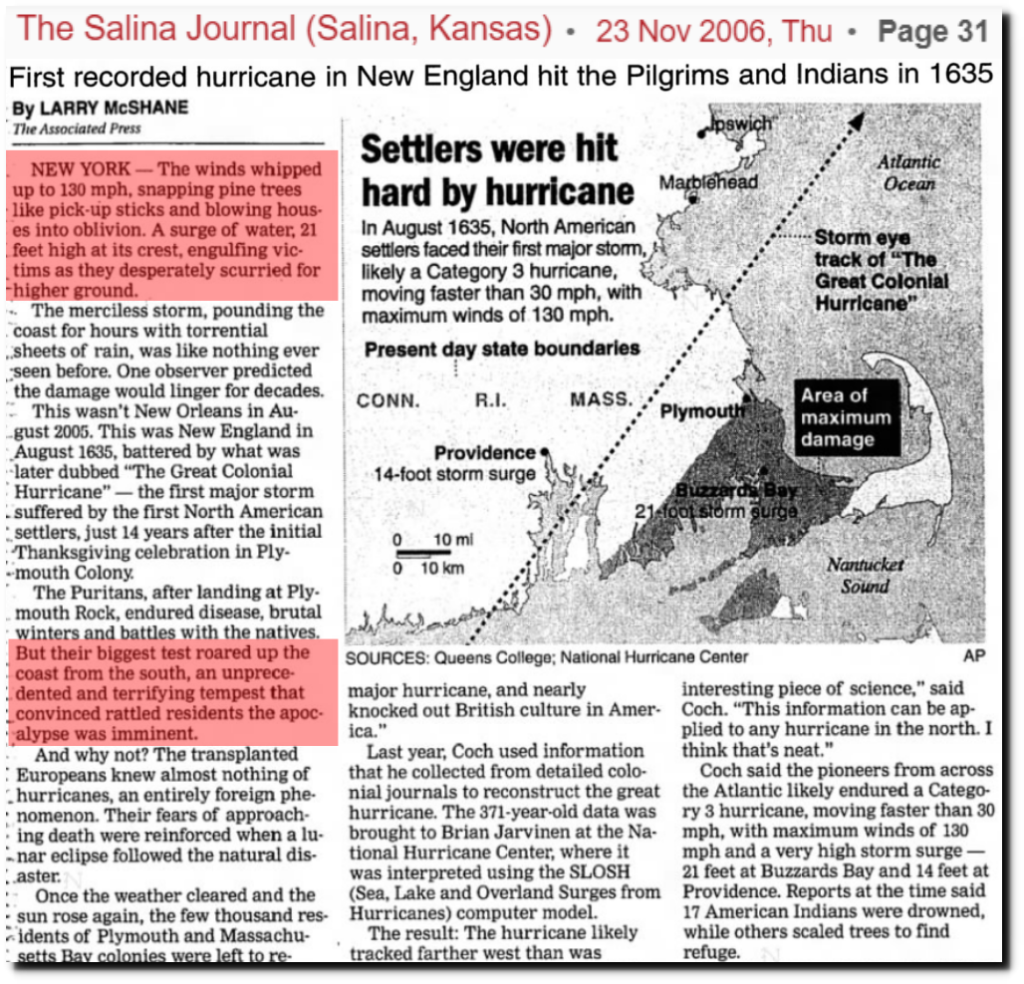 23 Nov 2006, Page 31 – The Salina Journal at Newspapers.com
Climate alarmism has no basis in science or history. The head of the World Meteorological Organization implies that climate alarmists are terrorists, while he simultaneously panders to the same mentality which created the climate terrorism movement.
"While climate skepticism has become less of an issue, now we are being challenged from the other side. Climate experts have been attacked by these people and they claim that we should be much more radical. They are doomsters and extremists; they make threats," Taalas said.

"It is not going to be the end of the world. The world is just becoming more challenging. In parts of the globe, living conditions are becoming worse, but people have survived in harsh conditions."
Chief of World Meteorological Organization Castigates Climate Alarmists
All indications are that life is becoming less challenging around the world.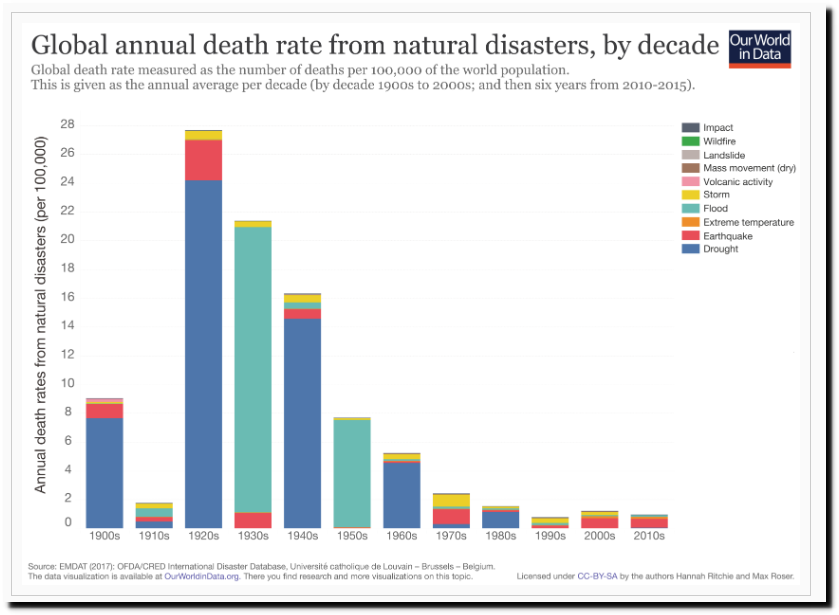 Natural Disasters – Our World in Data
In 1974, climatologists wanted to evacuate six million people from Africa to save them from global cooling.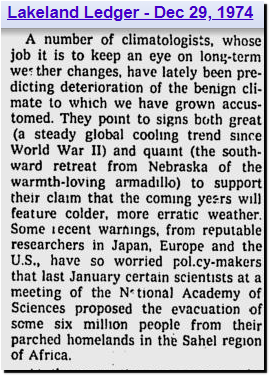 Lakeland Ledger – Google News Archive Search
Climatologists like NASA's James Hansen created this mess with their data tampering and lies.  They seem to want to have it both ways. There is no indication that the climate is becoming more severe, and every reason to believe that a warmer climate is better for humans.