On this date in 1913, California set the world's all-time temperature record of 134 degrees. It was the first of three days over 130 degrees that week.  By contrast, no place in the United States has reached 130 degrees any time in at least the last 55 years.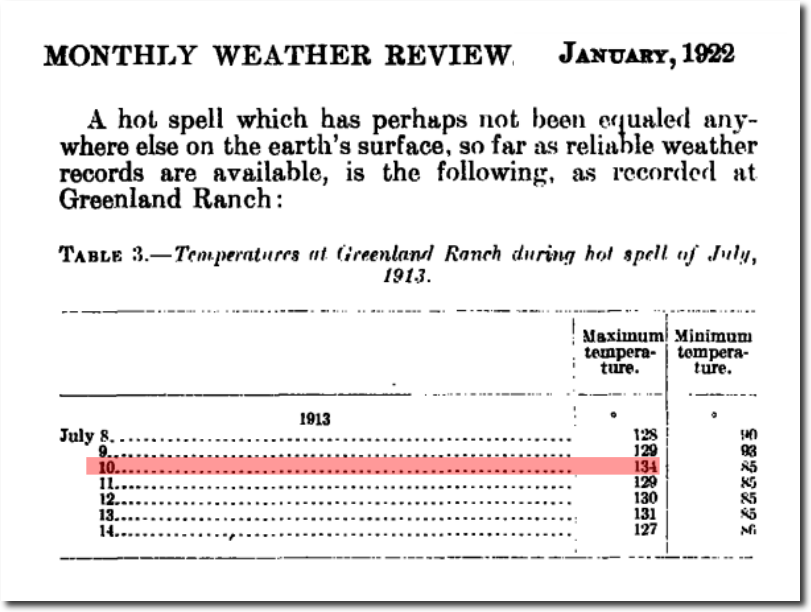 PDFfiller – mwr-050-01-0010.pdf – docs.lib.noaa.gov – docs lib.pdf
Unlike the vast majority of the thermometers used by NASA, NOAA and Berkeley Earth to generate their fake global temperature graphs, these measurements were taken using high quality equipment and standard methodology.
https://www.ncei.noaa.gov/sites/default/files/coop-form-greenland-ranch-july-1913.pdf
The summer of 1913 was second or third hottest on record in Missouri, with fifty-six days over 100 degrees. Most stations in Missouri have have not reached 100 degrees any time in the last three years.
The 1913 heat was across most of the country and lasted all summer.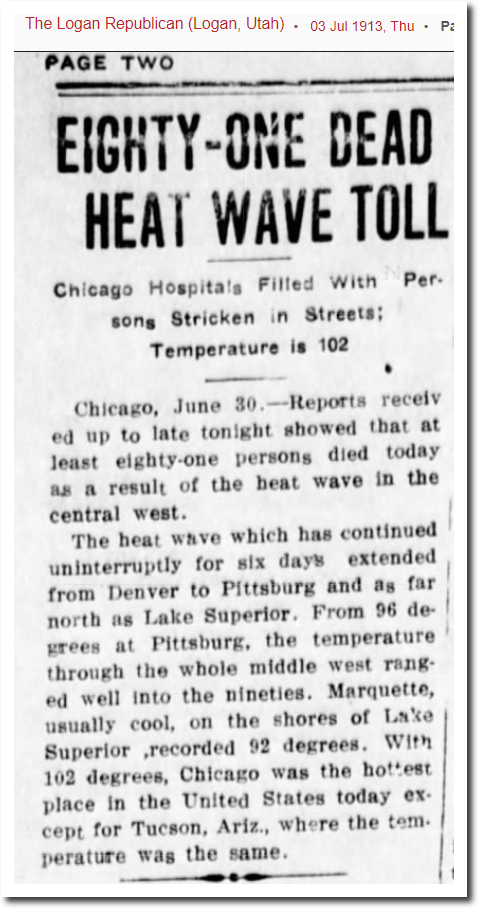 03 Jul 1913, Page 2 – The Logan Republican at Newspapers.com

Logansport Journal Tribune, Aug 13, 1913, p. 4
NASA has identified the record heat of 1913 as being among the coldest on record.
Houston had some of their worst flooding in 1913, even without CNN hysterics.
The worst floods on record in the Ohio Valley also occurred during 1913.
In the world of climate science seance, record hot is reported as record cold, and reality never interrupts the global warming agenda.